Abstract
A globus sensation is one of the most common complaints in otolaryngologic clinics, and laryngopharyngeal reflux is the most common cause. However, thyroid nodules also can cause globus symptoms. The purpose of this study was to identify the characteristics of thyroid nodules that cause globus. We selected patients prospectively with a single thyroid nodule on ultrasonograms. Patients with other causes of globus symptoms were excluded using questionnaires, fiber optic laryngoscopic examinations, and a psychiatric screening tool. In total, 175 patients were enrolled. Patients were divided into two groups according to globus symptoms. Ultrasonographic characteristics and clinicopathological parameters were compared between the groups. Among various clinicopathologic and ultrasonographic parameters, size and horizontal location of the thyroid nodule showed significant differences between the groups. Nodules larger than 3 cm and those located anterior to the trachea had a tendency to cause globus symptoms. Regarding horizontal location, nodules that all parts were located anterior to the trachea showed a higher tendency to cause globus symptoms than nodules that only some parts were located anterior to the trachea. In conclusion, thyroid nodules with specific size and location can cause globus symptoms, and this finding can be indicated in patient counseling. Also, conservative treatments or thyroidectomy may be helpful in relieving patients' globus symptoms.
Access options
Buy single article
Instant access to the full article PDF.
USD 39.95
Price excludes VAT (USA)
Tax calculation will be finalised during checkout.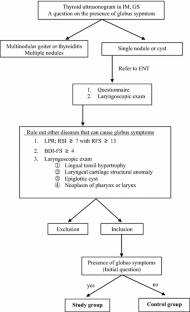 References
Rowley H, O'Dwyer TP, Jones AS, Timon CI (1995) The natural history of globus pharyngeus. Laryngoscope 105:1118–1121

Deary IJ, Wilson JA (1994) Problems in treating globus pharyngis. Clin Otolaryngol Allied Sci 19:55–60

Farkkila MA, Ertama L, Katila H, Kuusi K, Paavolainen M, Varis K (1994) Globus pharyngis, commonly associated with esophageal motility disorders. Am J Gastroenterol 89:503–508

Freeland AP, Adran GM, Emrys-Roberts E (1974) Globus hystericus and reflux oesophagitis. J Laryngol Otol 88:1025–1031

Banks CA, Ayers CM, Hornig JD, Lentsch EJ, Day TA, Nguyen SA, Gillespie MB (2012) Thyroid disease and compressive symptoms. Laryngoscope 122:13–16

Burns P, Timon C (2007) Thyroid pathology and the globus symptom: are they related? A two year prospective trial. J Laryngol Otol 121:242–245

Marshall JN, McGann G, Cook JA, Taub N (1996) A prospective controlled study of high-resolution thyroid ultrasound in patients with globus pharyngeus. Clin Otolaryngol Allied Sci 21:228–231

Belafsky PC, Postma GN, Koufman JA (2001) The validity and reliability of the reflux finding score (RFS). Laryngoscope 111:1313–1317

Belafsky PC, Postma GN, Koufman JA (2002) Validity and reliability of the reflux symptom index (RSI). J Voice 16:274–277

Tezer MS, Kockar MC, Kockar O, Celik A (2006) Laryngopharyngeal reflux finding scores correlate with gastroesophageal reflux disease and Helicobacter pylori expression. Acta Otolaryngol 126:958–961

Cybulska EM (1997) Globus hystericus—a somatic symptom of depression? The role of electroconvulsive therapy and antidepressants. Psychosom Med 59:67–69

Richter P, Werner J, Heerlein A, Kraus A, Sauer H (1998) On the validity of the Beck Depression Inventory A review. Psychopathology 31:160–168

Poole H, Bramwell R, Murphy P (2009) The utility of the Beck Depression Inventory Fast Screen (BDI-FS) in a pain clinic population. Eur J Pain 13:865–869

Steer RA, Cavalieri TA, Leonard DM, Beck AT (1999) Use of the Beck Depression Inventory for Primary Care to screen for major depression disorders. Gen Hosp Psychiatry 21:106–111

Harar RP, Kumar S, Saeed MA, Gatland DJ (2004) Management of globus pharyngeus: review of 699 cases. J Laryngol Otol 118:522–527

Chevalier JM, Brossard E, Monnier P (2003) Globus sensation and gastroesophageal reflux. Eur Arch Otorhinolaryngol 260:273–276

Hill J, Stuart RC, Fung HK, Ng EK, Cheung FM, Chung CS, van Hasselt CA (1997) Gastroesophageal reflux, motility disorders, and psychological profiles in the etiology of globus pharyngis. Laryngoscope 107:1373–1377

Sinn DH, Kim JH, Kim S, Son HJ, Kim JJ, Rhee JC, Rhee PL (2008) Response rate and predictors of response in a short-term empirical trial of high-dose rabeprazole in patients with globus. Aliment Pharmacol Ther 27:1275–1281

Rey E, Elola-Olaso CM, Rodríguez-Artalejo F, Locke GR 3rd, Díaz-Rubio M (2006) Prevalence of atypical symptoms and their association with typical symptoms of gastroesophageal reflux in Spain. Eur J Gastroenterol Hepatol 18:969–975

Alfonso A, Christoudias G, Amaruddin Q, Herbsman H, Gardner B (1981) Tracheal or esophageal compression due to benign thyroid disease. Am J Surg 142:350–354

McHenry CR, Piotrowski JJ (1994) Thyroidectomy in patients with marked thyroid enlargement: airway management, morbidity, and outcome. Am Surg 60:586–591

Morrison M, Rammage L, Emami AJ (1999) The irritable larynx syndrome. J Voice 13:447–455

Rees CJ, Henderson AH, Belafsky PC (2009) Postviral vagal neuropathy. Ann Otol Rhinol Laryngol 118:247–252

Amin MR, Koufman JA (2001) Vagal neuropathy after upper respiratory infection: a viral etiology? Am J Otolaryngol 22:251–256

Cooper DS, Doherty GM, Haugen BR, Kloos RT, Lee SL, Mandel SJ, Mazzaferri EL, McIver B, Pacini F, Schlumberger M, Sherman SI, Steward DL, Tuttle RM (2009) Revised American Thyroid Association management guidelines for patients with thyroid nodules and differentiated thyroid cancer. Thyroid 19:1167–1214

McCoy KL, Jabbour N, Ogilvie JB, Ohori NP, Carty SE, Yim JH (2007) The incidence of cancer and rate of false-negative cytology in thyroid nodules greater than or equal to 4 cm in size. Surgery 142:837–844 (Discussion 844 e831-833)
About this article
Cite this article
Nam, IC., Choi, H., Kim, ES. et al. Characteristics of thyroid nodules causing globus symptoms. Eur Arch Otorhinolaryngol 272, 1181–1188 (2015). https://doi.org/10.1007/s00405-015-3525-9
Received:

Accepted:

Published:

Issue Date:

DOI: https://doi.org/10.1007/s00405-015-3525-9
Keywords
Thyroid nodule

Character

Globus

Signs and symptoms