Abstract
Although tonsil surgery is one of the most frequent otorhinolaryngological procedures, not many population-based regional or country-wide studies are published on the incidence of postoperative bleeding and its risk factors. 2,216 patients underwent tonsil surgery in 2012 in Thuringia, a federal state in Germany. Most frequent indications were recurrent tonsillitis (44 % of all cases), tonsillar abscess (27 %), and tonsillar hyperplasia (20 %). 29 % of the patients were <10 years of age. Most frequent methods of surgery were tonsillectomy (73 %) and tonsillotomy (19 %). 215 patients (10 %) had 221 events of a postoperative hemorrhage. Re-surgery for hemostasis was necessary in 137 patients (6 %). The interval to re-surgery was 4.4 ± 4.6 days. The re-surgery rate was 8, 0.2, and 15 % after tonsillectomy, tonsillotomy, and radical tonsillectomy, respectively. In cases of recurrent tonsillitis, male gender (p < 0.001), age >24.78 years (median; (p = 0.018), and waiving of perioperative antibiotics (p = 0.029) were independent factors associated with hemorrhage. In cases of tonsillar hyperplasia tonsillectomy instead of tonsillotomy, the only significant risk factor was postoperative hemorrhage (p = 0.005). The overall incidence of tonsillar surgery was 87.6/100,000. The highest incidence was seen for patients 3–4 years of age with 862.7/100,000. In children <10 years, the incidence was always higher for boys than for girls. Throughout all age groups, a reverse gender relation was only seen, if surgery was indicated for recurrent tonsillitis. We recommend establishing national guidelines for indication of tonsil surgery, especially of tonsillectomy, including recommendations for perioperative care to decrease variations in tonsil surgery rates and minimize postoperative complications.
Access options
Buy single article
Instant access to the full article PDF.
USD 39.95
Price excludes VAT (USA)
Tax calculation will be finalised during checkout.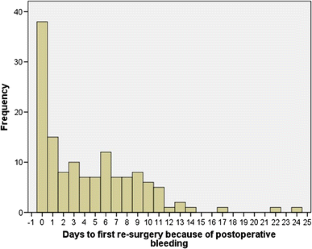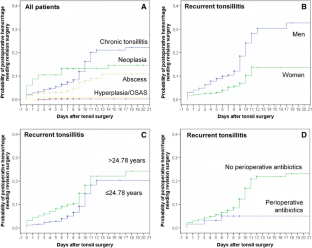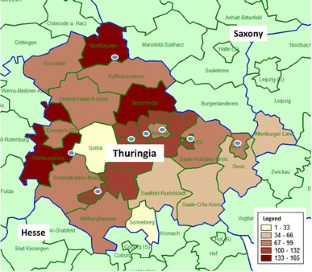 References
Boss EF, Marsteller JA, Simon AE (2012) Outpatient tonsillectomy in children: demographic and geographic variation in the United States, 2006. J Pediatrics 160:814–819

Cullen KA, Hall MJ, Golosinskiy A (2009) Ambulatory surgery in the United States, 2006. Natl Health Stat Report. p 1–25

Shay S, Shapiro NL, Bhattacharyya N (2014) Revisit rates and diagnoses following pediatric tonsillectomy in a large multistate population. Laryngoscope

Bhattacharyya N, Kepnes LJ (2014) Revisits and postoperative hemorrhage after adult tonsillectomy. Laryngoscope 124:1554–1556

Sarny S, Habermann W, Ossimitz G et al (2013) What lessons can be learned from the Austrian events? ORL J Otorhinolaryngol Relat Spec 75:175–181

Glover JA (2008) The incidence of tonsillectomy in school children. 1938. Int J Epidemiol 37:9–19

Hessen Soderman AC, Ericsson E, Hemlin C et al (2011) Reduced risk of primary postoperative hemorrhage after tonsil surgery in Sweden: results from the National Tonsil Surgery Register in Sweden covering more than 10 years and 54,696 operations. Laryngoscope 121:2322–2326

Sarny S, Ossimitz G, Habermann W et al (2011) Hemorrhage following tonsil surgery: a multicenter prospective study. Laryngoscope 121:2553–2560

Seshamani M, Vogtmann E, Gatwood J et al (2014) Prevalence of complications from adult tonsillectomy and impact on health care expenditures. Otolaryngol Head Neck Surg 150:574–581

Acevedo JL, Shah RK, Brietzke SE (2012) Systematic review of complications of tonsillotomy versus tonsillectomy. Otolaryngol Head Neck Surg 146:871–879

Windfuhr JP, Savva K, Dahm JD et al. (2014) Tonsillotomy: facts and fiction. Eur Arch Otorhinolaryngol (Epub ahead of print)

Mahboubi H, Verma SP (2013) Ambulatory laryngopharyngeal surgery: evaluation of the national survey of ambulatory surgery. Otolaryngol Head Neck Surg 139:28–31

Fiedler T, Boeger D, Buentzel J et al (2013) Middle ear surgery in Thuringia, Germany: a population-based regional study on epidemiology and outcome. Otol Neurotol 34:890–897

Djugai S, Boeger D, Buentzel J et al (2014) Chronic vocal cord palsy in Thuringia, Germany: a population-based study on epidemiology and outcome. Eur Arch Otorhinolaryngol 271:329–335

Thomas K, Boeger D, Buentzel J et al (2013) Pediatric adenoidectomy: a population-based regional study on epidemiology and outcome. Int J Pediatr Otorhinolaryngol 77:1716–1720

Moeller K, Esser D, Boeger D et al (2013) Parotidectomy and submandibulectomy for benign diseases in Thuringia, Germany: a population-based study on epidemiology and outcome. Eur Arch Otorhinolaryngol 270:1149–1155

OPS 2005 (2005) Systematisches Verzeichnis. Deutscher Ärzteverlag, Köln

Sohn H, Rosenfeld RM (2003) Evaluation of sleep-disordered breathing in children. Otolaryngol Head Neck Surg 128:344–352

Koshy E, Bottle A, Murray J et al (2014) Changing indications and socio-demographic determinants of (adeno) tonsillectomy among children in England—are they linked? A retrospective analysis of hospital data. PLoS One 9:e103600

Al-Hussaini A, Owens D, Tomkinson A (2013) Health costs and consequences: have UK national guidelines had any effect on tonsillectomy rates and hospital admissions for tonsillitis? Eur Arch Otorhinolaryngol 270:1959–1965

Sarny S, Ossimitz G, Habermann W et al (2012) The Austrian tonsil study 2010—part 1: statistical overview. Laryngorhinootol 91:16–21

Bhattacharyya N, Lin HW (2010) Changes and consistencies in the epidemiology of pediatric adenotonsillar surgery, 1996–2006. Otolaryngol Head Neck Surg 143:680–684

Suleman M, Clark MP, Goldacre M et al (2010) Exploring the variation in paediatric tonsillectomy rates between English regions: a 5-year NHS and independent sector data analysis. Clin Otolaryngol 35:111–117

Mahant S, Keren R, Localio R et al (2014) Variation in quality of tonsillectomy perioperative care and revisit rates in children's hospitals. Pediatrics 133:280–288

Blakley BW (2009) Post-tonsillectomy bleeding: how much is too much? Otolaryngol Head Neck Surg 140:288–290

Hultcrantz E, Ericsson E, Hemlin C et al (2013) Paradigm shift in Sweden from tonsillectomy to tonsillotomy for children with upper airway obstructive symptoms due to tonsillar hypertrophy. Eur Arch Otorhinolaryngol 270:2531–2536

Dhiwakar M, Clement WA, Supriya M et al (2010) Antibiotics to reduce post-tonsillectomy morbidity. Cochrane Database Syst Rev 7:CD005607

Sarny S, Ossimitz G, Habermann W et al (2013) Preoperative coagulation screening prior to tonsillectomy in adults: current practice and recommendations. Eur Arch Otorhinolaryngol 270:1099–1104

Van Staaij BK, Van Den Akker EH, Rovers MM et al (2004) Effectiveness of adenotonsillectomy in children with mild symptoms of throat infections or adenotonsillar hypertrophy: open, randomised controlled trial. BMJ 329:651

Bohne S, Siggel R, Sachse S et al (2013) Clinical significance and diagnostic usefulness of serologic markers for improvement of outcome of tonsillectomy in adults with chronic tonsillitis. J Negat Results Biomed 12:11

Marcus CL, Moore RH, Rosen CL et al (2013) A randomized trial of adenotonsillectomy for childhood sleep apnea. New Engl J Med 368:2366–2376
Conflict of interest
The authors indicate that they have no a financial relationship with any organization or company mentioned in the manuscript. The research was not sponsored by a third party.
Electronic supplementary material
Below is the link to the electronic supplementary material.
About this article
Cite this article
Mueller, J., Boeger, D., Buentzel, J. et al. Population-based analysis of tonsil surgery and postoperative hemorrhage. Eur Arch Otorhinolaryngol 272, 3769–3777 (2015). https://doi.org/10.1007/s00405-014-3431-6
Received:

Accepted:

Published:

Issue Date:

DOI: https://doi.org/10.1007/s00405-014-3431-6
Keywords