Abstract
The aesthetic importance of the eyebrow has been highlighted for centuries. In this paper, we investigated ideal eyebrow. Eyebrows and eyelids, varies among different races, ages and genders. It is considered to be of primary importance in facial expression and beauty. We present one form of the ideal eyebrow aesthetic and discuss methods of optimising surgical results. For the modern acceptable concept of the ideal brow, the medial brow should begin on the same vertical plane as the lateral extent of the ala and the inner canthus and end laterally at an oblique line drawn from the most lateral point of the ala through the lateral canthus. The medial and lateral ends of the brow lie approximately at the same horizontal level. The apex lies on a vertical line directly above the lateral limbus. Individual perceptions and expectations also differ from person to person. The brow should over lie the orbital rim in males and be several millimetres above the rim in female. Male tend to have a heavier, thicker brow with a little arch present. There are some pitfalls in brow aesthetics. Overelevation creates an unnatural, surprised and unintelligent look which is the most common surgical mistake in brow lifting. Medial placement of the brow peak would create an undesired 'surprised' appearance. Moreover, a low medial brow with a high lateral peak induces an angry look. Overresection of the medial brow depressors may lead to widening and elevation of the medial brow, which creates an insensitive look and can also lead to glabellar contour defects. It is impossible to define an ideal eyebrow that is suitable for every face. However, one must consider previously described criteria and other periorbital structures when performing a brow surgery.
Access options
Buy single article
Instant access to the full article PDF.
USD 39.95
Price excludes VAT (USA)
Tax calculation will be finalised during checkout.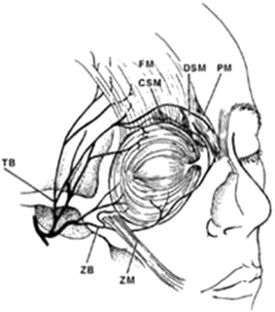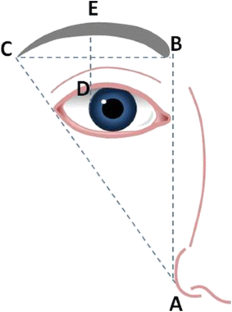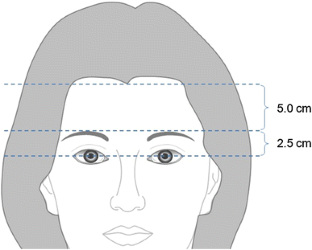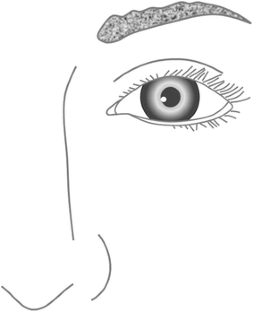 References
Ilankovan V (2013) Upper face rejuvenation. Int J Oral Maxillofac Surg 42(4):423–431

Farkas LG (2005) International anthropometric study of facial morphology in various ethnic groups/races. J Craniofac Surg 16(4):615–646

Price KM (2009) Eyebrow and eyelid dimensions: an anthropometric analysis of African Americans and Caucasians. Plast Reconstr Surg 124(2):615–623

Cole EA (2010) Measurement of eyebrow position from inferior corneal limbus to brow: a new technique. Ophthal Plast Reconstr Surg 26(6):443–447

Knize DM (2009) Anatomic concepts for brow lift procedures. Plast Reconstr Surg 124(6):2118–2126

Benedetto AV (2005) Measurement of the anatomic position of the corrugator supercilii. Dermatol Surg 31(8):923–927

Hetzler L (2010) The brow and forehead in periocular rejuvenation. Facial Plast Surg Clin North Am 18(3):375–384

Knize DM (1995) A study of the supraorbital nevre. Plast Reconstr Surg 96(3):564–569

Schrudde J (1978) Surgical correction of forehead wrinkles, glabellar frown, and ptosis of the eyebrows. Aesthetic Plast Surg 2(1):399–407

Flowers RS (1993) The biomechanics of brow and frontalis function and its effect on blepharoplasty. Clin Plast Surg 20(2):255–268

Knize DM (1996) An anatomically based study of the mechanism of eyebrow ptosis. Plast Reconstr Surg 97(7):1321–1333

Lemke BN (1982) The anatomy of eyebrow ptosis. Arch Ophthalmol 100(6):981–986

Romm S (1987) Art, love, and facial beauty. Clin Plast Surg 14(4):579–583

Westmore MG (1975) Facial cosmetics in conjunction with surgery. Course presented at the Aesthetic Plastic Surgical Society meeting Vancouver, British Columbia

Ellenbogen R (1983) Transcoronal eyebrow lift with concomitant upper blepharoplasty. Plast Reconstr Surg 71(4):490–499

Whitaker LA (1986) Aesthetic surgery of the supraorbital ridge and forehead structures. Plast Reconstr Surg 78(1):23–32

Cook TA (1989) The versatile midforehead browlift. Arch Otolaryngol Head Neck Surg 5(2):163–168

Connell BF (1989) The forehead lift techniques to avoid complications and procedure optimal results. Aesthetic Plast Surg 13(4):217–237

Matarasso A, Terino EO (1994) Forehead––brow rhytidoplasty: reassessing the goals. Plast Reconstr Surg 93(7):1378–1389

McKinney P (1991) Criteria fort he forehead lift. Aesthetic Plast Surg 15(2):141–147

Gunter JP (1997) Aesthetic analysis of the eyebrows. Plast Reconstr Surg 99(7):1808–1816

Angres GG (1987) Blepharopigmentation and eyebrow enhancement techniques for maximum cosmetic results. Ann Ophthalmol 17(10):605–611

Baker SB (2007) The influence of brow shape on the perception of facial form and brow aesthetics. Plast Reconstr Surg 119(7):2240–2247

Goldstein SM (2005) The male eyebrow: a topographic anatomic analysis. Ophthal Plast Reconstr Surg 21(4):285–291

Kunjur J (2006) Anthropometric analysis of eyebrows and eyelids: an inter-racial study. Br J Oral Maxillofac Surg 44(2):89–93

Booth AJ (2004) The direct brow lift: efficiency, complications, and patient satisfaction. Br J Opthalmol 88(5):688–691

Withey S, Witherow H, Waterhouse N (2002) One hundred cases of endoscopic brow lift. Br J Plast Surg 55:20–24

Fernandes SV (2014) Pretrichial brow lift. Medscape. http://emedicine.medscape.com/article/1277041-overview. Received online at 14 Oct 2014

Angry Birds (2014). https://www.angrybirds.com/characters. Received online at 12 June 2014

Jones BM (2013) The impact of endoscopic brow lift on eyebrow morphology, aesthetics, and longevity: objective and subjective measurements over 5-year period. Plast Reconstr Surg 132(2):226–238

Knoll BI (2008) The influence of forehead, brow, and periorbital aesthetics on perceived expression in the youthful face. Plast Reconstr Surg 121(5):1793–1802

Karacalar A (2005) Compensatory brow asymmetry: anatomic study and clinical experience. Aesth Plast Surg 29:119–123

De Cordier BC (2002) Endoscopic forehead lift: review of technique, cases, and complications. Plast Reconstr Surg 110(6):1558–1568

Troilius C (2004) Subperiosteal brow lifts without fixation. Plast Reconstr Surg 114(6):1595–1603

Graf RM (2008) Endoscopic periosteal browlift: evaluation and follow-up of eyebrow height. Plast Reconstr Surg 121(2):609–616
Acknowledgments
Preparation of this paper including designing and planning was supported by Continuous Education and Scientific Research Association.
Conflict of interest
The authors declare that there is no conflict of interest.
About this article
Cite this article
Yalçınkaya, E., Cingi, C., Söken, H. et al. Aesthetic analysis of the ideal eyebrow shape and position. Eur Arch Otorhinolaryngol 273, 305–310 (2016). https://doi.org/10.1007/s00405-014-3356-0
Received:

Accepted:

Published:

Issue Date:

DOI: https://doi.org/10.1007/s00405-014-3356-0
Keywords