Abstract
This study aimed at a systematic review and meta-analysis of all available randomized controlled trials (RCTs) using acupuncture to treat tinnitus. Five electronic databases, in both English and Chinese, were searched. All studies in our review and meta-analysis included parallel RCTs of tinnitus patients which compared subjects receiving acupuncture (or its other forms, such as electroacupuncture) to subjects receiving no treatment, sham treatment, drugs or basic medical therapy. Data from the articles were validated and extracted using a predefined data extraction form. Nearly all of Chinese studies reported positive results, while most of English studies reported negative results. Analysis of the combined data found that the acupuncture treatments seemed to provide some advantages over conventional therapies for tinnitus. It had difference in acupuncture points and sessions between Chinese studies and English studies. Methodological flaws were also found in many of the RCTs, especially in Chinese studies. The results of this review suggest that acupuncture therapy may offer subjective benefit to some tinnitus patients. Acupuncture points and sessions used in Chinese studies may be more appropriate, whereas these studies have many methodological flaws and risk bias, which prevents us making a definitive conclusion.
Access options
Buy single article
Instant access to the full article PDF.
US$ 39.95
Tax calculation will be finalised during checkout.
Subscribe to journal
Immediate online access to all issues from 2019. Subscription will auto renew annually.
US$ 119
Tax calculation will be finalised during checkout.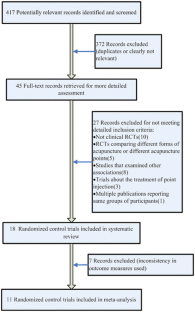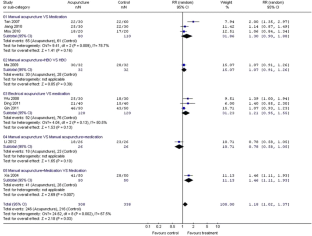 References
1.

Seidman MD, Standring RT, Dornhoffer JL (2010) Tinnitus: current understanding and contemporary management. Curr Opin Otolaryngol Head Neck Surg 18(5):363–368

2.

Savage J, Waddell A (2012) Tinnitus. Clin Evid (Online). pii: 0506

3.

Kroner-Herwig B, Frenzel A, Fritsche G, Schilkowsky G, Esser G (2003) The management of chronic tinnitus: comparison of an outpatient cognitive-behavioral group training to minimal-contact interventions. J Psychosom Res 54(4):381–389

4.

Eggermont JJ (2007) Pathophysiology of tinnitus. Prog Brain Res 166:19–35

5.

Park J, White AR, Ernst E (2000) Efficacy of acupuncture as a treatment for tinnitus: a systematic review. Arch Otolaryngol Head Neck Surg 126(4):489–492

6.

Kim JI, Choi JY, Lee DH, Choi TY, Lee MS, Ernst E (2012) Acupuncture for the treatment of tinnitus: a systematic review of randomized clinical trials. BMC Complement Altern Med 12:97

7.

Higgins JPT, Altman DG (2008) In: Higgins JPT, Green S (eds) Cochrane Handbook for Systematic Reviews of Interventions, The Cochrane Collaboration, Chichester, p 187–242

8.

de Azevedo RF, Chiari BM, Okada DM, Onishi ET (2007) Impact of acupuncture on otoacoustic emissions in patients with tinnitus. Braz J Otorhinolaryngol 73(5):599–607

9.

Okada DM, Onishi ET, Chami FI, Borin A, Cassola N, Guerreiro VM (2006) Acupuncture for tinnitus immediate relief. Braz J Otorhinolaryngol 72(2):182–186

10.

Marks NJ, Emery P, Onisiphorou C (1984) A controlled trial of acupuncture in tinnitus. J Laryngol Otol 98(11):1103–1109

11.

Axelsson A, Andersson S, Gu LD (1994) Acupuncture in the management of tinnitus: a placebo-controlled study. Audiology 33(6):351–360

12.

Podoshin L, Ben-David Y, Fradis M, Gerstel R, Felner H (1991) Idiopathic subjective tinnitus treated by biofeedback, acupuncture and drug therapy. Ear Nose Throat J 70(5):284–289

13.

Vilholm OJ, Moller K, Jorgensen K (1998) Effect of traditional Chinese acupuncture on severe tinnitus: a double-blind, placebo-controlled, clinical investigation with open therapeutic control. Br J Audiol 32(3):197–204

14.

Hansen PE, Hansen JH, Bentzen O (1982) Acupuncture treatment of chronic unilateral tinnitus–a double-blind cross-over trial. Clin Otolaryngol Allied Sci 7(5):325–329

15.

Wang K, Bugge J, Bugge S (2010) A randomised, placebo-controlled trial of manual and electrical acupuncture for the treatment of tinnitus. Complement Ther Med 18(6):249–255

16.

Jeon SW, Kim KS, Nam HJ (2012) Long-term effect of acupuncture for treatment of tinnitus: a randomized, patient- and assessor-blind, sham-acupuncture-controlled, pilot trial. J Altern Complement Med 18(7):693–699

17.

Mou Y, Zhang R (2010) A cupuncture clinical observation of tinnitus. J Sichuan Tradit Chin Med 28(10):120–121

18.

Wu Y, Peng L, Wang H (2008) The clinical observation about the treatment of nervous tinnitus with acupuncture combined with pulse electricity. Chin J Rehabil 23(2):87

19.

Xia H, Xiao S (2004) The clinical observation of 30 tinnitus cases that treat with integrated traditional and western medicine. Acta Acad Med Jiangxi 44(1):137

20.

Li W (2012) The clinical observation of 26 tinnitus cases that treat with acupuncture combined with drugs. J Hebei TCM Pharmacol 27(2):36–37

21.

Qin G (2011) Electro Acupuncture for Treatment of 50 cases of Nervous Tinnitus. J Pr Tradit Chin Intern Med 25(12):87–88

22.

Ding L, Liu B, Wang J, Liu D (2011) Regression Analysis of the Effects of Tinnitus. J Cap Med Univ 32(1):46–49

23.

Jiang B, Wang Z, Wang L, Li R (2010) The clinical observation of 30 senile tinnitus cases that treat with acupuncture. Jiangsu J Tradit Chin Med 42(6):52–53

24.

Ma J (2009) Use of acupuncture combined with hyperbaric oxygen in the treatment of 32 nervous tinnitus cases. J Chang Univ Tradit Chin Med 25(1):109

25.

Tan K, Zhang C, Liu M, Qiu L (2007) Comparative study on therapeutic effects of acupuncture, Chinese herbs and western medicine on nervous tinnitus. Chin Acupunct Moxibust 27(4):249–251

26.

Zao M, Qiao F, Shen J, Zhang Y (2003) A clinical observation on the therapeutic effect of acupuncture on sensorineural hearing loss and tinnitus. Chin J Otorhinolaryngol Integr Tradit Wdstern Med 11(6):265–267

27.

Vickers A, Goyal N, Harland R, Rees R (1998) Do certain countries produce only positive results? A systematic review of controlled trials. Control Clin Trials 19(2):159–166

28.

Lee H, Kim SY, Park J, Kim YJ, Lee H, Park HJ (2009) Acupuncture for lowering blood pressure: systematic review and meta-analysis. Am J Hypertens 22(1):122–128
Conflict of interest
No conflict to disclose. This study was supported by the National Natural Science Foundation of China (No. 81373880) and Shandong Science & Technology development programme of TCM (No. 2013-195).
About this article
Cite this article
Liu, F., Han, X., Li, Y. et al. Acupuncture in the treatment of tinnitus: a systematic review and meta-analysis. Eur Arch Otorhinolaryngol 273, 285–294 (2016). https://doi.org/10.1007/s00405-014-3341-7
Received:

Accepted:

Published:

Issue Date:
Keywords
Acupuncture

Tinnitus

Meta-analysis

Randomized controlled trials

Systematic review