Abstract
Several studies indicated the association between benign paroxysmal positional vertigo (BPPV) with osteoporosis and vitamin D deficiency implying that abnormal calcium metabolism may underlie BPPV. The aim of the present study is to confirm the correlation between BPPV and both decrease in bone mineral density (BMD) and vitamin D deficiency. The study group included 80 patients with idiopathic BPPV (52 females, 28 males), with age range 31–71 years (47.6 ± 9.1). The patients were divided into two groups; recurrent BPPV group including 36 subjects and non-recurrent group including 44 subjects. The control group included 100 healthy volunteers with age and gender distribution similar to the study group. All the subjects in the study were examined using Dual-energy X-ray absorptiometry to assess BMD, and serum 25-hydroxyvitamin D for vitamin D assessment. The accepted normal levels were T-score > −1, and 25-hydroxyvitamin D > 30 ng/ml. Twenty-six (26 %) subjects showed abnormal T-score in the control group; 26 (59 %) in the non-recurrent BPPV and 22 (61 %) in the recurrent BPPV group. Chi square test showed significant difference between the control group and both BPPV groups. The control group had significantly higher 25-hydroxyvitamin D levels than the BPPV subgroups (p < 0.05). Moreover, the 25-hydroxyvitamin D was significantly lower in the recurrent BPPV than it was in the non-recurrent subgroup (p < 0.05). The results of the current study associate between reduced BMD and development/recurrence of BPPV. Moreover, low levels of vitamin D were related to development of BPPV while very low levels were associated with recurrence of BPPV. The co-occurrence of two morbidities is not by itself supportive of a relationship, but the cumulating studies correlating between BPPV and both vitamin D deficiency and low BMD indicate the investigation and treatment of those disorders in cases with recurrent BPPV.
Access options
Buy single article
Instant access to the full article PDF.
US$ 39.95
Tax calculation will be finalised during checkout.
Subscribe to journal
Immediate online access to all issues from 2019. Subscription will auto renew annually.
US$ 119
Tax calculation will be finalised during checkout.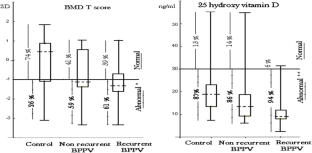 References
1.

Vibert D, Sans A, Kompis M, Travo C, Muhlbauer RC, Tschudi I, Boukhaddaoui H, Häusler R (2008) Ultrastructural changes in otoconia of osteoporotic rats. Audiol Neurootol 13(5):293–301

2.

Parham K, Leonard G, Feinn RS, Lafreniere D, Kenny AM (2013) Prospective clinical investigation of the relationship between idiopathic benign paroxysmal positional vertigo and bone turnover: a pilot study. Laryngoscope 123(11):2834–2839

3.

Cohen HS, Kimball KT, Stewart MG (2004) Benign paroxysmal positional vertigo and comorbid conditions. ORL J Otorhinolaryngol Relat Spec 66:11–15

4.

Papi G, Gudetti G, Coresello SM, Di Donato C, Pontecorvi A (2010) The association between benign paroxysmal positional vertigo and autoimmune chronic thyroiditis is not related to thyroid function. Thyroid 20:237–238

5.

von Brevern M, Radtke A, Lezius F, Feldmann M, Ziese T, Lempert T, Neuhauser H (2007) Epidemiology of benign paroxysmal positional vertigo: a population based study. J Neurol Neurosurg Psychiatry 78:710–715

6.

Jeong SH, Kim JS, Shin JW, Kim S, Lee H, Lee AY, Kim JM, Jo H, Song J, Ghim Y (2013) Decreased serum vitamin D in idiopathic benign paroxysmal positional vertigo. J Neurol 260(3):832–838

7.

Balatsouras DG, Koukoutsis G, Ganelis P, Korres GS, Kaberos A (2011) Diagnosis of single- or multiple-canal benign paroxysmal positional vertigo according to the type of nystagmus. Int J Otolaryngol 2011:483965

8.

Kanis JA, Melton LJ, Christiansen C, Johnston CC, Khaltaev N (1994) The diagnosis of osteoporosis. J Bone Miner Res 9(8):1137–1141

9.

Thacher TD, Clarke BL (2011) Vitamin D insufficiency. Mayo Clin Proc 86(1):50–60

10.

Kratz A, Ferraro M, Sluss PM, Lewandrowski K (2004) Case records of the Massachusetts General Hospital: laboratory values. N Engl J Med 351(15):1549–1563

11.

Lundberg YW, Zhao X, Yamoah EN (2006) Assembly of the otoconia complex to the macular sensory epithelium of the vestibule. Brain Res 1091:47–57

12.

Thalmann R, Ignatova E, Kachar B, Ornitz DM, Thalmann I (2001) Development and maintenance of otoconia: biochemical considerations. Ann NY Acad Sci 942:162–178

13.

Yamauchi D, Raveendran NN, Pondugula SR, Kampalli SB, Sanneman JD, Harbidge DG, Marcus DC (2005) Vitamin D upregulates expression of ECaC1 mRNA in semicircular canal. Biochem Biophys Res Commun 331(4):1353–1357

14.

Yamauchi D, Nakaya K, Raveendran NN, Harbidge D, Singh R, Wangemann P (2010) Expression of epithelial calcium transport system in rat cochlea and vestibular labyrinth. BMC Physiology 10:1–12

15.

Nakaya K, Harbidge DG, Wangemann P, Schultz BD, Green E, Wall SM, Marcus DC (2007) Lack of pendrin HCO3- transport elevates vestibular endolymphatic [Ca2+] by inhibition of acid-sensitive TRPV5 and TRPV6 channels. Am J Physiol Renal Physiol 292:1314–1321

16.

Al-Mohaimeed A, Khan N, Naeem Z, Al-Mogbel E (2012) Vitamin D status among women in middle east. J Health Sci 2(6):49–56

17.

National Osteoporosis Foundation (2003) Health professional's guide to rehabilitation of the patient with osteoporosis. National Osteoporosis Foundation, Washington, DC

18.

Buki B, Ecker M, Junger H, Lundberg YW (2013) Vitamin D deficiency and benign paroxysmal positioning vertigo. Med Hypotheses 80:201–204

19.

Vibert D, Kompis M, Häusler R (2003) Benign paroxysmal positional vertigo in older women may be related to osteoporosis and osteopenia. Ann Otol Rhinol Laryngol 112(10):885–889

20.

Jang YS, Kang MK (2009) Relationship between bone mineral density and clinical features in women with idiopathic benign paroxysmal positional vertigo. Otol Neurotol 30:95–100

21.

Jeong SH, Choi SH, Kim JY, Koo JW, Kim HJ, Kim JS (2009) Osteopenia and osteoporosis in idiopathic benign positional vertigo. Neurology 72:1069–1076
Conflict of interest
The authors declare that they have no conflict of interest.
About this article
Cite this article
Talaat, H.S., Abuhadied, G., Talaat, A.S. et al. Low bone mineral density and vitamin D deficiency in patients with benign positional paroxysmal vertigo. Eur Arch Otorhinolaryngol 272, 2249–2253 (2015). https://doi.org/10.1007/s00405-014-3175-3
Received:

Accepted:

Published:

Issue Date:
Keywords
Otoconia

Osteopenia

Osteoporosis

Recurrence of BPPV

Vitamin D

Bone marrow density