Abstract
Biofilms are organized bacterial communities that may be homogeneous or heterogeneous. They play a significant role in the pathogenesis of chronic nasal sinusitis, chronic tonsillitis, cholesteatomas, and device-related infections. Despite this, few studies have been done that examine the presence of bacterial biofilms in tissues from patients with different types of COM or middle ear cholesteatomas. In the current study, we examined the presence of biofilms in surgical tissue specimens from humans with chronic ear infections using scanning electron microscopy (SEM). We hypothesize that bacterial biofilms present differently in patients with different types of chronic otitis media. Our results provide new insights regarding treatment of chronic otitis media. A prospective study was conducted in which middle ear tissues were obtained from 38 patients who underwent tympanoplasty and/or tympanomastoid surgery due to chronic ear infections. A total of 50 middle and mastoid tissue samples were processed for SEM analysis. In addition, 38 middle ear secretion specimens were obtained for routine bacterial culture analysis. Bacterial biofilms were present in 85 % (11 of 13) of patients with middle ear cholesteatoma, 92 % (12/13) of patients with chronic otitis suppurative media (CSOM), and 16 % of patients (2/12) with tympanic membrane perforation (TMP). Fungal biofilms were found in two cases of cholesteatoma. The positive coincidence rate between bacterial biofilms visualized by SEM and bacteria detected by culture was 82 %. Our findings suggest that bacterial biofilms are very common in CSOM and middle ear cholesteatomas. Positive bacterial cultures imply the presence of biofilm formation in CSOM and cholesteatomas. As such, our results provide new insights regarding treatment of chronic otitis media.
This is a preview of subscription content, log in to check access.
Access options
Buy single article
Instant access to the full article PDF.
US$ 39.95
Price includes VAT for USA
Subscribe to journal
Immediate online access to all issues from 2019. Subscription will auto renew annually.
US$ 199
This is the net price. Taxes to be calculated in checkout.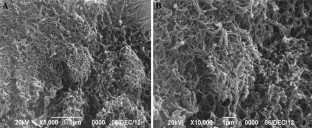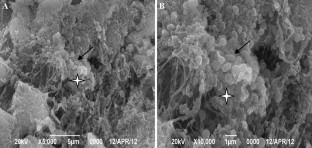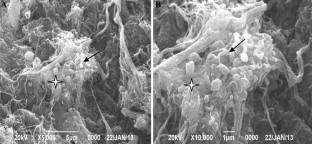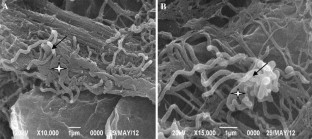 References
1.

Potera C (1999) Forging a link between biofilms and disease. Science 283(5409):1837–1839

2.

Psaltis AJ, Ha KR, Beule AG, Tan LW, Wormald PJ (2007) Confocal scanning laser microscopy evidence of biofilms in patients with chronic rhinosinusitis. Laryngoscope 117(7):1302130–1302136

3.

Starner TD, Zhang N, Kim G, Apicella MA, McCray PB Jr (2006) Haemophilus influenzae forms biofilms on airway epithelia: implications in cystic fibrosis. Am J Respir Crit Care Med 174(2):213–220

4.

Hall-Stoodley L, Hu FZ, Gieseke A, Nistico L, Nguyen D, Hayes J, Forbes M, Greenberg DP, Dice B, Burrows A, Wackym PA, Stoodley P, Post JC, Ehrlich GD, Kerschner JE (2006) Direct detection of bacterial biofilms on the middle-ear mucosa of children with chronic otitis media. JAMA 296(2):202–211

5.

Foreman A, Holtappels G, Psaltis AJ, Jervis-Bardy J, Field J, Wormald PJ, Bachert C (2011) Adaptive immune responses in Staphylococcus aureus biofilm-associated chronic rhinosinusitis. Allergy 66(11):1449–1456

6.

Costerton JW, Stewart PS, Greenberg EP (1999) Bacterial biofilms: a common cause of persistent infections. Science 284(5418):1318–1822

7.

Stoodley P, Sauer K, Davies DG, Costerton JW (2002) Biofilms as complex differentiated communities. Annu Rev Microbiol 56:187–209

8.

Costerton W, Veeh R, Shirtliff M, Pasmore M, Post C, Ehrlich G (2003) The application of biofilm science to the study and control of chronic bacterial infections. J Clin Invest 112(10):1466–1477

9.

Hall-Stoodley L, Costerton JW, Stoodley P (2004) Bacterial biofilms: from the natural environment to infectious diseases. Nat Rev Microbiol 2(2):95–108

10.

Post JC (2001) Direct evidence of bacterial biofilms in otitis media. Laryngoscope 111(12):2083–2094

11.

Ehrlich GD, Veeh R, Wang X, Costerton JW, Hayes JD, Hu FZ, Daigle BJ, Ehrlich MD, Post JC (2002) Mucosal biofilm formation on middle-ear mucosa in the chinchilla model of otitis media. JAMA 287(13):1710–1715

12.

Dohar JE, Hebda PA, Veeh R, Awad M, Costerton JW, Hayes J, Ehrlich GD (2005) Mucosal biofilm formation on middle-ear mucosa in a nonhuman primate model of chronic suppurative otitis media. Laryngoscope 115(8):1469–1472

13.

Chole RA, Faddis BT (2002) Evidence for microbial biofilms in cholesteatomas. Arch Otolaryngol Head Neck Surg 128(10):1129–1133

14.

Bothwell MR, Smith AL, Phillips T (2003) Recalcitrant otorrhea due to Pseudomonas biofilm. Otolaryngol Head Neck Surg 129(5):599–601

15.

Pawlowski KS, Wawro D, Roland PS (2005) Bacterial biofilm formation on a human cochlear implant. Otol Neurotol 26(5):972–975

16.

Homoe P, Bjarnsholt T, Wessman M, Sorensen HC, Johansen HK (2009) Morphological evidence of biofilm formation in Greenlanders with chronic suppurative otitis media. Eur Arch Otorhinolaryngol 266(10):1533–1538

17.

Saunders J, Murray M, Alleman A (2011) Biofilms in chronic suppurative otitis media and cholesteatoma: scanning electron microscopy findings. Am J Otolaryngol 32(1):32–37

18.

Lampikoski H, Aarnisalo AA, Jero J, Kinnari TJ (2012) Mastoid biofilm in chronic otitis media. Otol Neurotol 33(5):785–788

19.

Ramadan HH, Sanclement JA, Thomas JG (2005) Chronic rhinosinusitis and biofilms. Otolaryngol Head Neck Surg 132(3):414–417

20.

Sanclement JA, Webster P, Thomas J, Ramadan HH (2005) Bacterial biofilms in surgical specimens of patients with chronic rhinosinusitis. Laryngoscope 115(4):578–782

21.

Beikler T, Flemmig TF (2011) Oral biofilm-associated diseases: trends and implications for quality of life, systemic health and expenditures. Periodontol 2000 55(1):87–103

22.

Hoiby N, Bjarnsholt T, Givskov M, Molin S, Ciofu O (2010) Antibiotic resistance of bacterial biofilms. Int J Antimicrob Agents 35(4):322–332

23.

Davies D (2003) Understanding biofilm resistance to antibacterial agents. Nat Rev Drug Discov 2(2):114–122

24.

Anderl JN, Franklin MJ, Stewart PS (2000) Role of antibiotic penetration limitation in Klebsiella pneumoniae biofilm resistance to ampicillin and ciprofloxacin. Antimicrob Agents Chemother 44(7):1818–1824

25.

Walters MR, Roe F, Bugnicourt A, Franklin MJ, Stewart PS (2003) Contributions of antibiotic penetration, oxygen limitation, and low metabolic activity to tolerance of Pseudomonas aeruginosa biofilms to ciprofloxacin and tobramycin. Antimicrob Agents Chemother 47(1):317–323

26.

Lee MR, Pawlowski KS, Luong A (2009) Biofilm presence in humans with chronic Suppurative otitis media. Otolaryngol Head Neck Surg 141(5):567–571

27.

Vennewald I, Klemm E (2010) Otomycosis: diagnosis and treatment. Clin Dermatol 28(2):202–211

28.

Healy DY, Leid JG, Sanderson AR, Hunsaker DH (2008) Biofilms with fungi in chronic rhinosinusitis. Otolaryngol Head Neck Surg 138(5):641–647

29.

Foreman A, Psaltis AJ, Tan LW, Wormald PJ (2009) Characterization of bacterial and fungal biofilms in chronic rhinosinusitis. Am J Rhinol Allergy 23(6):556–561

30.

Ryan MW, Marple BF (2007) Allergic fungal rhinosinusitis: diagnosis and management. Curr Opin Otolaryngol Head Neck Surg 15(1):18–22

31.

Nussenbaum B, Marple BF, Schwade ND (2001) Characteristics of bony erosion in allergic fungal rhinosinusitis. Otolaryngol Head Neck Surg 124(2):150–154
Acknowledgments
This work was supported by grants from Xin Jiang Uygur Autonomous Region People's Hospital Program (#20110121).
About this article
Cite this article
Gu, X., Keyoumu, Y., Long, L. et al. Detection of bacterial biofilms in different types of chronic otitis media. Eur Arch Otorhinolaryngol 271, 2877–2883 (2014). https://doi.org/10.1007/s00405-013-2766-8
Received:

Accepted:

Published:

Issue Date:
Keywords
Biofilm

Chronic otitis media

Cholesteatoma

Bacterial

Fungal

Scanning electron microscopy