Abstract
Olfactory training consisting of daily suprathreshold odor exposure over 12 weeks seems to improve olfactory function. It is unknown if a longer period of training might be more effective. A prospective non-randomized clinical study was performed including 39 patients with olfactory loss after an upper respiratory tract infection (URTI) of less than 24 months duration. Patients exposed themselves with suprathreshold concentrations of four odors (rose, eucalyptus, lemon, cloves) applied in ''Sniffin' Sticks'' felt-tip pens over 32 weeks. Olfactory function was performed before (T1), after 16 weeks (T2), and 32 weeks of training (T3) using the 'the Sniffin' Sticks test kit calculating the TDI score (Threshold, Discrimination, Identification). The mean TDI score showed a non-significant trend of improvement at T2, and was significantly increased at T3 (p = 0.021). Overall, 31 patients (79 %) showed an increased TDI score at T3. The increase of TDI from T1 to T3 was 4.6 ± 5.1. Age, gender, duration and initial severity of olfactory loss had no influence on the improvement (all p > 0.05). Only patients with a D score lower than the median value of 8 showed a significantly higher increase of the D score at T3 (p = 0.004). The present study confirmed that olfactory training improves olfactory function in patients with olfactory loss after URTI. A longer duration of training over 32 weeks seems to increase the effectiveness in comparison to a 12-week period. This was tested in a completed German multicenter trial to be published soon containing a control group to include the effect of a spontaneous recovery after URTI.
This is a preview of subscription content, log in to check access.
Access options
Buy single article
Instant access to the full article PDF.
US$ 39.95
Price includes VAT for USA
Subscribe to journal
Immediate online access to all issues from 2019. Subscription will auto renew annually.
US$ 199
This is the net price. Taxes to be calculated in checkout.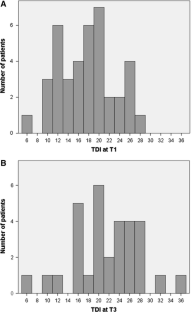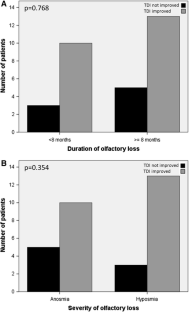 References
1.

Neuland C, Bitter T, Marschner H, Gudziol H, Guntinas-Lichius O (2011) Health-related and specific olfaction-related quality of life in patients with chronic functional anosmia or severe hyposmia. Laryngoscope 121(4):867–872. doi:10.1002/lary.21387

2.

Holbrook EH, Leopold DA (2006) An updated review of clinical olfaction. Curr Opin Otolaryngol Head Neck Surg 14(1):23–28. doi:10.1097/01.moo.0000193174.77321.39

3.

Blomqvist EH, Lundblad L, Bergstedt H, Stjarne P (2003) Placebo-controlled, randomized, double-blind study evaluating the efficacy of fluticasone propionate nasal spray for the treatment of patients with hyposmia/anosmia. Acta Oto-laryngol 123(7):862–868

4.

Reden J, El-Hifnawi D, Zahnert T, Hummel T (2011) The effect of a herbal combination of primrose, gentian root, vervain, elder flowers, and sorrel on olfactory function in patients with a sinonasal olfactory dysfunction. Rhinology 49(3):342–346. doi:10.4193/Rhin

5.

Reden J, Herting B, Lill K, Kern R, Hummel T (2011) Treatment of postinfectious olfactory disorders with minocycline: a double-blind, placebo-controlled study. Laryngoscope 121(3):679–682. doi:10.1002/lary.21401

6.

Reden J, Lill K, Zahnert T, Haehner A, Hummel T (2012) Olfactory function in patients with postinfectious and posttraumatic smell disorders before and after treatment with vitamin A: a double-blind, placebo-controlled, randomized clinical trial. Laryngoscope 122(9):1906–1909. doi:10.1002/lary.23405

7.

Youngentob SL, Kent PF (1995) Enhancement of odorant-induced mucosal activity patterns in rats trained on an odorant identification task. Brain Res 670(1):82–88

8.

Livermore A, Laing DG (1996) Influence of training and experience on the perception of multicomponent odor mixtures. J Exp Psychol Hum Percept Perform 22(2):267–277

9.

Hummel T, Rissom K, Reden J, Hahner A, Weidenbecher M, Huttenbrink KB (2009) Effects of olfactory training in patients with olfactory loss. Laryngoscope 119(3):496–499. doi:10.1002/lary.20101

10.

Czarnecki LA, Moberly AH, Turkel DJ, Rubinstein T, Pottackal J, Rosenthal MC, McCandlish EF, Buckley B, McGann JP (2012) Functional rehabilitation of cadmium-induced neurotoxicity despite persistent peripheral pathophysiology in the olfactory system. Toxicol Sci 126(2):534–544. doi:10.1093/toxsci/kfs030

11.

Haehner A, Tosch C, Wolz M, Klingelhoefer L, Fauser M, Storch A, Reichmann H, Hummel T (2013) Olfactory training in patients with Parkinson's disease. PLoS One 8(4):e61680. doi:10.1371/journal.pone.0061680

12.

Hummel T, Sekinger B, Wolf SR, Pauli E, Kobal G (1997) 'Sniffin' sticks': olfactory performance assessed by the combined testing of odor identification, odor discrimination and olfactory threshold. Chem Sens 22(1):39–52

13.

Kobal G, Klimek L, Wolfensberger M, Gudziol H, Temmel A, Owen CM, Seeber H, Pauli E, Hummel T (2000) Multicenter investigation of 1,036 subjects using a standardized method for the assessment of olfactory function combining tests of odor identification, odor discrimination, and olfactory thresholds. Eur Arch Otorhinolaryngol 257(4):205–211

14.

Fleiner F, Lau L, Goktas O (2012) Active olfactory training for the treatment of smelling disorders. Ear Nose Throat J 91(5):198–203, 215

15.

Lapid H, Hummel T (2013) Recording odor-evoked response potentials at the human olfactory epithelium. Chem Sens 38(1):3–17. doi:10.1093/chemse/bjs073

16.

Bitter T, Gudziol H, Burmeister HP, Mentzel HJ, Guntinas-Lichius O, Gaser C (2010) Anosmia leads to a loss of gray matter in cortical brain areas. Chem Sens 35(5):407–415. doi:10.1093/chemse/bjq028

17.

Bitter T, Josiger M, Mentzel HJ, Burmeister HP, Gudziol H, Guntinas-Lichius O (2011) Detection of olfactory areas in functional MRI—how many repetitions are necessary? Laryngorhinootologie 90(3):145–150. doi:10.1055/s-0030-1267216
Conflict of interest
The authors indicate that they have no conflict of interest.
About this article
Cite this article
Geißler, K., Reimann, H., Gudziol, H. et al. Olfactory training for patients with olfactory loss after upper respiratory tract infections. Eur Arch Otorhinolaryngol 271, 1557–1562 (2014). https://doi.org/10.1007/s00405-013-2747-y
Received:

Accepted:

Published:

Issue Date:
Keywords
Olfactory training

Postviral olfactory loss

Anosmia

Hyposmia

Regeneration