Abstract
Both epistaxis and hypertension are frequent problems in the adult population. The relationship between the level of arterial pressure and incidence of epistaxis in a patient with hypertension is a question that appears frequently in the clinical practice. A systematic review of the literature regarding the relation of arterial hypertension with epistaxis was performed through MEDLINE and EMBASE. All studies, whether examining the correlation of arterial pressure at presentation of a patient with nasal bleeding or the repercussion of episodes of epistaxis in hypertensive patients, were included in this review. Studies were evaluated independently by two reviewers according to a standard evaluation form. Overall, nine studies fulfilled our inclusion criteria. Five of them were single-group (patient) studies, while the remaining four included a control group. In eight studies, the patient group included patients with epistaxis, while one focused on hypertensive patients. Six out of nine studies agree that arterial pressure is higher at the time of epistaxis, as compared to the control group or to the general population. Seven out of nine studies conclude that there is cross-correlation between arterial pressure and the actual incident of epistaxis. The presence of high arterial blood pressure during the actual episode of nasal bleeding cannot establish a causative relationship with epistaxis, because of confounding stress and possible white coat phenomenon, but may lead to initial diagnosis of an already installed arterial hypertension.
Access options
Buy single article
Instant access to the full article PDF.
USD 39.95
Price excludes VAT (USA)
Tax calculation will be finalised during checkout.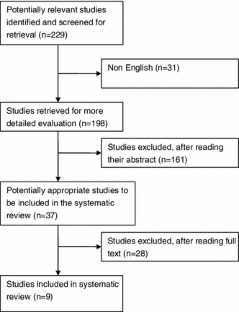 References
Miniño AM (2009) Centers for disease control and prevention national center for health statistics death in the United States. NCHS Data Brief 64:1–8

Yoon SS, Ostchega Y, Louis T (2010) Recent trends in the prevalence of high blood pressure and its treatment and control, 1999–2008. Hyattsville, MD: US Department of Health and Human Services, CDC, National Center for Health Statistics; NCHS Data Brief no. 48 Monomi M., Death in the United States (2011) NCHS Data Brief. (64):1-8

Hall JE (2008) Hypertension: update. Hypertension 52(3):425–428

Messerli FH, Williams B, Ritz E (2007) Essential hypertension. Lancet 18; 370(9587):591–603

Zampaglione B, Pascale C, Marchisio M, Cavallo-Perin P (1996) Hypertensive Urgencies and Emergencies, Prevalence and Clinical Presentation. Hypertension 27:144–147

Rodriguez MA, Kumar SK, De Caro M (2010) Hypertensive Crisis. Cardiol Rev 18(2):102–107

Kotecha B, Fowler S, Harkness P, Walmsley J, Brown P, Topham J (1996) Management of epistaxis: a national survey. Ann R Coll Surg Engl 78(5):444–446

Goddard JC, Reiter ER (2005) Inpatient management of epistaxis: outcomes and cost. Otolaryngol Head Neck Surg 132(5):707–712

Moher D, Liberati A, Tetzlaff J, Altman DG (2009) Preferred reporting items for systematic reviews and meta-analyses: the PRISMA statement. PLoS medicine 6(7):e1000097. doi:10.1371/journal.pmed.100009

Herkner H, Laggner AN, Müllner M, Formanek M, Bur A, Gamper G, Woisetschläger C, Hirschl MM (2000) Hypertension in patients presenting with epistaxis. Ann Emerg Med 35(2):126–130

Dizdar O, Onal IK, Ozakin E, Karakiliç E, Karadag O, Kalyoncu U, Coşkun F, Buyukasik Y (2007) Research for bleeding tendency in patients presenting with significant epistaxis. Blood Coagul Fibrinolysis 18(1):41–43

Fuchs FD, Moreira LB, Pires CP, Torres FS, Furtado MV, Moraes RS, Wiehe M, Fuchs SC, Lubianca Neto JF (2003) Absence of association between hypertension and epistaxis: a population-based study. Blood Press 12(3):145–148

Herkner H, Havel C, Müllner M, Gamper G, Bur A, Temmel AF, Laggner AN, Hirschl MM (2002) Active epistaxis at ED presentation is associated with arterial hypertension. Am J Emerg Med 20(2):92–95

Isezuo SA, Segun-Busari S, Ezunu E, Yakubu A, Iseh K, Legbo J, Alabi BS, Dunmade AE (2008) Relationship between epistaxis and hypertension: a study of patients seen in the emergency units of two tertiary health institutions in Nigeria. J Clin Pract 11(4):379–382

Beran M, Petruson B (1986) Occurrence of epistaxis in habitual nose-bleeders and analysis of some etiological factors. ORL J Otorhinolaryngol Relat Spec 48(5):297–303

Padgham N (1990) Epistaxis: anatomical and clinical correlates. J Laryngol Otolaryngol. 104(4):308–311

Lubianca Neto JF, Fuchs FD, Facco SR, Gus M, Fasolo L, Mafessoni R, Gleissner AL (1999) Is epistaxis evidence of end-organ damage in patients with hypertension? Laryngoscope 109(7 Pt 1):1111–1115

Charles R, Corrigan E (1977) Epistaxis and hypertension. Postgrad Med J 53(619):260–261

Rudmik L, Smith TL (2012) Management of intractable spontaneous epistaxis. Am J Rhinol Allergy 26(1):55–60

Agreda B, Urpegui A, Ignacio Alfonso J (2011) Ligation of the sphenopalatine artery in posterior epistaxis: retrospective study of 50 patients Valles H. Acta Otorrinolaringol Esp 62(3):194–198

Turgay C, Atila I, Uygar C, Serdar K, Yalcin T, Ersoy I (2010) A new evidence of end-organ damage in patients with arterial hypertension: epistaxis? Int J Cardiol 141(1):105–107

Rizzoni D, Muiesan ML, Porteri E, De Ciuceis C, Boari GE, Salvetti M, Paini A, Rosei EA (2009) Vascular remodeling, macro- and microvessels: therapeutic implications. Blood Press 18(5):242–246

Rafflenbeul W (1994) Hypertension treatment and prevention of new atherosclerotic plaque formation. Drugs 48(Suppl 1):11–15

Kitamoto S, Egashira K (2004) Endothelial dysfunction and coronary atherosclerosis. Curr Drug Targets Cardiovasc Haematol Disord 4(1):13–22

Miller AA, Drummond GR, Kemp-Harper BK, Sobey CG (2011) Oxidative stress and endothelial dysfunction in cerebrovascular disease. Front Biosci 1(16):1733–1745

Rymer MM (2011) Hemorrhagic stroke: intracerebral hemorrhage. Mo Med 108(1):50–54

Inagawa T (2010) Risk factors for the formation and rupture of intracranial saccular aneurysms in Shimane Japan. World Neurosurg 73(3):155–164
About this article
Cite this article
Kikidis, D., Tsioufis, K., Papanikolaou, V. et al. Is epistaxis associated with arterial hypertension? A systematic review of the literature. Eur Arch Otorhinolaryngol 271, 237–243 (2014). https://doi.org/10.1007/s00405-013-2450-z
Received:

Accepted:

Published:

Issue Date:

DOI: https://doi.org/10.1007/s00405-013-2450-z
Keywords