Abstract
We aimed to assess whether anxiety and depression influence a patient's subjective symptom scores in chronic rhinosinusitis (CRS). Fifty-seven consecutive patients referred with CRS were asked to complete Sinonasal Outcome Test-22 (SNOT22) and Hospital Anxiety and Depression Score (HADS) questionnaires. Spearman's rank correlation was used to test association between SNOT22 and HADS. Linear regression was used to simultaneously analyse SNOT, HADS, patient age and gender. Mean anxiety score was 7.9 (range 0–19) with 32 % scoring over 11 (A score of ≥11 for either anxiety or depression is suggestive). Mean depression score was 5.0 (range 0–17), with 11 % scoring over 11. Five patients scored over 11 for both domains in the HADS questionnaire. Total SNOT22 and both anxiety (Spearman's ρ = 0.48, p = 0.0002) and depression scores (ρ = 0.44, p = 0.0007) revealed a strong association. We also identified a very strong association between psychological symptoms (questions 11–20) in SNOT22 and anxiety (ρ = 0.60, p = 0.0001) and depression scores (ρ = 0.341, p = 0.002). However, there was no association between nose-specific symptoms in SNOT22 and anxiety score in HADS (ρ = 0.18, p = 0.1775), but there was a strong association between nose-specific symptoms of SNOT22 and depression score in HADS (ρ = 0.32, p = 0.02). There is a strong association between total SNOT 22 and HADS score, but this appears to be due to the impact on generic quality of life items rather than disease-specific symptoms. This supports inclusion of global items in the SNOT22, but also use of two separate subscales when interpreting data.
Access options
Buy single article
Instant access to the full article PDF.
US$ 39.95
Tax calculation will be finalised during checkout.
Subscribe to journal
Immediate online access to all issues from 2019. Subscription will auto renew annually.
US$ 119
Tax calculation will be finalised during checkout.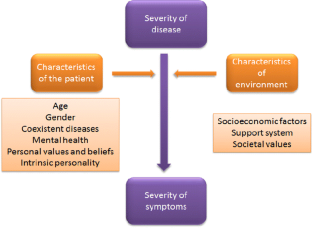 References
1.

Hastan D, Fokkens WJ, Bachert C, Newson RB, Bislimovska J, Bockelbrink A, Bousquet PJ, Brozek G, Bruno A, Dahlén SE, Forsberg B, Gunnbjörnsdóttir M, Kasper L, Krämer U, Kowalski ML, Lange B, Lundbäck B, Salagean E, Todo-Bom A, Tomassen P, Toskala E, van Drunen CM, Bousquet J, Zuberbier T, Jarvis D, Burney P (2011) Chronic rhinosinusitis in Europe—an underestimated disease. A GA2LEN study. Allergy 66:1216–1223

2.

Wood AJ, Douglas RG (2010) Pathogenesis and treatment of chronic rhinosinusitis. Postgrad Med J 86:359–364

3.

Fokkens W, Lund V, Mullol J (2007) European position paper on rhinosinusitis and nasal polyps 2007. Rhinol Suppl 20:1–136

4.

Hopkins C (2009) Patient reported outcome measures in rhinology. Rhinology 47(1):10–17

5.

Wilson IB, Cleary PD (1995) Linking clinical variables with health-related quality of life. A conceptual model of patient outcomes. JAMA 273(1):59–65

6.

Alobid I, Bernal-Sprekelsen M, Mullol J (2008) Chronic rhinosinusitis and nasal polyps: the role of generic and specific questionnaires on assessing its impact on patient's quality of life. Allergy 63:1267–1279

7.

Hopkins C, Gillet S, Slack R, Browne JP (2009) Psychometric validity of the 22-item Sinonasal Outcome test. Clin Otolaryngol 34:447–454

8.

Zimond AS, Snaith RP (1983) The hospital anxiety and depression scale. Acta Psychiatr Scand 67:361–370

9.

Brandsted R, Sindwani R (2007) Impact of depression on disease-specific symptoms and quality of life in patients with chronic rhinosinusitis. Am J Rhinol 21(1):50–54

10.

Davis GE, Yueh B, Walker E, Katon W, Koepsell TD, Weymuller EA (2005) Psychiatric distress amplifies symptoms after surgery for chronic rhinosinusitis. Otolaryngol Head Neck Surg 132(2):189–196

11.

Litvack JR, Mace J, Smith TL (2011) Role of depression in outcomes of endoscopic sinus surgery. Otolaryngol Head Neck Surg 144(3):446–451

12.

Hopkins C, Gillet S, Slack R (2009) Are men really more full of SNOT? Clin Otolaryngol 34:1–2
Acknowledgments
The authors have no financial disclosures to make.
About this article
Cite this article
Nanayakkara, J.P., Igwe, C., Roberts, D. et al. The impact of mental health on chronic rhinosinusitis symptom scores. Eur Arch Otorhinolaryngol 270, 1361–1364 (2013). https://doi.org/10.1007/s00405-012-2230-1
Received:

Accepted:

Published:

Issue Date:
Keywords
Chronic rhinosinusitis outcomes

Anxiety

Depression

Mental health