Abstract
Compared with rhinologic patients without chronic rhinosinusitis (CRS), a higher prevalence of sinonasal Helicobacter pylori (HP) in patients with CRS was found. This study investigated if HP sinonasal colonization has a prognostic value for efficacy of functional endoscopic sinus surgery (FESS). Nasal polyps of 40 patients with CRS, undergoing FESS, were analyzed for presence of HP using immunohistochemistry (IHC). Patients were categorized as to whether the IHC was positive (HP+ group) or negative (HP− group). HP+ group and HP− group were compared according to the nasal polyp eosinophil density, and to the improvement (difference between pre- and post-operative scores) of the subjective symptom scores, and the nasal endoscopic scores. Nasal polyps in 28 (70%) patients were positive for HP. There were no significant differences between HP+ group and HP− group comparing the eosinophils, and the improvement of the single symptom and the total symptom scores. HP+ group had significantly greater improvement of the nasal endoscopic scores (F[1.38] = 6.212; P = 0.017). There is no influence of sinonasal HP on tissue eosinophilia and on CRS symptoms. There is a prognostic value for endonasal findings: CRS patients with HP have statistically significant greater improvement of the postoperative endoscopic scores.
Access options
Buy single article
Instant access to the full article PDF.
US$ 39.95
Tax calculation will be finalised during checkout.
Subscribe to journal
Immediate online access to all issues from 2019. Subscription will auto renew annually.
US$ 119
Tax calculation will be finalised during checkout.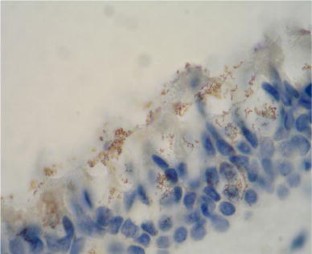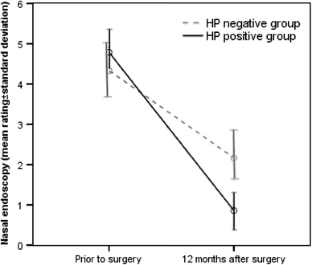 References
1.

DelGaudio JM (2005) Direct nasopharyngeal reflux of gastric acid is a contributing factor in refractory chronic rhinosinusitis. Laryngoscope 115:946–957

2.

Graham DY (1997) Helicobacter pylori infection in the pathogenesis of duodenal ulcer and gastric cancer: a model. Gastroenterology 113:1983–1991

3.

Koc C, Arikan OK, Atasoy P, Aksoy A (2004) Prevalence of Helicobacter pylori in patients with nasal polyps: a preliminary report. Laryngoscope 114:1941–1944

4.

Kim HY, Dhong HJ, Chung SK, Chung KW, Chung YJ, Jang KT (2007) Intranasal Helicobacter pylori colonization does not correlate with the severity of chronic rhinosinusitis. Otolaryngol Head Neck Surg 136:390–395

5.

Khalil H, Nunez DA (2009) Functional endoscopic sinus surgery for chronic rhinosinusitis. Cochrane Database Syst Rev. http://onlinelibrary.wiley.com/o/cochrane/clsysrev/articles/CD004458/pdf_fs.html. Accessed 1 Feb 2011

6.

Smith TL, Litvack JR, Hwang PH et al (2010) Determinants of outcomes of sinus surgery: a multi-institutional prospective cohort study. Otolaryngol Head Neck Surg 142:55–63

7.

Fokkens W, Lund V, Mullol J et al (2007) European position paper on rhinosinusitis and nasal polyps 2007. Rhinology 45:S1–S136

8.

Lund VJ, Mackay IS (1993) Staging in rhinosinusitis. Rhinology 31:183–184

9.

Baudoin T, Kalogjera L, Geber G, Grgić M, Čupić H, Kujundžić Tiljak M (2008) Correlation of histopathology and symptoms in allergic and non-allergic patients with chronic rhinosinusitis. Eur Arch Otorhinolaryngol 265:657–661

10.

Baudoin T, Čupić H, Geber G, Vagić D, Grgić M, Kalogjera L (2006) Histopathologic parameters as predictors of response to endoscopic sinus surgery in nonallergic patients with chronic rhinosinusitis. Otolaryngol Head Neck Surg 134:761–766

11.

Malm L (1997) Assessment and staging of nasal polyposis. Acta Otolaryngol 117:465–467

12.

Monsó E, Rosell A, Bonet G et al (1998) Impacto de la colonización bronquial en la calidad de vida del paciente con bronquitis crónica estable. Med Clin (Barc) 111:561–564

13.

Benninger MS, Ferguson BJ, Hadley JA et al (2003) Adult chronic rhinosinusitis: definitions, diagnosis, epidemiology, and pathophysiology. Otolaryngol Head Neck Surg 129:S1–S32

14.

Babus V, Presecki V, Katicić M et al (1997) Distribution of Helicobacter pylori infection in the adult population of Croatia [in Croatian]. Lijec Vjesn 119:139–142

15.

Andersen LP, Holck S, Povlsen CO (1988) Campylobacter pylori detected by indirect immunohistochemical technique. APMIS 96:559–564

16.

Quiding-Järbrink M, Raghavan S, Sundquist M (2010) Enhanced M1 macrophage polarization in human Helicobacter pylori-associated atrophic gastritis and in vaccinated mice. PloS One. http://www.ncbi.nlm.nih.gov/pmc/articles/PMC2990716/pdf/pone.0015018.pdf. Accessed 16 Jan 2011

17.

Kim JM, Kim JS, Lee JY et al (2010) Dual effects of Helicobacter pylori vacuolating cytotoxin on human eosinophil apoptosis in early and late periods of stimulation. Eur J Immunol 40:1651–1662

18.

Nagy TA, Allen SS, Wroblewski LE et al (2011) Helicobacter pylori induction of eosinophil migration is mediated by the cag pathogenicity island via microbial-epithelial interactions. Am J Pathol 178:1448–1452

19.

Corley DA, Kubo A, Levin TR et al (2008) Helicobacter pylori and gastroesophageal reflux disease: a case–control study. Helicobacter 13:352–360

20.

Oridate N, Takeda H, Yamamoto J et al (2006) Helicobacter pylori seropositivity predicts outcomes of acid suppression therapy for laryngopharyngeal reflux symptoms. Laryngoscope 116:547–553

21.

Blaser MJ (2000) The amphibiotic relationship of Helicobacter pylori and humans. In: Hunt RH, Tytgat GNJ (eds) Helicobacter pylori basic mechanisms to clinical cure 2000. Kluwer, Dordrecht (Netherlands), pp 25–30

22.

Hamlet A, Croitoru K (2000) Overview of immune and inflammatory changes due to Helicobacter infection. In: Hunt RH, Tytgat GNJ (eds) Helicobacter pylori basic mechanisms to clinical cure 2000. Kluwer, Dordrecht (Netherlands), pp 141–150

23.

Ozyurt M, Gungor A, Ergunay K, Cekin E, Erkul E, Haznedaroglu T (2009) Real-time PCR detection of Helicobacter pylori and virulence-associated cagA in nasal polyps and laryngeal disorders. Otolaryngol Head Neck Surg 141:131–135

24.

Smith TL, Rhee JS, Loehrl TA, Burzynski ML, Laud PW, Nattinger AB (2003) Objective testing and quality-of-life evaluation in surgical candidates with chronic rhinosinusitis. Am J Rhinol 17:351–356
Acknowledgments
The authors are indebted to Dr. Božo Petrov, M.Sc., and Prof. Darko Hren, Ph.D., for the statistical analysis. This work has been done as a part of the scientific project "Research of chronic rhinosinusitis and its comorbidity" supported by the Ministry of Science, Education and Sports of the Republic of Croatia (No. 108-0650235-0177).
Conflict of interest
None declared.
About this article
Cite this article
Jelavic, B., Grgić, M., Čupić, H. et al. Prognostic value of Helicobacter pylori sinonasal colonization for efficacy of endoscopic sinus surgery. Eur Arch Otorhinolaryngol 269, 2197–2202 (2012). https://doi.org/10.1007/s00405-012-1923-9
Received:

Accepted:

Published:

Issue Date:
Keywords
Chronic rhinosinusitis

Nasal polyps

Helicobacter pylori

Functional endoscopic sinus surgery

Prognosis