Abstract
Benzocaine lozenges are popular in symptomatic treatment of acute sore throat. The aim of this study was to evaluate if sucking a benzocaine lozenge was superior to a placebo lozenge in patients with pain while swallowing. Volunteers with acute, uncomplicated sore throat received randomly and double-blind either a benzocaine 8 mg or a placebo lozenge. Pain was assessed on a numerical visual rating scale. The primary outcome measure was the sum of the pain intensity differences (SPID) over 2 h. Secondary outcome measures included the number of patients who reported 50% or more of their baseline pain score (responders) and those with worthwhile and complete pain relief, the times to worthwhile/complete pain relief and to pain recurrence and the occurrence of any adverse effects. A predefined interim analysis after including 50 patients revealed the superiority of benzocaine versus placebo in the SPID (p = 0.0086). At this time, a total of 165 patients had been recruited (full analysis set, FAS) and underwent statistical analysis. In the FAS, median SPID had significantly more decreased in patients receiving benzocaine compared to placebo (−12 vs. − 5, p = 0.001). There were significantly more responders and patients with worthwhile pain relief in group benzocaine. The number of patients with complete pain relief was very small. Median time to worthwhile pain relief was 20 min (benzocaine) and >45 min (placebo). Adverse events were not observed. Benzocaine lozenges are superior to placebo lozenges and a useful, well-tolerated treatment option to reduce painful pharyngeal discomfort.
Access options
Buy single article
Instant access to the full article PDF.
USD 39.95
Price includes VAT (USA)
Tax calculation will be finalised during checkout.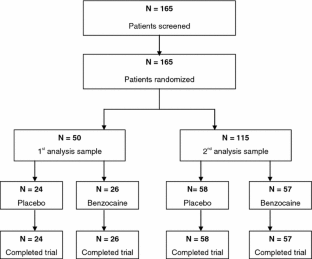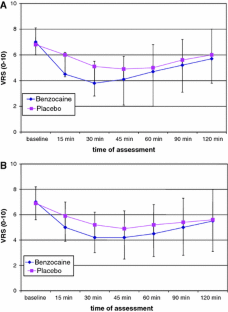 References
1.

Ayres JW, Lorskulsint D, Lock A (1975) Absorption of 3H-benzocaine from ointments following rectal administration in rats. J Pharm Sci 64:1958–1960

2.

Adriani J, Zepernick R (1964) Clinical effectiveness of drugs used for topical anesthesia. JAMA 188:711–716

3.

Weinstein S (1977) Effects of local anesthetics on tactile sensitivity thresholds for cutaneous and mucous membranes. J Invest Dermatol 69:136–145

4.

Roghani S, Duperon DF, Barcohana N (1999) Evaluating the efficacy of commonly used topical anesthetics. Pediatr Dent 21:197–200

5.

Hollmann MW, Gross A, Jelacin N, Durieux ME (2001) Local anesthetic effects on priming and activation of human neutrophils. Anesthesiology 95:113–122

6.

Morrow ME, Berry CW (1988) Antimicrobial properties of topical anesthetic liquids containing lidocaine or benzocaine. Anesth Prog 35:9–13

7.

http://translate.google.ch/translate?hl=de&sl=en&u=http://www.merckmanuals.com/professional/lexicomp/benzocaine.html&ei=lW4HTaHPHsmEOtPd2LMJ&sa=X&oi=translate&ct=result&resnum=7&ved=0CDsQ7gEwBg&prev=/search%3Fq%3Dbenzocaine%2Bproducts%2Bsore%2Bthroat%26hl%3Dde%26biw%3D1436%26bih%3D694%26rlz%3D1R2ADRA_deCH384%26prmd%3Divnsb)

8.

Kagan G, Huddlestone L, Wolstencroft P (1982) Two lozenges containing benzocaine assessed in the relief of sore throat. J Int Med Res 10:443–446

9.

Busch R, Graubaum HJ, Grünwald J, Schmidt M (2010) Double-blind comparison of two types of benzocaine lozenges for the treatment of acute pharyngitis. Arzneimittelforschung 60:245–248

10.

Bauer P, Köhne K (1994) Evaluation of experiments with adaptive interim analyses. Biometrics 50:1029–1041

11.

Wonnemann M, Helm I, Stauss-Grabo M, Röttger-Luer P, Tran CT, Canenbley R, Donath F, Nowak H, Schug BS, Blume HH (2007) Lidocaine 8 mg sore throat lozenges in the treatment of acute pharyngitis. A new therapeutic option investigated in comparison to placebo treatment. Arzneimittelforschung 57:689–697

12.

de Mey C, Peil H, Kölsch S, Bubeck J, Vix JM (2008) Efficacy and safety of ambroxol lozenges in the treatment of acute uncomplicated sore throat. EBM-based clinical documentation. Arzneimittelforschung 58:557–568

13.

Malerba M, Ragnoli B (2008) Ambroxol in the 21st century: pharmacological and clinical update. Expert Opin Drug Metab Toxicol 4:1119–1129

14.

Beeh KM, Beier J, Esperester A, Paul LD (2008) Antiinflammatory properties of ambroxol. Eur J Med Res 13:557–562

15.

Buchholz V, Leuwer M, Ahrens J, Foadi N, Krampfl K, Haeseler G (2009) Topical antiseptics for the treatment of sore throat block voltage-gated neuronal sodium channels in a local anaesthetic-like manner. Naunyn Schmiedebergs Arch Pharmacol 380:161–168

16.

Thomas MJ (2010) ACP Journal Club. Amylmetacresol and 2, 4-dichlorobenzyl alcohol lozenges were better than placebo lozenges for relief of acute sore throat. Ann Intern Med 153:JC2–JC6

17.

Bienen H, Raus I (1981) Therapeutic comparison of throat lozenges (author's transl). MMW Munch Med Wochenschr 123:745–747

18.

Raus I (1976) Clinical studies on Frubienzyme in a controlled double-blind trial. Fortschr Med 94:1579–1582

19.

Watson N, Nimmo WS, Christian J, Charlesworth A, Speight J, Miller K (2000) Relief of sore throat with the anti-inflammatory throat lozenge flurbiprofen 8.75 mg: a randomised, double-blind, placebo-controlled study of efficacy and safety. Int J Clin Pract 54:490–496

20.

Blagden M, Christian J, Miller K, Charlesworth A (2002) Multidose flurbiprofen 8.75 mg lozenges in the treatment of sore throat: a randomised, double-blind, placebo-controlled study in UK general practice centres. Int J Clin Pract 56:95–100

21.

Kapila YV, Dodds WJ, Helm JF, Hogan WJ (1984) Relationship between swallow rate and salivary flow. Dig Dis Sci 29:528–533

22.

García Rodríguez LA, Hernández-Díaz S (2001) Relative risk of upper gastrointestinal complications among users of acetaminophen and nonsteroidal anti-inflammatory drugs. Epidemiology 12:570–576

23.

Nguyen ST, Cabrales RE, Bashour CA, Rosenberger TE Jr, Michener JA, Yared JP, Starr NJ (2000) Benzocaine-induced methemoglobinemia. Anesth Analg 90:369–371

24.

Hegedus F, Herb K (2005) Benzocaine-induced methemoglobinemia. Anesth Prog 52:136–139

25.

Dahshan A, Donovan GK (2006) Severe methemoglobinemia complicating topical benzocaine use during endoscopy in a toddler: a case report and review of the literature. Pediatrics 117:e806–e809

26.

Throm MJ, Stevens MD, Hansen C (2007) Benzocaine-induced methemoglobinemia in two patients: interdisciplinary collaboration, management, and near misses. Pharmacotherapy 27:1206–1214

27.

Bourke DL, Marcucci C (2010) Banana blues. Anesth Analg 110:259–260

28.

Guay J (2009) Methemoglobinemia related to local anesthetics: a summary of 242 episodes. Anesth Analg 108:837–845

29.

Weinberg GL (2009) Banning benzocaine: of bananas, bureaucrats, and blue men. Anesth Analg 108:699–701

30.

http://google2.fda.gov/search?q=benzocaine&client=FDAgov&site=FDAgov&lr=&proxystylesheet=FDAgov&output=xml_no_dtd&getfields=*

31.

Health Canada: http://www.hc-sc.gc.ca/ahc-asc/media/advisories-avis/_2006/2006_115-eng.php, see also http://apps.who.int/medicinedocs/documents/s14068e/s14068e.pdf)

32.

Moore TJ, Walsh CS, Cohen MR (2004) Reported adverse event cases of methemoglobinemia associated with benzocaine products. Arch Intern Med 64:1192–1196

33.

Chan TV (2010) The patient with sore throat. Med Clin North Am 94:923–943

34.

Robertson KA, Volmink JA, Mayosi BM (2005) Antibiotics for the primary prevention of acute rheumatic fever: a meta-analysis. BMC Cardiovasc Disord 5:11

35.

Centor RM (2009) Expand the pharyngitis paradigm for adolescents and young adults. Ann Intern Med 151:812–815

36.

Ohlsson A, Clark K (2004) Antibiotics for sore throat to prevent rheumatic fever: yes or no? How the Cochrane Library can help. CMAJ 171:721–723

37.

Matthys J, De Meyere M, van Driel ML, De Sutter A (2007) Differences among international pharyngitis guidelines: not just academic. Ann Fam Med 5:436–443

38.

Spurling GK, Del Mar CB, Dooley L, Foxlee R (2007) Delayed antibiotics for respiratory infections. Cochrane Database Syst Rev (3):CD004417

39.

Arnold SR, Straus SE (2005) Interventions to improve antibiotic prescribing practices in ambulatory care. Cochrane Database Syst Rev (4):CD003539
Acknowledgments
The study was funded by Dr. Ritsert Pharma, Klausenweg 21, D-69412 Eberbach.
Conflict of interest
None of the other authors had any conflict of interest.
About this article
Cite this article
Chrubasik, S., Beime, B. & Magora, F. Efficacy of a benzocaine lozenge in the treatment of uncomplicated sore throat. Eur Arch Otorhinolaryngol 269, 571–577 (2012). https://doi.org/10.1007/s00405-011-1802-9
Received:

Accepted:

Published:

Issue Date:
Keywords
Benzocaine

Local anaesthetic

Placebo

Clinical trial

Sore throat

AnästhesinR