Abstract
The literature about bony defects in the semicircular canal system is highly inconsistent. Therefore, we analyzed a series of 700 high-resolution multislice CT examinations of the temporal bone for semicircular canal dehiscencies. An unselected group of ENT patients with different clinical symptoms and variable age was chosen. We found semicircular canal dehiscence in 9.6% of temporal bones, superior semicircular canal was affected mostly (8%), less common posterior semicircular canal (1.2%); only in 3 cases (0.4%), lateral semicircular canal showed dehiscence. In 60% of SSC dehiscence, we registered bilateral manifestation. The so-called "third mobile window" in semicircular canal dehiscence causes a great variety of clinical symptoms like vertigo, nystagmus, oscillopsies, hearing loss, tinnitus and autophonia. Comparison with anatomic studies shows that CT examination implies the risk of considerable overestimation; this fact emphasizes the important role of clinical and neurophysiological testing.
Access options
Buy single article
Instant access to the full article PDF.
USD 39.95
Price excludes VAT (USA)
Tax calculation will be finalised during checkout.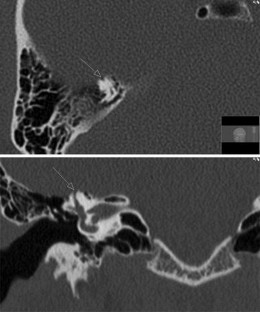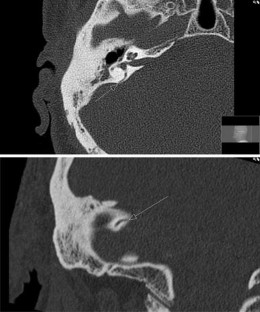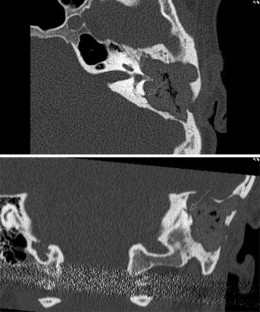 References
Baloh RW (2004) Superior semicircular canal dehiscence syndrome. Neurology 62:684–685

Minor LB, Solomon D, Zinreich JS, Zee DS (1998) Sound- and/or pressure-induced vertigo due to bone dehiscence of the superior semicircular canal. Arch Otolaryngol Head Neck Surg 124:249–258

Strupp M, Eggert T, Straube A, Jäger L, Querner W, Brandt T (2000) Innere Perilymphfistel des Anterioren Bogenganges. Nervenarzt 71:138–142

Minor LB (2005) Clinical manifestations of superior semicircular dehiscence. Laryngoscope 115:1717–1727

Williamson RA, Vrabec JT, Coker NJ, Sandin M (2003) Coronal computed tomography prevalence of superior semicircular canal dehiscence. Otolaryngol Head Neck Surg 129(5):481–489

Cloutier JF, Belair M, Saliba I (2008) Superior semicircular canal dehiscence: positive predicting value of high-resolution CT scanning. Eur Arch Otorhinolaryngol 265(12):1455–1460

Piton J, Negrevergne M, Portmann D (2008) Dehiscence of the superior semicircular canal: approach and CT scan classifications. Rev Laryngol Otol Rhinol 129(1):17–26

Chen EY, Paladin A, Philips G, Raske M, Vega L, Petersen D, Sie KC (2009) Semicircular canal dehiscence in the pediatric population. Int J Pediatr Otorhinolaryngol 73(2):321–327

Crovetto M, Whyte J, Rodriguez CM, Lecumberri I, Martinez C, Elexpuru J (2009) Anatomo-radiological study of the superior semicircular canal dehiscence, radiological considerations of superior and posterior semicircular canals. Eur J Radiol 76(2):167–172

Calli C, Pinar E, Oncel S, Erdogan N, Sadullahoglu K (2009) Evaluation of superior semicircular canal dehiscence in patients with vertigo and tinnitus. Kulak Burun Bogaz Ihtis Derg 19(2):77–81

Zhou G, Gopen Q, Poe DS (2007) Clinical and diagnostic characterization of canal dehiscence syndrome: a great otologic mimicker. Otol Neurotol 28(7):920–926

Brantberg K, Bergenius J, Mendel L, Witt H, Tribukait A, Ygge J (2001) Symptoms, findings and treatment in patients with dehiscence of the superior semicircular canal. Acta Otolaryngol 121(1):68–75

Songer JE, Rosowski JJ (2010) The effect of superior canal dehiscence on cochlear potential in response to air-conducted stimuli in chinchilla. Hear Res 269:70–80

Schmuziger N, Allum J, Buitrago-Telez C, Probst R (2006) Incapacitating hypersensitivity to one's own body sounds due to a dehiscence of bone overlying the superior semicircular canal. A case report. Eur Arch Otorhinolaryngol 263:69–74

Brantberg K, Ishiyama A, Baloh RW (2005) Drop attacks secondary to superior canal dehiscence syndrome. Neurology 64(12):2126–2128

Merchant SN, Rosowski JJ, McKenna MJ (2007) Superior semicircular canal dehiscence mimicking otosclerotic hearing loss. Adv Otorhinolaryngol 65:137–145

Cloutier JF, Belair M, Saliba I (2007) Superior semicircular dehiscence: specifity of high-resolution CT. Eur Arch Otorhinolaryngol 264(Suppl 1):201

Friedland DR, Michel MA (2006) Cranial thickness in superior canal dehiscence syndrome: implications for canal resurfacing surgery. Otol Neurotol 27(3):346–354

Mikulec AA, Khan AM, Barker FG, McKenna MJ (2008) Bilateral meningoencephalocele repair complicated by superior semicircular canal dehiscence: case report. Skull base 18(6):423–428

Krombach GA, Di Martino E, Martiny S, Prescher A, Haage P, Buecker A, Günther RW (2006) Dehiscence of the superior and/or posterior semicircular canal: delineation on T2-weighted axial three-dimensional turbo spin-echo images, maximum intensity projections and volume-rendered images. Eur Arch Otorhinolaryngology 263:111–117
Conflict of interest
The authors declare that they have no conflicts of interest that influence their actions. The authors have no financial relationship to other organizations with effects on their work. There was no external sponsoring.
Additional information
Each author has participated sufficiently to take responsibility for the content.
About this article
Cite this article
Stimmer, H., Hamann, K.F., Zeiter, S. et al. Semicircular canal dehiscence in HR multislice computed tomography: distribution, frequency, and clinical relevance. Eur Arch Otorhinolaryngol 269, 475–480 (2012). https://doi.org/10.1007/s00405-011-1688-6
Received:

Accepted:

Published:

Issue Date:

DOI: https://doi.org/10.1007/s00405-011-1688-6
Keywords