Abstract
Our objective is to review our experience with treatment of plunging ranula and examine the efficacy of transoral excision of sublingual gland as the principal treatment. This study comprises a case series with chart review. A secondary otolaryngology service was used as the setting. Retrospective analysis of patient records was performed for a series of 95 consecutive cases of plunging ranula, which presented to our department between January 2001 and February 2010. Clinical presentation, investigations, diagnosis, treatment, complications and outcome were recorded. Literature search was performed using MEDLINE and OLD MEDLINE. 81 cases of plunging ranula were treated surgically by transoral excision of sublingual gland and evacuation of ranula contents. Mean operating time was 75.3 min. Twelve patients had undergone previous surgery elsewhere. One patient in our series had a recurrence, needing excision of sublingual gland remnant. Two patients had trauma to submandibular duct requiring excision of submandibular gland. Other complications were minor and transient. Review of literature revealed many diverse methods of treating ranula, with varying results. Our series makes a substantial contribution to the number of plunging ranulas reported in the world, and supports the use of transoral sublingual gland excision as first-line treatment of plunging ranula.
This is a preview of subscription content,
to check access.
Access this article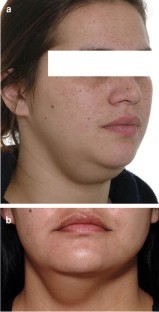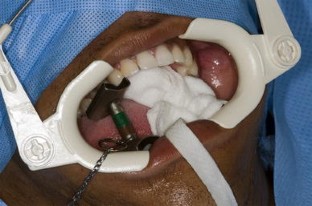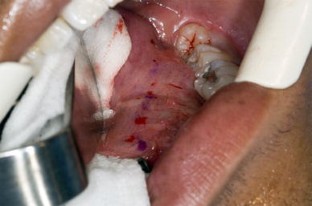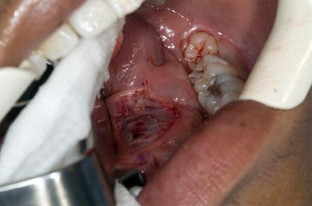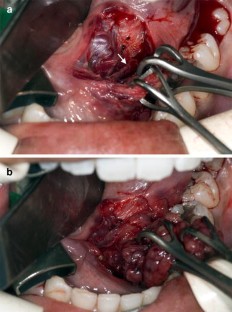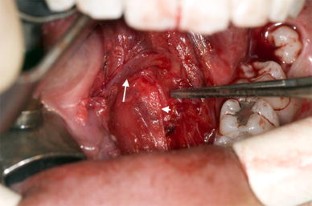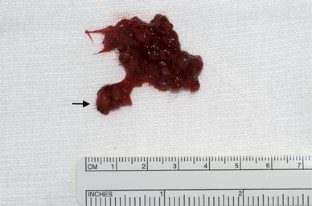 References
Matt BH, Crockett DM (1988) Plunging ranula in an infant. Otolaryngol Head Neck Surg 99:330–333

Mahadevan M, Vasan N (2006) Management of pediatric plunging ranula. Int J Pediatr Otorhinolaryngol 70:1049–1054

Davison MJ, Morton RP, McIvor NP (1998) Plunging ranula: clinical observations. Head Neck 20:63–68

Morton RP, Ahmad Z, Jain P (2010) Plunging ranula: Congenital or acquired? Otolaryngol Head Neck Surg 142:104–107

Hopp E, Mortensen B, Kolbenstvedt A (2004) Mylohyoid herniation of the sublingual gland diagnosed by magnetic resonance imaging. Dentomaxillofac Radiol 33:351–353

Harrison JD (2010) Modern management and pathophysiology of ranula: literature review. Head Neck, n/a. doi:10.1002/hed.21326

Zhao YF, Jia Y, Chen XM et al (2004) Clinical review of 580 ranulas. Oral Surg Oral Med Oral Pathol Oral Radiol Endod 98:281–287

Coit WE, Harnsberger HR, Osborn AG et al (1987) Ranulas and their mimics: CT evaluation. Radiology 163:211–216

Charnoff SK, Carter BL (1986) Plunging ranula: CT diagnosis. Radiology 158:467–468

Parekh D, Stewart M, Joseph C et al (1987) Plunging ranula: a report of three cases and review of the literature. Br J Surg 74:307–309

Patel MR, Deal AM, Shockley WW (2009) Oral and plunging ranulas: what is the most effective treatment? Laryngoscope 119:1501–1509

Huang SF, Liao CT, Chin SC et al (2010) Transoral approach for plunging ranula—10-year experience. Laryngoscope 120:53–57

Rho MH, Kim DW, Kwon JS et al (2006) OK-432 sclerotherapy of plunging ranula in 21 patients: it can be a substitute for surgery. AJNR 27:1090–1095

Zhao YF, Jia J, Jia Y (2005) Complications Associated with Surgical Management of Ranulas. J Oral Maxillofac Surg 63:51–54

Jain P, Jain R, Morton RP et al (2010) Plunging ranulas: high-resolution ultrasound for diagnosis and surgical management. Eur Radiol 20:1442–1449. doi:10.1007/s00330-009-1666-1
Conflict of interest
The authors declare that they have no conflict of interest.
About this article
Cite this article
Samant, S., Morton, R.P. & Ahmad, Z. Surgery for plunging ranula: the lesson not yet learned?. Eur Arch Otorhinolaryngol 268, 1513–1518 (2011). https://doi.org/10.1007/s00405-011-1509-y
Received:

Accepted:

Published:

Issue Date:

DOI: https://doi.org/10.1007/s00405-011-1509-y
Keywords