Abstract
The analysis of snoring sounds has been in focus for the past two decades. Conventional approaches by fast Fourier transformation face various limitations and demonstrate the necessity for alternative methods of investigation. Psychoacoustic analyses which are common for environmental noise analyses propose a potential approach. The present study investigates the psychoacoustic qualities (loudness, sharpness, roughness) of three different real snoring sounds (primary snoring, PS; Upper airway resistance syndrome, UARS; obstructive sleep apnea syndrome, OSAS) and their alterations under increasing, artificially created sound pressure levels (SPL) from 60–85 dB. PS and UARS were detected to obtain a greater loudness as well as a higher increase under increasing SPL than OSAS. The sharpness was higher in PS and UARS, remaining stable under rising SPL compared to OSAS. The intensities of roughness were at higher levels for PS compared to URAS and OSAS, with an increase of all snoring sounds under rising SPL. By merging the psychoacoustic qualities, an individual acoustic fingerprint can be created to differentiate the three types of snoring. A potential application is proposed for the analysis of snoring sounds during polysomnography as well as for an adequate evaluation of the annoyance by snoring sounds.
This is a preview of subscription content, log in to check access.
Access options
Buy single article
Instant access to the full article PDF.
US$ 39.95
Price includes VAT for USA
Subscribe to journal
Immediate online access to all issues from 2019. Subscription will auto renew annually.
US$ 199
This is the net price. Taxes to be calculated in checkout.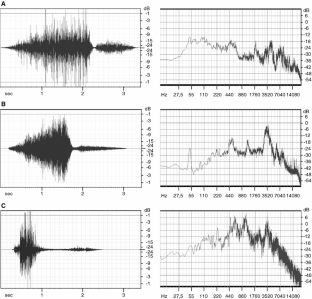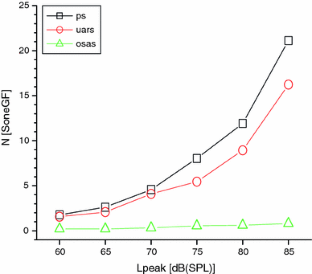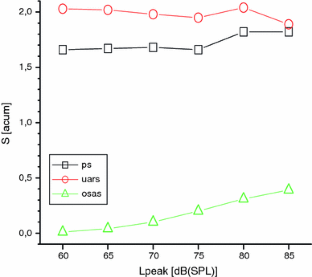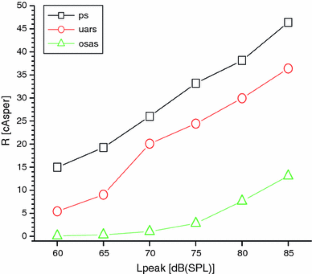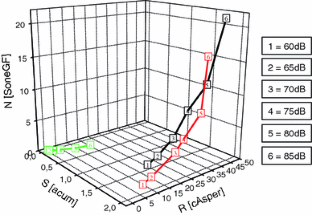 References
1.

Agrawal S, Stone P, McGuinness K, Morris J, Camilleri AE (2002) Sound frequency analysis and the site of snoring in natural and induced sleep. Clin Otolaryngol Allied Sci 27:162–166

2.

Aures W (1985) A procedure for calculating auditory roughness. Acoustica 58:268–281

3.

Dalmasso F, Prota R (1996) Snoring: analysis, measurement, clinical implications and applications. Eur Respir J 9:146–159

4.

DIN45631 Procedure for calculating loudness level and loudness

5.

Fastl H, Zwicker E (2010) Psychoacoustics: facts and models. Springer, Berlin

6.

Fiz JA, Abad J, Jane R, Riera M, Mananas MA, Caminal P, Rodenstein D, Morera J (1996) Acoustic analysis of snoring sound in patients with simple snoring and obstructive sleep apnoea. Eur Respir J 9:2365–2370

7.

Haderlein T, Noth E, Toy H, Batliner A, Schuster M, Eysholdt U, Hornegger J, Rosanowski F (2007) Automatic evaluation of prosodic features of tracheoesophageal substitute voice. Eur Arch Otorhinolaryngol 264:1315–1321

8.

Hara H, Murakami N, Miyauchi Y, Yamashita H (2006) Acoustic analysis of snoring sounds by a multidimensional voice program. Laryngoscope 116:379–381

9.

Herzog M, Schieb E, Bremert T, Herzog B, Hosemann W, Kaftan H, Kuhnel T (2008) Frequency analysis of snoring sounds during simulated and nocturnal snoring. Eur Arch Otorhinolaryngol 265:1553–1562

10.

Herzog M, Schmidt A, Bremert T, Herzog B, Hosemann W, Kaftan H (2008) Analysed snoring sounds correlate to obstructive sleep disordered breathing. Eur Arch Otorhinolaryngol 265:105–113

11.

Hill PD, Lee BW, Osborne JE, Osman EZ (1999) Palatal snoring identified by acoustic crest factor analysis. Physiol Meas 20:167–174

12.

Jones TM, Ho MS, Earis JE, Swift AC, Charters P (2006) Acoustic parameters of snoring sound to compare natural snores with snores during 'steady-state' propofol sedation. Clin Otolaryngol 31:46–52

13.

Khan MS, Johansson O, Sundback U (1996) Subjective annoyance response to diesel engine sound during idling conditions. Int J Occup Saf Ergon 2:16–26

14.

Leventhall HG (2004) Low frequency noise and annoyance. Noise Health 6:59–72

15.

Lundquist P, Holmberg K, Burstrom L, Landstrom U (2003) Sound levels in classrooms and effects on self-reported mood among school children. Percept Mot Skills 96:1289–1299

16.

Lundquist P, Holmberg K, Landstrom U (2000) Annoyance and effects on work from environmental noise at school. Noise Health 2:39–46

17.

Moerman M, De Meyer M, Pevernagie D (2002) Acoustic analysis of snoring: review of literature. Acta Otorhinolaryngol Belg 56:113–115

18.

Ng AK, Koh TS (2008) Using psychoacoustics of snoring sounds to screen for obstructive sleep apnea. Conf Proc IEEE Eng Med Biol Soc 2008:1647–1650

19.

Nielsen T, Nielsen TV, Johansen P, Hasenkam JM, Nygaard H (2005) Psychoacoustic quantification of mechanical heart valve noise. J Heart Valve Dis 14:89–95

20.

Ohrstrom E (2004) Longitudinal surveys on effects of changes in road traffic noise-annoyance, activity disturbances, and psycho-social well-being. J Acoust Soc Am 115:719–729

21.

Ohrstrom E, Barregard L, Andersson E, Skanberg A, Svensson H, Angerheim P (2007) Annoyance due to single and combined sound exposure from railway and road traffic. J Acoust Soc Am 122:2642–2652

22.

Ohrstrom E, Bjorkman M (1983) Sleep disturbance before and after traffic noise attenuation in an apartment building. J Acoust Soc Am 73:877–879

23.

Ohrstrom E, Bjorkman M, Rylander R (1988) Noise annoyance with regard to neurophysiological sensitivity, subjective noise sensitivity and personality variables. Psychol Med 18:605–613

24.

Osborne JE, Osman EZ, Hill PD, Lee BV, Sparkes C (1999) A new acoustic method of differentiating palatal from non-palatal snoring. Clin Otolaryngol Allied Sci 24:130–133

25.

Pawlaczyk-Luszczynska M, Szymczak W, Dudarewicz A, Sliwinska-Kowalska M (2006) Proposed criteria for assessing low frequency noise annoyance in occupational settings. Int J Occup Med Environ Health 19:185–197

26.

Perez-Padilla JR, Slawinski E, Difrancesco LM, Feige RR, Remmers JE, Whitelaw WA (1993) Characteristics of the snoring noise in patients with and without occlusive sleep apnea. Am Rev Respir Dis 147:635–644

27.

Pevernagie D, Aarts RM, De Meyer M (2010) The acoustics of snoring. Sleep Med Rev 14:131–144

28.

Quinn SJ, Huang L, Ellis PD, Williams JE (1996) The differentiation of snoring mechanisms using sound analysis. Clin Otolaryngol Allied Sci 21:119–123

29.

Raggam RB, Cik M, Holdrich RR, Fallast K, Gallasch E, Fend M, Lackner A, Marth E (2007) Personal noise ranking of road traffic: subjective estimation versus physiological parameters under laboratory conditions. Int J Hyg Environ Health 210:97–105

30.

Sato S, You J, Jeon JY (2007) Sound quality characteristics of refrigerator noise in real living environments with relation to psychoacoustical and autocorrelation function parameters. J Acoust Soc Am 122:314–325

31.

Schafer J (1989) How can one recognize a velum snorer? Laryngorhinootologie 68:290–294

32.

Schafer J, Pirsig W (1990) Digital signal analysis of snoring sounds in children. Int J Pediatr Otorhinolaryngol 20:193–202

33.

Schomer PD, Suzuki Y, Saito F (2001) Evaluation of loudness-level weightings for assessing the annoyance of environmental noise. J Acoust Soc Am 110:2390–2397

34.

Xu H, Huang W, Yu L, Chen L (2010) Sound spectral analysis of snoring sound and site of obstruction in obstructive sleep apnea syndrome. Acta Otolaryngol 130(10):1175–1179
Conflict of interest
There is no conflict of interest for any of the authors.
About this article
Cite this article
Herzog, M., Bremert, T., Herzog, B. et al. Analysis of snoring sound by psychoacoustic parameters. Eur Arch Otorhinolaryngol 268, 463–470 (2011). https://doi.org/10.1007/s00405-010-1386-9
Received:

Accepted:

Published:

Issue Date:
Keywords
Snoring

Analysis

Psychoacoustic

OSAS

UARS