Abstract
Penetrating craniofacial trauma in pediatric age group is quite rare. A case is reported that presented with a pencil penetration injury entering from the anterior maxillary sinus through the orbital medial wall, and ethmoidal cells and septum, reaching the contralateral gyrus rectus of the frontal lobe. All the vital structures were preserved. The patient was first treated with manual extraction of the pencil, without any immediate complications; however, rhinorrhea followed the procedure 4 h later. Early endoscopic surgical intervention was performed and the rhinorrhea was successfully treated in this case. This report discusses radiological and surgical characteristics of this unusual penetrating craniofacial trauma.
Access options
Buy single article
Instant access to the full article PDF.
USD 39.95
Price excludes VAT (USA)
Tax calculation will be finalised during checkout.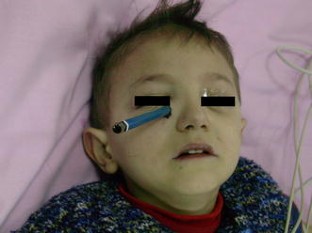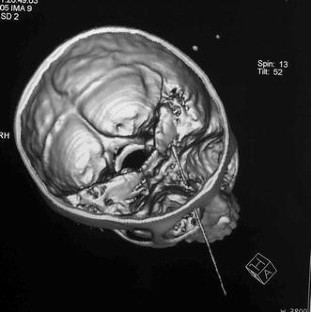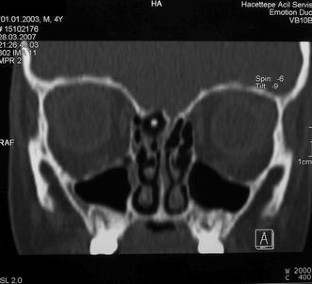 References
Gasparini G, Brunelli A, Rivaroli A et al (2002) Maxillofacial traumas. J Craniofac Surg 13:645–649

Masters SJ, McClean PM, Arcarese JS, Brown RF, Campbell JA, Freed HA, Hess GH, Hoff JT, Kobrine A, Koziol DF et al (1987) Skull x-ray examinations after head trauma. Recommendations by a multidisciplinary panel and validation study. N Engl J Med 316(2):84–91

Zinreich SJ, Miller NR, Aguayo JB et al (1986) Computed tomographic three-dimensional localization and compositional evaluation of intraocular and orbital foreign bodies. Arch Ophthalmol 104:1477–1482

Fuller DG, Hutton WL (1990) Prediction of postoperative vision in eyes with severe trauma. Retina 10(Suppl 1):S20–S34

Chu A, Levine MR (1989) Gunshot wounds of the eye and orbit. Ophthalmic Surg 20:729–736

Wesley RE, Anderson SR, Weiss MR et al (1987) Management of orbital-cranial trauma. Adv Ophthalmic Plast Reconstr Surg 7:3–26
Conflict of interest statement
The authors have no proprietary interest in any material or method described in this study.
About this article
Cite this article
Ozer, S., Onal, B., Akbay, A. et al. Craniocerebral injury resulting from pencil penetration. Eur Arch Otorhinolaryngol 267, 155–157 (2010). https://doi.org/10.1007/s00405-009-1118-1
Received:

Accepted:

Published:

Issue Date:

DOI: https://doi.org/10.1007/s00405-009-1118-1
Keywords
Rhinorrhea

Penetrating head injury

Cerebrospinal fluid leakage

Craniocerebral injuries