Abstract
Glomus tumours are rare vascular tumours arising within the lateral skull base, infratemporal fossa and upper neck. When they are confined to the middle ear cleft, they are termed glomus tympanicum tumours. Traditionally tympanicum tumours have been treated surgically and their removal has generally been regarded as quite straightforward. Our experience with these lesions however, is that they fall into two distinct categories, those with and those without hypotympanic involvement. This distinction can be determined by high resolution CT scanning in coronal and axial planes. Mesotympanic tumours are indeed typically straightforward in their removal and can be approached by a transcanal route. Hypotympanic extension requires additional evaluation by MRI, and a more extensive surgical approach. In this paper, we present our management approach based on a series of nine cases. We conclude that determining the tumour extension preoperatively by using modern imaging techniques is essential in planning the surgery.
This is a preview of subscription content,
to check access.
Access this article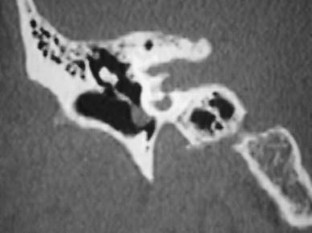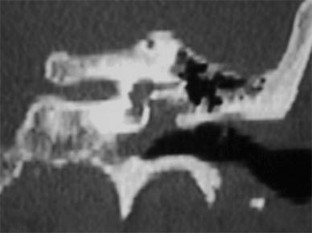 References
Fisch U (1982) Infratemporal fossa approach for glomus tumours of the temporal bone. Ann Otol Rhinol Laryngol 91:474–479

Oldring D, Fisch U (1979) Glomus tumours of the temporal region: surgical therapy. Am J Otolaryngol 1:7–18

Jackson CG, Glasscock ME 3rd, Harris PF (1982) Glomus tumours: diagnosis, classification, and management of large lesions. Arch Otolaryngol 108:401–406

Cheesman AD (1997) Glomus and other tumours of the ear. In: Booth JB (ed) Otology, vol 3. Kerr AG (ed) Scott-Brown's Otolaryngology, 6th edn, Reed Educational and Professional Publishing Ltd., Oxford, pp 1–16

Jackson CG (2001) Glomus tympanicum and glomus jugulare tumors. Otolaryngol Clin North Am 34:941–970. doi:10.1016/S0030-6665(05)70356-X

Weissman JL, Hirsch BE (1998) Beyond the promontory: the multifocal origin of glomus tympanicum tumors. AJNR Am J Neuroradiol 19:119–122

Forest JA 3rd, Jackson CG, McGrew BM (2001) Long-term control of surgically treated glomus tympanicum tumors. Otol Neurotol 22:232–236. doi:10.1097/00129492-200103000-00020

Larson TC 3rd, Reese DF, Baker HL, McDonald TJ (1987) Glomus tympanicum chemodectoma: radiographic and clinical characteristics. Radiology 163:801–806

Phelps PD (1990) Glomus tumours of the ear: an imaging regime. Clin Radiol 41:301–305. doi:10.1016/S0009-9260(05)81689-7

Vogl T, Bruning R, Schedel H, Kang K, Grevers G, Hahn D, Lissner J (1989) Paragangliomas of the jugular bulb and carotid body: MR imaging with short sequences and Gd-DTPA enhancement. AJR Am J Roentgenol 153:583–587

Phelps PD, Cheesman AD (1990) Imaging jugulotympanic glomus tumours. Arch Otolaryngol Head Neck Surg 116:940–945

Phelps PD, Stansbie JM (1988) Glomus jugulare or tympanicum? The role of CT and MRI imaging with Gadolinium DTPA. J Laryngol Otol 102:766–776

Probst LE, Shankar L, Hawke M (1991) Radiological features of glomus tympanicum and glomus jugulare. J Otolaryngol 20:225–227

Mafee MF, Raofi B, Kumar A, Muscato C (2000) Glomus faciale, glomus jugulare, glomus tympanicum, glomus vagale, carotid body tumors, and simulating lesions. Role of MR imaging. Radiol Clin North Am 38:1059–1076. doi:10.1016/S0033-8389(05)70221-9

Woods CI, Strasnick B, Jackson CG (1993) Surgery for glomus tumors: the otology group experience. Laryngoscope 103:65–70
Conflict of interest statement
The authors declare that they have no conflict of interest.
About this article
Cite this article
Alaani, A., Chavda, S.V. & Irving, R.M. The crucial role of imaging in determining the approach to glomus tympanicum tumours. Eur Arch Otorhinolaryngol 266, 827–831 (2009). https://doi.org/10.1007/s00405-008-0829-z
Received:

Accepted:

Published:

Issue Date:

DOI: https://doi.org/10.1007/s00405-008-0829-z
Keywords