Abstract
Cucurbitacins are compounds isolated from various plant families, which have been used as folk medicines for centuries in countries such as India and China because of their wide spectrum of pharmacological activities such as cytotoxic, anti-inflammatory, and anticancer effects. Accumulated evidences have shown that cucurbitacin B inhibits the growth of numerous human cancer cell lines and tumor xenografts. To determine whether cucurbitacin B can inhibit the growth of laryngeal squamous cell carcinoma, in the present study we investigated the antitumor effect of cucurbitacin B on Hep-2 cells. Hep-2 cells were treated with different concentrations of cucurbitacin B for different time. Cell proliferation, cell cycle distribution, and cell apoptosis were evaluated using MTT assay, flow cytometry, and fluorescent microscopy. It was found that cucurbitacin B exhibited significant efficacy in growth inhibition, cell cycle arrest at G2/M phase, and apoptosis induction in a dose- and time-dependent manner. Measuring the modulation of regulators in the cell cycle, apoptosis and signal transductions by Western blot analysis showed that the effect of cucurbitacin B was due to suppression of the expression of p-STAT3, Bcl-2, and cyclin B1. Moreover, in vivo studies were performed in a mouse xenograft model, where cucurbitacin B inhibited tumor growth in a dose-dependent manner. In conclusion, the antitumor effect of cucurbitacin B on Hep-2 cells was due to the induction of cell cycle arrest as well as apoptosis. The possible mechanisms underlying the action might be attributed to the suppression of STAT3 phosphorylation. This investigation suggests a potential clinical application of cucurbitacin B for the treatment of laryngeal cancer patients.
This is a preview of subscription content, log in to check access.
Access options
Buy single article
Instant access to the full article PDF.
US$ 39.95
Price includes VAT for USA
Subscribe to journal
Immediate online access to all issues from 2019. Subscription will auto renew annually.
US$ 199
This is the net price. Taxes to be calculated in checkout.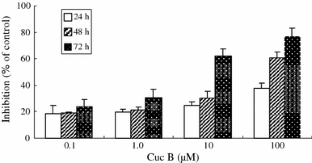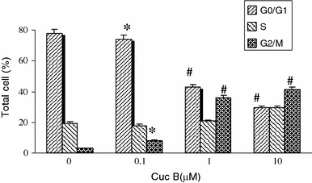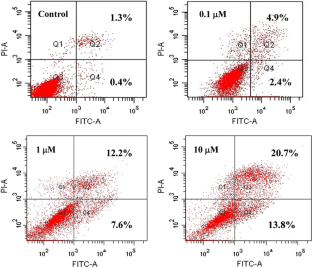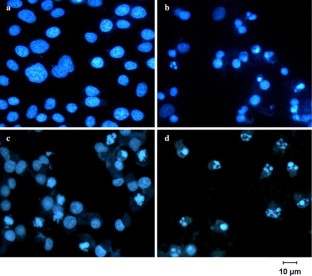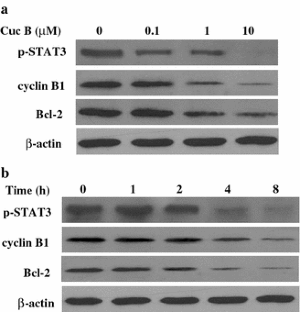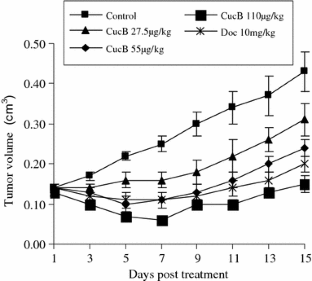 References
1.

Chatrath P, Scott IS, Morris LS, Davies RJ, Bird K, Vowler SL, Coleman (2006) Immunohistochemical estimation of cell cycle phase in laryngeal neoplasia. Br J Cancer 95:314–321

2.

Marioni G, Marchese-Ragona R, Cartei G, Marchese F, Staffieri A (2006) Current opinion in diagnosis and treatment of laryngeal carcinoma. Cancer Treat Rev 32:504–515

3.

Taguchi T, Tsukuda M (2005) Attempts to improve organ preservation in patients with squamous cell carcinoma of the head and neck. Gan To Kagaku Ryoho 32:2030–2034

4.

Chaigneau L, Guardiola E, N'Guyen T, Dufresne A, Stein U, Villanueva C, Thiery-Vuillemin A, Lorchel F, Pivot X (2006) Induction chemotherapy in patients with head and neck cancer. Bull Cancer 93:677–682

5.

Bourhis J (2005) New approaches to enhance chemotherapy in SCCHN. Ann Oncol 16(Suppl 6):vi20–vi24

6.

Rapidis AD, Trichas M, Stavrinidis E, Roupakia A, Ioannidou G, Kritselis G, Liossi P, Giannakouras G, Douzinas EE, Katsilieris I (2006) Induction chemotherapy followed by concurrent chemoradiation in advanced squamous cell carcinoma of the head and neck: final results from a phase II study with ocetaxel, cisplatin and 5-fluorouracil with a four-year follow-up. Oral Oncol 42:675–684

7.

Bowman T, Garcia R, Turkson J, Jove R (2000) STATs in oncogenesis. Oncogene 19:2474–2488

8.

Jing N, Tweardy DJ (2005) Targeting Stat3 in cancer therapy. Anticancer Drugs 16:601–607

9.

Chakravarti N, Myers JN, Aggarwal BB (2006) Targeting constitutive and interleukin-6-inducible signal transducers and activators of transcription 3 pathway in head and neck squamous cell carcinoma cells by curcumin (diferuloylmethane). Int J Cancer 119:1268–1275

10.

Leeman RJ, Lui VW, Grandis JR (2006) STAT3 as a therapeutic target in head and neck cancer. Expert Opin Biol Ther 6:231–241

11.

Gao LF, Xu DQ, Wen LJ, Zhang XY, Shao YT, Zhao XJ (2005) Inhibition of STAT3 expression by siRNA suppresses growth and induces apoptosis in laryngeal cancer cells. Acta Pharmacol Sin 26:377–383

12.

Gao LF, Wen LJ, Yu H, Zhang L, Meng Y, Shao YT, Xu DQ, Zhao XJ (2006) Knockdown of Stat3 expression using RNAi inhibits growth of laryngeal tumors in vivo. Acta Pharmacol Sin 27:347–352

13.

Scheper MA, Nikitakis NG, Chaisuparat R, Montaner S, Sauk JJ (2007) Sulindac induces apoptosis and inhibits tumor growth in vivo in head and neck squamous cell carcinoma. Neoplasia (New York, N.Y.) 9:192–199

14.

Wang JG, Li XM, Chen YH, Lu XY (2007) Molecular mechanisms involved in regulation of proliferation and apoptosis by STAT3 antisense oligonucleotide and chemotherapy in laryngeal cancer cells. Zhonghua Er Bi Yan Hou Tou Jing Wai Ke Za Zhi 42:222–226

15.

Jayaprakasam B, Seeram NP, Nair MG (2003) Anticancer and antiinflammatory activities of cucurbitacins from Cucurbita andreana. Cancer Lett 189:11–16

16.

Tannin-Spitz T, Grossman S, Dovrat S, Gottlieb HE, Bergman M (2007) Growth inhibitory activity of Cucurbitacin glucosides isolated from Citrullus colocynthis on human breast cancer cells. Biochem Pharmacol 73:56–67

17.

Bartalis J, Halaweish FT (2005) Relationship between cucurbitacins reversed-phase high-performance liquid chromatography hydrophobicity index and basal cytotoxicity on HepG2 cells. J Chromatogr B Analyt Technol Biomed Life Sci 818:159–166

18.

Sun J, Blaskovich MA, Jove R, Livingston SK, Coppola D, Sebti SM (2005) Cucurbitacin Q: a selective STAT3 activation inhibitor with potent antitumor activity. Oncogene 24:3236–3245

19.

Clericuzio M, Mella M, Vita-Finzi P, Zema M, Vidari G (2004) Cucurbitane triterpenoids from Leucopaxillus gentianeus. J Nat Prod 67:1823–1828

20.

Dong Y, Sui L, Watanabe Y, Sugimoto K, Tokuda M (2002) Clinical relevance of cyclin B1 overexpression in laryngeal squamous cell carcinoma. Cancer Lett 177:13–19

21.

King KL, Cidlowski JA (1998) Cell cycle regulation and apoptosis. Annu Rev Physiol 60:601–617

22.

Redondo M, Esteban F, González-Moles MA, Delgado-Rodríguez M, Nevado M, Torres-Muñoz JE, Tellez T, Villar E, Morell M, Petito CK (2006) Expression of the antiapoptotic proteins clusterin and bcl-2 in laryngeal squamous cell carcinomas. Tumour Biol 27:195–200

23.

Sharma H, Sen S, Lo Muzio L, Mariggiò A, Singh N (2005) Antisense-mediated downregulation of anti-apoptotic proteins induces apoptosis and sensitizes head and neck squamous cell carcinoma cells to chemotherapy. Cancer Biol Ther 4:720–727
About this article
Cite this article
Liu, T., Zhang, M., Zhang, H. et al. Inhibitory effects of cucurbitacin B on laryngeal squamous cell carcinoma. Eur Arch Otorhinolaryngol 265, 1225–1232 (2008). https://doi.org/10.1007/s00405-008-0625-9
Received:

Accepted:

Published:

Issue Date:
Keywords
Cucurbitacin B

Laryngeal squamous cell carcinoma

Apoptosis