Abstract
The present study aimed at investigating the question whether olfactory function changes in relation to barometric pressure and humidity. Using climate chambers, odor threshold and discrimination for butanol were tested in 75 healthy volunteers under hypobaric and hyperbaric, and different humidity conditions. Among other effects, olfactory sensitivity at threshold level, but not suprathreshold odor discrimination, was impaired in a hypobaric compared to a hyperbaric milieu, and thresholds were lower in humid, compared to relatively dry conditions. In conclusion, environmental conditions modulate the sense of smell, and may, consecutively, influence results from olfactory tests.
Access options
Buy single article
Instant access to the full article PDF.
USD 39.95
Price excludes VAT (USA)
Tax calculation will be finalised during checkout.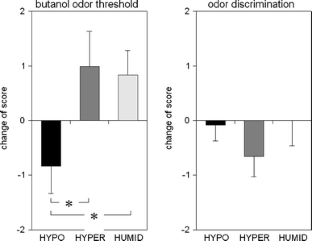 References
Bert P (1878) La pression barométrique: recherches de physiologie expérimentale, Masson, Paris

Ehrenstein WH, Ehrenstein A (1999) Psychophysical methods. In: Windhorst U, Johansson H (eds) Modern techniques in neuroscience research. Springer, Heidelberg, pp 1211–1241

Fleisch A, Von Murant A (1944) Klimaphysiologische Untersuchungen in der Schweiz Teil I. Benno Schwabe & Co., Basel

Fowler B, Grant A (2000) Hearing thresholds acute hypoxia and relationship to slowing in the auditory modality. Aviat Space Environ Med 71:946–949

Hummel T, Sekinger B, Wolf S, Pauli E, Kobal G (1997) "Sniffin' Sticks": olfactory performance assessed by the combined testing of odor identification, odor discrimination and olfactory threshold. Chem Senses 22:39–52

Kobal G, Klimek L, Wolfensberger M, Gudziol H, Temmel A, Owen CM, Seeber H, Pauli E, Hummel T (2000) Multicenter investigation of 1,036 subjects using a standardized method for the assessment of olfactory function combining tests of odor identification, odor discrimination, and olfactory thresholds. Eur Arch Otorhinolaryngol 257:205–211

Kobrick J (1983) Effects of hypoxia on the luminance threshold for target detection. Avia Space Environ Med 53:112–115

McAnally KI, Watson B, Martin RL, Singh B (2005) Effect of hypobaric hypoxia on auditory sensity. Aviat Space Environ Med 74:1251–1255

Pavlicek V, Schirlo C, Nebel A, Regard M, Koller EA, Brugger P (2005) Cognitive and emotional processing at high altitude. Aviat Space Environ Med 76:28–33

Philpott C, Goodenough P, Passant C, Robertson A, Murty G (2004) The effect of temperature, humidity and peak inspiratory nasal flow on olfactory thresholds. Clin Otolaryngol 29:24–31

Reitan RM (1958) Validity of the trail-making-test. Percept Mot Skills 8:271–276

Stepanek J (2002) Influence of hypobaric hypoxia on the human sense of smell. Thesis (Master of Public Health). The University of Texas Graduate School of Biomedical Sciences, Galveston

Virues-Ortega J, Buela-Casal G, Garrido E, Alcazar B (2004) Neuropsychological functioning associated with high-altitude exposure. Neuropsychol Rev 14:197–224

Watson DB, Martin RL, McAnally KI, Smith SE, Emonson DL (2000) Effect of normobaric hypoxia on auditory sensitivity. Aviat Space Environ Med 64:30–36

Weissenborn K, Ruckert N, Hecker H, Manns MP (1998) The number connection tests A and B: interindividual variability and use for the assessment of early hepatic encephalopathy. J Hepatol 28:646

WMA (1997) World Medical Association: declaration of Helsinki. Recommendations guiding physicians in biomedical research involving human subjects. J Med Assoc 277:925–926
Acknowledgments
This research was supported in part by the German Air force (STAN-research project 08–04). We also would like to thank Dr. Briner and Prof. Hüttenbrink for very helpful discussions.
About this article
Cite this article
Kuehn, M., Welsch, H., Zahnert, T. et al. Changes of pressure and humidity affect olfactory function. Eur Arch Otorhinolaryngol 265, 299–302 (2008). https://doi.org/10.1007/s00405-007-0446-2
Received:

Accepted:

Published:

Issue Date:

DOI: https://doi.org/10.1007/s00405-007-0446-2
Keywords
Olfaction

Smell

Barometric pressure

Humidity

Environment