Abstract
Tumorigenesis involves energy production by aerobic glycolysis ("Warburg effect") in malignant tumors. One of the key enzymes is transketolase. Transketolase, transketolase-like-1 (TKTL1), and transketolase-like-2 are known. Antibodies against TKTL1 exist for immunohistochemical investigations. This study investigated the influence of TKTL1 on survival and metastasizing in 40 laryngeal squamous cell carcinomas (SCCs, T2–T4, 27 metastasized). Staining was assessed by an immunoreactive score (IRS) with values from 0 to 12 in primaries and their nodal metastases. The highest IRS was 8. Normal epithelium did not show an expression. Three SCCs were negative. Advanced SCCs had a higher IRS than lower stages. An IRS > 4 was associated with a shorter disease specific survival, independent on the tumor stage in the multivariate analysis. Significant differences between metastasized and non-metastasized SCCs were absent, but poorly differentiated SCCs had a higher IRS in their metastases than moderate differentiated SCCs. TKTL1 overexpression is associated with a more aggressive behavior and shorter survival of laryngeal SCCs. These observations could lead to additional therapeutic options targeting a blocking of the enzyme activity.
This is a preview of subscription content, log in to check access.
Access options
Buy single article
Instant access to the full article PDF.
US$ 39.95
Price includes VAT for USA
Subscribe to journal
Immediate online access to all issues from 2019. Subscription will auto renew annually.
US$ 199
This is the net price. Taxes to be calculated in checkout.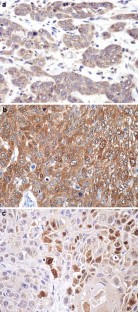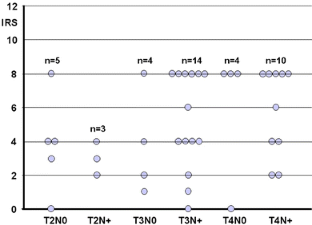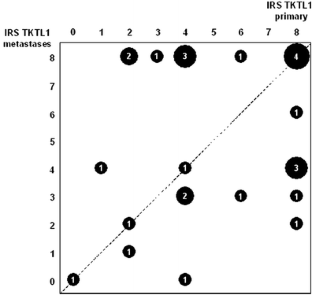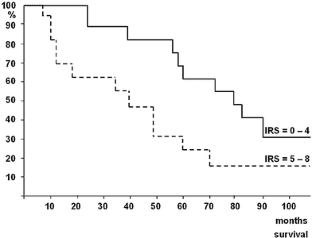 References
1.

Boros LG, Bassilian S, Lim S, Lee WN (2001) Genistein inhibits nonoxidative ribose synthesis in MIA pancreatic adenocarcinoma cells: a new mechanism of controlling tumor growth. Pancreas 22:1–7

2.

Comin-Anduix B, Boren J, Martinez S, Moro C, Centelles JJ, Trebukhina R, Petushok N, Lee WN, Boros LG, Cascante M (2001) The effect of thiamine supplementation on tumour proliferation. A metabolic control analysis study. Eur J Biochem 268:4177–4182

3.

Coy JF, Dressler D, Wilde J, Schubert P (2005) Mutations in the transketolase-like gene TKTL1: clinical implications for neurodegenerative diseases, diabetes and cancer. Clin Lab 51:257–273

4.

Di Chiro G, Hatazawa J, Katz DA, Rizzoli HV, De Michele DJ (1987) Glucose utilization by intracranial meningiomas as an index of tumor aggressivity and probability of recurrence: a PET study. Radiology 164:521–526

5.

Dos Santos DT, Pereira Lima EN, Chojniak R, Cavalcanti MG (2005) Topographic metabolic map of head and neck squamous cell carcinoma using 18F-FDG PET and CT image fusion. Oral Surg Oral Med Oral Pathol Oral Radiol Endod 100:619–625

6.

Fischer K, Hoffmann P, Voelkl S, Meidenbauer N, Ammer J, Edinger M, Gottfried E, Schwarz S, Rothe G, Hoves S, Renner K, Timischl B, Mackensen A, Kunz-Schughart L, Andreesen R, Krause SW, Kreutz M (2007) Inhibitory effect of tumor cell derived lactic acid on human T cells. Blood 109(9):3812–3819

7.

Gatenby RA, Gillies RJ (2004) Why do cancers have high aerobic glycolysis? Nat Rev Cancer 4:891–899

8.

Haberkorn U, Strauss LG, Reisser C, Haag D, Dimitrakopoulou A, Ziegler S, Oberdorfer F, Rudat V, van Kaick G (1991) Glucose uptake, perfusion, and cell proliferation in head and neck tumors: relation of positron emission tomography to flow cytometry. J Nucl Med 32:1548–1555

9.

Krockenberger M, Honig A, Rieger L, Coy JF, Sutterlin M, Kapp M, Horn E, Dietl J, Kammerer U (2007) Transketolase-like 1 expression correlates with subtypes of ovarian cancer and the presence of distant metastases. Int J Gynecol Cancer 17:101–106

10.

Kunkel M, Reichert TE, Benz P, Lehr HA, Jeong JH, Wieand S, Bartenstein P, Wagner W, Whiteside TL (2003) Overexpression of Glut-1 and increased glucose metabolism in tumors are associated with a poor prognosis in patients with oral squamous cell carcinoma. Cancer 97:1015–1024

11.

Langbein S, Zerilli M, Zur Hausen A, Staiger W, Rensch-Boschert K, Lukan N, Popa J, Ternullo MP, Steidler A, Weiss C, Grobholz R, Willeke F, Alken P, Stassi G, Schubert P, Coy JF (2006) Expression of transketolase TKTL1 predicts colon and urothelial cancer patient survival: Warburg effect reinterpreted. Br J Cancer 94:578–585

12.

Rais B, Comin B, Puigjaner J, Brandes JL, Creppy E, Saboureau D, Ennamany R, Lee WN, Boros LG, Cascante M (1999) Oxythiamine and dehydroepiandrosterone induce a G1 phase cycle arrest in Ehrlich's tumor cells through inhibition of the pentose cycle. FEBS Lett 456:113–118

13.

Ramos-Montoya A, Lee WN, Bassilian S, Lim S, Trebukhina RV, Kazhyna MV, Ciudad CJ, Noe V, Centelles JJ, Cascante M (2006) Pentose phosphate cycle oxidative and nonoxidative balance: a new vulnerable target for overcoming drug resistance in cancer. Int J Cancer 119:2733–2741

14.

Remmele W, Stegner HE (1987) Recommendation for uniform definition of an immunoreactive score (IRS) for immunohistochemical estrogen receptor detection (ER-ICA) in breast cancer tissue. Pathologe 8:138–140

15.

Schenk G, Duggleby RG, Nixon PF (1998) Properties and functions of the thiamin diphosphate dependent enzyme transketolase. Int J Biochem Cell Biol 30:1297–1318

16.

Shibata K, Kajiyama H, Mizokami Y, Ino K, Nomura S, Mizutani S, Terauchi M, Kikkawa F (2005) Placental leucine aminopeptidase (P-LAP) and glucose transporter 4 (GLUT4) expression in benign, borderline, and malignant ovarian epithelia. Gynecol Oncol 98:11–18

17.

Smith TA, Titley J (2000) Deoxyglucose uptake by a head and neck squamous carcinoma: influence of changes in proliferative fraction. Int J Radiat Oncol Biol Phys 47:219–223

18.

Staiger WI, Coy JF, Grobholz R, Hofheinz RD, Lukan N, Post S, Schwarzbach MH, Willeke F (2006) Expression of the mutated transketolase TKTL1, a molecular marker in gastric cancer. Oncol Rep 16:657–661

19.

Stern R, Shuster S, Neudecker BA, Formby B (2002) Lactate stimulates fibroblast expression of hyaluronan and CD44: the Warburg effect revisited. Exp Cell Res 276:24–31

20.

Tosi L, Rinaldi E, Carinci F, Farina A, Pastore A, Pelucchi S, Cassano L, Evangelisti R, Carinci P, Volinia S (2005) Akt, protein kinase C, and mitogen-activated protein kinase phosphorylation status in head and neck squamous cell carcinoma. Head Neck 27:130–137

21.

Walenta S, Schroeder T, Mueller-Klieser W (2004) Lactate in solid malignant tumors: potential basis of a metabolic classification in clinical oncology. Curr Med Chem 11:2195–2204

22.

Warburg O, Posener K, Negelein E (1924) Über den Stoffwechsel der Carcinomzelle. Biochem Z 152:309–344

23.

Weiner MF, Miranda RN, Bardales RH, Mukunyadzi P, Baker SJ, Korourian S, De Las Casas LE (2004) Diagnostic value of GLUT-1 immunoreactivity to distinguish benign from malignant cystic squamous lesions of the head and neck in fine-needle aspiration biopsy material. Diagn Cytopathol 31:294–299

24.

Williams AC, Collard TJ, Paraskeva C (1999) An acidic environment leads to p53 dependent induction of apoptosis in human adenoma and carcinoma cell lines: implications for clonal selection during colorectal carcinogenesis. Oncogene 18:3199–3204

25.

Xu RH, Pelicano H, Zhou Y, Carew JS, Feng L, Bhalla KN, Keating MJ, Huang P (2005) Inhibition of glycolysis in cancer cells: a novel strategy to overcome drug resistance associated with mitochondrial respiratory defect and hypoxia. Cancer Res 65:613–621
Acknowledgments
We thank Eva Bachmann and Michaela Kapp for excellent technical assistance, Dr. Imme Haubitz for her statistical calculations, and Erwin Schmitt for the support in processing of figures. Special thanks to Dr. Johannes Coy for providing the antibody.
About this article
Cite this article
Völker, H., Scheich, M., Schmausser, B. et al. Overexpression of transketolase TKTL1 is associated with shorter survival in laryngeal squamous cell carcinomas. Eur Arch Otorhinolaryngol 264, 1431–1436 (2007). https://doi.org/10.1007/s00405-007-0394-x
Received:

Accepted:

Published:

Issue Date:
Keywords
TKTL1

Transketolase

Squamous cell carcinoma

Larynx