Abstract
Purpose
Despite the heterogeneity of anatomical sites that metastases may affect, within the current cancer staging schematic, stage IVB encompasses all distant metastasis. This study examined survival outcomes based on the extent of distant organ metastasis in stage IVB cervical cancer.
Methods
This retrospective cohort study utilized the National Cancer Institute's Surveillance, Epidemiology, and End Result Program from 2010 to 2018. The study population included 1772 women with stage IVB cervical cancer who had tumor metastasis to one or more of the following four organs: bone, brain, liver, or lung. Overall survival was assessed based on the metastatic extent in multivariable analysis.
Results
The most common metastatic site was lung (68.3%) followed by bone (35.2%), liver (30.0%), and brain (1.2%). Multiple organ metastases were seen in 26.5% of study population, with lung / liver metastases being the most frequent combination pattern (9.6%) followed by lung / bone (9.4%), and lung / bone / liver (6.4%). A total of 1442 (81.4%) deaths occurred during the follow-up. The cohort-level median overall survival was 7 months, ranging from 3 months in all four organ metastases to 11 months in bone metastasis alone when stratified (absolute difference 8 months, P < 0.001). Multiple organ metastases were independently associated with nearly 50% increased all-cause mortality risk compared to single organ metastasis (adjusted-hazard ratio 1.51, 95% CI 1.34–1.70).
Conclusion
Survival outcomes in those with stage IVB cervical cancer with distant organ involvement can vary based on the extent of metastasis. Incorporation of single versus multiple distant organ metastasis into the cancer staging schema may be valuable (IVB1 versus IVB2).
Access options
Buy single article
Instant access to the full article PDF.
USD 39.95
Price excludes VAT (USA)
Tax calculation will be finalised during checkout.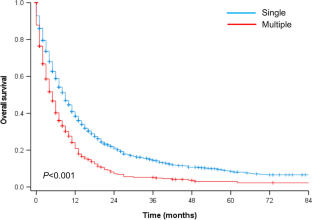 Data availability
All the data that support the findings of this study are publicly available in The National Cancer Institute's Surveillance, Epidemiology, and End Results Program, and the dataset is available at http://seer.cancer.gov/.
References
Bray F, Ferlay J, Soerjomataram I, Siegel RL, Torre LA, Jemal A (2018) Global cancer statistics 2018: GLOBOCAN estimates of incidence and mortality worldwide for 36 cancers in 185 countries. CA Cancer J Clin 68(6):394–424

Arbyn M, Weiderpass E, Bruni L et al (2020) Estimates of incidence and mortality of cervical cancer in 2018: a worldwide analysis. Lancet Glob Health 8(2):e191–e203

Ginsburg O, Bray F, Coleman MP et al (2017) The global burden of women's cancers: a grand challenge in global health. Lancet 389(10071):847–860

Cancer Stat Facts: Cervical Cancer. National Cancer Institute Surveillance, Epidemiology, and End Results Program. <https://seer.cancer.gov/statfacts/html/cervix.html>. Accessed 12/november/2021

Benedet JL, Pecorelli S (2006) Why Cancer Staging? Int J Gynaecol Obstet 95(Suppl 1):S3

Cervical cancer. NCCN clinical practice guidelines in oncology, National Comprehensive Cancer Network. https://www.nccn.org/. Accessed 12/september/2021

Bhatla N, Aoki D, Sharma DN, Sankaranarayanan R (2018) Cancer of the cervix uteri. Int J Gynaecol Obstet 143(Suppl 2):22–36

Nishio S, Matsuo K, Yonemoto K et al (2018) Race and nodal disease status are prognostic factors in patients with stage IVB cervical cancer. Oncotarget 9(64):32321–32330

Oishi S, Kudaka W, Toita T et al (2016) Prognostic factors and treatment outcome for patients with stage ivb cervical cancer. Anticancer Res 36(7):3471–3475

Usami T, Takahashi A, Matoda M et al (2016) Review of treatment and prognosis of stage IVB cervical carcinoma. Int J Gynecol Cancer 26(7):1239–1245

National Cancer Institute's The Surveillance, Epidemiology, and End Results (SEER) Program. http://seer.cancer.gov/. Accessed 12/August/2021

Zippin C, Lum D, Hankey BF (1995) Completeness of hospital cancer case reporting from the SEER Program of the National Cancer Institute. Cancer 76(11):2343–2350

National Cancer Registrars Association http://www.ncra-usa.org/. Accessed 12/August/2021

Harlan LC, Hankey BF (2003) The surveillance, epidemiology, and end-results program database as a resource for conducting descriptive epidemiologic and clinical studies. J Clin Oncol 21(12):2232–2233

International Classification of Diseases for Oncology, 3rd Edition (ICD-O-3). World Health Organization. https://www.who.int/classifications/icd/adaptations/oncology/en/. Accessed 12/August/2021

Gien LT, Beauchemin MC, Thomas G (2010) Adenocarcinoma: a unique cervical cancer. Gynecol Oncol 116(1):140–146

Cancer Genome Atlas Research N, Albert Einstein College of M, Analytical Biological S et al (2017) Integrated genomic and molecular characterization of cervical cancer. Nature 543(7645):378–384

Galic V, Herzog TJ, Lewin SN et al (2012) Prognostic significance of adenocarcinoma histology in women with cervical cancer. Gynecol Oncol 125(2):287–291

Ghaferi AA, Schwartz TA, Pawlik TM (2021) STROBE reporting guidelines for observational studies. JAMA Surg 156(6):577–578

Quinn MA, Benedet JL, Odicino F et al (2006) Carcinoma of the cervix uteri FIGO 26th Annual Report on the results of treatment in gynecological cancer. Int J Gynaecol Obstet 95(Suppl 1):S43-103

Smith CB, Phillips T, Smith TJ (2017) Using the new ASCO clinical practice guideline for palliative care concurrent with oncology care using the TEAM approach. Am Soc Clin Oncol Educ Book 37:714–723
Funding
Ensign Endowment for Gynecologic Cancer Research (K.M.). The funder had no role in the design and conduct of the study; collection, management, analysis, and interpretation of the data; preparation, review, or approval of the manuscript; and decision to submit the manuscript for publication.
Ethics declarations
Conflict of interests
All were unrelated to the work: consultant, Quantgene (L.D.R.); none for others.
Ethical approval
University of Southern California (HS-16–00481).
Consent to participate
Not applicable.
Consent for publication
Not applicable.
Additional information
Publisher's Note
Springer Nature remains neutral with regard to jurisdictional claims in published maps and institutional affiliations.
Abstract presentation: 2022 Society of Gynecologic Oncology Annual Meeting on Women's Cancer, Phoenix, AZ, March 18–21, 2022.
Supplementary Information
Below is the link to the electronic supplementary material.
About this article
Cite this article
Joh, S., Violette, C.J., Khetan, V.U. et al. Metastatic extent-specific prognosis of women with stage IVB cervical cancer: multiple versus single distant organ involvement. Arch Gynecol Obstet 307, 533–540 (2023). https://doi.org/10.1007/s00404-022-06611-3
Received:

Accepted:

Published:

Issue Date:

DOI: https://doi.org/10.1007/s00404-022-06611-3
Keywords
Uterine cervical neoplasms

Neoplasm metastasis

Survival