Abstract
The incidence of extra pelvic infections due to vaginal microflora bacteria has increased as growth media and methods of isolation have improved. However, bone infections seem to be still relatively rare, and little is known about their risk factors, clinical presentation, treatment and final outcome. We describe here a spondylodiscitis due to Gardnerella vaginalis, Atopobium vaginae, Peptostreptococcus indolicus and Prevotella amnii, anaerobic bacteria from vaginal microbiota. Our patient had no obvious predisposing factor and recovered after antibiotic treatment. To our knowledge, this case is the first reported spondylodiscitis caused by polymicrobial vaginal flora in a healthy, immunocompetent woman.
Access options
Buy single article
Instant access to the full article PDF.
USD 39.95
Price excludes VAT (USA)
Tax calculation will be finalised during checkout.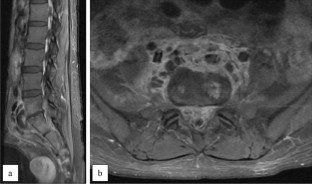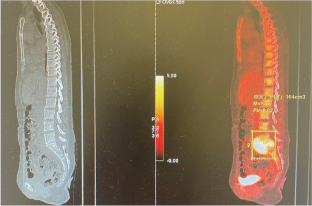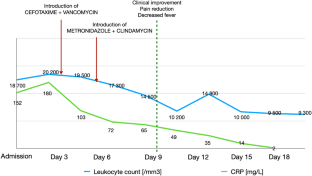 References
Fantoni M, Trecarichi E, Rossi B (2012) Epidemiological and clinical features of pyogenic spondylodiscitis. Eur Rev Med Pharmacol Sci 16:2–7

Graham S, Howes C, Dunsmuir R, Sandoe J (2009) Vertebral osteomyelitis and discitis due to Gardnerella vaginalis. J Med Microbiol 58:1382–1384

Nolla JM, Ariza J, Gómez-Vaquero C, Fiter J, Bermejo J, Valverde J, Escofet DR, Gudiol F (2002) Spontaneous pyogenic vertebral osteomyelitis in nondrug users. Semin Arthritis Rheum 31:271–278

Sobottke R, Seifert H, Fätkenheuer G, Schmidt M, Goßmann A, Eysel P (2008) Current diagnosis and treatment of spondylodiscitis. Deutsches Aerzteblatt Online 105:181–187

Srinivasa S, Wong K, Fitch KV, Wei J, Petrow E, Cypess AM, Torriani M, Grinspoon SK (2015) Effects of lifestyle modification and metformin on irisin and FGF21 among HIV-infected subjects with the metabolic syndrome. Clin Endocrinol 82:678–685

Smith SB, Ravel J (2017) The vaginal microbiota, host defence and reproductive physiology: vaginal microbiota in defence and physiology. J Physiol 595:451–463

Austin MN, Beigi RH, Meyn LA, Hillier SL (2005) Microbiologic response to treatment of bacterial vaginosis with topical clindamycin or metronidazole. J Clin Microbiol 43:4492–4497

Kavoussi SK, Pearlman MD, Burke WM, Lebovic DI (2006) Endometrioma complicated by tubo-ovarian abscess in a woman with bacterial vaginosis. Infect Dis Obstet Gynecol 2006:1–3

Nightingale L (1986) Cephalhematoma complicated by osteomyelitis presumed due to Gardnerella vaginalis. JAMA 256:1936–1937

Hodge TW Jr, Levy CS, Smith MA (1995) Disk space infection due to Gardnerella vaginalis. Clin Infect Dis 21:443–445

Sivadon-Tardy V, Roux A-L, Piriou P, Herrmann J-L, Gaillard J-L, Rottman M (2009) Gardnerella vaginalis acute hip arthritis in a renal transplant recipient. J Clin Microbiol 47:264–265

Stewart L, Sinha S, Madsen PJ, Glaser L, Chen HI, Culyba MJ (2018) Spinal epidural abscess caused by Gardnerella vaginalis and Prevotella amnii. Infect Dis Clin Pract 26:237–239

Hoarau G, Bernard S, Pavese P, Saragaglia D, Croize J, Maurin M (2012) Gardnerella vaginalis as a rare cause of prosthetic joint infection. J Clin Microbiol 50:4154–4156

Taillandier P, Roingeard C, Violette J, Leclère F-M, Faivre S (2020) Septic shock caused by Gardnerella vaginalis and Atopobium vaginae. IDCases 21:e00876

García-Sánchez JE, García-Sánchez E, Martín-del-Rey Á, García-Merino E (2015) Las bacterias anaerobias 150años después de su descubrimiento por Pasteur. Enferm Infecc Microbiol Clin 33:119–128

Shah NN, Nanjappa S, Greene JN (2017) Osteomyelitis and hip abscess caused by Gardnerella vaginalis: a case report. Infect Dis Clin Pract 25:162–164

Purushothaman B, Lakshmanan P, Gatehouse S, Fender D (2010) Spondylodiscitis due to Prevotella associated with ovarian mass—a rare case report and review of literature. World Neurosurgery 73:119–122

Dahya V, Chalasani P, Ramgopal M (2015) Peptostreptococcus endocarditis presenting as lumbar discitis in an immunocompromised patient. Am J Med Sci 349:187–188

Joughin E, McDougall C, Parfitt C, Yong-Hing K, Kirkaldy-Willis W (1991) Causes and clinical management of vertebral osteomyelitis in Saskatchewan. Spine 16:261–264

Fouquet B, Goupille P, Jattiot F, Cotty P, Lapierre F, Valat JP, Amouroux J, Benatre A (1992) Discitis after lumbar disc surgery. Features of '"aseptic"' and '"septic"' forms. Spine 17:356–358

Dufour V, Feydy A, Rillardon L, Redondo A, Lepage L, Bert F, Belmatoug N, Fantin B (2005) Comparative study of postoperative and spontaneous pyogenic spondylodiscitis. Semin Arthritis Rheum 34:766–771

Gouliouris T, Aliyu SH, Brown NM (2010) Spondylodiscitis: update on diagnosis and management. J Antimicrob Chemother 65:iii11–iii24

Weinstein MA, Eismont FJ (2005) Infections of the spine in patients with human immunodeficiency virus. J Bone Jt Surg Am 87:604–609

Rezai AR, Errico TJ (1999) Contemporary management of spinal osteomyelitis. Neurosurgery 44:1018–1026

Enoch DA, Cargill JS, Laing R, Herbert S, Corrah TW, Brown NM (2007) Value of CT-guided biopsy in the diagnosis of septic discitis. J Clin Pathol 61:750–753

Jespers V, Hardy L, Buyze J, Loos J, Buvé A, Crucitti T (2016) Association of sexual debut in adolescents with microbiota and inflammatory markers. Obstet Gynecol 128:22–31

Mitchell CM, Fredricks DN, Winer RL, Koutsky L (2012) Effect of sexual debut on vaginal microbiota in a cohort of young women. Obstet Gynecol 120:1306–1313

Petrina MAB, Cosentino LA, Rabe LK, Hillier SL (2017) Susceptibility of bacterial vaginosis (BV)-associated bacteria to secnidazole compared to metronidazole, tinidazole and clindamycin. Anaerobe 47:115–119
Funding
The authors did not received any funding for this work.
Ethics declarations
Conflict of interest
There are no conflicts of interest to disclose.
Additional information
Publisher's Note
Springer Nature remains neutral with regard to jurisdictional claims in published maps and institutional affiliations.
About this article
Cite this article
Kolakowska, A., El Alaoui, F., Ben Alba, H. et al. Vaginal microbiota as an unusual cause of spondylodiscitis. Arch Gynecol Obstet 306, 109–114 (2022). https://doi.org/10.1007/s00404-022-06432-4
Received:

Accepted:

Published:

Issue Date:

DOI: https://doi.org/10.1007/s00404-022-06432-4
Keywords
Spondylodiscitis

Vaginal microbiota

Gardnerella vaginalis
Atopobium vaginae
Peptostreptococcus indolicus
Prevotella amnii