Abstract
Purpose
To assess the independent and joint contribution of the individual components of metabolic syndrome, and known risk factors for gestational diabetes (GDM), on risk of GDM.
Methods
Two thousand nine hundred and fifteen women from Australia and New Zealand, who participated in The Screening for Pregnancy Endpoints Study (SCOPE), were included. Using the SCOPE clinical data set and biomarkers obtained at 14–16 weeks' gestation, a logistic regression model was fitted to the binary outcome GDM, with individual metabolic syndrome components (waist circumference, blood pressure, glucose, HDL-C, triglycerides), recruitment site, and other established factors associated with GDM. Hierarchical partitioning was used to assess the relative contribution of each variable.
Results
Of the 2915 women, 103 women (3.5%) developed GDM. The deviance explained by the logistic regression model containing all variables was 18.65% and the AUC was 0.809. Seventy percent of the independent effect was accounted for by metabolic syndrome components. The highest independent relative contribution to GDM was circulating triglycerides (17 ± 3%), followed by waist circumference (13 ± 3%). Glucose and maternal BMI contributed 12 ± 2% and 12 ± 3%, respectively. The remaining factors had an independent relative contribution of < 10%.
Conclusion
Triglyceride concentrations had the highest independent relative importance for risk of GDM. Increased focus for lowering triglycerides as an important risk factor for GDM is warranted.
Access options
Buy single article
Instant access to the full article PDF.
USD 39.95
Price includes VAT (USA)
Tax calculation will be finalised during checkout.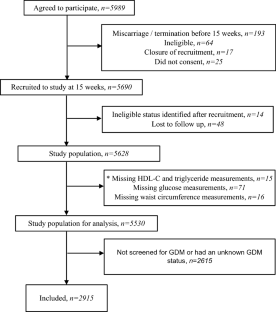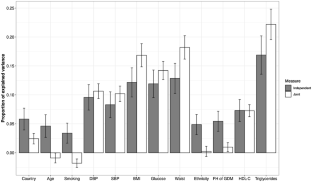 Data availability
The SCOPE study, which commenced recruitment in 2004, did not seek specific consent from participants for sharing their data publicly. However, the SCOPE Consortium Scientific Advisory Board invites applications to use the collected data via email to the chairperson, via, Amy Aherne at ei.ccu@enreha.yma. Applicants will be asked to complete a Research Application Form specifying details for their planned study which will then be reviewed by the SCOPE Scientific Advisory Board. The SCOPE Consortium is keen to promote collaboration among researchers and to see our unique SCOPE database and pregnancy biobank used in studies which meet our ethics and consenting process. The SCOPE consortium is a member of the International Pregnancy Collaboration (https://pregnancycolab.tghn.org/) and has participated in several studies involving shared data. The SCOPE database is provided and maintained by MedSciNet AB (http://medscinet.com).
References
1.

Nankervis A, Conn J (2013) Gestational diabetes mellitus–negotiating the confusion. Aust Fam Physician 42(8):528–531

2.

Zhu Y, Zhang C (2016) Prevalence of gestational diabetes and risk of progression to type 2 diabetes: a global perspective. Curr Diabetes Rep 16(1):7

3.

Australian Government (2014) Australian Institute of Health and Welfare. Diabetes. https://www.aihw.gov.au/reports-data/health-conditions-disability-deaths/diabetes/overview. Accessed 12 Jan 2021

4.

Moses RG, Morris GJ, Petocz P, San Gil F, Garg D (2011) The impact of potential new diagnostic criteria on the prevalence of gestational diabetes mellitus in Australia. Med J Aust 194(7):338–340

5.

Teede HJ, Harrison CL, Teh WT, Paul E, Allan CA (2011) Gestational diabetes: development of an early risk prediction tool to facilitate opportunities for prevention. Aust N Z J Obstet Gynaecol 51(6):499–504

6.

Teh WT, Teede HJ, Paul E, Harrison CL, Wallace EM, Allan C (2011) Risk factors for gestational diabetes mellitus: implications for the application of screening guidelines. Aust N Z J Obstet Gynaecol 51(1):26–30

7.

Lamain-de Ruiter M, Kwee A, Naaktgeboren CA, Franx A, Moons KGM, Koster MPH (2017) Prediction models for the risk of gestational diabetes: a systematic review. Diagn Progn Res 1:3

8.

Pathirana MM, Lassi ZS, Ali A, Arstall MA, Roberts CT, Andraweera PH (2021) Association between metabolic syndrome and gestational diabetes mellitus in women and their children: a systematic review and meta-analysis. Endocrine 71:310–320

9.

Grieger JA, Bianco-Miotto T, Grzeskowiak LE, Leemaqz SY, Poston L, McCowan LM et al (2018) Metabolic syndrome in pregnancy and risk for adverse pregnancy outcomes: a prospective cohort of nulliparous women. PLoS Med 15(12):e1002710

10.

McCowan LM, Roberts CT, Dekker GA, Taylor RS, Chan EH, Kenny LC et al (2010) Risk factors for small-for-gestational-age infants by customised birthweight centiles: data from an international prospective cohort study. BJOG Int J Obstet Gynaecol 117(13):1599–1607

11.

Fyfe EM, Rivers KS, Thompson JM, Thiyagarajan KP, Groom KM, Dekker GA et al (2013) Elevated maternal lipids in early pregnancy are not associated with risk of intrapartum caesarean in overweight and obese nulliparous women. BMC Pregnancy Childbirth 13:143

12.

Kenny LC, Lavender T, McNamee R, O'Neill SM, Mills T, Khashan AS (2013) Advanced maternal age and adverse pregnancy outcome: evidence from a large contemporary cohort. PLoS One 8(2):e56583

13.

International Diabetes Federation. IDF (2006) The IDF consensus worldwide definition of the metabolic syndrome. https://www.idf.org/e-library/consensus-statements/60-idfconsensus-worldwide-definitionof-the-metabolic-syndrome.html. Accessed 24 Mar 2020

14.

World Health Organisation (2013) Diagnostic criteria and classification of hyperglycaemia first detected in pregnancy. WHO/NMH/MND/13.2. 2013. http://apps.who.int/iris/bitstream/10665/85975/1/WHO_NMH_MND_13.2_eng.pdf. Accessed 12 Jan 2021

15.

Chevan A, Sutherland M (1991) Hierarchical partitioning. Am Stat 45:90–96

16.

Mac Nally R, Walsh CJ (2004) Hierarchical partitioning public-domain software. Biodivers Conserv 13:659–660

17.

Chu SY, Callaghan WM, Kim SY, Schmid CH, Lau J, England LJ et al (2007) Maternal obesity and risk of gestational diabetes mellitus. Diabetes Care 30(8):2070–2076

18.

Ryckman KK, Spracklen CN, Smith CJ, Robinson JG, Saftlas AF (2015) Maternal lipid levels during pregnancy and gestational diabetes: a systematic review and meta-analysis. BJOG 122(5):643–651

19.

Griffith RJ, Alsweiler J, Moore AE, Brown S, Middleton P, Shepherd E et al (2020) Interventions to prevent women from developing gestational diabetes mellitus: an overview of cochrane reviews. Cochrane Database Syst Rev 6:CD012394

20.

Okorodudu DO, Jumean MF, Montori VM, Romero-Corral A, Somers VK, Erwin PJ et al (2010) Diagnostic performance of body mass index to identify obesity as defined by body adiposity: a systematic review and meta-analysis. Int J Obes 34(5):791–799

21.

Millar SR, Perry IJ, Phillips CM (2013) Surrogate measures of adiposity and cardiometabolic risk – why the uncertainty? A review of recent meta-analytic studies. J Diabetes Metab S11:004

22.

Institute of Medicine. IOM (2009) In: Rasmussen KM, Yaktine AL (eds) Institute of Medicine of the National Academies Weight Gain During Pregnancy: Reexamining the Guidelines. The National Academies Collection: Reports funded by National Institutes of Health, Washington, DC
Acknowledgements
The authors wish to thank all of the SCOPE participants and the SCOPE research midwives in each centre; and Robyn North for her contributions in establishing the SCOPE study.
Funding
JAG is supported by an NHMRC Ideas Grant (GNT2000905). CTR is supported by a Matthew Flinders Fellowship from Flinders University and a NHMRC Investigator Grant (GNT1174971). The SCOPE database is provided and maintained by MedSciNet AB (http://medscinet.com). The Australian SCOPE study was funded by the Premier's Science and Research Fund, South Australian Government (http://www.dfeest.sa.gov.au/science-research/premiers-research-and-industry-fund). The New Zealand SCOPE study was funded by the New Enterprise Research Fund, Foundation for Research Science and Technology; Health Research Council (04/198); Evelyn Bond Fund, Auckland District Health Board Charitable Trust. The funding bodies had no direct involvement in execution of the study.
Ethics declarations
Conflict of interest
The authors have no conflict of interest.
Ethical approval
Ethical approval was obtained from local ethics committees [New Zealand AKX/02/00/364, Australia REC 1712/5/2008] and all women provided written informed consent.
Consent to participate
All participants signed an informed consent form which was approved by the ethics committee (New Zealand AKX/02/00/364, Australia REC 1712/5/2008).
Consent for publication
The consent form indicated a statement on consent for publication.
Additional information
Publisher's Note
Springer Nature remains neutral with regard to jurisdictional claims in published maps and institutional affiliations.
Supplementary Information
Below is the link to the electronic supplementary material.
About this article
Cite this article
Grieger, J.A., Leemaqz, S.Y., Knight, E.J. et al. Relative importance of metabolic syndrome components for developing gestational diabetes. Arch Gynecol Obstet (2021). https://doi.org/10.1007/s00404-021-06279-1
Received:

Accepted:

Published:
Keywords
Gestational diabetes

Pregnancy

Metabolic syndrome

Risk factors

Lipids

Triglycerides