Abstract
Purpose
Recurrent Miscarriages (RM) commonly complicates the reproductive outcome where prominently chromosomal aberrations and molecular factors lead to recurrent miscarriages. We investigated couples with RM for cytogenetic abnormalities and Y chromosome microdeletions in males along with detection of aneuploidies de novo in the product of conception from a highly ethnic consanguineous population (Kashmir, North India) .
Study design
Chromosomal analysis was done by Karyotyping on peripheral blood lymphocyte cultures and analyzed by Cytovision software Version 3.9. Microdeletion in Y chromosome was performed by STS-PCR and QF-PCR was used to detect aneuploidy in the product of conception.
Results
Of the 380 samples (190 couples) screened for cytogenetic analysis, 50 (13.1%) chromosomal aberrations were detected in both couples. Numerical aberrations were detected in 16.0%, inversions 22%, duplications 16.0% and translocations were found in 26.0% with three unique reciprocal translocations in males. The couples bonded consanguineously had 32% chromosomal changes with a significant difference in chromosomal inversions (37.5% vs. 14.7%) and translocations (37.5% vs. 20.6%) for consanguineous and non-consanguineous group, respectively (p < 0.05). Further, translocations and inversions (44.5% and 33.3%) were significantly implicated in couples with a positive family history of RM (p < 0.05). Y chromosome deletions were found in 2.1% cases of males.
Conclusion
We conclude 15.2% couples affected either by chromosomal or Y chromosome deletions contribute hugely in the diagnosis and management of repeated pregnancy losses. It is recommended that couples that belong to consanguineous and multigenerational group of RM should be considered for cytogenetic and molecular testing after two abortions for successful pregnancy outcomes and management of RM.
Access options
Buy single article
Instant access to the full article PDF.
US$ 39.95
Tax calculation will be finalised during checkout.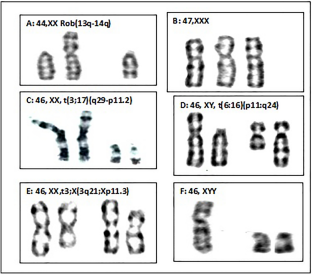 References
1.

National Institute for Health and Care Excellence (Nice) (2012) Clinical guideline [CG154]. Ectopic pregnancy and miscarriage: diagnosis and initial management, London

2.

Jauniaux E, Farquharson RG, Christiansen OB, Exalto N (2006) Evidence-based guidelines for the investigation and medical treatment of recurrent miscarriage. Hum Reprod 21:2216–2222

3.

R.C.O.O.G (2011) The investigation and treatment of couples with recurrent first and second-trimester miscarriage. RCOG, London

4.

Bener A, Hussain R (2006) Consanguineous unions and child health in the State of Qatar. Paediatr Perinat Epidemiol 20:372–378

5.

Larsen EC, Christiansen OB, Kolte AM, Macklon N (2013) New insights into mechanisms behind miscarriage. BMC Med 11:154

6.

Sugiura-Ogasawara M, Ozaki Y, Katano K, Suzumori N, Kitaori T, Mizutani E (2012) Abnormal embryonic karyotype is the most frequent cause of recurrent miscarriage. Hum Reprod 27:2297–2303

7.

Werner M, Reh A, Grifo J, Perle MA (2012) Characteristics of chromosomal abnormalities diagnosed after spontaneous abortions in an infertile population. J Assist Reprod Genet 29:817–820

8.

Kolte AM, Nielsen HS, Moltke I, Degn B, Pedersen B, Sunde L, Nielsen FC, Christiansen OB (2011) A genome-wide scan in affected sibling pairs with idiopathic recurrent miscarriage suggests genetic linkage. Mol Hum Reprod 17:379–385

9.

Oj TEM (2001) Human chromosomes, 4th edn. Springer, New York

10.

Stephenson MD, Awartani KA, Robinson WP (2002) Cytogenetic analysis of miscarriages from couples with recurrent miscarriage: a case-control study. Hum Reprod 17(2):446–451

11.

Stephenson MD, Awartani KA, Robinson WP (2002) Cytogenetic analysis of miscarriages from couples with recurrent miscarriage: a case-control study. Hum Reprod 17:446–451

12.

Warren JE, Silver RM (2008) Genetics of pregnancy loss. Clin Obstet Gynecol 51:84–95

13.

Lim CK, Cho JW, Song IO, Kang IS, Yoon YD, Jun JH (2008) Estimation of chromosomal imbalances in preimplantation embryos from preimplantation genetic diagnosis cycles of reciprocal translocations with or without acrocentric chromosomes. Fertil Steril 90:2144–2151

14.

Hviid TV, Christiansen OB, Johansen JK, Hviid UR, Lundegaard C, Moller C, Morling N (2001) Characterization of a new HLA-G allele encoding a nonconservative amino acid substitution in the alpha3 domain (exon 4) and its relevance to certain complications in pregnancy. Immunogenetics 53:48–53

15.

Marsh SG (2002) Nomenclature for factors of the HLA system, update December 2002. Tissue Antigens 61:412–413

16.

Otani T, Roche M, Mizuike M, Colls P, Escudero T, Munne S (2006) Preimplantation genetic diagnosis significantly improves the pregnancy outcome of translocation carriers with a history of recurrent miscarriage and unsuccessful pregnancies. Reprod Biomed Online 13:869–874

17.

Pina-Aguilar RE, Martinez-Garza SG, Kohls G, Vargas-Maciel MA, De Lara LGV, Gonzalez-Ortega C, Cancino-Villarreal P, Gutierrez-Gutierrez AM (2012) Y chromosome microdeletions in Mexican males of couples with idiopathic recurrent pregnancy loss. J Obstet Gynaecol Res 38:912–917

18.

Dewan S, Puscheck EE, Coulam CB, Wilcox AJ, Jeyendran RS (2006) Y-chromosome microdeletions and recurrent pregnancy loss. Fertil Steril 85:441–445

19.

Karaer A, Karaer K, Ozaksit G, Ceylaner S, Percin EF (2008) Y chromosome azoospermia factor region microdeletions and recurrent pregnancy loss. Am J Obstet Gynecol 199:662.e661-665

20.

Bhasin S, De Kretser DM, Baker HW (1994) Clinical review 64: pathophysiology and natural history of male infertility. J Clin Endocrinol Metab 79:1525–1529

21.

Wettasinghe TK, Jayasekara RW, Dissanayake VH (2010) Y chromosome microdeletions are not associated with spontaneous recurrent pregnancy loss in a Sinhalese population in Sri Lanka. Hum Reprod 25:3152–3156

22.

Soleimanian S, Kalantar SM, Sheikhha MH, Zaimy MA, Rasti A, Fazli H (2013) Association between Y-chromosome AZFc region micro-deletions with recurrent miscarriage. Iran J Reprod Med 11:431–434

23.

Schulpen TW, Van Wieringen JC, Van Brummen PJ, Van Riel JM, Beemer FA, Westers P, Huber J (2006) Infant mortality, ethnicity, and genetically determined disorders in The Netherlands. Eur J Public Health 16:291–294

24.

Seemanova E (1971) A study of children of incestuous matings. Hum Hered 21:108–128

25.

Tamim H, Khogali M, Beydoun H, Melki I, Yunis K (2003) Consanguinity and apnea of prematurity. Am J Epidemiol 158:942–946

26.

Jyothy A, Kumar K, Swarna M, Sekhar MR, Devi BU, Reddy PP (2002) Cytogenetic investigations in 1843 referral cases of disordered sexual development from Andhra Pradesh, India. Int J Hum Genet 2:55–59

27.

Papp Z, Gardo S, Dolhay B (1974) Chromosome study of couples with repeated spontaneous abortions. Fertil Steril 25:713–717

28.

Kajii T, Ferrier A (1978) Cytogenetics of aborters and abortuses. Am J Obstet Gynecol 131:33–38

29.

Campana M, Serra A, Neri G (1986) Role of chromosome aberrations in recurrent abortion: a study of 269 balanced translocations. Am J Med Genet 24:341–356

30.

Rao L, Murthy K, Babu A, Venkata P, Deenadayal M, Singh L (2005) Chromosome inversions and a novel chromosome insertion associated with recurrent miscarriages in South India. Arch Gynecol Obstet 272:273–277

31.

Khudr G (1974) Cytogenetics of habitual abortion. A review. Obstet Gynecol Surv 29:290–310

32.

Nordenson I (1981) Increased frequencies of chromosomal abnormalities in families with a history of fetal wastage. Clin Genet 19:168–173

33.

Gupta NJ, Chakravarty BN (1995) Early pregnancy wastage with special reference on chromosomal anomalies. J Indian Med Assoc 93:71–74

34.

Firoozabadi RD, Klantar M, Seyed-Hasani M, Ghasemi N, Asgharnia M, Sheikhha MH (2006) Cytogenetic analysis in couples with recurrent spontaneous abortion. Iran J Reprod Med 4(1):13–17

35.

Niroumanesh S, Mehdipour P, Farajpour A, Darvish S (2011) A cytogenetic study of couples with repeated spontaneous abortions. Ann Saudi Med 31:77–79

36.

Pal S, Ma S, Norhasimah M, Suhaida M, Mariam IS, Ankathil R et al (2009) Chromosomal abnormalities and reproductive outcome in Malaysian couples with miscarriages. Singapore Med J 50(10):1008–1012

37.

Azim M, Khan AH, Khilji ZL, Pal JA, Khurshid M (2003) Chromosomal abnormalities as a cause of recurrent abortions: a hospital experience. J Pak Med Assoc 53(3):117–119

38.

Al-Hussain M, Al-Nuaim L, Talib ZA, Zaki OK (2000) Cytogenetic study in cases with recurrent abortion in Saudi Arabia. Ann Saudi Med 20:233–236

39.

Dubey S, Choudhary MR, Prahlad B, Kumar V, Mathur R, Hamilton S et al (2005) CyCytogenetic causes for recurrent spontaneous abortions – an experience of 742 couples (1484 cases). Ind J Hum Genet 11(2):94–98

40.

Tang AW, Quenby S (2010) Recent thoughts on management and prevention of recurrent early pregnancy loss. Curr Opin Obstet Gynecol 22:446–451

41.

Sheth FJ, Liehr T, Kumari P, Akinde R, Sheth HJ, Sheth JJ (2013) Chromosomal abnormalities in couples with repeated fetal loss: an Indian retrospective study. Indian J Hum Genet 19(4):415–422

42.

Dutta UR, Rajitha P, Pidugu VK, Dalal AB (2011) Cytogenetic abnormalities in 1162 couples with recurrent miscarriages in southern region of India: report and review. J Assist Reprod Genet 28:145–149

43.

Rubio C, Pehlivan T, Rodrigo L, Simon C, Remohi J, Pellicer A (2005) Embryo aneuploidy screening for unexplained recurrent miscarriage: a minireview. Am J Reprod Immunol 53:159–165

44.

Bourrouillou G, Colombies P, Dastugue N (1986) Chromosome studies in 2136 couples with spontaneous abortions. Hum Genet 74:399–401

45.

Ko TM, Hsieh FJ, Chang LS, Pan MF, Lee TY (1992) Pericentric inversions of chromosome 9 in Taiwanese fetuses. J Formos Med Assoc 91:473–474

46.

Teo SH, Tan M, Knight L, Yeo SH, Ng I (1995) Pericentric inversion 9–incidence and clinical significance. Ann Acad Med Singapore 24:302–304

47.

Im T (1999) Cytogenetic basis of recurrent abortions. Perinatology 1:181–187

48.

Davalos IP, Rivas F, Ramos AL, Galaviz C, Sandoval L, Rivera H (2000) inv(9)(p24q13) in three sterile brothers. Ann Genet 43:51–54

49.

Garcia-Peiro A, Oliver-Bonet M, Navarro J, Abad C, Guitart M, Amengual MJ, Benet J (2011) Sperm DNA integrity and meiotic behavior assessment in an infertile male carrier of a 9qh+++ polymorphism. J Biomed Biotechnol 2011:730847

50.

Uehara S, Akai Y, Takeyama Y, Takabayashi T, Okamura K, Yajima A (1992) Pericentric inversion of chromosome 9 in prenatal diagnosis and infertility. Tohoku J Exp Med 166:417–427

51.

Hemalatha P, Vishalakshi M, Sadhana G et al (2006) Prenatal cytogenetic in couples with BOH—a study of 1200 cases. Int J Hum Genet 2:50–55

52.

Ferlin A, Barbara A, Foresta C (2006) Genetic cause of male infertility. Reprod Toxicol 22:133–141

53.

Mcelreavey K, Chantot-Bastaraud S, Ravel C, Mandelbaum J, Siffroi JP (2008) Y chromosome and male infertility: what is normal Y chromosome. J Soc Biol 202:135–141

54.

Ravel C, Chantot-Bastaraud S, El Houate B, Rouba H, Legendre M, Lorenco D, Mandelbaum J, Siffroi JP, Mcelreavey K (2009) Y-chromosome AZFc structural architecture and relationship to male fertility. Fertil Steril 92:1924–1933

55.

Stouffs K, Vandermaelen D, Tournaye H, Liebaers I, Van Steirteghem A, Lissens W (2009) Genetics and male infertility. Verh K Acad Geneeskd Belg 71:115–139

56.

Lemos B, Araripe LO, Hartl DL (2008) Polymorphic Y chromosomes harbor cryptic variation with manifold functional consequences. Science 319(5859):91–93

57.

Purandare H, Fernandes NV, Deshmukh SV, Chavan S (2011) Heterochromatic variations and pregnancy losses in humans. Int J Hum Genet 11(3):167–175

58.

Yuce H, Tekedereli I, Elyas H (2007) Cytogenetic results of recurrent spontaneous miscarriages in Turkey. Med Sci Monit 13(6):CR286-CR289

59.

Minocherhomji S, Athalye A, Madon PF, Kulkarni D, Uttamchandani SA, Parikh F (2009) A case–control study identifying chromosomal polymorphic variations as forms of epigenetic alterations associated with the infertility phenotype. Fertil Steril 92:88–95

60.

Midro AT, Stengel-Rutkowski S, Stene J (1992) Experiences with risk estimates for carriers of chromosomal reciprocal translocations. Clin Genet 41:113–122

61.

Bittles AH, Savithri H, Rao NA (2002) Community genetics in developing countries. Commun Genet 5:151–152

62.

Shafeghati YNM, Zangeneh M, Nejad RK, Mohammadi QB, Almadani N et al. (2002) Results of chromosome studies in 664 Iranian couples with the history of recurrent early pregnancy loss. In: Abstract in European human genetics conference. European Society of Human Genetics, Strasbourg, France, p 5.

63.

Elghezal H, Hidar S, Mougou S, Khairi H, Saad A (2007) Prevalence of chromosomal abnormalities in couples with recurrent miscarriage. Fertil Steril 88:721–723

64.

De Braekeleer M, Dao TN (1990) Cytogenetic studies in couples experiencing repeated pregnancy losses. Hum Reprod 5:519–528

65.

Modell B, Darr A (2002) Science and society: genetic counselling and customary consanguineous marriage. Nat Rev Genet 3:225–229

66.

Bener A, Hussain R, Teebi AS (2007) Consanguineous marriages and their effects on common adult diseases: studies from an endogamous population. Med Princ Pract 16:262–267

67.

Teebi AS, Teebi SA, Porter CJ, Cuticchia AJ (2002) Arab genetic disease database (AGDDB): a population-specific clinical and mutation database. Hum Mutat 19:615–621

68.

Tadmouri GO, Nair P, Obeid T, Ali MTA, Khaja NA, Hamamy HA (2009) Consanguinity and reproductive health among Arabs. Reprod Health 6:17

69.

Ah B (2009) A global overview on consanguinity. Eurogene portal 2009. http://eurogene.open.ac.uk/content/global-overview-consanguinity. 15 Nov 2015

70.

Bittles AH, Black ML (2010) Evolution in health and medicine Sackler colloquium: consanguinity, human evolution, and complex diseases. Proc Natl Acad Sci USA 107(Suppl 1):1779–1786

71.

Anwar WA, Khyatti M, Hemminki K (2014) Consanguinity and genetic diseases in North Africa and immigrants to Europe. Eur J Public Health 24(Suppl 1):57–63

72.

Ah B (2002) The impact of consanguinity on the Indian population. Indian J Hum Genet 8(2):45

73.

Balkan M, Akbas H, Isi H, Oral D, Turkyilmaz A, Kalkanli S, Simsek S, Fidanboy M, Alp MN, Gedik A, Budak T (2010) Cytogenetic analysis of 4216 patients referred for suspected chromosomal abnormalities in Southeast Turkey. Genet Mol Res 9:1094–1103

74.

Subhash RLP, Panagar A, Kadandale JS, Bhat M, Harshal KL, Afroze MKH (2017) Consanguinity and chromosomal abnormalities. Int J Anat Res 5(4.1):4531–4537

75.

Firoozabadi DR et al (2006) Cytogenetic analysis in couples with recurrent spontaneous abortion. Int J Reprod Biomed 4(1):13–17

76.

Arredi B, Ferlin A, Speltra E, Bedin C, Zuccarello D, Ganz F, Marchina E, Stuppia L, Krausz C, Foresta C (2007) Y-chromosome haplogroups and susceptibility to azoospermia factor c microdeletion in an Italian population. J Med Genet 44:205–208

77.

Ghorbian S, Saliminejad K, Sadeghi MR, Javadi GR, Kamali K, Amirjannati N, Bahreini F, Edalatkhah H, Khorshid HRK (2012) The association between Y chromosome microdeletion and recurrent pregnancy loss. Iran Red Crescent Med J 14:358–362

78.

Venkatesh S, Thilagavathi J, Kumar K, Deka D, Talwar P, Dada R (2011) Cytogenetic, Y chromosome microdeletion, sperm chromatin and oxidative stress analysis in male partners of couples experiencing recurrent spontaneous abortions. Arch Gynecol Obstet 284:1577–1584

79.

Agarwal S, Agarwal A, Khanna A, Singh K (2015) Microdeletion of Y chromosome as a cause of recurrent pregnancy loss. J Hum Reprod Sci 8:159–164

80.

Said MM, Fahmi AA, Hemeda HM, Aly B, Abdelaal RH, Nasr SM, El Gamal M, Fawzy IO et al (2013) Detection of Y chromosome microdeletions in recurrent abortions among Egyptian females using SYBR green real time PCR. J Am Sci 9(9):150–157

81.

Guzel A, Yilmaz M, Demirhan O, Pazarbasi A, Kocaturk-Sel S, Erkoc M, Inandiklioglu N, Ozgunen F, Sariturk C (2012) Rapid detection of fetal aneuploidies by quantitative fluorescent-polymerase chain reaction for prenatal diagnosis in the Turkish population. Balkan J Med Genet 15:11–17

82.

Diego-Alvarez D, Garcia-Hoyos M, Trujillo MJ, Gonzalez-Gonzalez C, De Alba MR, Ayuso C, Ramos-Corrales C, Lorda-Sanchez I (2005) Application of quantitative fluorescent PCR with short tandem repeat markers to the study of aneuploidies in spontaneous miscarriages. Hum Reprod 20:1235–1243

83.

Jenderny J (2014) Chromosome aberrations in a large series of spontaneous miscarriages in the German population and review of the literature. Mol Cytogenet 7:38
Funding
This study was funded by DBT, Ministry of Science and Technology, New Delhi, (GOI) No. BT/PR11769/MED /97/229/2014-reg. All the authors declare no competing financial interests.
Ethics declarations
Conflict of interest
All the authors declare no conflict of interest.
Ethical approval
Human participants involved for performing various procedures were strictly followed in accordance with the ethical standards of the institutional research approval committee in compliance with the 1964 Helsinki declaration and its later amendments or comparable ethical standards. Ethical approval for this study was duly obtained from the Institutional Ethical Committee of SK Institute of Medical Sciences, J&K, North India (SKIMS Study ref: Protocol IEC-SKIMS Protocol RP 244/2014).
Consent to participate
All the patients and control group were voluntary in participation to this study and a written informed consent was obtained from each recruited subject.
Additional information
Publisher's Note
Springer Nature remains neutral with regard to jurisdictional claims in published maps and institutional affiliations.
Supplementary Information
Below is the link to the electronic supplementary material.
About this article
Cite this article
Pandith, A.A., Manzoor, U., Amin, I. et al. High incidences of chromosomal aberrations and Y chromosome micro-deletions as prominent causes for recurrent pregnancy losses in highly ethnic and consanguineous population. Arch Gynecol Obstet (2021). https://doi.org/10.1007/s00404-021-06235-z
Received:

Accepted:

Published:
Keywords
Recurrent miscarriages

Reproductive outcome

Aneuploidies

Consanguinity

Cytogenetic analysis

Kashmir (India)