Abstract
Purpose
Many menopausal women suffer from a variety of estrogen deficiency-related symptoms and chronic medical conditions. Health care professionals should be able to identify and quantify symptoms to facilitate diagnosis, indicate and monitor treatment. Therefore, various questionnaires have been developed and are used as a simple, time-saving and cost-effective mean to assess and monitor menopausal complaints. The aim of this review is to provide an overview and comparison of the available tools for climacteric syndrome assessment.
Methods
Three electronic databases (Pubmed, EMBASE and Cochrane Database of Systematic Reviews/CDRS) were searched covering a time period of 10 years using a combination of relevant controlled vocabulary terms and free-text terms. Relevant references were evaluated for inclusion in a stepwise approach.
Results
The literature research revealed four questionnaires (Kupperman Index, Menopause Rating Scale, Menopause Specific Quality of Life Questionnaire and Greene Climacteric Scale) that are used to holistically assess the climacteric syndrome, varying in type of assessment, included symptoms, rating system of severity, weighing of symptoms, resulting total rating score and validation status. Further questionnaires are available to assess single symptoms or group of symptoms relating to specific aspects of menopause (e.g., vasomotor symptoms, insomnia, etc.).
Conclusion
Four holistic questionnaires addressing menopausal symptoms have been developed [KI, MRS, MENQOL (-Intervention), Greene Climacteric Scale]. All but one (KI) have been validated and are available in different languages. However, there are still several shortcomings such as the lack of recognition of ethnic and cultural background and missing thresholds for treatment initiation and monitoring.
Access options
Buy single article
Instant access to the full article PDF.
USD 39.95
Price includes VAT (USA)
Tax calculation will be finalised during checkout.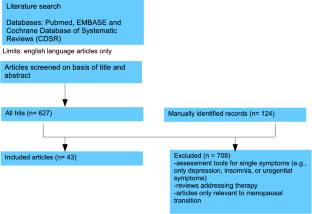 References
1.

Schneider HPG, Birkhäuser M (2017) Quality of life in climacteric women. Climacteric 20(3):187–194

2.

Delaplaine RW, Bottomy JR, Blatt M, Wiesbader H, Kupperman HS (1952) Effective control of the surgical menopause by estradiol pellet implantation at the time of surgery. Surg Gynecol Obstet 94(3):323–333

3.

Kupperman HS, Blatt MH, Wiesbader H, Filler W (1953) Comparative clinical evaluation of estrogenic preparations by the menopausal and amenorrheal indices. J Clin Endocrinol Metab 13(6):688–703

4.

Schneider HP, Heinemann LA, Rosemeier HP, Potthoff P, Behre HM (2000) The Menopause Rating Scale (MRS): reliability of scores of menopausal complaints. Climacteric 3(1):59–64

5.

Potthoff P, Heinemann LA, Schneider HP, Rosemeier HP, Hauser GA (2000) The Menopause Rating Scale (MRS II): methodological standardization in the German population. Zentralbl Gynakol 122(5):280–286

6.

Hilditch JR, Lewis J, Peter A, van Maris B, Ross A, Franssen E, Guyatt GH, Norton PG, Dunn E (1996) A menopause-specific quality of life questionnaire: development and psychometric properties. Maturitas 24(3):161–175

7.

Lewis JE, Hilditch JR, Wong CJ (2005) Further psychometric property development of the Menopause-Specific Quality of Life questionnaire and development of a modified version. MENQOL Interv Quest Matur 50(3):209–221

8.

Greene JG (1998) Constructing a standard climacteric scale. Maturitas 29(1):25–31

9.

Menopause Quality of life questionnaire (MENQOL) and MENQOL-Intervention: languages. https://eprovide.mapi-trust.org/instruments/menopause-specific-quality-of-life-questionnaire#languages. Accessed 01 July 2020

10.

Sloan JA, Loprinzi CL, Novotny PJ, Barton DL, Lavasseur BI, Windschitl H (2001) Methodologic lessons learned from hot flash studies. J Clin Oncol 19(23):4280–4290

11.

Guttuso T, DiGrazio WJ, Reddy SY (2012) Review of hot flash diaries. Maturitas 71(3):213–216

12.

Hunter MS, Liao KL (1995) A psychological analysis of menopausal hot flushes. Br J Clin Psychol 34(4):589–599

13.

Hunter MS, Ayers B, Smith M (2011) The Hot Flush Behavior Scale: a measure of behavioral reactions to menopausal hot flushes and night sweats. Menopause 18(11):1178–1183

14.

Jenabi E, Shobeiri F, Hazavehei SM, Roshanaei G (2015) Assessment of Questionnaire Measuring Quality of Life in menopausal women: a systematic review. Oman Med J 30(3):151–156

15.

Carpenter JS (2001) The Hot Flash Related Daily Interference Scale: a tool for assessing the impact of hot flashes on quality of life following breast cancer. J Pain Symptom Manage 22(6):979–989

16.

Carpenter JS, Bakoyannis G, Otte JL, Chen CX, Rand KL, Woods N, Newton K, Joffe H, Manson JE, Freeman EW, Guthrie KA (2017) Validity, cut-points, and minimally important differences for two hot flash-related daily interference scales. Menopause 24(8):877–885

17.

Hunter M (1992) The women's health questionnaire: a measure of mid-aged women's perceptions of their emotional and physical health. Psychol Health 7(1):45–54

18.

Utian WH, Janata JW, Kingsberg SA, Schluchter M, Hamilton JC (2002) The Utian Quality of Life (UQOL) Scale: development and validation of an instrument to quantify quality of life through and beyond menopause. Menopause 9(6):402–410

19.

Stewart A, Ware JW (1992) Measuring functioning and well-being the medical outcomes study approach. Duke University Press, Durham

20.

Buendía Bermejo J, Rodríguez Segarra R, Yubero Bascuñana N, Martínez Vizcaíno V (2001) Design and validation of a questionnaire in Spanish for measuring the quality of life in postmenopausal women: the MENCAV questionnaire. Aten Primaria 27(2):94–100

21.

Buendía Bermejo J, Valverde Martínez JA, Romero Saiz A, Ulla Díez SM, Cobo Rodrigo A, Martínez Vizcaíno V (2008) Validation of a menopause quality of life scale: the MENCAV scale. Maturitas 59(1):28–37

22.

Alder E (1998) The Blatt-Kupperman menopausal index: a critique. Maturitas 29(1):19–24

23.

Davis SR (2019) The Kupperman Index undressed. Maturitas 126:90–91

24.

Heinemann K, Ruebig A, Potthoff P, Schneider HP, Strelow F, Heinemann LA, Do MT (2004) The Menopause Rating Scale (MRS) scale: a methodological review. Health Qual Life Outcomes 2:45

25.

Schneider HP, Heinemann LA, Rosemeier HP, Potthoff P, Behre HM (2000) The Menopause Rating Scale (MRS): comparison with Kupperman Index and quality-of-life scale SF-36. Climacteric 3(1):50–58

26.

Hilditch JR, Lewis J, Peter A, van Maris B, Ross A, Franssen E, Guyatt GH, Norton PG, Dunn E (1996) A menopause-specific quality of life questionnaire: development and psychometric properties. Maturitas 24(6):161–175

27.

Radtke JV, Terhorst L, Cohen SM (2011) The Menopause-Specific Quality of Life Questionnaire: psychometric evaluation among breast cancer survivors. Menopause 18(3):289–295

28.

Zöllner YF, Acquadro C, Schäfer M (2005) Literature review of instruments to assess health-related quality of life during and after menopause. Qual Life Res 14:309–327

29.

Thakur M, Kaur M, Sinha AK (2019) Association of menopausal symptoms as assessed from Greene Climacteric scale with body mass index and osteoporosis among rural women of North India. Anthropol Anz 76(4):293–304

30.

Rouskova D, Mittmann K, Schumacher U, Dietrich H, Zimmermann T (2015) Effectiveness, tolerability and acceptance of a low-dosed estradiol/dienogest formulation (Lafamme 1 mg/2 mg) for the treatment of menopausal complaints: a non-interventional observational study over 6 cycles of 28 days. Gynecol Endocrinol 31(7):560–564

31.

Rahman S, Salehin F, Iqbal A (2011) Menopausal symptoms assessment among middle age women in Kushtia. Bangladesh BMC Res Notes 4:188

32.

Honermann L, Knabben L, Weidlinger S, Bitterlich N, Stute P (2020) An extended Menopause Rating Scale II: a retrospective data analysis. Climacteric 23:1–6

33.

National Institutes of Health (2005) Health, National Institutes of Health State-of-the-Science Conference statement: management of menopause-related symptoms. Ann Intern Med 142(12 Pt 1):1003–13

34.

Cohen LS, Soares CN, Joffe H (2005) Diagnosis and management of mood disorders during the menopausal transition. Am J Med 118(Suppl 12B):93–97

35.

Bromberger JT, Matthews KA, Schott LL, Brockwell S, Avis NE, Kravitz HM, Everson-Rose SA, Gold EB, Sowers M, Randolph JF (2007) Depressive symptoms during the menopausal transition: the Study of Women's Health Across the Nation (SWAN). J Affect Disord 103(1–3):267–272

36.

Freeman EW, Sammel MD, Lin H, Gracia CR, Pien GW, Nelson DB, Sheng L (2007) Symptoms associated with menopausal transition and reproductive hormones in midlife women. Obstet Gynecol 110(2 Pt 1):230–240

37.

Greendale GA, Huang MH, Wight RG, Seeman T, Luetters C, Avis NE, Johnston J, Karlamangla AS (2009) Effects of the menopause transition and hormone use on cognitive performance in midlife women. Neurology 72(21):1850–1857

38.

Dennerstein L, Dudley EC, Hopper JL, Guthrie JR, Burger HG (2000) A prospective population-based study of menopausal symptoms. Obstet Gynecol 96(3):351–358

39.

Santoro N, Epperson CN, Mathews SB (2015) Menopausal symptoms and their management. Endocrinol Metab Clin North Am 44(3):497–515

40.

Obermeyer CM, Reher D, Saliba M (2007) Symptoms, menopause status, and country differences: a comparative analysis from DAMES. Menopause 14(4):788–797

41.

Carranza-Lira S, Quiroz González BN, Alfaro Godinez HC, May Can AM (2012) Comparison of climacteric symptoms among women in Mexico City and women of a Mayan community of Yucatan. Ginecol Obstet Mex 80(10):644–9

42.

Tao M, Shao H, Li C, Teng Y (2013) Correlation between the modified Kupperman Index and the Menopause Rating Scale in Chinese women. Patient Prefer Adherence 7:223–229

43.

Blümel JE, Arteaga E, Parra J, Monsalve C, Reyes V, Vallejo MS, Chea R (2018) Decision-making for the treatment of climacteric symptoms using the Menopause Rating Scale. Maturitas 111:15–19

44.

Williamson PR, Altman DG, Bagley H, Barnes KL, Blazeby JM, Brookes ST, Clarke M, Gargon E, Gorst S, Harman N, Kirkham JJ, McNair A, Prinsen CAC, Schmitt J, Terwee CB, Young B (2017) The COMET handbook: version 10. Trials 18(Suppl 3):280

45.

Hickey M, COMMA (Core Outcomes in Menopause): International collaboration to measure core outcomes in menopause (2016) http://www.comet-initiative.org/studies/details/917. Accessed 16 Feb 2021

46.

World Health Organization (2001) International classification of functioning, disability and health. In: HealthOrganization World (ed) WHO library cataloguing-in-publication data. World Health Organization, Geneva

47.

Zangger M, Poethig D, Meissner F, von Wolff M, Stute P (2018) Linking the menopause rating scale to the International classification of functioning, disability and health—a first step towards the implementation of the EMAS menopause health care model. Maturitas 118:15–19
Acknowledgements
The authors would like to thank Ms. Beritan Polat for her support as a secretary.
Funding
This research did not receive any specific Grant from funding agencies in the public, commercial, or not-for-profit sectors.
Ethics declarations
Conflicts of interest
None.
Additional information
Publisher's Note
Springer Nature remains neutral with regard to jurisdictional claims in published maps and institutional affiliations.
Supplementary Information
Below is the link to the electronic supplementary material.
About this article
Cite this article
Sourouni, M., Zangger, M., Honermann, L. et al. Assessment of the climacteric syndrome: a narrative review. Arch Gynecol Obstet 304, 855–862 (2021). https://doi.org/10.1007/s00404-021-06139-y
Received:

Accepted:

Published:

Issue Date:
Keywords
Menopause

Climacteric syndrome

Symptom assessment

Review