Abstract
Purpose
The association between placental detachment disorders and risk of chronic disease is unclear. We determined the association of placenta accreta and retained placenta with risk of future maternal cardiovascular disease and cancer.
Methods
We tracked a longitudinal cohort of 541,051 pregnant women over a period of 13 years (2006–2019) in Quebec, Canada. The main exposure measures were placenta accreta and retained placenta in any pregnancy. Outcomes included future hospitalizations for cardiovascular disease and cancer. Using Cox regression models adjusted for maternal characteristics, we estimated hazard ratios (HR) and 95% confidence intervals (CI) for the association of accreta and retained placenta with cardiovascular disease and cancer at 13 years.
Results
The incidence of cardiovascular hospitalization was 21.2 per 10,000 person-years for accreta and 23.4 per 10,000 for retained placenta with postpartum hemorrhage, compared with 20.3 per 10,000 for neither placental disorder. Cancer incidence followed a similar pattern, with rates highest for retained placenta with hemorrhage. Retained placenta with hemorrhage was associated with 1.19 times the risk of cardiovascular disease (95% CI 1.03–1.38) and 1.27 times the risk of cancer (95% CI 1.06–1.53). Retained placenta with hemorrhage was associated with heart failure (HR 1.84, 95% CI 1.04–3.27), cardiomyopathy (HR 1.88, 95% CI 1.03–3.43), and cervical cancer (HR 2.03, 95% CI 1.17–3.52). Accreta and retained placenta without hemorrhage were not associated with these outcomes.
Conclusion
Retained placenta with hemorrhage may be a risk marker for cardiovascular disease and certain cancers later in life.
Access options
Buy single article
Instant access to the full article PDF.
USD 39.95
Price includes VAT (USA)
Tax calculation will be finalised during checkout.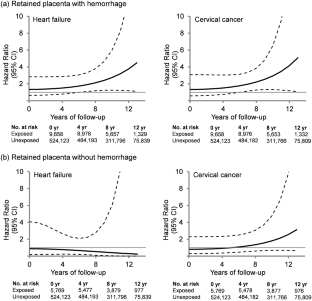 Code availability
The SAS code used to analyze the data can be made available by the corresponding author (NA) upon reasonable request.
References
1.

Akol AD, Weeks AD (2016) Retained placenta: will medical treatment ever be possible? Acta Obstet Gynecol Scand 95:501–504. https://doi.org/10.1111/aogs.12848

2.

Carusi DA (2018) The placenta accreta spectrum: epidemiology and risk factors. Clin Obstet Gynecol 61:733–742. https://doi.org/10.1097/GRF.0000000000000391

3.

Perlman NC, Carusi DA (2019) Retained placenta after vaginal delivery: risk factors and management. Int J Womens Health 11:527–534. https://doi.org/10.2147/IJWH.S218933

4.

Mehrabadi A, Hutcheon JA, Liu S et al (2015) Contribution of placenta accreta to the incidence of postpartum hemorrhage and severe postpartum hemorrhage. Obstet Gynecol 125:814–821. https://doi.org/10.1097/AOG.0000000000000722

5.

Ukah UV, Platt RW, Potter BJ et al (2020) Obstetric haemorrhage and risk of cardiovascular disease after three decades: a population-based cohort study. BJOG 127:1489–1497. https://doi.org/10.1111/1471-0528.16321

6.

Kaufmann P, Black S, Huppertz B (2003) Endovascular trophoblast invasion: implications for the pathogenesis of intrauterine growth retardation and preeclampsia. Biol Reprod 69:1–7. https://doi.org/10.1095/biolreprod.102.014977

7.

Siddiqui N, Hladunewich M (2011) Understanding the link between the placenta and future cardiovascular disease. Trends Cardiovasc Med 21:188–193. https://doi.org/10.1016/j.tcm.2012.05.008

8.

Riihimäki O, Tikkanen M, Melin J et al (2019) Subsequent risk of cancer among women with a history of placental abruption. Acta Oncol 58:52–56. https://doi.org/10.1080/0284186X.2018.1512155

9.

Troisi R, Ording AG, Grotmol T et al (2018) Pregnancy complications and subsequent breast cancer risk in the mother: a Nordic population-based case–control study. Int J Cancer 143:1904–1913. https://doi.org/10.1002/ijc.31600

10.

Auger N, Fraser W, Schnitzer M et al (2017) Recurrent preeclampsia and subsequent cardiovascular risk. Heart 103:235–243

11.

Ananth CV, Hansen AV, Williams MA, Nybo Andersen A-M (2017) Cardiovascular disease in relation to placental abruption: a population-based cohort study from Denmark. Paediatr Perinat Epidemiol 31:209–218. https://doi.org/10.1111/ppe.12347

12.

Ministry of Health and Social Services (2017) Med-Echo System Normative Framework-Maintenance and use of data for the study of hospital clientele. Government of Quebec, Quebec

13.

Brisson J, Major D, Pelletier É (2004) Évaluation de l'exhaustivité du Fichier des tumeurs du Québec. Institut national de santé publique du Québec, Montreal

14.

Lambert L, Blais C, Hamel D et al (2012) Evaluation of care and surveillance of cardiovascular disease: can we trust medico-administrative hospital data? Can J Cardiol 28:162–168. https://doi.org/10.1016/j.cjca.2011.10.005

15.

Auger N, Little J, Arbour L et al (2019) Future risk of cancer in women who have children with birth defects. Ann Epidemiol 37:57-63.e3. https://doi.org/10.1016/j.annepidem.2019.07.009

16.

Edwards HM, Svare JA, Wikkelsø AJ et al (2019) The increasing role of a retained placenta in postpartum blood loss: a cohort study. Arch Gynecol Obstet 299:733–740. https://doi.org/10.1007/s00404-019-05066-3

17.

Endler M, Saltvedt S, Cnattingius S et al (2014) Retained placenta is associated with pre-eclampsia, stillbirth, giving birth to a small-for-gestational-age infant, and spontaneous preterm birth: a national register-based study. BJOG 121:1462–1470. https://doi.org/10.1111/1471-0528.12752

18.

Endler M, Cnattingius S, Granfors M, Wikström A-K (2018) The inherited risk of retained placenta: a population based cohort study. BJOG 125:737–744. https://doi.org/10.1111/1471-0528.14828

19.

Zeevi G, Tirosh D, Baron J et al (2018) The risk of placenta accreta following primary cesarean delivery. Arch Gynecol Obstet 297:1151–1156. https://doi.org/10.1007/s00404-018-4698-4

20.

Staff AC, Redman CW, Williams D et al (2016) Pregnancy and long-term maternal cardiovascular health: progress through harmonization of research cohorts and biobanks. Hypertension 67:251–260

21.

Bartels HC, Postle JD, Downey P, Brennan DJ (2018) Placenta accreta spectrum: a review of pathology, molecular biology, and biomarkers. Dis Markers 2018:1507674. https://doi.org/10.1155/2018/1507674

22.

Jauniaux E, Poston L, Burton GJ (2006) Placental-related diseases of pregnancy: involvement of oxidative stress and implications in human evolution. Hum Reprod Update 12:747–755. https://doi.org/10.1093/humupd/dml016

23.

Karpati PCJ, Rossignol M, Pirot M et al (2004) High incidence of myocardial ischemia during postpartum hemorrhage. Anesthesiology 100:30–36. https://doi.org/10.1097/00000542-200401000-00009

24.

Cohen PA, Jhingran A, Oaknin A, Denny L (2019) Cervical cancer. Lancet 393:169–182. https://doi.org/10.1016/S0140-6736(18)32470-X

25.

Zdanowicz JA, Schneider S, Mueller M et al (2021) Red blood cell transfusion in obstetrics and its implication for patient blood management: a retrospective analysis in Switzerland from 1998 to 2016. Arch Gynecol Obstet 303:121–128. https://doi.org/10.1007/s00404-020-05744-7

26.

Zdravkovic T, Genbacev O, McMaster MT, Fisher SJ (2005) The adverse effects of maternal smoking on the human placenta: A review. Placenta 26:S81–S86. https://doi.org/10.1016/j.placenta.2005.02.003
Acknowledgements
The authors thank Siyi He for assistance with statistical analysis.
Funding
This study was supported by the Heart & Stroke Foundation of Canada (G-18–0021776) and Fonds de recherche du Québec-Santé (34695). The sponsors were not involved in study design; in the collection, analysis and interpretation of data; in the writing of the report; and in the decision to submit the article for publication.
Ethics declarations
Conflict of interest
The authors report no conflict of interests.
Ethical approval
We received an ethics waiver from the institutional review board of the University of Montreal Hospital Centre, because the data were anonymized and informed consent was not needed for use of the registry.
Additional information
Publisher's Note
Springer Nature remains neutral with regard to jurisdictional claims in published maps and institutional affiliations.
About this article
Cite this article
Auger, N., Marcoux, S., Paradis, G. et al. Cardiovascular disease and cancer in women with accreta and retained placenta: a longitudinal cohort study. Arch Gynecol Obstet 304, 943–950 (2021). https://doi.org/10.1007/s00404-021-06044-4
Received:

Accepted:

Published:

Issue Date:
Keywords
Cancer

Cardiovascular diseases

Postpartum hemorrhage

Placenta accrete

Placenta

Retained