Abstract
Purpose
Laser vaporization of the cervix is an established method of treating cervical intra-epithelial neoplasia, but its effect on subsequent pregnancies remains controversial. The aim of this study was to investigate pregnancy outcomes after laser vaporization.
Methods
We conducted a retrospective study involving women who delivered live singletons between 2012 and 2019 in a tertiary hospital. The risks of adverse pregnancy outcomes after laser vaporization of the cervix were assessed using a multivariate regression model. The primary outcome was the adjusted odds ratio for preterm births. We also evaluated the course of labor progression, duration of labor, risk of emergency cesarean deliveries, and the risk of cervical laceration as secondary outcomes.
Results
In total, 3359 women were analyzed in this study. The risk of preterm birth was significantly higher in pregnancies after laser vaporization of the cervix (adjusted odds ratio [AOR] 1.84, 95% confidence interval [95% CI] 1.06–3.20; p = 0.030). The duration of the first stage of labor was significantly shorter in the post-treatment group (median 255 min vs. 355 min; p = 0.0049). We did not observe significant differences in the duration of the second stage of labor (median 21 min vs 20 min; p = 0.507) or the rates of other obstetric events, including emergency cesarean deliveries (AOR 0.736; 95% CI 0.36–1.50; p = 0.400) and cervical laceration (AOR 0.717; 95% CI 0.22–2.35; p = 0.582).
Conclusion
Laser vaporization of the cervix is associated with an increased risk of preterm births and a shorter duration of the first stage of labor in subsequent pregnancies. Careful consideration is necessary when selecting a method of treatment for the uterine cervix of patients wishing future pregnancies.
Access options
Buy single article
Instant access to the full article PDF.
USD 39.95
Price includes VAT (USA)
Tax calculation will be finalised during checkout.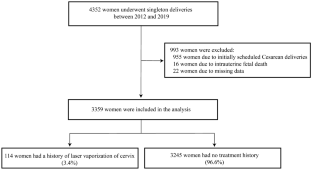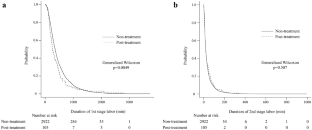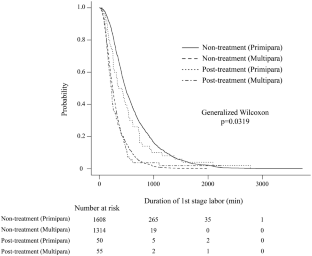 Abbreviations
AOR:

Adjusted odds ratio

BMI:

Body mass index

CIN:

Cervical intraepithelial neoplasia

COR:

Crude odds ratio

NICU:

Neonatal intensive care unit
References
1.

Cancer Information Service, National Cancer Center, Japan. http://ganjoho.jp/reg_stat/index.html

2.

Ikeda S, Ueda Y, Yagi A et al (2019) HPV vaccination in Japan: what is happening in Japan? Expert Rev Vaccin 18:323–325

3.

Baggish MS (1986) A comparison between laser excisional conization and laser vaporization for the treatment of cervical intraepithelial neoplasia. AJOG 155:39–44

4.

Fallani MG, Penna C, Fambrini M, Marchionni M (2003) Laser CO2 vaporization for high-grade cervical intraepithelial neoplasia: a long-term follow-up series. Gynecol Oncol 91:130–133

5.

Sasieni P, Castanon A, Landy R, Kyrgiou M, Kitchener H, Quigley M et al (2015) Risk of preterm birth following surgical treatment for cervical disease: executive summary of a recent symposium. BJOG 123:1426–1429

6.

Paraskevaidis E, Kyrgiou M, Martin-Hirsch P (2007) Have we dismissed ablative treatment too soon in colposcopy practice? BJOG 114:3–4

7.

Bruinsma FJ, Quinn MA (2011) The risk of preterm birth following treatment for precancerous changes in the cervix: a systematic review and meta-analysis. BJOG 118:1031–1041

8.

Sadler L, Saftlas A, Wang W, Exeter M, Whittaker J, McCowan L (2004) Treatment for cervical intraepithelial neoplasia and risk of preterm delivery. JAMA 291:2100–2106

9.

Kyrgiou M, Koliopoulos G, Martin-Hirsch P, Arbyn M, Prendiville W, Paraskevaidis E (2006) Obstetric outcomes after conservative treatment for intraepithelial or early invasive cervical lesions: systematic review and meta-analysis. Lancet 367:489–498

10.

Arbyn M, Kyrgiou M, Simoens C et al (2008) Perinatal mortality and other severe adverse pregnancy outcomes associated with treatment of cervical intraepithelial neoplasia: meta-analysis. BMJ 337:a1284–a1294

11.

Jakobsson M, Gissler M, Sainio S, Paavonen J, Tapper AM (2007) Preterm delivery after surgical treatment for cervical intraepithelial neoplasia. Obstet Gynecol 109:309–313

12.

Kyrgiou M, Athanasiou A, Paraskevaidi M et al (2016) Adverse obstetric outcomes after local treatment for cervical preinvasive and early invasive disease according to cone depth: systematic review and meta-analysis. BMJ 354:i3633

13.

Kyrgiou M, Athanasiou A, Kalliala IEJ et al (2017) Obstetric outcomes after conservative treatment for cervical intraepithelial lesions and early invasive disease. Cochrane Database Syst Rev 272:109–241

14.

Melamed N (2009) Intrapartum cervical lacerations: characteristics, risk factors, and effects on subsequent pregnancies. Am J Obstet Gynecol 200(4):388.e1–4

15.

Wong LF, Wilkes J, Korgenski K, Varner MW, Manuck TA (2016) Intrapartum cervical laceration and subsequent pregnancy outcomes. AJP Rep 6:e318–e323

16.

Noehr B, Jensen A, Frederiksen K, Tabor A, Kjaer SK (2009) Depth of cervical cone removed by loop electrosurgical excision procedure and subsequent risk of spontaneous preterm delivery. Obstet Gynecol 114:1232–1238

17.

Himes KP, Simhan HN (2007) Time from cervical conization to pregnancy and preterm birth. Obstet Gynecol 109:314–319

18.

Weinmann S, Naleway A, Swamy G et al (2017) Pregnancy outcomes after treatment for cervical cancer precursor lesions: an observational study. PLoS ONE 12:e0165276-e165314

19.

Jauniaux E, Alfirevic Z, Bhide AG et al (2018) Placenta praevia and placenta accreta: diagnosis and management. BJOG 126:e1–e48

20.

Goldenberg RL, Culhane JF, Iams JD, Romero R (2008) Epidemiology and causes of preterm birth. Lancet 371:75–84

21.

Shiozaki A, Yoneda S, Nakabayashi M et al (2014) Multiple pregnancy, short cervix, part-time worker, steroid use, low educational level and male fetus are risk factors for preterm birth in Japan: a multicenter, prospective study. J Obstet Gynaecol Res 40:53–61

22.

Nitahara K, Fujita Y, Magarifuchi N, Taniguchi S, Shimamoto T (2021) Maternal characteristics and neonatal outcomes of emergency repeat caesarean deliveries due to early-term spontaneous labour onset. Aust N Z J Obstet Gynaecol 61:48–54

23.

Sadler L, Saftlas A (2007) Cervical surgery and preterm birth. J Perinat Med 35:5–9

24.

Bevis KS, Biggio JR (2011) Cervical conization and the risk of preterm delivery. Am J Obstet Gynecol 205:19–27

25.

Guglielminotti J, Landau R, Li G (2019) Adverse events and factors associated with potentially avoidable use of general anesthesia in cesarean deliveries. Anesthesiology 130:912–922

26.

Nitahara K, Hidaka N, Sakai A, Kido S, Kato K (2020) The impact of general anesthesia on mother-infant bonding for puerperants who undergo emergency cesarean deliveries. Cervical conization and the risk of preterm delivery. J Perinat Med. 48:463–470

27.

Yoon BS, Seong SJ, Song T, Kim M-L, Kim MK (2014) Risk factors for treatment failure of CO2 laser vaporization in cervical intraepithelial neoplasia 2. Arch Gynecol Obstet 290:115–119

28.

Sharp GL, Cordiner JW, Murray EL, More IA (1984) Healing of cervical epithelium after laser ablation of cervical intraepithelial neoplasia. J Clin Pathol 37:611–615
Acknowledgements
We would like to thank Editage (www.editage.com) for English language editing.
Ethics declarations
Conflict of interest
There is no conflict of interest to be declared.
Ethics approval and consent to participate
All procedures performed in studies involving human participants were in accordance with the ethical standards of the institutional and/or national research committee and with the 1964 Helsinki Declaration and its later amendments or comparable ethical standards. This retrospective study was performed after obtaining approval from the institutional ethics committee of Miyazaki Prefectural Miyazaki Hospital (Approval number: 19-58). Because of the retrospective nature of the study and the anonymization of the collected data, patient consent was waivered by the committee.
Additional information
Publisher's Note
Springer Nature remains neutral with regard to jurisdictional claims in published maps and institutional affiliations.
About this article
Cite this article
Nitahara, K., Fujita, Y., Tanaka, D. et al. Laser vaporization of the cervix is associated with an increased risk of preterm birth and rapid labor progression in subsequent pregnancies. Arch Gynecol Obstet 304, 895–902 (2021). https://doi.org/10.1007/s00404-021-06025-7
Received:

Accepted:

Published:

Issue Date:
Keywords
Laser vaporization of the cervix

Cervical conization

Cervical intraepithelial neoplasia

Preterm births

Labor progression