Abstract
Purpose
Patients with lung metastases (LM) from epithelial ovarian cancer (EOC) (EOCLM) usually have a poor prognosis. However, there is no consensus on the optimal management of these patients. In this study, we aimed to take a look at the incidence of LM and factors associated with its occurrence as well as the prognosis in newly diagnosed EOC with LM on a population level.
Methods
EOC patients diagnosed between the years 2010 and 2016 were identified from the Surveillance, Epidemiology, and End Results (SEER) program database. Multivariable logistic regression and multivariable Cox regression were used to investigate the factors that could predict the occurrence of and prognosis after diagnosis of EOC with LM.
Results
Of the 33,418 qualified EOC patients, 2240 (6.7%) were noted to have LMs at the time of EOC diagnosis. Higher T stage, N1 stage, advanced tumor grade, and elevated cancer antigen-125 levels were found to be associated with a higher risk of having LM at the time of EOC diagnosis. The median survival time after diagnosis with EOCLM was found to be 13.0 months (interquartile range: 3.0–34.0 months). Being unmarried and having mucinous histology were both associated with increased all-cause death risk from EOCLM. However, the primary tumor originated from the midline of ovaries, surgical management, and whether patient received chemotherapy or not predicted improved overall survival. The median survival time of patients was significantly longer for EOCLM cases managed surgically (31.0 months) versus those who did not have surgery (4.0 months), as well as EOCLM cases received chemotherapy (23.0 months) versus those who did not have chemotherapy (2.0 months).
Conclusion
This retrospective cohort study showed that de novo LM was infrequent in EOC patients overall and when present predicted poor prognosis. The findings can be potentially useful in formulating for follow-up strategies, screening tools, and personalized interventions.
Access options
Buy single article
Instant access to the full article PDF.
USD 39.95
Price includes VAT (USA)
Tax calculation will be finalised during checkout.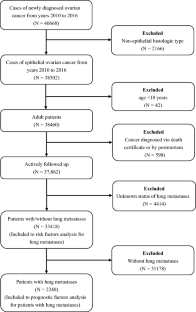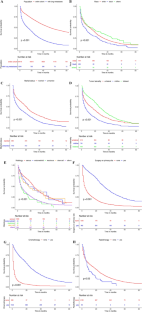 Availability of data and materials
The data analyzed in the present study can be obtained from the SEER database using SEER*Stat software (https://seer.cancer.gov/data/) and can also be obtained by emailing the corresponding author.
Code availability
The code can be obtained by contacting the corresponding author.
References
1.

Siegel RL, Miller KD, Jemal A (2020) Cancer statistics, 2020. CA Cancer J Clin 70(1):7–30. https://doi.org/10.3322/caac.21590

2.

Howlader N, Ries LA, Mariotto AB, Reichman ME, Ruhl J, Cronin KA (2010) Improved estimates of cancer-specific survival rates from population-based data. J Natl Cancer Inst 102(20):1584–1598. https://doi.org/10.1093/jnci/djq366

3.

Cancer Stat Facts: Ovarian Cancer. Surveillance, Epidemiology, and End Results Program. National Cancer Institute. https://seer.cancer.gov/statfacts/html/ovary.html. Accessed 25 Dec 2019

4.

Rose PG, Piver MS, Tsukada Y, Lau TS (1989) Metastatic patterns in histologic variants of ovarian cancer. An autopsy study. Cancer 64(7):1508–1513. https://doi.org/10.1002/1097-0142(19891001)64:7%3c1508::aid-cncr2820640725%3e3.0.co;2-v

5.

Jelovac D, Armstrong DK (2011) Recent progress in the diagnosis and treatment of ovarian cancer. CA Cancer J Clin 61(3):183–203. https://doi.org/10.3322/caac.20113

6.

Deng K, Yang C, Tan Q, Song W, Lu M, Zhao W, Lou G, Li Z, Li K, Hou Y (2018) Sites of distant metastases and overall survival in ovarian cancer: a study of 1481 patients. Gynecol Oncol 150(3):460–465. https://doi.org/10.1016/j.ygyno.2018.06.022

7.

Lutz S, Norrell R, Bertucio C, Kachnic L, Johnson C, Arthur D, Schwarz M, Palardy G (2001) Symptom frequency and severity in patients with metastatic or locally recurrent lung cancer: a prospective study using the Lung Cancer Symptom Scale in a community hospital. J Palliative Med 4(2):157–165. https://doi.org/10.1089/109662101750290191

8.

Procaccio L, Bergamo F, Manai C, Di Antonio V, Fassan M, Zagonel V, Lonardi S, Loupakis F (2019) An overview on clinical, pathological and molecular features of lung metastases from colorectal cancer. Expert Rev Respir Med 13(7):635–644. https://doi.org/10.1080/17476348.2019.1620605

9.

Kerr VE, Cadman E (1985) Pulmonary metastases in ovarian cancer. Analysis of 357 patients. Cancer 56(5):1209–1213. https://doi.org/10.1002/1097-0142(19850901)56:5<1209::aid-cncr2820560542>3.0.co;2-y

10.

Keskin S, Kucucuk S, Ak N, Atalar B, Sari M, Sozen H, Ibis K, Topuz S, Saip P (2019) Survival impact of optimal surgical cytoreduction in recurrent epithelial ovarian cancer with brain metastasis. Oncol Res Treat 42(3):101–106. https://doi.org/10.1159/000494334

11.

Zhang C, Guo X, Peltzer K, Ma W, Qi L, Zhang Y, Han X, Baklaushev VP, Yao Y, Wang G, Chekhonin VP, Wang X, Ma Y (2019) The prevalence, associated factors for bone metastases development and prognosis in newly diagnosed ovarian cancer: a large population based real-world study. J Cancer 10(14):3133–3139. https://doi.org/10.7150/jca.30335

12.

O'Neill AC, Somarouthu B, Tirumani SH, Braschi-Amirfarzan M, Van den Abbeele AD, Ramaiya NH, Shinagare AB (2017) Patterns and prognostic importance of hepatic involvement in patients with serous ovarian cancer: a single-institution experience with 244 patients. Radiology 282(1):160–170. https://doi.org/10.1148/radiol.2016152595

13.

Marchetti C, Ferrandina G, Cormio G, Gambino A, Cecere S, Lorusso D, De Giorgi U, Bogliolo S, Fagotti A, Mammoliti S, Narducci F, Bergamini A, Scollo P, Biglia N, Breda E, Tamberi S, Marinaccio M, Angioli R, Salerno L, Eusebi MC, Loizzi V, Scambia G, Panici PB (2016) Brain metastases in patients with EOC: Clinico-pathological and prognostic factors. A multicentric retrospective analysis from the MITO group (MITO 19). Gynecol Oncol 143(3):532–538. https://doi.org/10.1016/j.ygyno.2016.09.025

14.

Surveillance, Epidemiology, and End Results (SEER) Program Research Data (1975–2016). National CancerInstitute, DCCPS. www.seer.cancer.gov. Accessed 3 Aug 2019

15.

Multiple Primary and Histology Coding Rules (2007) National Cancer Institute. Surveillance Epidemiology and End Results Program, Bethesda

16.

Adamo M, Dickie L, Ruhl J (2018) SEER Program Coding and Staging Manual 2018. National Cancer Institute, Bethesda, MD 20892. U.S. Department of Health and Human Services National Institutes of Health National Cancer Institute

17.

Fritz A, Percy C, Jack A, Shanmugaratnam K, Sobin L, Parkin DX, Whelan S (2000) International classification of diseases for oncology (ICD-O)-3rd edition, 1st revision. World Health Organization

18.

Amin MB, Edge SB, Greene FL, American Joint Committee on C (2017) AJCC cancer staging manual

19.

Kassambara A, Kosinski M, Biecek PJRpv (2017) survminer: drawing survival curves using'ggplot2'. 1

20.

Smith JP, Day TG Jr (1979) Review of ovarian cancer at the University of Texas Systems Cancer Center, M.D. Anderson Hospital and Tumor Institute. Am J Obstetr Gynecol 135(7):984–993. https://doi.org/10.1016/0002-9378(79)90824-x

21.

Dauplat J, Hacker NF, Nieberg RK, Berek JS, Rose TP, Sagae S (1987) Distant metastases in epithelial ovarian carcinoma. Cancer 60(7):1561–1566. https://doi.org/10.1002/1097-0142(19871001)60:7%3c1561::aid-cncr2820600725%3e3.0.co;2-v

22.

Dvoretsky PM, Richards KA, Angel C, Rabinowitz L, Stoler MH, Beecham JB, Bonfiglio TA (1988) Distribution of disease at autopsy in 100 women with ovarian cancer. Hum Pathol 19(1):57–63. https://doi.org/10.1016/s0046-8177(88)80316-2

23.

Ataseven B, Grimm C, Harter P, Heikaus S, Heitz F, Traut A, Prader S, Kahl A, Schneider S, Kurzeder C, du Bois A (2016) Prognostic impact of port-site metastasis after diagnostic laparoscopy for epithelial ovarian cancer. Ann Surg Oncol 23(Suppl 5):834–840. https://doi.org/10.1245/s10434-016-5415-9

24.

Ditto A, Martinelli F, Reato C, Kusamura S, Solima E, Fontanelli R, Haeusler E, Raspagliesi F (2012) Systematic para-aortic and pelvic lymphadenectomy in early stage epithelial ovarian cancer: a prospective study. Ann Surg Oncol 19(12):3849–3855. https://doi.org/10.1245/s10434-012-2439-7

25.

Nasioudis D, Mastroyannis SA, Ko EM, Latif NA (2018) Does tumor grade influence the rate of lymph node metastasis in apparent early stage ovarian cancer? Arch Gynecol Obstet 298(1):179–182. https://doi.org/10.1007/s00404-018-4789-2

26.

Bast RC Jr, Badgwell D, Lu Z, Marquez R, Rosen D, Liu J, Baggerly KA, Atkinson EN, Skates S, Zhang Z, Lokshin A, Menon U, Jacobs I, Lu K (2005) New tumor markers: CA125 and beyond. Int J Gynecol Cancer 15(Suppl 3):274–281. https://doi.org/10.1111/j.1525-1438.2005.00441.x

27.

Theriault C, Pinard M, Comamala M, Migneault M, Beaudin J, Matte I, Boivin M, Piche A, Rancourt C (2011) MUC16 (CA125) regulates epithelial ovarian cancer cell growth, tumorigenesis and metastasis. Gynecol Oncol 121(3):434–443. https://doi.org/10.1016/j.ygyno.2011.02.020

28.

Erdem B, Yuksel IT, Peker N, Ulukent SC, Asicioglu O, Ozaydin IY, Ulker V, Akbayir O (2018) Evaluation of factors affecting lymph node metastasis in clinical stage I–II epithelial ovarian cancer. Oncol Res Treat 41(7–8):444–448. https://doi.org/10.1159/000488082

29.

Bachmann C, Kramer B, Brucker SY, Stabler A, Fend F, Wallwiener D, Grischke EM, Rothmund R (2014) Relevance of pelvic and para-aortic node metastases in early-stage ovarian cancer. Anticancer Res 34(11):6735–6738

30.

Powless CA, Aletti GD, Bakkum-Gamez JN, Cliby WA (2011) Risk factors for lymph node metastasis in apparent early-stage epithelial ovarian cancer: implications for surgical staging. Gynecol Oncol 122(3):536–540. https://doi.org/10.1016/j.ygyno.2011.05.001

31.

Zhu Q, Qu Y, Zhang Q, Lu L, Weng W, Zhang H, Zhang L, Ning Y, Wang Y (2017) IMP3 is upregulated in primary ovarian mucinous carcinoma and promotes tumor progression. Am J Transl Res 9(7):3387–3398

32.

Matsuo K, Machida H, Ragab OM, Garcia-Sayre J, Yessaian AA, Roman LD (2017) Patient compliance for postoperative radiotherapy and survival outcome of women with stage I endometrioid endometrial cancer. J Surg Oncol 116(4):482–491. https://doi.org/10.1002/jso.24690
Funding
This study was funded by the Postgraduate Research & Practice Innovation Program of Harbin Medical University (YJSKYCX2019-72HYD) and National Natural Science Foundation of China (81773551).
Ethics declarations
Conflict of interest
The authors declare that they have no conflict of interest.
Consent for publication
All authors reviewed and approved the final version of the manuscript.
Ethics approval and consent to participate
The SEER database was publicly available and all patient-related information has been de-identified. Hence, we did not require Institutional Review Board approval or patient informed consent.
Additional information
Publisher's Note
Springer Nature remains neutral with regard to jurisdictional claims in published maps and institutional affiliations.
About this article
Cite this article
Xu, J., Hussain, I., Wang, L. et al. Incidence of and risk factors associated with lung metastases in newly diagnosed epithelial ovarian cancer with a look on prognosis after diagnosis: a population-based cohort study of the SEER database. Arch Gynecol Obstet 304, 1007–1020 (2021). https://doi.org/10.1007/s00404-021-05997-w
Received:

Accepted:

Published:

Issue Date:
Keywords
Epithelial ovarian cancer

Lung metastases

SEER

Incidence

Risk factors

Prognosis