Abstract
Purpose
To compare the clinical response, microscopic examination and fungal culture between dequalinium chloride (DQC) and clotrimazole (CT) for treating vaginal candidiasis (VC).
Methods
The double-blind, randomized study was conducted from September 2014 to September 2016 at Siriraj Hospital, Thailand. Eligible participants were Thai women diagnosed with VC by microscopic examination. The exclusion criteria included immunocompromised conditions, consumption of antifungal drugs, and having recurrent VC. Each participant was randomized with a 1:1 allocation to receive six vaginal tablets of 100 mg CT or 10 mg DQC. Two visits included 10 ± 2 days (C1) and 38 ± 4 days (C2). Outcome measures were improvement of VC symptoms, microscopic examination, culture, satisfaction and tolerability.
Results
Of 155 eligible participants, 150 were randomized and allocated into CT (N = 76) and DQC (N = 74). The average age was 31.1 ± 7.2 years. Comparable improvement of clinical response was demonstrated (OR at C1 0.79, 95% CI 0.56–1.10, p = 0.197; and OR at C2 0.99, 95% CI 0.69–1.43, p = 0.985). Of CT and DQC groups, the microscopic examination was positive at 11/75 (14.9%) vs 18/72 (25.3%) at C1 and 18/74 (24.3%) vs 28/66 (42.4%) at C2. And the culture was positive at 25/75 (33.8%) vs 46/72 (65.7%) at C1 and at 26/74 (36.6%) vs 46/66 (69.7%) at C2. Most participants had high satisfaction and tolerability and none reported any side effects.
Conclusion
DQC and CT show comparable clinical response but CT results in greater improvement of microscopic examination and fungal culture.
Clinical trial registration
The Clinical Trial Registry number was NCT02242695. (September 17, 2014)
Access options
Buy single article
Instant access to the full article PDF.
US$ 39.95
Tax calculation will be finalised during checkout.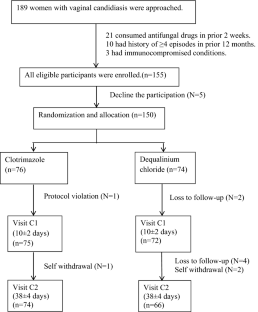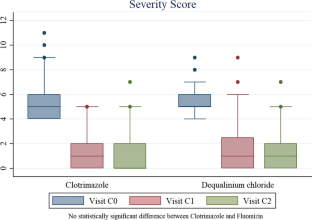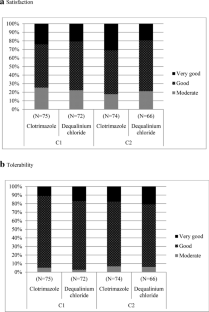 Availability of data and material
References
1.

Chayachinda C, Thamkhantho M, Chalermchockcharoenkit A, Nuengton C, Thipmontree W (2018) Characteristics of Clients at the Siriraj Female STD Clinic during 2011–2015. Siriraj Med Bull 11:182–189

2.

Sobel JD (1997) Vaginitis. N Engl J Med 337:1896–1903. https://doi.org/10.1056/NEJM199712253372607

3.

Unit of Medical Statistics, Department of Obstetrics and Gynaecology, Faculty of Medicine Siriraj Hospital (2018) Annual report of medical statistics. 2010–2018. P.A. Living Co., Ltd., Bangkok

4.

Jacob L, John M, Kalder M, Kostev K (2018) Prevalence of vulvovaginal candidiasis in gynecological practices in Germany: A retrospective study of 954,186 patients. Curr Med Mycol 4:6–11. https://doi.org/10.18502/cmm.4.1.27

5.

Ferris DG, Nyirjesy P, Sobel JD, Soper D, Pavletic A, Litaker MS (2002) Over-the-counter antifungal drug misuse associated with patient-diagnosed vulvovaginal candidiasis. Obstet Gynecol 99:419–425. https://doi.org/10.1016/S0029-7844(01)01759-8

6.

Sobel JD (2007) Vulvovaginal candidosis. Lancet 369:1961–1971. https://doi.org/10.1016/S0140-6736(07)60917-9

7.

Workowski K, Bolan G (2015) Sexually transmitted diseases treatment guidelines, 2015. MMWR Recomm Rep 64:75–78

8.

Faculty of Sexual and Reproductive Healthcare (2012) Management of vaginal discharge in non-genitourinary Medicine settings 2012. https://www.rcgp.org.uk/clinical-and-research/clinical-resources/sexually-transmitted-infections-in-primary-care.aspx. Accessed 3 Mar 2020

9.

Wachtler B, Wilson D, Hube B (2011) Candida albicans adhesion to and invasion and damage of vaginal epithelial cells: stage-specific inhibition by clotrimazole and bifonazole. Antimicrob Agents Chemother 55:4436–4439. https://doi.org/10.1128/AAC.00144-11

10.

O-prasertsawat P, Bourlert A (1995) Comparative study of fluconazole and clotrimazole for the treatment of vulvovaginal candidiasis. Sex Transm Dis 22:228–230. https://doi.org/10.1097/00007435-199507000-00005

11.

Sekhavat L, Tabatabaii A, Tezerjani FZ (2011) Oral fluconazole 150 mg single dose versus intra-vaginal clotrimazole treatment of acute vulvovaginal candidiasis. J Infect Public Health 4:195–199. https://doi.org/10.1016/j.jiph.2011.05.006

12.

Cohen L (1985) Is more than one application of an antifungal necessary in the treatment of acute vaginal candidiasis? Am J Obstet Gynecol 152:961–964. https://doi.org/10.1016/s0002-9378(85)80011-9

13.

Lebherz T, Guess E, Wolfson N (1985) Efficacy of single- versus multiple-dose clotrimazole therapy in the management of vulvovaginal candidiasis. Am J Obstet Gynecol 152:965–968. https://doi.org/10.1016/s0002-9378(85)80012-0

14.

Sobel JD, Brooker D, Stein GE, Thomason JL, Wermeling DP, Bradley B et al (1995) Single oral dose fluconazole compared with conventional clotrimazole topical therapy of Candida vaginitis. Fluconazole Vaginitis Study Group. Am J Obstet Gynecol 172:1263–1268. https://doi.org/10.1016/0002-9378(95)91490-0

15.

Ahangari F, Farshbaf-Khalili A, Javadzadeh Y, Adibpour M, Sadeghzadeh Oskouei B (2019) Comparing the effectiveness of Salvia officinalis, clotrimazole and their combination on vulvovaginal candidiasis: a randomized, controlled clinical trial. J Obstet Gynaecol Res 45:897–907. https://doi.org/10.1111/jog.13918

16.

Nurbhai M, Grimshaw J, Watson M, Bond C, Mollison J, Ludbrook A (2007) Oral versus intra-vaginal imidazole and triazole anti-fungal treatment of uncomplicated vulvovaginal candidiasis (thrush). Cochrane Database Syst Rev. https://doi.org/10.1002/14651858.CD002845.pub2

17.

Pristov KE, Ghannoum MA (2019) Resistance of Candida to azoles and echinocandins worldwide. Clin Microbiol Infect 25:792–798. https://doi.org/10.1016/j.cmi.2019.03.028

18.

Sobel JD, Sobel R (2018) Current treatment options for vulvovaginal candidiasis caused by azole-resistant Candida species. Expert Opin Pharmacother 19:971–977. https://doi.org/10.1080/14656566.2018.1476490

19.

Mendling W, Weissenbacher ER, Gerber S, Prasauskas V, Grob P (2016) Use of locally delivered dequalinium chloride in the treatment of vaginal infections: a review. Arch Gynecol Obstet 293:469–484. https://doi.org/10.1007/s00404-015-3914-8

20.

Della Casa V, Noll H, Gonser S, Grob P, Graf F, Pohlig G (2002) Antimicrobial activity of dequalinium chloride against leading germs of vaginal infections. Arzneimittelforschung 52:699–705. https://doi.org/10.1159/000332398

21.

Turner RJ, Taylor DE, Weiner JH (1997) Expression of Escherichia coli TehA gives resistance to antiseptics and disinfectants similar to that conferred by multidrug resistance efflux pumps. Antimicrob Agents Chemother 41:440–444

22.

Petersen EE, Weissenbacher ER, Hengst P, Spitzbart H, Weise W, Wolff F et al (2002) Local treatment of vaginal infections of varying etiology with dequalinium chloride or povidone iodine. A randomised, double-blind, active-controlled, multicentric clinical study. Arzneimittelforschung 52:706–715. https://doi.org/10.1055/s-0031-1299955

23.

Kolbe H (1972) Treatment of infectious vaginal fluor with Dequavagyn. Ther Ggw 111:415–420

24.

Atlante G (1959) A new chemotherapeutic agent in the treatment of vaginitis due to Trichomonas and Candida. Minerva Ginecol 11:588–591

25.

Yano J, Sobel JD, Nyirjesy P, Sobel R, Williams VL, Yu Q et al (2019) Current patient perspectives of vulvovaginal candidiasis: incidence, symptoms, management and post-treatment outcomes. BMC Womens Health 19:48. https://doi.org/10.1186/s12905-019-0748-8

26.

Weissenbacher ER, Donders G, Unzeitig V, Martinez de Tejada B, Gerber S, Halaska M et al (2012) A comparison of dequalinium chloride vaginal tablets (Fluomizin(R)) and clindamycin vaginal cream in the treatment of bacterial vaginosis: a single-blind, randomized clinical trial of efficacy and safety. Gynecol Obstet Invest 73:8–15. https://doi.org/10.1159/000332398
Ethics declarations
Conflict of interest
The study was financially supported by Medinova AG, Switzerland. M Thamkhantho had received honoraria as occasionally being the product speaker.
Consent to participate
Yes.
Consent for publication
Yes.
Ethics approval
The Siriraj Institutional Review Board (COA. no. Si226/2013).
Additional information
Publisher's Note
Springer Nature remains neutral with regard to jurisdictional claims in published maps and institutional affiliations.
About this article
Cite this article
Thamkhantho, M., Chayachinda, C. Vaginal tablets of dequalinium chloride 10 mg versus clotrimazole 100 mg for vaginal candidiasis: a double-blind, randomized study. Arch Gynecol Obstet 303, 151–160 (2021). https://doi.org/10.1007/s00404-020-05784-z
Received:

Accepted:

Published:

Issue Date:
Keywords
Clotrimazole

Dequalinium chloride

Randomized

Treatment

Vaginal candidiasis