Abstract
Purpose
No consensus exists on the relationship between vitamin D status and endometriosis. The chief aim of our study was to evaluate the association between serum vitamin D levels and endometriosis.
Methods
We searched for MEDLINE, EMBASE, and China National Knowledge Infrastructure (CNKI) databases for studies elucidated the circulating vitamin D levels in endometriosis. The standardized mean differences (SMDs) or odds ratios (ORs) with their 95% confidence interval (CIs) were calculated to evaluate the association between vitamin D levels and endometriosis.
Results
Nine studies were included in this meta-analysis. The pooled results indicated that women with endometriosis had lower vitamin D status than that in controls (SMD − 0.97 ng/mL, 95% CI − 1.80 to − 0.14; p = 0.02), and vitamin D status had a negative correlation with the severity of the disease (stage III–IV vs stage I–II: SMD − 1.33 ng/mL, 95% CI − 2.54 to − 0.12; p = 0.03). Although it was not statistically significantly different, hypovitaminosis D had a tendency to be associated with endometriosis (OR 2.77, 95% CI 0.85–6.08, p = 0.10). Heterogeneity was high among included studies. Subgroup analyses revealed that women with no hormone use had lower vitamin D status when compared with controls (SMD − 1.38 ng/mL, 95% CI − 2.59 to − 0.18; p = 0.02). For studies which sample size < 100, serum vitamin D levels were significantly lower in patients than that in controls (SMD − 0.65 ng/mL, 95% CI − 1.19 to − 0.11; p = 0.02).
Conclusions
Women with endometriosis had lower vitamin D status when compared with controls, and a negative relationship between vitamin D levels and severity of endometriosis was observed. In addition, hypovitaminosis D was a potential risk factor for endometriosis.
Access options
Buy single article
Instant access to the full article PDF.
USD 39.95
Price excludes VAT (USA)
Tax calculation will be finalised during checkout.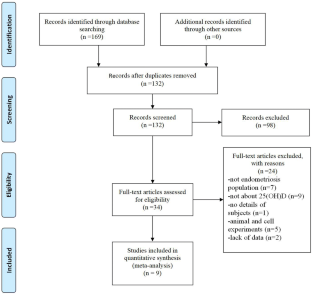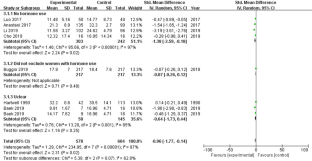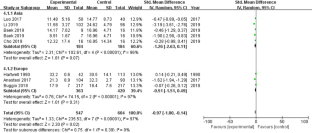 References
Giudice LC, Kao LC (2004) Endometriosis. Lancet 364(9447):1789–1799

Burney RO, Giudice LC (2012) Pathogenesis and pathophysiology of endometriosis. Fertil Steril 98(3):511–519

Lips P (2006) Vitamin D physiology. Prog Biophys Mol Biol 92(1):4–8

Szczepanska M et al (2015) Polymorphic variants in vitamin D signaling pathway genes and the risk of endometriosis-associated infertility. Mol Med Rep 12(5):7109–7115

Sayegh L, Fuleihan Gel H, Nassar AH (2014) Vitamin D in endometriosis: a causative or confounding factor? Metabolism 63(1):32–41

Miyashita M et al (2016) Effects of 1,25-Dihydroxy Vitamin D3 on Endometriosis. J Clin Endocrinol Metab 101(6):2371–2379

Ingles SA et al (2017) Differential gene expression by 1,25(OH)2D3 in an endometriosis stromal cell line. J Steroid Biochem Mol Biol 173:223–227

Ferrero S et al (2005) Vitamin D binding protein in endometriosis. J Soc Gynecol Investig 12(4):272–277

Faserl K et al (2011) Polymorphism in vitamin D-binding protein as a genetic risk factor in the pathogenesis of endometriosis. J Clin Endocrinol Metab 96(1):E233–E241

Delbandi AA et al (2016) 1,25-dihydroxy vitamin D3 modulates endometriosis-related features of human endometriotic stromal cells. Am J Reprod Immunol 75(4):461–473

Agic A et al (2007) Relative expression of 1,25-dihydroxyvitamin D3 receptor, vitamin D 1 alpha-hydroxylase, vitamin D 24-hydroxylase, and vitamin D 25-hydroxylase in endometriosis and gynecologic cancers. Reprod Sci 14(5):486–497

Ong JS et al (2016) Association of vitamin D levels and risk of ovarian cancer: a Mendelian randomization study. Int J Epidemiol 45(5):1619–1630

He C et al (2015) Serum vitamin D levels and polycystic ovary syndrome: a systematic review and meta-analysis. Nutrients 7(6):4555–4577

Merhi ZO et al (2012) Circulating vitamin D correlates with serum antimullerian hormone levels in late-reproductive-aged women: women's Interagency HIV Study. Fertil Steril 98(1):228–234

Hartwell D et al (1990) Vitamin D metabolites–relation to age, menopause and endometriosis. Scand J Clin Lab Invest 50(2):115–121

Buggio L et al (2019) 25-Hydroxyvitamin D serum levels and endometriosis: results of a case-control study. Reprod Sci 26(2):172–177

Dressler N et al (2016) BMI and season are associated with vitamin D deficiency in women with impaired fertility: a two-centre analysis. Arch Gynecol Obstet 293(4):907–914

Harris HR et al (2013) Dairy-food, calcium, magnesium, and vitamin D intake and endometriosis: a prospective cohort study. Am J Epidemiol 177(5):420–430

Pagliardini L et al (2015) High prevalence of vitamin D deficiency in infertile women referring for assisted reproduction. Nutrients 7(12):9972–9984

Wan F et al (2019) The relationship between seru vitamin D level and endometirosis: A meta-analysis. Bachu Medical Journal 2(01):59–63

Holick MF (2007) Vitamin D deficiency. N Engl J Med 357(3):266–281

Moher D et al (2009) Preferred reporting items for systematic reviews and meta-analyses: the PRISMA statement. PLoS Med 6(7):e1000097

Wells G, Shea B, O'Connell J (2014) The Newcastle-Ottawa Scale (NOS) for assessing the quality of nonrandomised studies in meta-analyses. Ottawa Health Research Institute Web site, p 7

Wan X et al (2014) Estimating the sample mean and standard deviation from the sample size, median, range and/or interquartile range. BMC Med Res Methodol 14:135

Baek JC et al (2019) Differences in 25-hydroxy vitamin D and vitamin D-binding protein concentrations according to the severity of endometriosis. Clin Exp Reprod Med 46(3):125–131

Derakhshan M, Derakhshan M, Hedayat P, Shiasi M, Sadeghi E (2018) Vitamin D deficiency may be a modifiable risk factor in women with endometriosis. Cresc J Med Biol Sci 5(4):292–296

Anastasi E et al (2017) Low levels of 25-OH vitamin D in women with endometriosis and associated pelvic pain. Clin Chem Lab Med 55(12):e282–e284

Butts SF et al (2019) Vitamin D deficiency is associated with poor ovarian stimulation outcome in PCOS but not unexplained infertility. J Clin Endocrinol Metab 104(2):369–378

Lerchbaum E, Rabe T (2014) Vitamin D and female fertility. Curr Opin Obstet Gynecol 26(3):145–150

Dabrowski FA, Grzechocinska B, Wielgos M (2015) The role of vitamin D in reproductive health—a Trojan Horse or the Golden Fleece? Nutrients 7(6):4139–4153

Dennis NA et al (2012) The level of serum anti-Mullerian hormone correlates with vitamin D status in men and women but not in boys. J Clin Endocrinol Metab 97(7):2450–2455

Jukic AM, Steiner AZ, Baird DD (2015) Association between serum 25-hydroxyvitamin D and ovarian reserve in premenopausal women. Menopause 22(3):312–316

Van Etten E et al (2003) Analogs of 1alpha,25-dihydroxyvitamin D3 as pluripotent immunomodulators. J Cell Biochem 88(2):223–226
Funding
Sichuan Science and Technology Program, Grant/Award Number: 2017FZ0068; Chengdu Science and Technology Huimin Technology Research and Development Project Grant/Award Number: 2015-HMO1-00414-SF.
Ethics declarations
Conflict of interest
The authors declare that they have no competing interests.
Additional information
Publisher's Note
Springer Nature remains neutral with regard to jurisdictional claims in published maps and institutional affiliations.
Electronic supplementary material
Below is the link to the electronic supplementary material.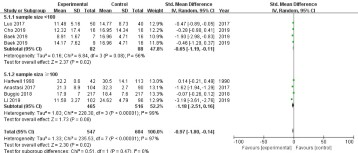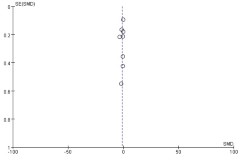 About this article
Cite this article
Qiu, Y., Yuan, S. & Wang, H. Vitamin D status in endometriosis: a systematic review and meta-analysis. Arch Gynecol Obstet 302, 141–152 (2020). https://doi.org/10.1007/s00404-020-05576-5
Received:

Accepted:

Published:

Issue Date:

DOI: https://doi.org/10.1007/s00404-020-05576-5
Keywords