Abstract
Background
Effective prevention of preterm birth as cause of serious risks for the infant as well as the mother pre- and postpartum is one of the still unsolved problems in modern medicine.
Method
The government of the State of Thuringia in cooperation with the professional organization of obstetricians and gynecologists decided in 2016 to reestablish and promote a self-care screening program based on intravaginal (i.vag.) pH measurement to reduce the incidence of preterm birth by early diagnosis and therapy of genital infection.
Results
Starting at zero in 2016, > 80% of pregnant women in the state had their vaginal pH monitored at the end of 2018 (n = 17.180). This was associated with a reduced incidence of early preterm birth measured by gestational week ≤ 32 (1.46 vs. 1.26%).
Conclusion
The fourth millennium goal missed worldwide in 2015 as well as the newly declared third objective of the UN could come closer using the simple and cheap i.vag. pH-self-screening regime in prevention of preterm birth, an approach partly turning the woman from being object of medical care to being the subject in self-control of her pregnancy. This is also a well perceived change in paradigm from the perspective of females as well as physicians.
Access options
Buy single article
Instant access to the full article PDF.
US$ 39.95
Tax calculation will be finalised during checkout.
Subscribe to journal
Immediate online access to all issues from 2019. Subscription will auto renew annually.
US$ 119
Tax calculation will be finalised during checkout.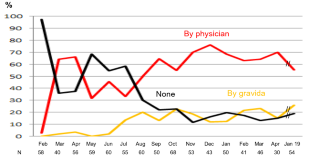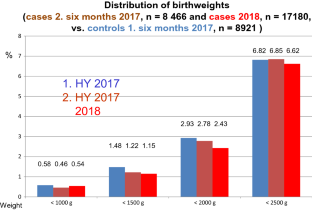 References
1.

Hoyme UB, Saling E (2004) Efficient prematurity prevention is possible by pH-self-measurement and immediate therapy of threatening ascending infection. Eur J Obstetr Gynecol Reprod Biol 115:148–153

2.

Robert Anton Wilson, Wikipedia 2017

3.

Hoyme UB (2016) Pragmatic prevention of preterm birth and evidence based medicine. Arch Gyn Obstet. https://doi.org/10.1007/s00404-016-4094-x

4.

Hoyme UB (2017) Efficient prevention of preterm birth as primary political task—results of the Thuringia campaign. Arch Gyn Obstet. https://doi.org/10.1007/s00404-018-4855

5.

Hoyme UB, Hesse M (2019) Thüringer Frühgeburtenvermeidungsaktion: Inzidenz früher Frühgeburten im Freistaat erneut rückläufig. Ärzteblatt Thüringen 10:24–26

6.

MG Gravett (2015) Preventing preterm birth: a framework towards a global agendas Presented at IDSOG meeting, Portland OR, August 6–8 2015

7.

Lamont RF et al (2011) Treatment of abnormal vaginal flora in early pregnancy with clindamycin for the prevention of spontaneous preterm birth: a systematic review and metaanalysis. Am J Obstet Gynecol 205:177–190

8.

Sackett DL et al (1996) Evidence based medicine: what it is and what it isn´t. BMJ 312:71–72

9.

Gianicolo EAL et al (2020) Methoden zur Bewertung der Kausalität in Beobachtungsstudien. Dtsch Arztebl Int 117:101–107
Funding
This governmental campaign was funded by the State of Thuringia.
Ethics declarations
Conflict of interest
Prof. Hoyme declares: one of the pH devices was designed and marketed by Prof. Dr. Udo Hoyme. Dr. Hesse declares that he has no conflict of interest.
Ethical approval
This governmental campaign was compliant with ethical standards. All procedures performed in studies involving human participants were in accordance with the ethical standards of the institutional and/or national research committee and with the 1964 Helsinki declaration and its later amendments or comparable ethical standards. This article does not contain any studies with animals performed by any of the authors.
Informed consent
Informed consent was obtained from all individual participants included in the study.
Additional information
Publisher's Note
Springer Nature remains neutral with regard to jurisdictional claims in published maps and institutional affiliations.
About this article
Cite this article
Hoyme, U.B., Hesse, M. Reduced incidence of early preterm birth in the State of Thuringia following an intravaginal pH-self-monitoring screening program. Arch Gynecol Obstet 302, 1–4 (2020). https://doi.org/10.1007/s00404-020-05574-7
Received:

Accepted:

Published:

Issue Date:
Keywords
Intravaginal pH-self-measurement

Prevention of preterm birth

Screening