Abstract
Purpose
In this prospective study, endometrial biopsy by pipette was compared with hysteroscopy with curettage in patients with an abnormal uterine bleeding (ABU) (hypermenorrhea, intermediate bleeding, continuous bleeding, postmenopausal bleeding) and patients with a sonographically abnormal endometrium.
Methods
176 patients were included. The pipette samples were taken during the usual planned procedure under general anaesthesia. Thereafter, the planned hysteroscopy with curettage was completed. The study was performed as a double-blind study. The obtained histologies (of pipelle and curettage) were sent separately to the same pathologist. The pipelle material was encoded by a specific number without any patient data.
Results
In 97% of the cases using the biopsy with pipette were obtained an adequate sample. The biopsy with pipette had a sensitivity and specificity of 100% in the diagnosis of endometrial carcinoma and atypical hyperplasia. Pipette showed a significantly lower accuracy with a sensitivity of 28% in the diagnosis of endometrial hyperplasia without atypia. Pipette showed the lowest sensitivity for polyps, myomas and atrophic endometrium.
Conclusion
The study shows that pipette sampling is a safe, accurate, low-cost ambulatory procedure with high sensitivity for the detection of atypical endometrial hyperplasia and endometrial carcinoma. In the case of sonographically definable findings (polyp, myoma), hysteroscopy with curettage is preferred.
Graphic abstract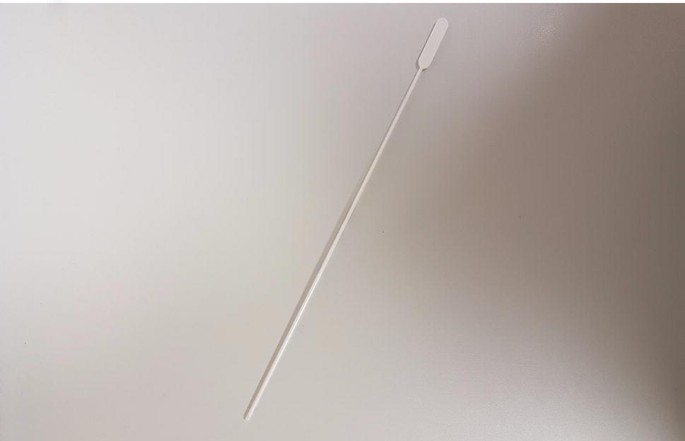 Access options
Buy single article
Instant access to the full article PDF.
USD 39.95
Price excludes VAT (USA)
Tax calculation will be finalised during checkout.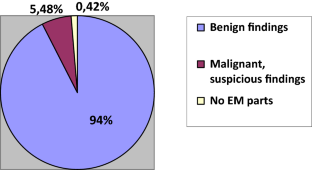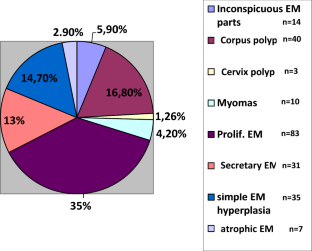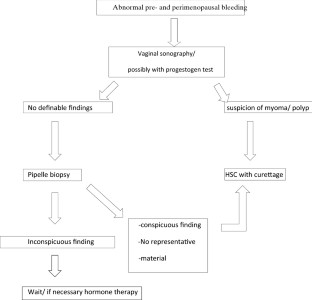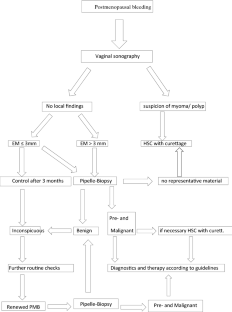 References
Al-Azemi M, Labib NS, Motawy MM, Temmim L, Moussa MA, Omu AE (2004) Prevalence of endometrial proliferation in pipelle biopsies in tamoxifentreated postmenopausal women with breast cancer in Kuwait. Med Princ Pract 13(1):30–34

Alliratnam AS, Senthil PS, Shankar R (2016) Diagnostic value of pipelle endometrial sampling in comparison with dilatation and curettage among patients with abnormal uterine bleeding. Int J Reprod Contracept Obstet Gynecol 5(3):864–867

Brand A, Duduc-Lissoir J, Ehlen TG, Plante M (2000) Diagnosis of endometrial cancer in women in women with abnormal vaginal bleeding. SOGC Clinical Practice Guidelines. J Soc Obst Gynae Can 22:102–104

Clark TJ, Gupta JK (2002) Endometrial sampling of gynaecological pathology. TOG 4:169–174

Clark TJ, Mann CH, Shah N, Khan KS, Song F, Gupta JK (2001) Accuracy of outpatient endometrial biopsy in the diagnosis of endometrial hyperplasia. Acta Obstet Gynecol Scand 80:784–793

Del Priore G, Williams R, Harbatkin CB, Wan LS, Mittal K, Yang GC (2001) Endometrial brush biopsy for the diagnosis of endometrial cancer. J Reprod Med 46(5):439–443

Elsandabesee D, Greenwood P (2005) The performance of Pipelle endometrial sampling in a dedicated postmenopausal bleeding clinic. J Obstet Gynecol 25:32–34

Fakhar S, Saeed G, Khan AH, Alam AY (2008) Validity of pipelle endometrial sampling in patients with abnormal uterine bleeding. Ann Saudi Med 28:188–191

Goldenstein SR (2010) Modern evaluation of endometrium. Obstet Gynecol 116:168–176

Guido RS, Kanbour-Shakir A, Rulin MC, Christopherson WA (1995) Pipelle endometrial sampling. Sensitivity in the detection of endometrial cancer. J Reprod Med 40(8):553–555

Huang GS, Gebb JS, Einstein MH, Shahabi S, Novetsky AP, Goldberg GL (2007) Accuracy of preoperative endometrial sampling for the detection of high-grade endometrial tumors. Am J Obstet Gynecol 196(243):e1–5

Ibrahim AA, Amro A, Amr FA (2013) Pipelle endometrial sampling versus conventional dilatation and curettage in patients with abnormal uterine bleeding. J Turk Ger Gyn Assoc 14(1):1–5

Kuruvilla A, Sohan K, Ramsewak S (2004) Outpatient endometrial sampling as the sole primary method for assessing abnormal uterine bleeding in women over 35 years in trinidad. Int J Gynecol Obstet 3(1)

Machado F, Moreno J, Carazo M, Leon J, Fiol G, Serna R (2003) Accuracy of endometrial biopsy with the Cornier Pipelle for diagnosis of endometrial cancer and atypical hyperplasia. Eur J Gynaecol Oncol 24:279–281

Oehler MK, Rees MC (2003) Menorrhagia: an update. Acta Obstet Gynecol Scand 82:405–422

Sarwar A, Haque A (2005) Types and frequencies of pathologies in endometrial curetting of abnormal uterine bleeding. Int J Path 3:65–70

Stovall TG, Photopulos GJ, Poston WM, Ling FW, Sandles LG (1991) Pipelle endometrial sampling in patients with known endometrial carcinoma. Obstet Gynecol 77(6):954–956

Telner DE, Jakubovicz D (2007) Approach to diagnosis and management of abnormal uterine bleeding. Can Fam Phys 53:58–64

Vigod SN, Stewart DE (2002) Management of abnormal uterine bleeding by northern, rural and isolated primary care physicians: PART I—how are we doing? BMC Women Health 2:10
Ethics declarations
Conflict of interest
The authors declare that they have no conflict of interest.
Ethical approval
All patients have been explicitly informed and the intervention took place after the patient's written consent, as part of the planned hysteroscopy with curettage. This study was carried out in consensus with our university´s ethics guidelines.
Informed consent
Each patient was informed about the study. Written consent from the patient was a prerequisite for this study.
Additional information
Publisher's Note
Springer Nature remains neutral with regard to jurisdictional claims in published maps and institutional affiliations.
About this article
Cite this article
Piriyev, E., Mellin, W. & Römer, T. Comparison of aspirating pipettes and hysteroscopy with curettage. Arch Gynecol Obstet 301, 1485–1492 (2020). https://doi.org/10.1007/s00404-020-05551-0
Received:

Accepted:

Published:

Issue Date:

DOI: https://doi.org/10.1007/s00404-020-05551-0
Keywords