Abstract
Purpose
Previously, pain treatment following episiotomy has relied on non-steroid anti-inflammatory drugs as analgesics, whose use during breastfeeding remains controversial due of their transfer to the child.
Methods
This was a pilot randomized parallel single-center study aiming to evaluate the effects of auricular acupuncture on pain relief after episiotomy. The primary outcome was reduction of pain intensity using visual analogue scale (VAS) scores during the first three postpartum days. The patients were allocated to either of the groups by using a heads–tails binary result coin toss method and the allocation was not masked. The study was completed after including 60 healthy women that underwent mediolateral episiotomy performed during vaginal delivery, with 29 receiving acupuncture therapy and 31 not receiving acupuncture therapy for pain relief. Oral analgesic therapy was made available per request for all patients.
Results
This study showed that subjective experience of pain was significantly reduced in the acupuncture group on the second and third postpartum days (P = 0.004, P = 0.005, P = 0.22). There were no adverse effects of acupuncture noted.
Conclusions
Our findings confirm that auricular acupuncture therapy may be a valuable adjunct to analgesic therapy in patients undergoing episiotomy during vaginal delivery. The results prompt a question whether our current 'best practice' may yet be improved.
This is a preview of subscription content, log in to check access.
Access options
Buy single article
Instant access to the full article PDF.
US$ 39.95
Price includes VAT for USA
Subscribe to journal
Immediate online access to all issues from 2019. Subscription will auto renew annually.
US$ 199
This is the net price. Taxes to be calculated in checkout.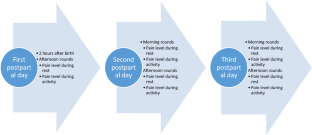 References
1.

Albers L, Garcia J, Renfrew M, McCandlish R, Elbourne D (1999) Distribution of genital tract trauma in childbirth and related postnatal pain. Birth 26:11–17

2.

Lesieur E, Blanc J, Loundou A, Dubuc M, Bretelle F (2017) Can the rate of episiotomy still be lowered? Status update in PACA region (south of France). Gynecol Obstet Fertil Senol 45(3):146–151

3.

Jiang H, Qian X, Carroli G, Garner P (2017) Selective versus routine use of episiotomy for vaginal birth. Cochrane Database Syst Rev 2:CD000081

4.

Drusany Staric K, Lukanovic A, Petrocnik P, Zacesta V, Cescon C, Lucovnik M (2017) Impact of mediolateral episiotomy on incidence of obstetrical anal sphincter injury diagnosed by endoanal ultrasound. Midwifery 51:40–43

5.

Ma K, Byrd L (2017) Episiotomy: what angle do you cut to the midline? Eur J Obstet Gynecol Reprod Biol 213:102–106

6.

Živković K, Živković N, Župić T, Hodžić D, Mandić V, Orešković S (2016) Effect of delivery and episiotomy on the emergence of urinary incontinence in women: review of literature. Acta Clinica Croatica 55(4):615–623

7.

Smith CA, Collins CT, Cyna AM, Crowther CA (2006) Complementary and alternative therapies for pain management in labour. Cochrane Database Syst Rev 4:CD003521

8.

Lee H, Ernst E (2004) Acupuncture for labor pain management: a systematic review. Am J Obstet Gynecol 191:1573–1579

9.

Abedi P, Rastegar H, Valiani M, Saadati N (2017) The effect of auriculotherapy on labor pain, length of active phase and episiotomy rate among reproductive aged women. J Fam Reprod Health 11(4):185–190

10.

Bishop A, Ogollah R, Bartlam B, Barlas P, Holden MA, Ismail KM et al (2016) Evaluating acupuncture and standard care for pregnant women with back pain: the EASE Back pilot randomised controlled trial (ISRCTN49955124). Pilot Feasibility Stud 12(2):72. https://doi.org/10.1186/s40814-016-0107-6

11.

Selva Olid A, Martínez Zapata MJ, Solà I, Stojanovic Z, Uriona Tuma SM, Bonfill Cosp X (2013) Efficacy and safety of needle acupuncture for treating gynecologic and obstetric disorders: an overview. Med Acupunct 25(6):386–397

12.

Liu XL, Tan JY, Molassiotis A, Suen LK, Shi Y (2015) Acupuncture-point stimulation for postoperative pain control: a systematic review and meta-analysis of randomized controlled trials. Evid Based Complement Altern Med 2015:657809. https://doi.org/10.1155/2015/657809

13.

Levett KM, Smith CA, Bensoussan A, Dahlen HG (2016) Complementary therapies for labour and birth study: a randomised controlled trial of antenatal integrative medicine for pain management in labour. BMJ Open 6(7):e010691. https://doi.org/10.1136/bmjopen-2015-010691

14.

Kindberg S, Klünder L, Strøm J, Henriksen TB (2009) Ear acupuncture or local anaesthetics as pain relief during postpartum surgical repair: a randomised controlled trial. BJOG 116(4):569–576. https://doi.org/10.1111/j.1471-0528.2008.0201

15.

Marra C, Pozzi I, Ceppi L, Sicuri M, Veneziano F, Regalia AL (2011) Wrist-ankle acupuncture as perineal pain relief after mediolateral episiotomy: a pilot study. J Altern Complement Med 17(3):239–241. https://doi.org/10.1089/acm.2010.0256

16.

Ferković M, Tapalović M (1998) Akupunktura. In: Ferković M (ed) Akupunktura, 5th edn. Školska knjiga d.d., Zagreb

17.

Litscher G, Yannacopoulos T, Kreisl P (2018) Nogier reflex: physiological and experimental results in auricular medicine—a new hypothesis. Medicines (Basel) 5(4):E132. https://doi.org/10.3390/medicines5040132

18.

Oleson T (2003) Auriculotherapy manual. Chinese and Western Systems of ear acupuncture. In: Oleson T (ed) Auriculotherapy manual, 3rd edn. Churchill Livingstone, Amsterdam

19.

Arain M, Campbell MJ, Cooper CL, Lancaster GA (2010) What is a pilot or feasibility study? A review of current practice and editorial policy. BMC Med Res Methodol 10:67

20.

Han JS (2004) Acupuncture and endorphins. Neurosci Lett 361(1–3):258–261

21.

Allameh Z, Tehrani HG, Ghasemi M (2015) Comparing the impact of acupuncture and pethidine on reducing labor pain. Adv Biomed Res 4:46. https://doi.org/10.4103/2277-9175.151302

22.

Akbarzade M, Ghaemmaghami M, Yazdanpanahi Z, Zare N, Mohagheghzadeh A, Azizi A (2016) Comparison of the effect of dry cupping therapy and acupressure at BL23 point on intensity of postpartum perineal pain based on the short form of McGill Pain Questionnaire. J Reprod Infertil 17(1):39–46

23.

Carlson C, Anckers L (1997) Akupunktur och TENS inom obstetriken. In: Carlson C (ed) Akupunktur, 1st edn. Studenterlitteratur, Lund

24.

Girault A, Deneux-Tharaux C, Sentilhes L, Maillard F, Goffinet F (2018) Undiagnosed abnormal postpartum blood loss: incidence and risk factors. PLoS ONE 13(1):e0190845

25.

Curkovic M, Kosec A, Savic A (2019) Re-evaluation of significance and the implications of placebo effect in antidepressant therapy. Front Psychiatry 19(10):143. https://doi.org/10.3389/fpsyt.2019.00143
Ethics declarations
Conflict of interest
This research did not receive any specific grant from funding agencies in the public, commercial, or not-for-profit sectors. The authors have no conflict of interest.
Ethical approval
All procedures performed in studies involving human participants were in accordance with the ethical standards of the institutional and/or national research committee and with the 1964 Helsinki Declaration and its later amendments or comparable ethical standards.
Additional information
Publisher's Note
Springer Nature remains neutral with regard to jurisdictional claims in published maps and institutional affiliations.
About this article
Cite this article
Jaić, K.K., Turković, T.M., Pešić, M. et al. Auricular acupuncture as effective pain relief after episiotomy: a randomized controlled pilot study. Arch Gynecol Obstet 300, 1295–1301 (2019). https://doi.org/10.1007/s00404-019-05283-w
Received:

Accepted:

Published:

Issue Date:
Keywords
Auricular acupuncture

Episiotomy

Acupuncture

Pain relief

Analgesic therapy