Abstract
Purpose
To explore the association between cesarean section (CS) and the risk of neonatal respiratory distress syndrome (RDS).
Methods
We searched PubMed, Web of Science, and ClinicalTrials.gov database for studies related to the association between CS and the risk of neonatal RDS up to 25 August 2018. The pooled odds ratios (ORs) with 95% confidence intervals (CIs) were estimated using a random-effects model (REM).
Results
A total of 26 studies from 25 available articles were included in this meta-analysis. For the association between CS and the risk of neonatal RDS, the pooled OR was 1.76 (95% CI 1.48–2.09). The pooled OR of the risk of neonatal RDS was 2.38 (95% CI 1.89–2.99) for elective CS and 1.85 (95% CI 1.34–2.56) for emergency CS.
Conclusion
This meta-analysis suggested that CS, elective CS, and emergency CS were associated with an increased risk of neonatal RDS.
Access options
Buy single article
Instant access to the full article PDF.
USD 39.95
Price excludes VAT (USA)
Tax calculation will be finalised during checkout.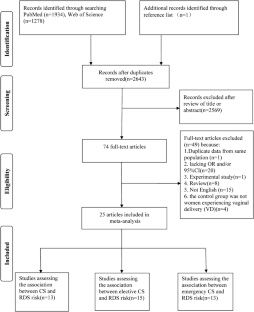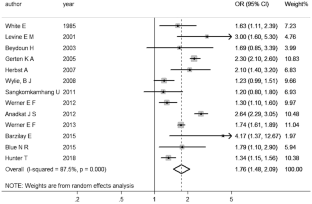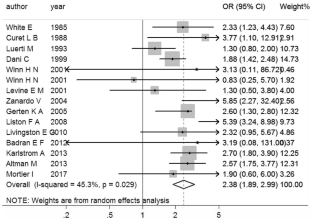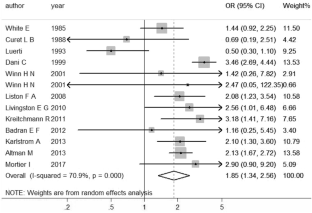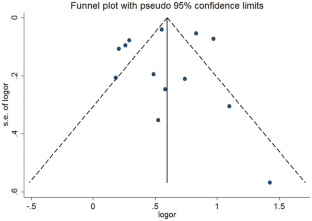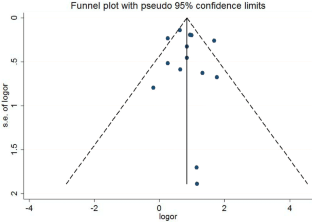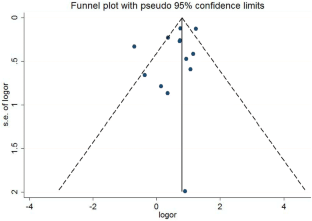 References
Tochie JN, Choukem SP, Langmia RN, Barla E, Koki-Ndombo P (2016) Neonatal respiratory distress in a reference neonatal unit in Cameroon: an analysis of prevalence, predictors, etiologies and outcomes. Pan Afr Med J 24:152

De Luca D, van Kaam AH, Tingay DG, Courtney SE, Danhaive O, Carnielli VP, Zimmermann LJ, Kneyber MCJ, Tissieres P, Brierley J, Conti G, Pillow JJ, Rimensberger PC (2017) The Montreux definition of neonatal ARDS: biological and clinical background behind the description of a new entity. Lancet Respir Med 5:657–666

Hermansen CL, Mahajan A (2015) Newborn respiratory distress. Am Fam Phys 92:994

Lewis S (1968) A follow-up study of the respiratory distress syndrome. Proc R Soc Med 61:771–773

Dani C, Reali MF, Bertini G, Wiechmann L, Spagnolo A, Tangucci M, Rubaltelli FF, Italian Grp Neonatal P (1999) Risk factors for the development of respiratory distress syndrome and transient tachypnoea in newborn infants. Eur Respir J 14:155–159

Reed DM, Bakketeig LS, Nugent RP (1978) The epidemiology of respiratory distress syndrome in Norway. Am J Epidemiol 107:299–310

Mortier I, Blanc J, Tosello B, Gire C, Bretelle F, Carcopino X (2017) Is gestational diabetes an independent risk factor of neonatal severe respiratory distress syndrome after 34 weeks of gestation? a prospective study. Arch Gynecol Obstet 296:1071–1077

Alfirevic Z, Milan SJ, Livio S (2012) Caesarean section versus vaginal delivery for preterm birth in singletons. Cochrane Database Syst Rev.https://doi.org/10.1002/14651858.CD000078.pub2

Santas G, Santas F (2018) Trends of caesarean section rates in Turkey. J Obstet Gynaecol 38:658–662

Caughey AB, Cahill AG, Guise JM, Rouse DJ (2014) Safe prevention of the primary cesarean delivery. Am J Obstet Gynecol 210:179–193

Alexander JM, Leveno KJ, Hauth J, Landon MB, Thom E, Spong CY, Varner MW, Moawad AH, Caritis SN, Harper M, Wapner RJ, Sorokin Y, Miodovnik M, O'Sullivan MJ, Sibai BM, Langer O, Gabbe SG (2006) Fetal injury associated with cesarean delivery. Obstet Gynecol 108:885–890

Kamath BD, Todd JK, Glazner JE, Lezotte D, Lynch AM (2009) Neonatal outcomes after elective cesarean delivery. Obstet Gynecol 113:1231

Soltanifar S, Russell R (2012) The National Institute for Health and Clinical Excellence (NICE) guidelines for caesarean section, 2011 update: implications for the anaesthetist. Int J Obstet Anesth 21:264–272

Baumfeld Y, Walfisch A, Wainstock T, Segal I, Sergienko R, Landau D, Sheiner E (2018) Elective cesarean delivery at term and the long-term risk for respiratory morbidity of the offspring. Eur J Pediatr 177:1653–1659

Greenough A, Lagercrantz H, Pool J, Dahlin I (1987) Plasma catecholamine levels in preterm infants. Effect of birth asphyxia and Apgar score. Acta Paediatr Scand 76:54–59

Morley GM (2001) Mode of delivery and risk od respiratory diseases in newborns. Obstet Gynecol 97:439–442

White E, Shy KK, Daling JR (1985) An investigation of the relationship between cesarean section birth and respiratory distress syndrome of the newborn. Am J Epidemiol 121:651–663

Werner EF, Han CS, Savitz DA, Goldshore M, Lipkind HS (2013) Health outcomes for vaginal compared with cesarean delivery of appropriately grown preterm neonates. Obstet Gynecol 121:1195–1200

Levine EM, Ghai V, Barton JJ, Strom CM (2001) Mode of delivery and risk of respiratory diseases in newborns. Obstet Gynecol 97:439–442

Hunter T, Shah J, Synnes A, Shivananda S, Ryan G, Shah PS, Murphy KE, Canadian Neonatal N (2018) Neonatal outcomes of preterm twins according to mode of birth and presentation. J Matern Fetal Neonatal Med 31:682–688

Herbst A, Kallen K (2007) Influence of mode of delivery on neonatal mortality and morbidity in spontaneous preterm breech delivery. Eur J Obstet Gynecol Reprod Biol 133:25–29

Gerten KA, Coonrod DV, Bay RC, Chambliss LR (2005) Cesarean delivery and respiratory distress syndrome: does labor make a difference? Am J Obstet Gynecol 193:1061–1064

Blue NR, Van Winden KR, Pathak B, Barton L, Opper N, Lane CJ, Ramanathan R, Ouzounian JG, Lee RH (2015) Neonatal outcomes by mode of delivery in preterm birth. Am J Perinatol 32:1292–1297

Barzilay E, Mazaki-Tovi S, Amikam U ,de Castro H ,Haas J, Mazkereth R, Sivan E ,Schiff E, Yinon Y (2015) Mode of delivery of twin gestation with very low birthweight: is vaginal delivery safe? Am J Obstet Gynecol. https://doi.org/10.1016/j.ajog.2015.03.030

Werner EF, Savitz DA, Janevic TM, Ehsanipoor RM, Thung SF, Funai EF, Lipkind HS (2012) Mode of delivery and neonatal outcomes in preterm, small-for-gestational-age newborns. Obstet Gynecol 120:560–564

Anadkat JS, Kuzniewicz MW, Chaudhari BP, Cole FS, Hamvas A (2012) Increased risk for respiratory distress among white, male, late preterm and term infants. J Perinatol 32:780–785

Wylie BJ ,Davidson LL, Batra M, Reed SD (2008) Method of delivery and neonatal outcome in very low-birthweight vertex-presenting fetuses. Am J Obstet Gynecol 198: 640.e1-7 (discussion e1–4)

Sangkomkamhang U, Pattanittum P, Laopaiboon M, Lumbiganon P (2011) Mode of delivery and outcomes in preterm births. J Med Assoc Thail 94: 415–420.

Beydoun H, Yunis KA, Khogali M, Usta I, Tamim H (2003) Caesarean route of delivery and hyaline membrane disease: a hospital-based case-control study in Greater Beirut. Paediatr Perinat Epidemiol 17:363–368

Moher D, Liberati A, Tetzlaff J, Altman DG (2009) Preferred reporting items for systematic reviews and meta-analyses: the PRISMA statement. J Chin Integr Med 18:e123

Higgins JPT, Thompson SG (2002) Quantifying heterogeneity in a meta-analysis. Stat Med 21:1539–1558

Higgins JPT, Thompson SG (2004) Controlling the risk of spurious findings from meta-regression. Stat Med 23:1663–1682

Patsopoulos NA, Evangelou E, Ioannidis JP (2008) Sensitivity of between-study heterogeneity in meta-analysis: proposed metrics and empirical evaluation. Int J Epidemiol 37:1148–1157

Egger M, Davey Smith G, Schneider M, Minder C (1997) Bias in meta-analysis detected by a simple, graphical test. BMJ 315:629–634

Zanardo V, Simbi AK, Franzoi M, Solda G, Salvadori A, Trevisanuto D (2004) Neonatal respiratory morbidity risk and mode of delivery at term: influence of timing of elective caesarean delivery. Acta Paediatr (Oslo, Norway: 1992) 93: 643–647.

Altman M, Vanpee M, Cnattingius S, Norman M (2013) Risk factors for acute respiratory morbidity in moderately preterm infants. Paediatr Perinat Epidemiol 27:172–181

Curet LB, Zachman RD, Rao AV, Poole WK, Morrison J, Burkett G (1988) Effect of mode of delivery on incidence of respiratory distress syndrome. Int J Gynaecol Obstet 27:165–170

Liston FA, Allen VM, O'Connell CM, Jangaard KA (2008) Neonatal outcomes with caesarean delivery at term. Arch Dis Child Fetal Neonatal Ed 93:F176–F182

Livingston EG, Huo Y, Patel K, Brogly SB, Tuomala R, Scott GB, Bardeguez A, Stek A, Read JS (2010) Mode of delivery and infant respiratory morbidity among infants born to HIV-1-infected women. Obstet Gynecol 116:335–343

Winn HN, Cimino J, Powers J, Roberts M, Holcomb W, Artal R, Amon E (2001) Intrapartum management of nonvertex second-born twins: a critical analysis. Am J Obstet Gynecol 185:1204–1208

Badran EF, Abdalgani MM, Al-Lawama MA, Al-Ammouri IA, Basha AS, Al Kazaleh FA, Saleh SS, Al-Katib FA, Khader YS (2012) Effects of perinatal risk factors on common neonatal respiratory morbidities beyond 36 weeks of gestation. Saudi Med J 33:1317–1323

Luerti M, Parazzini F, Agarossi A, Bianchi C, Rocchetti M, Bevilacqua G (1993) Disparities in the risk of gestational diabetes by race-ethnicity and country of birth—a multicenter Italian survey. Acta Obstet Gynecol Scand 72:359–364

Kreitchmann R, Cohen RA, Stoszek SK, Pinto JA, Losso M, Pierre R, Alarcon J, Succi R, Szyld E, Abreu T, Read JS (2011) Mode of delivery and neonatal respiratory morbidity among HIV-exposed newborns in Latin America and the Caribbean: NISDI Perinatal-LILAC Studies. Int J Gynecol Obstet 114:91–96

Karlstrom A, Lindgren H, Hildingsson I (2013) Maternal and infant outcome after caesarean section without recorded medical indication: findings from a Swedish case-control study. BJOG 120: 479–86 (discussion 486)

Luerti M, Parazzini F, Agarossi A, Bianchi C, Rocchetti M, Bevilacqua G (1993) RISK-factors for respiratory-distress syndrome in the newborn—a multicenter Italian survey. Acta Obstet Gynecol Scand 72:359–364

Lagercrantz H, Bistoletti P (1977) Catecholamine release in the newborn infant at birth. Pediatr Res 11:889–893

Fedrick J, Butler NR (1972) Hyaline-membrane disease. Lancet (London, England) 2:768–769

Jain L, Dudell GG (2006) Respiratory transition in infants delivered by cesarean section. Semin Perinatol 30:296–304
Funding
This research received no specific grant from any funding agency in the public, commercial or not-for-profit sectors.
Ethics declarations
Conflict of interest
The authors declare that they have no conflict of interest.
Ethical approval
This article does not contain any studies with human participants or animals performed by any of the authors.
Additional information
Publisher's Note
Springer Nature remains neutral with regard to jurisdictional claims in published maps and institutional affiliations.
About this article
Cite this article
Li, Y., Zhang, C. & Zhang, D. Cesarean section and the risk of neonatal respiratory distress syndrome: a meta-analysis. Arch Gynecol Obstet 300, 503–517 (2019). https://doi.org/10.1007/s00404-019-05208-7
Received:

Accepted:

Published:

Issue Date:

DOI: https://doi.org/10.1007/s00404-019-05208-7
Keywords