Abstract
Purpose
Studies showed anti-inflammatory and immunomodulatory effects of macrolide antibiotics such as clarithromycin in endometriosis. Therefore, the present study aims to investigate the therapeutic efficacy of clarithromycin in patients with endometriosis.
Methods
This was a double-blinded randomized placebo-controlled trial conducted on endometriotic women during March 2016–2017 in Dena Hospital, Shiraz, Iran. Immediately after surgery, the patients were randomly divided into clarithromycin (real) (n = 120) and placebo group (n = 169). The real group received 500 mg of clarithromycin everyday for 6 months and the placebo group received the placebo. The serum levels of tumor necrosis factor-alpha (TNF-α), interleukin-10 (IL-10), Erythrocyte sedimentation rate (ESR) and C-reactive protein as well as clinical symptoms at baseline and 3 and 6 months of post-surgery were compared within and between groups.
Results
The scores of dysmenorrhea, dyschezia, dyspareunia, and non-menstrual pain significantly decreased in both real and placebo groups compared with the baseline values. However, the real group showed greater reductions compared with the placebo group (p < 0.001). Similarly, the serum levels of CRP, TNF-α, and IL-10 decreased in both groups compared with the baseline values, but the real group showed greater reductions. Interestingly, the reductions in the clinical symptoms and serum levels did not significantly differ between the real and placebo groups. Moreover, the reductions in the studied variables showed no dependence on the time.
Conclusion
Clarithromycin may be an appropriate treatment in endometriotic patients. However, the non-significant differences between the real and placebo groups necessitate further studies on the therapeutic efficacy of clarithromycin.
Access options
Buy single article
Instant access to the full article PDF.
US$ 39.95
Tax calculation will be finalised during checkout.
Subscribe to journal
Immediate online access to all issues from 2019. Subscription will auto renew annually.
US$ 119
Tax calculation will be finalised during checkout.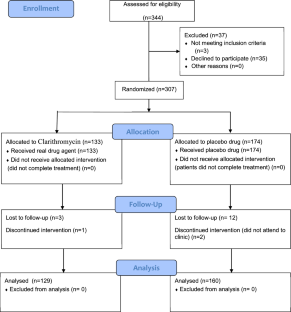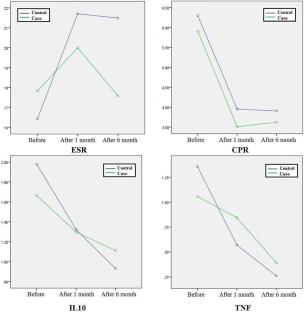 References
1.

Eskenazi B, Warner ML (1997) Epidemiology of endometriosis. Obstet Gynecol Clin 24(2):235–258

2.

Parazzini F, Vercellini P, Pelucchi C (2012) Endometriosis: epidemiology, and etiological factors. In: Giudice LC, Evers JL, Healy DL (eds) Endometriosis. Blackwell publishing, Hoboken, NJ, pp 19–26. https://doi.org/10.1002/9781444398519.ch2

3.

Ozkan S, Murk W, Arici A (2008) Endometriosis and infertility. Ann N Y Acad Sci 1127(1):92–100

4.

Harada T (2013) Dysmenorrhea and endometriosis in young women. Yonago Acta Medica 56(4):81

5.

Bulletti C et al (2010) Endometriosis and infertility. J Assist Reprod Genet 27(8):441–447

6.

Triolo O, Laganà AS, Sturlese E (2013) Chronic pelvic pain in endometriosis: an overview. J Clin Med Res 5(3):153

7.

Missmer SA et al (2004) Reproductive history and endometriosis among premenopausal women. Obstet Gynecol 104(5 Part 1):965–974

8.

Missmer SA et al (2004) Incidence of laparoscopically confirmed endometriosis by demographic, anthropometric, and lifestyle factors. Am J Epidemiol 160(8):784–796

9.

Fadhlaoui A, Bouquet de la Joliniere J, Feki A (2014) Endometriosis and infertility: how and when to treat? Front Surg 1:1–6. https://doi.org/10.3389/fsurg.2014.00024

10.

Caserta D et al (2016) Endometriosis allergic or autoimmune disease: pathogenetic aspects—a case control study. Clin Exp Obstet Gynecol 43(3):354–357

11.

Robboy SJ, Bean SM (2010) Pathogenesis of endometriosis. Reprod Biomed Online 21(1):4–5

12.

Kim JJ, Kurita T, Bulun SE (2013) Progesterone action in endometrial cancer, endometriosis, uterine fibroids, and breast cancer. Endocr Rev 34(1):130–162

13.

Barrier BF (2010) Immunology of endometriosis. Clin Obstet Gynecol 53(2):397–402

14.

Rafique S, Decherney AH (2017) Medical management of endometriosis. Clin Obstet Gynecol 60(3):485–496

15.

Bohler HC et al (2007) Endometriosis markers: immunologic alterations as diagnostic indicators for endometriosis. Reprod Sci 14(6):595–604

16.

Wu M-H, Hsiao K-Y, Tsai S-J (2015) Endometriosis and possible inflammation markers. Gynecol Minim Invasive Ther 4(3):61–67

17.

Matalliotakis I et al (2012) High rate of allergies among women with endometriosis. J Obstet Gynaecol 32(3):291–293

18.

Kanoh S, Rubin BK (2010) Mechanisms of action and clinical application of macrolides as immunomodulatory medications. Clin Microbiol Rev 23(3):590–615

19.

Luisi F et al (2012) Anti-inflammatory effects of macrolides in childhood lung diseases. Jornal Brasileiro de Pneumologia 38(6):786–796

20.

Spyridaki A et al (2012) Effect of clarithromycin in inflammatory markers of patients with ventilator-associated pneumonia and sepsis caused by Gram-negative bacteria: results from a randomized clinical study. Antimicrob Agents Chemother 56(7):3819–3825

21.

Zeng M et al (2015) Clarithromycin and dexamethasone show similar anti-inflammatory effects on distinct phenotypic chronic rhinosinusitis: an explant model study. BMC Immunol 16(1):37

22.

Umezawa M et al (2011) Clarithromycin and telithromycin increases interleukin-10 expression in the rat endometriosis model. Cytokine 55(3):339–342

23.

Cavkaytar S et al (2015) Clarithromycin regresses endometriotic implants in rat endometriosis model. J Obstet Gynaecol 35(8):844–847

24.

Sugamata M et al (2004) Effects of clarithromycin on a rat endometriosis model: light and electron microscopic evaluation. Jpn J Antibiot 57:18–20

25.

Gupta S et al (2006) Serum and peritoneal abnormalities in endometriosis: potential use as diagnostic markers. Minerva Ginecol 58(6):527

26.

Galo S et al (2005) TNF-alpha serum levels in women with endometriosis: prospective clinical study. Ceska Gynekol 70(4):286–290

27.

Lu D, Song H, Shi G (2013) Anti-TNF-alpha treatment for pelvic pain associated with endometriosis. Cochrane Database Syst Rev (3):1–29. https://doi.org/10.1002/14651858.CD008088.pub3

28.

Suen J-L et al (2014) Serum level of IL-10 is increased in patients with endometriosis, and IL-10 promotes the growth of lesions in a murine model. Am J Pathol 184(2):464–471

29.

Jaiyeoba O, Soper DE (2011) A practical approach to the diagnosis of pelvic inflammatory disease. Infect Dis Obstet Gynecol 2011:1–6. https://doi.org/10.1155/2011/753037

30.

Riiskjaer M et al (2017) Diagnostic value of serial measurement of C-reactive protein in the detection of a surgical complication after laparoscopic bowel resection for endometriosis. Gynecol Obstet Invest 82(4):410–416

31.

Xavier P et al (2006) Serum levels of VEGF and TNF-α and their association with C-reactive protein in patients with endometriosis. Arch Gynecol Obstet 273(4):227–231

32.

Kianpour M, Nematbakhsh M, Ahmadi SM (2012) C-reactive protein of serum and peritoneal fluid in endometriosis. Iran J Nurs Midwifery Res 17(2 Suppl 1):S115
Funding
This study was financially supported by Shiraz University of Medical Sciences, Shirza, Iran (Grant No.: 91-01-01-4809).
Ethics declarations
Conflict of interest
All authors declare that they have no conflict of interest on publishing this study.
Ethical approval
All of the protocols and experimental procedures of this study were approved by the local Ethics Committee of Shiraz University of Medical Sciences, Shiraz, Iran (Code: IR.sums.rec.1394.S744) which were in complete accordance with the ethical regulations of human studies set by the Helsinki Declaration (2014).
Informed consent
Informed consent was obtained from all the patients who participated in this study.
Additional information
Publisher's Note
Springer Nature remains neutral with regard to jurisdictional claims in published maps and institutional affiliations.
About this article
Cite this article
Alborzi, S., Poordast, T., Askary, E. et al. Effects of clarithromycin on inflammatory markers and clinical manifestations in postsurgical follow-up of patients with endometriosis: a double-blinded randomized placebo-controlled clinical trial. Arch Gynecol Obstet 299, 1305–1312 (2019). https://doi.org/10.1007/s00404-019-05057-4
Received:

Accepted:

Published:

Issue Date:
Keywords
Endometriosis

Clarithromycin

Tumor necrosis factor-alpha

Interleukin-10

Dysmenorrhea

Dyspareunia

Dyschezia