Abstract
Purpose
To assess the impact of serum androgen levels and androgen receptor CAG polymorphism on sexual function in 45 healthy midlife women living in a heterosexual relationship.
Methods
Cross-sectional study [Cantonal Ethics Committee Bern (Ref.-Nr. KEK-BE: 087/13)]. Main outcome measures: Association between androgen serum levels, androgen receptor CAG polymorphism and sexual function was assessed by the FSFI-d questionnaire.
Results
In our cohort of healthy, midlife, well-educated, middle-class, mostly postmenopausal women living in a heterosexual satisfying partnership, sexual function was perceived to remain stable or to decline during menopausal transition with sexual desire scoring lowest (FSFI-d 3.3 ± 0.9). Androgen serum levels did not correlate with sexual function. Mean CAG repeat number was 21.6 ± 1.9. There was a highly inverse though non-significant correlation between female sexual function and AR CAG repeat polymorphism with specifically higher numbers of CAG repeats being significantly positively correlated to more frequent or more severe pain during or after sexual intercourse.
Conclusion
The AR polymorphism is a non-negligible factor in female sexual function. Future studies on female sexual (dys)function should incorporate its assessment.
This is a preview of subscription content, log in to check access.
Access options
Buy single article
Instant access to the full article PDF.
US$ 39.95
Price includes VAT for USA
Subscribe to journal
Immediate online access to all issues from 2019. Subscription will auto renew annually.
US$ 199
This is the net price. Taxes to be calculated in checkout.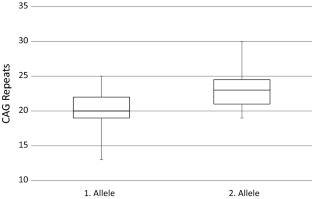 References
1.

Blümel JE, Chedraui P, Baron G, Belzares E, Bencosme A, Calle A, Espinoza MT, Flores D, Izaguirre H, Leon-Leon P, Lima S, Mezones-Holguin E, Monterrosa A, Mostajo D, Navarro D, Ojeda E, Onatra W, Royer M, Soto E, Vallejo S, Tserotas K (2009) Sexual dysfunction in middle-aged women: a multicenter Latin American study using the Female Sexual Function Index. Menopause (New York, NY) 16(6):1139–1148

2.

Mezones-Holguin E, Córdova-Marcelo W, Lau-Chu-Fon F, Aguilar-Silva C, Morales-Cabrera J, Bolaños-Díaz R, Pérez-López FR, Chedraui P (2011) Association between sexual function and depression in sexually active, mid-aged, Peruvian women. Climacteric 14(6):654–660

3.

Johannes CB, Clayton AH, Odom DM, Rosen RC, Russo PA, Shifren JL, Monz BU (2009) Distressing sexual problems in United States women revisited: prevalence after accounting for depression. J Clin Psychiatry 70(12):1698–1706

4.

Cumming GP, Currie HD, Moncur R, Lee AJ (2009) Web-based survey on the effect of menopause on women's libido in a computer-literate population. Menopause Int 15(1):8–12

5.

Dennerstein L, Randolph J, Taffe J, Dudley E, Burger H (2002) Hormones, mood, sexuality, and the menopausal transition. Fertil Steril 77:42–48

6.

Burri A, Hilpert P, Spector T (2015) Longitudinal evaluation of sexual function in a cohort of pre- and postmenopausal women. J Sex Med 12(6):1427–1435

7.

Drillich A, Davis SR (2007) Androgen therapy in women: what we think we know. Exp Gerontol 42(6):457–462

8.

Davison SL, Davis SR (2011) Androgenic hormones and aging—the link with female sexual function. Horm Behav 59(5):745–753

9.

Basson R (2010) Testosterone therapy for reduced libido in women. Therap Adv Endocrinol Metab 1(4):155–164

10.

Wylie K, Rees M, Hackett G, Anderson R, Bouloux PM, Cust M, Goldmeier D, Kell P, Terry T, Trinick T, Wu F (2010) Androgens, health and sexuality in women and men. Maturitas 67(3):275–289

11.

Palacios S (2007) Androgens and female sexual function. Maturitas 57(1):61–65

12.

Jones A, Hwang DJ, Duke CB 3rd, He Y, Siddam A, Miller DD, Dalton JT (2010) Nonsteroidal selective androgen receptor modulators enhance female sexual motivation. J Pharmacol Exp Ther 334(2):439–448

13.

Maia H Jr, Casoy J, Valente J (2009) Testosterone replacement therapy in the climacteric: benefits beyond sexuality. Gynecol Endocrinol Off J Int Soc Gynecol Endocrinol 25(1):12–20

14.

Li J, Al-Azzawi F (2009) Mechanism of androgen receptor action. Maturitas 63(2):142–148

15.

Alberts BD, Hopkin K, Johnson A, Lewis J, Raff M, Roberts K, Walter P (2005) Lehrbuch der Molekularen Zellbiologie, 3rd edn. Wiley-VCH Verlag GmbH & Co, Weinheim

16.

Elaut E, Bogaert V, De Cuypere G, Weyers S, Gijs L, Kaufman JM, T'Sjoen G (2010) Contribution of androgen receptor sensitivity to the relation between testosterone and sexual desire: an exploration in male-to-female transsexuals. J Endocrinol Investig 33(1):37–41

17.

Goldstein AT, Belkin ZR, Krapf JM, Song W, Khera M, Jutrzonka SL, Kim NN, Burrows LJ, Goldstein I (2014) Polymorphisms of the androgen receptor gene and hormonal contraceptive induced provoked vestibulodynia. J Sex Med 11(11):2764–2771

18.

Brum IS, Spritzer PM, Paris F, Maturana MA, Audran F, Sultan C (2005) Association between androgen receptor gene CAG repeat polymorphism and plasma testosterone levels in postmenopausal women. J Soc Gynecol Investig 12(2):135–141

19.

Langdahl BL, Stenkjaer L, Carstens M, Tofteng CL, Eriksen EF (2003) A CAG repeat polymorphism in the androgen receptor gene is associated with reduced bone mass and increased risk of osteoporotic fractures. Calcif Tissue Int 73(3):237–243

20.

Saltiki K, Cimponeriu A, Garofalaki M, Sarika L, Papathoma A, Stamatelopoulos K, Alevizaki M (2011) Severity of coronary artery disease in postmenopausal women: association with the androgen receptor gene (CAG)n repeat polymorphism. Menopause (New York, N.Y.) 18(11):1225–1231

21.

Huang R, Wang G, Song Y, Wang F, Zhu B, Tang Q, Liu Z, Chen Y, Zhang Q, Muhammad S, Wang X (2015) Polymorphic CAG repeat and protein expression of androgen receptor gene in colorectal cancer. Mol Cancer Ther 14(4):1066–1074

22.

Paz YMC, Robles P, Salazar C, Leone PE, Garcia-Cardenas JM, Naranjo M, Lopez-Cortes A (2016) Positive association of the androgen receptor CAG repeat length polymorphism with the risk of prostate cancer. Mol Med Rep 14(2):1791–1798

23.

Zhu T, Yuan J, Xie Y, Li H, Wang Y (2016) Association of androgen receptor CAG repeat polymorphism and risk of epithelial ovarian cancer. Gene 575(2 Pt 3):743–746

24.

Berner M, Kriston L, Zahradnik H-P, Härter M, Rohde A (2004) Überprüfung der gültigkeit und zuverlässigkeit des deutschen Female Sexual Function Index (FSFI-d). Geburtshilfe Frauenheilkd 64(03):293–303

25.

Bucher T, Hornung R, Buddeberg C (2003) Sexualität in der zweiten Lebenshälfte. Zeitschrift für Sexualforschung 16(03):249–270

26.

Hamilton M (1960) A rating scale for depression. J Neurol Neurosurg Psychiatry 23:56–62

27.

McKinlay JB, Feldman HA (1994) Age-related variation in sexual activity and interest in normal men: results from the Massachusetts Male Aging Study. In: Rossi AS (ed) Sexuality across the lifecourse. University of Chicago Press, Chicago, pp 261–85

28.

Chedraui P, Perez-Lopez FR, San Miguel G, Avila C (2009) Assessment of sexuality among middle-aged women using the Female Sexual Function Index. Climacteric 12(3):213–221

29.

Stephenson KR, Meston CM (2010) Differentiating components of sexual well-being in women: are sexual satisfaction and sexual distress independent constructs? J Sex Med 7(7):2458–2468

30.

Blumel J, Bravo F, Recavarren M, Sarra S (2003) Sexual function in postmenopausal women using hormone replacement therapy. Revista medica de Chile 131(11):1251–1255

31.

Berra M, De Musso F, Matteucci C, Martelli V, Perrone AM, Pelusi C, Pelusi G, Meriggiola MC (2010) The impairment of sexual function is less distressing for menopausal than for premenopausal women. J Sex Med 7(3):1209–1215

32.

Davison SL, Bell R, Donath S, Montalto JG, Davis SR (2005) Androgen levels in adult females: changes with age, menopause, and oophorectomy. J Clin Endocrinol Metab 90(7):3847–3853

33.

Guay A, Jacobson J (2002) Decreased free testosterone and dehydroepiandrosterone-sulfate (DHEA-S) levels in women with decreased libido. J Sex Marital Ther 28(S1):129–142

34.

Turna B, Apaydin E, Semerci B, Altay B, Cikili N, Nazli O (2005) Women with low libido: correlation of decreased androgen levels with female sexual function index. Int J Impot Res 17(2):148–153

35.

Jha S, Thakar R (2010) Female sexual dysfunction. Eur J Obstet Gynecol Reprod Biol 153(2):117–123

36.

Khera M (2015) Testosterone therapy for female sexual dysfunction. Sex Med Rev 3(3):137–144

37.

Braunstein GD (2002) Androgen insufficiency in women: summary of critical issues. Fertil Steril 77:94–99

38.

Blümel J, Del Pino M, Aprikian D, Vallejo S, Sarrá S, Castelo-Branco C (2008) Effect of androgens combined with hormone therapy on quality of life in post-menopausal women with sexual dysfunction. Gynecol Endocrinol 24(12):691–695

39.

Krapf JM, Simon JA (2009) The role of testosterone in the management of hypoactive sexual desire disorder in postmenopausal women. Maturitas 63(3):213–219

40.

Bhasin S, Enzlin P, Coviello A, Basson R (2007) Sexual dysfunction in men and women with endocrine disorders. Lancet 369(9561):597–611

41.

Wåhlin-Jacobsen S, Pedersen AT, Kristensen E, Læssøe NC, Lundqvist M, Cohen AS, Hougaard DM, Giraldi A (2015) Is there a correlation between androgens and sexual desire in women? J Sex Med 12(2):358–373

42.

Basson R, Brotto LA, Petkau AJ, Labrie F (2010) Role of androgens in women's sexual dysfunction. Menopause 17(5):962–971

43.

Zitzmann M, Nieschlag E (2003) The CAG repeat polymorphism within the androgen receptor gene and maleness. Int J Androl 26(2):76–83

44.

Tirabassi G, Corona G, Biagioli A, Buldreghini E, Delli Muti N, Maggi M, Balercia G (2015) Influence of androgen receptor CAG polymorphism on sexual function recovery after testosterone therapy in late-onset hypogonadism. J Sex Med 12(2):381–388

45.

Liu CC, Lee YC, Wang CJ, Yeh HC, Li WM, Wu WJ, Huang CN, Bao BY, Huang CH, Huang SP (2012) The impact of androgen receptor CAG repeat polymorphism on and ropausal symptoms in different serum testosterone levels. J Sex Med 9(9):2429–2437

46.

Rajender S, Singh L, Thangaraj K (2007) Phenotypic heterogeneity of mutations in androgen receptor gene. Asian J Androl 9(2):147–179

47.

Schüring A, Welp A, Gromoll J, Zitzmann M, Sonntag B, Nieschlag E, Greb R, Kiesel L (2012) Role of the CAG repeat polymorphism of the androgen receptor gene in polycystic ovary syndrome (PCOS). Exp Clin Endocrinol Diabetes 120(02):73–79

48.

Baculescu N (2013) The role of androgen receptor activity mediated by the CAG repeat polymorphism in the pathogenesis of PCOS. J Med Life 6(1):18

49.

Traish AM, Kim N, Min K, Munarriz R, Goldstein I (2002) Role of androgens in female genital sexual arousal: receptor expression, structure, and function. Fertil Steril 77:11–18

50.

Pelletier G, Ouellet J, Martel C, Labrie F (2012) Effects of ovariectomy and dehydroepiandrosterone (DHEA) on vaginal wall thickness and innervation. J Sex Med 9(10):2525–2533

51.

Francomano D, Greco EA, Lenzi A, Aversa A (2013) CAG repeat testing of androgen receptor polymorphism: is this necessary for the best clinical management of hypogonadism? J Sex Med 10(10):2373–2381

52.

van Anders SM, Goldey KL, Bell SN (2014) Measurement of testosterone in human sexuality research: methodological considerations. Arch Sex Behav 43(2):231–250

53.

Dąbrowska J, Drosdzol A, Skrzypulec V, Plinta R (2010) Physical activity and sexuality in perimenopausal women. Eur J Contracept Reprod Health Care 15(6):423–432

54.

Kim SI, Lee Y, Lim MC, Joo J, Park K, Lee DO, Park S-Y (2015) Quality of life and sexuality comparison between sexually active ovarian cancer survivors and healthy women. J Gynecol Oncol 26(2):148–154
Acknowledgements
The authors would like to thank D. Gafner and J. D. Wanner, study nurses, for their administrative assistance during the study. Furthermore, we would like to thank Unilabs SA, Bern, especially H. Frey and D. Gerber, for their financial and administrative support for blood chemistry analysis.
Funding
Blood chemistry analysis was financially supported and performed by Unilabs SA, Bern.
Ethics declarations
Conflict of interest
B Sutter, M. Fehr, C. Hartmann, S. Schmid, M. Zitzmann and P. Stute declare to have no conflict of interest in context of this manuscript.
Data statement
Due to the sensitive nature of the questions asked in this study, survey respondents were assured raw data would remain confidential and would not be shared.
Additional information
Publisher's Note
Springer Nature remains neutral with regard to jurisdictional claims in published maps and institutional affiliations.
Electronic supplementary material
Below is the link to the electronic supplementary material.
About this article
Cite this article
Sutter, B., Fehr, M., Hartmann, C. et al. Androgen receptor gene polymorphism and sexual function in midlife women. Arch Gynecol Obstet 299, 1173–1183 (2019). https://doi.org/10.1007/s00404-019-05052-9
Received:

Accepted:

Published:

Issue Date:
Keywords
Androgen receptor gene polymorphism

CAG repeat

Sexual function

Libido

Serum testosterone

Healthy midlife women