Abstract
Objective
To investigate the association between iron supplementation during early pregnancy and the presence of de novo hypertension after 20 weeks' gestation (either gestational hypertension or pre-eclampsia).
Study design
Retrospective cohort study.
Methods
This study retrospectively reviewed the medical records of non-anemic pregnant women who received first antenatal care at the Department of Obstetrics and Gynecology, Faculty of Medicine Vajira Hospital, Navamindradhiraj University, Bangkok, Thailand, during the June 2009–December 2010 study period. All included women had blood pressure and urine albumin level data that were recorded at each antenatal visit. The study population was divided into one of the two following groups: iron supplementation starting at gestational age (GA) < 16 weeks (study group) or GA ≥ 16 weeks (control group). A comparison of the proportion of de novo hypertension arising after 20 weeks' gestation was then performed between groups.
Results
Four hundred non-anemic pregnant women were included, with 200 patients allocated to each groups. The overall incidence of de novo hypertension after 20 weeks' gestation was 10% (40/400), with significantly higher prevalence in the study group than that in the control group [13.5% (27/200) vs. 6.5% (13/200); relative risk: 2.14, 95%, CI 1.22–3.73; p = 0.008]. None of the women in this study developed anemia at time of delivery. There was no significant difference between groups for GA at delivery, birth weight, or birth asphyxia.
Conclusion
In our study population, iron supplementation before 16 weeks' GA was significantly associated with increased risk of developing de novo hypertension after 20 weeks' gestation.
Access options
Buy single article
Instant access to the full article PDF.
US$ 39.95
Tax calculation will be finalised during checkout.
Subscribe to journal
Immediate online access to all issues from 2019. Subscription will auto renew annually.
US$ 119
Tax calculation will be finalised during checkout.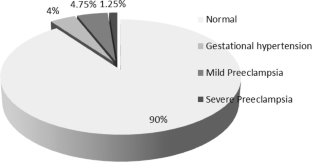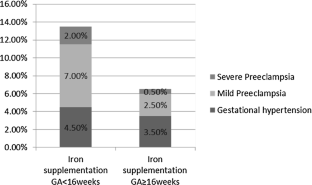 References
1.

Brown MA, Magee LA, Kenny LC, Anath Karumanchi S, McCarthy FP, Saito S et al (2018) The hypertensive disorders of pregnancy: ISSHP classification, diagnosis & management recommendations for international practice. Pregnancy Hypertens. https://doi.org/10.1016/j.preghy.2018.05.004

2.

Magee LA, Pels A, Helewa M, Rey E, von Dadelszen P, Canadian Hypertensive Disorders of Pregnancy Working G et al (2015) The hypertensive disorders of pregnancy (29.3). Best Pract Res Clin Obstet Gynaecol 29(5):643–657

3.

Wang Y, Hao M, Sampson S, Xia J (2017) Elective delivery versus expectant management for pre-eclampsia: a meta-analysis of RCTs. Arch Gynecol Obstet 295(3):607–622

4.

Tranquilli AL, Landi B (2010) The origin of pre-eclampsia: from decidual "hyperoxia" to late hypoxia. Med Hypotheses 75(1):38–46

5.

Casanueva E, Viteri FE (2003) Iron and oxidative stress in pregnancy. J Nutr 133(5 Suppl 2):1700s–1708s

6.

Steegers EAP, von Dadelszen P, Duvekot JJ, Pijnenborg R (2010) Pre-eclampsia. Lancet 376(9741):631–644

7.

World Health Organization (2016) WHO recommendations on antenatal care for a positive pregnancy experience. World Health Organization, Geneva. https://www.ncbi.nlm.nih.gov/books/NBK409108/. Accessed 15 Jan 2017

8.

Froessler B, Gajic T, Dekker G, Hodyl NA (2018) Treatment of iron deficiency and iron deficiency anemia with intravenous ferric carboxymaltose in pregnancy. Arch Gynecol Obstet. https://doi.org/10.1007/s00404-018-4782-9

9.

Haider BA, Olofin I, Wang M, Spiegelman D, Ezzati M, Fawzi WW et al (2013) Anaemia, prenatal iron use, and risk of adverse pregnancy outcomes: systematic review and meta-analysis. BMJ 346:f3443

10.

Palma S, Perez-Iglesias R, Prieto D, Pardo R, Llorca J, Delgado-Rodriguez M (2008) Iron but not folic acid supplementation reduces the risk of low birthweight in pregnant women without anaemia: a case-control study. J Epidemiol Community Health 62(2):120–124

11.

Brannon PM, Taylor CL (2017) Iron supplementation during pregnancy and infancy: uncertainties and implications for research and policy. Nutrients 9(12):1327. https://doi.org/10.3390/nu9121327

12.

Bo S, Menato G, Villois P, Gambino R, Cassader M, Cotrino I et al (2009) Iron supplementation and gestational diabetes in midpregnancy. Am J Obstet Gynecol 201(2):158e1–158e6

13.

Huisman A, Aarnoudse JG (1986) Increased 2nd trimester hemoglobin concentration in pregnancies later complicated by hypertension and growth retardation. Early evidence of a reduced plasma volume. Acta Obstet Gynecol Scand 65(6):605–608

14.

Ziaei S, Norrozi M, Faghihzadeh S, Jafarbegloo E (2007) A randomised placebo-controlled trial to determine the effect of iron supplementation on pregnancy outcome in pregnant women with haemoglobin > or = 13.2 g/dL. BJOG 114(6):684–688

15.

Imdad A (2012) Routine iron/folate supplementation during pregnancy: effect on maternal anaemia and birth outcomes. Paediatr Perinat Epidemiol 26(1):168–177

16.

Falahi E, Akbari S, Ebrahimzade F, Gargari BP (2011) Impact of prophylactic iron supplementation in healthy pregnant women on maternal iron status and birth outcome. Food Nutr Bull 32(3):213–217

17.

Pena-Rosas JP, De-Regil LM, Garcia-Casal MN (2015) Dowswell T (2015) Daily oral iron supplementation during pregnancy. Cochrane Database Syst Rev 7:CD004736
Funding
This was an unfunded study.
Ethics declarations
Conflict of interest
All the authors declare no personal or professional conflicts of interest, and no financial support from the companies that produce and/or distribute the drugs, devices, or materials described in this report.
Ethical approval
All procedures performed in studies involving human participants were in accordance with the ethical standards of the Hospital Institutional Review Board and with the 1964 Helsinki Declaration and its later amendments or comparable ethical standards.
Statement of human rights
The present study was the retrospective study. All data were collected from previous hospital record.
Informed consent
For this type of study formal consent for participation is not required.
About this article
Cite this article
Jirakittidul, P., Sirichotiyakul, S., Ruengorn, C. et al. Effect of iron supplementation during early pregnancy on the development of gestational hypertension and pre-eclampsia. Arch Gynecol Obstet 298, 545–550 (2018). https://doi.org/10.1007/s00404-018-4821-6
Received:

Accepted:

Published:

Issue Date:
Keywords
Thai

Iron supplementation

Early pregnancy

Pre-eclampsia

Gestational hypertension