Abstract
Purpose
In the vagina of healthy reproductive-aged women, several microbial species maintain a finely tuned mutualistic relationship with the host providing the first-line of defense against the colonization by opportunistic pathogens, which are the leading cause of dysbiosis or vaginal infections (bacterial vaginosis, vulvovaginal candidiasis, and aerobic vaginitis). The use of probiotic lactobacilli to prevent vaginal infections has a good rationale, and an excellent safety record, but so far only a few strains have been clinically proven to be effective, particularly to prevent BV. The aim of the clinical trial was to evaluate the changes in Nugent score in women with intermediate vaginal microbiota treated with oral Lactobacillus acidophilus GLA-14 and Lactobacillus rhamnosus HN001 mixture, in combination with bovine lactoferrin RCX™ (Respecta®) or placebo, for 15 days.
Methods
Vaginal swabs were collected from each woman at baseline and at the end of probiotic treatment and analyzed by RT-PCR. Both symptoms of abnormal vaginal micorbiota and adverse effects were assessed throughout the study.
Results
The results showed that oral intake of lactobacilli/lactoferrin mixture led to significant vaginal colonization by L. acidophilus GLA-14 and L. rhamnosus HN001 showing that both strains can colonize vagina following oral ingestion. The effect of such colonization is correlated with the restoration of normal Nugent score (values 0–3) and an improvement of symptoms of abnormal vaginal micorbiota including itching and discharge.
Conclusions
Oral consumption of lactobacilli/lactoferrin complex corroborates the effectiveness of using lactobacilli for supporting vaginal health and provides a rational basis for future studies on vaginal infections.
This is a preview of subscription content, log in to check access.
Access options
Buy single article
Instant access to the full article PDF.
US$ 39.95
Price includes VAT for USA
Subscribe to journal
Immediate online access to all issues from 2019. Subscription will auto renew annually.
US$ 199
This is the net price. Taxes to be calculated in checkout.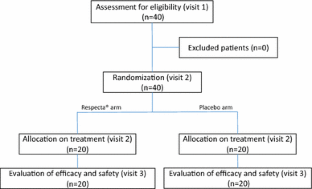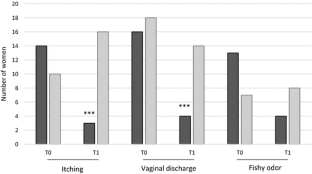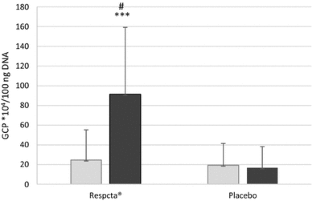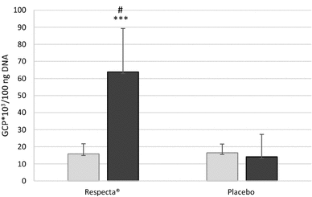 References
1.

Larsen B, Monif GR (2001) Understanding the bacterial flora of the female genital tract. Clin Infect Dis 32(4):69–77

2.

Oakley BB, Fiedler TL, Marrazzo JM, Fredricks DN (2008) Diversity of human vaginal bacterial communities and associations with clinically defined bacterial vaginosis. Appl Environ Microbiol 74:4898–4909

3.

Cristiano L, Rampello S, Noris C, Valota V (1996) Bacterial vaginosis: prevalence in an Italian population of asymptomatic pregnant women and diagnostic aspects. Eur J Epidemiol 12(4):383–390

4.

Kasaro MP, Husnik MJ, Chi BH, Reid C, Magure T, Makanani B, Tembo T, Ramjee G, Maslankowski L, Rabe L, Brad Guffey M (2017) Impact of targeted counseling on reported vaginal hygiene practices and bacterial vaginosis: the HIV Prevention Trials Network 035 study. Int J STD AIDS 28(5):467–475

5.

Cauci S, Hitti J, Noonan C (2002) Vaginal hydrolytic enzymes immunoglobulin A against Gardenerella vaginalis toxin and risk of early preterm birth among women in preterm labor with bacterial vaginosis or intermediate flora. Am J Obstet Gynecol 187(4):877–881

6.

Donders GG (2007) Definition and classification of abnormal vaginal flora. Best Pract Res Clin Obstet Gynaecol 21:355–373

7.

Amsel R, Totten PA, Spiegel CA, Chen KC, Eschenbach D, Holmes KK (1983) Nonspecific vaginitis. Diagnostic criteria and microbial and epidemiologic associations. Am J Med 74(1):14–22

8.

Nugent RP, Krohn MA, Hillier SL (1991) Reliability of diagnosing bacterial vaginosis is improved by a standardized method of gram stain interpretation. J Clin Microbiol 29(2):297–301

9.

Guédou FA, Van Damme L, Deese J, Crucitti T, Mirembe F, Solomon S, Becker M, Alary M (2014) Intermediate vaginal flora and bacterial vaginosis are associated with the same factors: findings from an exploratory analysis among female sex workers in Africa and India. Sex Transm Infect 90(2):161–164

10.

Schwebke JR (2003) Gynecologic consequences of bacterial vaginosis. Obstet Gynecol Clin North Am 30:685–694

11.

Hauth JC, Macpherson C, Carey JC, Klebanoff MA, Hillier SL, Ernest JM, Leveno KJ, Wapner R, Varner M, Trout W, Moawad A, Sibai B (2003) Early pregnancy threshold vaginal pH and Gram stain scores predictive of subsequent preterm birth in asymptomatic women. Am J Obstet Gynecol 188(3):831–835

12.

Ugwumadu A (2007) Role of antibiotic therapy for bacterial vaginosis and intermediate flora in pregnancy. Best Pract Res Clin Obstet Gynaecol 21(3):391–402

13.

De Alberti D, Russo R, Terruzzi F, Nobile V, Ouwehand AC (2015) Lactobacilli vaginal colonisation after oral consumption of Respecta® complex: a randomised controlled pilot study. Arch Gynecol Obstet 292(4):861–867

14.

Reid G (2017) The development of probiotics for women's health. Can J Microbiol 63(4):269–277

15.

Reid G, Bruce AW (2001) Selection of Lactobacillus strains for urogenital probiotic applications. J Infect Dis 183(Suppl 1):S77–S80

16.

Reid G, Bruce AW, Fraser N (2001) Oral probiotics can resolve urogenital infections. FEMS Immunol Med Microbio 30:49–52

17.

Antonio MA, Rabe LK, Hillier SL (2005) Colonization of the rectum by Lactobacillus species and decreased risk of bacterial vaginosis. J Infect Dis 192(3):394–398

18.

Mezzasalma V, Manfrini E, Ferri E, Boccarusso M, Di Gennaro P, Schiano I, Michelotti A, Labra M (2017) Orally administered multispecies probiotic formulations to prevent uro-genital infections: a randomized placebo-controlled pilot study. Arch Gynecol Obstet 295(1):163–172

19.

El Aila NA, Tency I, Claeys G, Verstraelen H, Saerens B, Santiago GL, De Backer E, Cools P, Temmerman M, Verhelst R, Vaneechoutte M (2009) Identification and genotyping of bacteria from paired vaginal and rectal samples from pregnant women indicates similarity between vaginal and rectal microflora. BMC Infect Dis 9:167

20.

Reid G, Bocking A (2003) The potential for probiotics to prevent bacterial vaginosis and preterm labor. Am J Obstet Gynecol 189(4):1202–1208

21.

Strus M, Chmielarczyk A, Kochan P, Adamski P, Chełmicki Z, Chełmicki A, Pałucha A, Heczko PB (2012) Studies on the effects of probiotic Lactobacillus mixture given orally on vaginal and rectal colonization and on parameters of vaginal health in women with intermediate vaginal flora. Eur J Obstet Gynecol Reprod Biol 163(2):210–215

22.

Jang SE, Jeong JJ, Choi SY, Kim H, Han MJ, Kim DH (2017) Lactobacillus rhamnosus HN001 and Lactobacillus acidophilus GLA-14 attenuate Gardnerella vaginalis-infected bacterial vaginosis in mice. Nutrients 9(6):23

23.

Todorov SD, Furtado DN, Saad SM, de Melo Gombossy, Franco BD (2011) Bacteriocin production and resistance to drugs are advantageous features for Lactobacillus acidophilus La-14, a potential probiotic strain. New Microbiol 34(4):357–370

24.

Stoyancheva G, Marzotto M, Dellaglio F, Torriani S (2014) Bacteriocin production and gene sequencing analysis from vaginal Lactobacillus strains. Arch Microbiol 196(9):645–653

25.

Bertuccini L, Russo R, Iosi F, Superti F (2017) Effects of Lactobacillus rhamnosus and Lactobacillus acidophilus on bacterial vaginal pathogens. Int J Immunopathol Pharmacol 30(2):163–167

26.

Krauss-Silva L, Moreira ME, Alves MB, Rezende MR, Braga A, Camacho KG, Batista MR, Savastano C, Almada-Horta A, Guerra F (2010) Randomized controlled trial of probiotics for the prevention of spontaneous preterm delivery associated with intrauterine infection: study protocol. Reprod Health 30:7–14
Acknowledgements
We are grateful to all the staff of Cebis International, Lugano (Switzerland) for their assistance in data management and clinical procedures and to all patients that participated to the study.
Ethics declarations
Conflict of interest
RR is employed by Giellepi. He had no influence on the interpretation of results. AE and FDS have no conflict of interest.
Ethical approval
All procedures performed in studies involving human participants were in accordance with the ethical standards of the institutional and/or national research committee and with the 1964 Helsinki declaration and its later amendments or comparable ethical standards.
About this article
Cite this article
Russo, R., Edu, A. & De Seta, F. Study on the effects of an oral lactobacilli and lactoferrin complex in women with intermediate vaginal microbiota. Arch Gynecol Obstet 298, 139–145 (2018). https://doi.org/10.1007/s00404-018-4771-z
Received:

Accepted:

Published:

Issue Date:
Keywords
Lactobacillus acidophilus
Lactobacillus rhamnosus

Lactoferrin

Respecta®

Nugent score