Abstract
Introduction
For the last two decades, obesity rates have been increasing in both developed and developing countries, with the number of obese women roughly doubling during this period (Stevens et al. in Popul Health Metr 10(1):33, 2012). Obesity represents one of the biggest epidemics of the 21st century. The aim of this retrospective study is to characterise the outcomes of gynaecologic surgeries in cases of extremely obese women with a body mass index (BMI) over 40 kg/m2.
Methods
This study is a retrospective case control study in a single-centre setting. Our clinical database was searched for gynaecological operations performed on morbidly obese patients (BMI > 40 kg/m2) between 2009 and 2014 in the Department of Gynaecology and Obstetrics at Hannover Medical School. We matched these results with random patients of normal body weight who had similar surgical procedures and diseases.
Results
We included 97 obese patients in our case group and 99 patients in the control group. We found an association between a strongly elevated BMI and peri- and postoperative morbidity. Both intraoperative and postoperative complications are significantly increased in morbid obesity with a BMI over > 40 kg/m2. We observed intraoperative complications in 55.6% and postoperative complications in 50.5% of patients with extreme obesity. In contrast, the complication rate in the control group with a normal BMI was 11% intraoperatively (p = 0.0001) and 3% postoperatively (p = 0.0001). The data showed that perioperative and postoperative morbidity could be reduced by laparoscopic surgery in many cases, with a significant lower rate of difficulties with closing the wound, a significant shorter duration of surgery and a significant lower rate of infections combined with a significant lower reoperation rate and shorter hospital stay. In gynaecological–oncological diseases, we could demonstrate a reduced radicality during the operative procedure due to extreme obesity.
Discussion
Dealing with the growing number of obese patients is essential, because the problems emerging from obesity are manifold for the treating hospitals as well as the general health system. For this high-risk patient group, it is indispensable to obtain a thorough overview of the patient's overall situation preoperatively to ensure good perioperative care and complications management.
Access options
Buy single article
Instant access to the full article PDF.
US$ 39.95
Tax calculation will be finalised during checkout.
Subscribe to journal
Immediate online access to all issues from 2019. Subscription will auto renew annually.
US$ 119
Tax calculation will be finalised during checkout.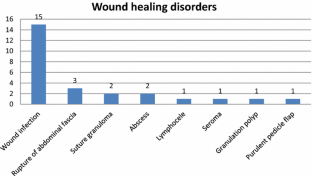 References
1.

Stevens GA, Singh GM, Lu Y et al (2012) National, regional, and global trends in adult overweight and obesity prevalences. Popul Health Metr 10(1):22

2.

Flegal KM, Carroll MD, Kit BK, Ogden CL (2012) Prevalence of obesity and trends in the distribution of body mass index among US adults, 1999–2010. JAMA 307(5):491–497

3.

Statistisches Bundesamt (2010) Mikrozensus 2009—Fragen zur Gesundheit. Körpermaße der Bevölkerung, Wiesbaden

4.

The NHS Information Centre for Health and Social Care. Health survey for England—2010: Respiratory health, 2011. http://www.ic.nhs.uk/pubs/hse10report. Accessed 30 Aug 2012

5.

Knoll KP, Hauner H (2008) Kosten der Adipositas in der Bundesrepublik Deutschland. Eine aktuelle Krankheitskostenstudie Adipositas 2(Heft 4):204–210

6.

http://easo.org/perception-survey. Accessed 2017 Feb 15

7.

Baeten JM, Bukusi EA, Lambe M (2001) Pregnancy complications and outcomes among overweight and obese nulliparous women. Am J Public Health 91(3):436–440

8.

Stothard KJ, Tennant PW, Bell R et al (2009) Maternal overweight and obesity and the risk of congenital anomalies: a systematic review and metaanalysis. JAMA 301:636–650

9.

Sheiner E, Levy A, Menes TS et al (2004) Maternal obesity as an independent risk factor for caesarean delivery. Paediatr Periant Epidemiol 18:196–201

10.

Kaaks R, Lukanova A, Kurzer MA (2002) Obesity, endogenous hormones, and endometrial cancer risk: a systematic review. Cancer Epidemiol Biomark Prev 11:1531–1543

11.

Prospective Studies Colloboration, Whitlock G, Lewington S et al (2009) Body-mass index and cause-specific mortality in 900,000 adults: collaborative analysis of 57 prospective studies. Lancet 373:1083–1096

12.

Choban PS, Flancbaum L (1997) The impact of obesity on surgical outcomes: a review. J Am Coll Surg 185:593–603

13.

Shah DK, Vitonis AF, Missmer SA (2015) Association of body mass index and morbidity after abdominal, vaginal, and laparoscopic hysterectomy. Org Res Obstetr Gynecol. 125(3):589–598

14.

Nestle-Krämling C (2011) Perioperative Betreuung übergewichtiger Patientinnen in der Gynäkologie. Der Gynäkologe 44:891–897

15.

Gynecologic Surgery in the Obese Woman (2015) Committee opinion no. 619, American College of Obstetricians and Gynecologists. Obstet Gynecol 125:274–278

16.

Afors K, Centini G, Murtada R, Castellano J, Meza C, Wattiez A (2015) Obesity in laparoscopic surgery. Best Pract Res Clin Obstetr Gynaecol 29:554–564

17.

Lamvu G, Zolnoun D, Boggess J, Steege JF (2004) Obesity: physiologic changes and challenges during laparoscopy. Am J Obstet Gynecol 191(2):669–674

18.

Popovic MD, Banicevic AC, Popovic B, Ceric A, Banicevic A, Popadic D (2014) Treatment of endometrial cancer in patient with malignant obesity. Med Arch. 68(1):69–70

19.

Nestle-Krämling C (2006) Adipositas und gynäkolgische Operationen. Der Gynäkologe 39:963–969

20.

Isik-Abay EF, Harmanli OH, Panganamamula UR et al (2004) Hysterectomy in obese women: a comparison of abdominal and vaginal routes. Obstet Gynaecol 104:710–714

21.

Hawighorst T, Emons G (2006) Adipositas und Krebs. Der Gynäkologe 39:975–980

22.

Lorenz W, Koch T (2006) Anästhesie bei Adipositas. Der Gynäkologe 39:970–974

23.

Samulak D, Michalska M, Wilcak M, Pieta B, Sajdak S (2010) Vaginal hysterectomy aided with surgery by the abdominal approach as a method of hysterectomy with salpingo-oophorectomy due to endometrial carcinoma in a woman with morbid obesity. Case report. Eur J Gynaecol Oncol 31(4):475–477

24.

Modesitt SC, van Nagell JR (2005) The impact of obesity on the incidence and treatment of gynaecologic cancers: a review. Obstet Gynecol Surv 60:683–692

25.

Calle EE, Rodriguez C, Walker-Thurmond K, Thun MJ (2003) Overweight, obesity, and mortality from cancer in a prospectively studied cohort of US adults. N Engl J Med 348:1625–1638

26.

Chlebowski RT, Blackburn G, Elashoff R (2005) Dietary fat reduction in postmenopausal women with primary breast cancer: phase III women's intervention nutrition study (WINS). J Clin Oncol 23:3s (suppl;abstr 10)

27.

Kroenke CH, Chen WY, Rosner B, Holmes MD (2005) Weight, weight gain, and survival after breast cancer diagnosis. J Clin Oncol 23(7):1370–1378

28.

Doll KM, Kalinowski AK, Snavely AC, Irwin DE, Bensen JT, Bae-Jump VL, Kim KH, Van Le L, Clarke-Pearson DL, Gehrig PA (2015) Obesity is associated with worse quality of life in women with gynecologic malignancies: an opportunity to improve patient-centered outcomes. Cancer 121(3):395–402

29.

Fader AN, Frasure HE, Gil KM, Berger NA, von Gruenigen VE (2011) Quality of life in endometrial cancer survivors: what does obesity have to do with it? Obstet Gynecol Int. 2011:308609

30.

Strowitzki T, Diedrich K (2011) Adipositas. Der Gynäkologe 44:871

31.

Shen CC, Hsu TY, Huang FJ et al (2002) Laparoscopic-assisted vaginal hysterectomy in women of all weights and the effects of weight on complications. J Am Assoc Gynecol Laparosc 9:468–473

32.

Schaper F, Hanefeld M (2006) Frauenärztliche Aspekte des metabolischen Syndroms. Der Gynäkologe 39:944–952

33.

Schindlbeck C (2009) Wundinfektionen in der Gynäkologie und Geburtshilfe. Der Gynäkologe 42:779–785

34.

Yanazume S, Kamio M, Karakida N, Gibo A, Nakajo Y, Togami S, Douchi T (2015) Identification of new risk factors for wound separation in gynecologic malignancy surgery. J Obstetr Gynaecol Res 41(1):107–113

35.

Nieboer TE, Johnson N, Lethaby A, Tavender E, Curr E, Garry R et al (2009) Surgical approach to hysterectomy for benign gynaecological disease. Cochrane Database Syst Rev. 3:CD003677. https://doi.org/10.1002/14651858.cd003677.pub4

36.

Nugent EK, HoffJT Gao F, Massad LS, Case A, Zighelboim I et al (2011) Wound complications after gynaecologic cancer surgery. Gynecol Oncol 121:347–352

37.

Khavanin N, Lovecchio FC, Harnwright PJ, Brill E, Milad M, Bilimoria KY et al (2013) The influence of BMI on perioperative morbidity following abdominal hysterectomy. Am J Obstet Gynecol 208:449.e1–449.e6

38.

Kivisaari J, Vihersaari T, Renvall S, Niinikoski J (1975) Energy metabolism of experimental wounds at various oxygen environments. Ann Surg 185:823–828

39.

Soper DE, Bump RC, Hurt WG (1995) Wound infection after abdominal hysterectomy: effect of the depth of subcutaneous tissue. Am J Obstet Gynecol 173:465–469

40.

Savage MW, Pottinger JM, Chiang HY, Yohnke KR, Bowdler NC, Herwaldt LA (2013) Surgical site infections and cellulitis after abdominal hysterectomy. Am J Obstet Gynecol 209:108.e1–108.10.8

41.

Gallup DC, Gallup DG, Nolan TE, Smith RP, Messing MF, Kline KL (1996) Use of a subcutaneous closed drainage system and antibiotics in obese gynecologic patients. Am J Obstet Gynecol 175:358–361 (discussion 62)

42.

Insitsume-Kojima Y, Uchida T, Abe M, Doi T, Kanayama N (2011) A combination of subcuticular sutures and a drain for skin closure reduces wound complications in obese women undergoing surgery using vertical incisions. J Hosp Infect. 77:162–165

43.

Dieterle C, Landgraf R (2006) Folgeerkrankungen und Komplikationen der Adipositas. Der Internist 47:141–149

44.

Parkin L, Sweetland S, Balkwill A, Green J, Reeves G, Beral V (2012) Body mass index, surgery and risk of venous thromboembolism in middle-age women: a cohort study. Million Women Study Collaborators. Circulation 125:1897–1907, 1897–1904

45.

Çinar M, Tokmak A, Güzel AI, Aksoy RT, Özer I, Yilmaz N, Doğanay M (2016) Association of clinical outcomes and complications with obesity in patients who have undergone abdominal myomectomy. J Chin Med Assoc 79(8):435–439

46.

Bardens D, Solomayer E, Baum S, Radosa J, Gräber S, Rody A, Juhasz-Böss I (2014) The impact of the body mass index (BMI) on laparoscopic hysterectomy for benign disease. Arch Gynecol Obstet 289(4):803–807
Ethics declarations
Conflict of interest
We declare that we have no conflict of interest
About this article
Cite this article
Kundu, S., Karakas, H., Hertel, H. et al. Peri- and postoperative management and outcomes of morbidly obese patients (BMI > 40 kg/m2) with gynaecological disease. Arch Gynecol Obstet 297, 1221–1233 (2018). https://doi.org/10.1007/s00404-018-4735-3
Received:

Accepted:

Published:

Issue Date:
Keywords
Gynecology

Obesity

Surgery

Morbidity