Abstract
Background
Many strategies for labor pain management have been studied, including aromatherapy, which is a noninvasive, alternative medicine used as an adjunct for labor pain control. Nevertheless, the results were contradictory. Therefore, we conducted this study to determine the effectiveness of aromatherapy for reducing pain during labor.
Methods
A randomized controlled trial was carried out on Thai laboring primigravidae who were a low-risk singleton pregnancy undergoing vaginal delivery. All participants, both study and control group, received standard obstetric care. Aromatherapy was only provided to the study group during the first stage of labor. The women rated their pain intensity by rating scales at different stages of labor. The primary outcome was pain scores and the secondary outcomes were necessity of painkiller usage, labor time, aromatherapy-associated complications, route of delivery, and Apgar scores.
Results
A total of 104 women were recruited, 52 in each group. Baseline characteristics and baseline pain scores were comparable. The median pain score of latent and early active phase was lower in the aromatherapy group, 5 vs 6 and 7 vs 8, respectively. The mean differences of pain scores between latent and early active phase and the baseline were significantly lower in the aromatherapy group, 1.88 vs 2.6 (p = 0.010) and 3.82 vs 4.39 (p = 0.031), respectively. Late active phase pain scores and other perinatal outcomes were not significantly different.
Conclusion
Aromatherapy is helpful in reducing pain in latent and early active phase, and can probably be used as an adjunctive method for labor pain control without serious side effects.
This is a preview of subscription content, log in to check access.
Access options
Buy single article
Instant access to the full article PDF.
US$ 39.95
Price includes VAT for USA
Subscribe to journal
Immediate online access to all issues from 2019. Subscription will auto renew annually.
US$ 199
This is the net price. Taxes to be calculated in checkout.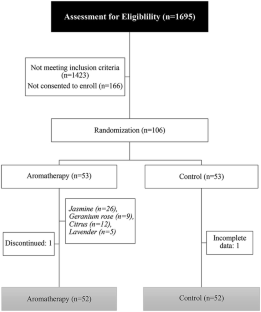 References
1.

Jones L, Othman M, Dowswell T, Alfirevic Z, Gates S, Newburn M, Jordan S, Lavender T, Neilson JP (2012) Pain management for women in labour: an overview of systematic reviews. Cochrane Database Syst Rev. https://doi.org/10.1002/14651858.CD009234.pub2

2.

Allaire AD, Moos MK, Wells SR (2000) Complementary and alternative medicine in pregnancy: a survey of North Carolina certified nurse-midwives. Obstet Gynecol 95:19–23

3.

Dhany AL, Mitchell T, Foy C (2012) Aromatherapy and massage intrapartum service impact on use of analgesia and anesthesia in women in labor: a retrospective case note analysis. J Altern Complement Med 18:932–938

4.

Burns E, Zobbi V, Panzeri D, Oskrochi R, Regalia A (2007) Aromatherapy in childbirth: a pilot randomised controlled trial. BJOG 114:838–844

5.

Burns EE, Blamey C, Ersser SJ, Barnetson L, Lloyd AJ (2000) An investigation into the use of aromatherapy in intrapartum midwifery practice. J Altern Complement Med 6:141–147

6.

Arendt KW, Tessmer-Tuck JA (2013) Nonpharmacologic labor analgesia. Clin Perinatol 40:351–371

7.

Smith CA, Collins CT, Crowther CA (2011) Aromatherapy for pain management in labour. Cochrane Database Syst Rev. https://doi.org/10.1002/14651858.CD009215

8.

Jensen MP, Chen C, Brugger AM (2003) Interpretation of visual analog scale ratings and change scores: a reanalysis of two clinical trials of postoperative pain. J Pain 4:407–414

9.

Adams J, Lui CW, Sibbritt D, Broom A, Wardle J, Homer C, Beck S (2009) Women's use of complementary and alternative medicine during pregnancy: a critical review of the literature. Birth 36:237–245

10.

Burns E, Blamey C, Ersser SJ, Lloyd AJ, Barnetson L (2000) The use of aromatherapy in intrapartum midwifery practice an observational study. Complement Ther Nurs Midwifery 6:33–34

11.

Smith CA, Collins CT, Cyna AM, Crowther CA (2006) Complementary and alternative therapies for pain management in labour. Cochrane Database Syst Rev. https://doi.org/10.1002/14651858.CD003521.pub2

12.

Namazi M, Amir Ali AS, Mojab F, Talebi A, Alavi MH, Jannesari S (2014) Effects of Citrus aurantium (bitter orange) on the severity of first-stage labor pain. Iran J Pharm Res 13:1011–1018

13.

Yazdkhasti M, Pirak A (2016) The effect of aromatherapy with lavender essence on severity of labor pain and duration of labor in primiparous women. Complement Ther Clin Pract 25:81–86

14.

Diego MA, Jones NA, Field T, Hernandez-Reif M, Schanberg S, Kuhn C, McAdam V, Galamaga R, Galamaga M (1998) Aromatherapy positively affects mood, EEG patterns of alertness and math computations. Int J Neurosci 96:217–224

15.

Bishop K (2005) Aromatherapy: does it work? Ky Nurse 53:23

16.

Rashidi-Fakari F, Tabatabaeichehr M, Mortazavi H (2015) The effect of aromatherapy by essential oil of orange on anxiety during labor: a randomized clinical trial. Iran J Nurs Midwifery Res 20:661–664

17.

Rashidi FF, Tabatabaeichehr M, Kamali H, Rashidi FF, Naseri M (2015) Effect of inhalation of aroma of geranium essence on anxiety and physiological parameters during first stage of labor in nulliparous women: a randomized clinical trial. J Caring Sci 4:135–141

18.

Tillett J, Ames D (2010) The uses of aromatherapy in women's health. J Perinat Neonatal Nurs 24:238–245

19.

Hall HG, McKenna LG, Griffiths DL (2012) Midwives' support for complementary and alternative medicine: a literature review. Women Birth 25:4–12

20.

Kaviani M, Maghbool S, Azima S, Tabaei MH (2014) Comparison of the effect of aromatherapy with Jasminum officinale and Salvia officinale on pain severity and labor outcome in nulliparous women. Iran J Nurs Midwifery Res 19:666–672

21.

Hjermstad MJ, Fayers PM, Haugen DF, Caraceni A, Hanks GW, Loge JH, Fainsinger R, Aass N, Kaasa S (2011) Studies comparing Numerical Rating Scales, Verbal Rating Scales, and Visual Analogue Scales for assessment of pain intensity in adults: a systematic literature review. J Pain Symptom Manag 41:1073–1093

22.

Mousley S (2005) Audit of an aromatherapy service in a maternity unit. Complement Ther Clin Pract 11:205–210
Funding
This study was funded by Faculty of Medicine Research Fund, Chiang Mai University, Chiang Mai, Thailand. Grant Number 065/2559.
Ethics declarations
Conflict of interest
The authors declare no conflicts of interest.
Ethical approval
All procedures performed in studies involving human participants were in accordance with the ethical standards of the institutional research committee and with the 1964 Helsinki Declaration and its later amendments or comparable ethical standards.
Informed consent
Informed consent was obtained from all individual participants included in the study.
About this article
Cite this article
Tanvisut, R., Traisrisilp, K. & Tongsong, T. Efficacy of aromatherapy for reducing pain during labor: a randomized controlled trial. Arch Gynecol Obstet 297, 1145–1150 (2018). https://doi.org/10.1007/s00404-018-4700-1
Received:

Accepted:

Published:

Issue Date:
Keywords
Aromatherapy

Labor pain

Labor analgesia

Labor management