Abstract
Objective
To study the effectiveness of performing swimming on the severity of symptoms of premenstrual syndrome (PMS).
Materials and methods
A randomized controlled trial that was conducted on 70 women diagnosed with PMS divided randomly into two equal groups: Group I included women who engaged into exercise and group II controls. Daily Symptoms Report was filled at the start and at end of the study.
Results
At the posttreatment evaluation, there was a highly significant difference between the study and control groups regarding anxiety (0 vs. 5), depression (3 vs. 12), tension (3 vs. 12), mood changes (0 vs. 7), feeling out of control (0 vs. 7), weak coordination (0 vs. 10), confusion (2 vs. 9), headache (3 vs. 15), tiredness (4 vs. 12), pains (5 vs. 11), tenderness of the breast (2 vs. 8), and cramps (6 vs. 17) (P < 0.001), but no such difference was found regarding irritability, insomnia, crying, swelling, or food craving. Regarding the percentage of symptoms changes, there was a highly significant difference between the study and control groups regarding anxiety (− 33.3 vs. 0), depression (− 79.29 vs. 15.56), tension (− 81.18 vs. − 6.79), mood changes (− 33.33 vs. 0), feeling out of control (− 91.67 vs. 0), weak coordination (− 100 vs. − 9.55), sleeplessness (− 71.43 vs. 0), confusion (− 84.17 vs. − 9.55), headache (− 77.78 vs. − 6.94), fatigue (− 65.69 vs. 0), pains (− 65.83 vs. − 8.93), breast tenderness (− 87.87 vs. 4.55), cramps (− 60.77 vs. 4.55), and swellings (− 55.05 vs. − 8.33), but no such difference was found regarding irritability, crying, or food craving.
Conclusions
There is beneficial effect of swimming on most of the physical and psychological symptoms of PMS.
Clinical trial registry no.
NCT03264612.
Access options
Buy single article
Instant access to the full article PDF.
USD 39.95
Price excludes VAT (USA)
Tax calculation will be finalised during checkout.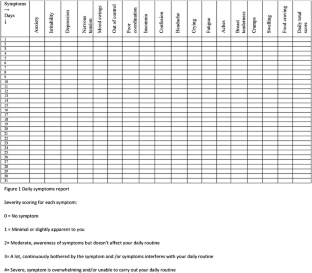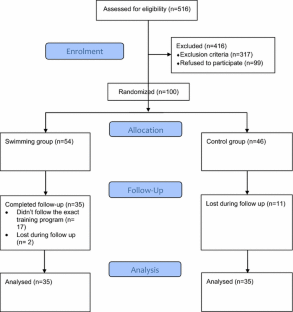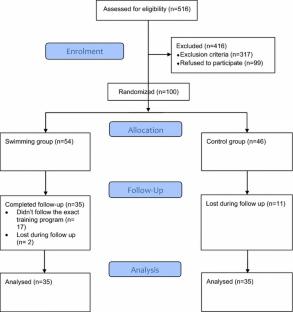 References
Wittchen HU, Becker E, Lieb R et al (2002) Prevalence, incidence and stability of premenstrual dysphoric disorder in the community. Psychol Med 32(1):119

Halbreich U, Borenstein J, Pearlstein T et al (2003) The prevalence, impairment, impact, and burden o premenstrual dysphoric disorder (PMS/PMDD). Psychoneuroendocrinology 28(Suppl 3):1

Obeidat BA, Alchalabi HA, Abdul-Razzak KK, Al-Farras MI (2012) Premenstrual symptoms in dysmenorrheic college students: prevalence and relation to vitamin D and parathyroid hormone levels. Int J Environ Res Public Health 9(11):4210–4222. https://doi.org/10.3390/ijerph9114210

Association The American Psychiatric (2000) Diagnostic and statistical manual of mental disorders, fourth edition, text revision. American Psychiatric Association, Washington, DC, pp 717–718

Kwan I, Onwude JL (2009) Premenstrual syndrome. BMJ clinical evidence. BMJ Publishing Group, London

Firoozi R, Kafi M, Salehi I, Shirmohammadi M (2012) The relationship between severity of premenstrual syndrome and psychiatric symptoms. Iran J Psychiatry 7(1):36–40

Cunningham J, Yonkers KA, O'Brien S, Eriksson E (2009) Update on research and treatment of premenstrual dysphoric disorder. Harv Rev Psychiatry 17(2):120–137. https://doi.org/10.1080/10673220902891836

Thys-Jacobs S (2000) Micronutrients and the premenstrual syndrome: the case for calcium. J Am Coll Nutr 19(2):220–227

De Souza MC, Walker AF, Robinson PA, Bolland K (2000) A synergistic effect of a daily supplement for 1 month of 200 mg magnesium plus 50 mg vitamin B6 for the relief of anxiety-related premenstrual symptoms: a randomized, double-blind, crossover study. J Womens Health Gend Based Med 9(2):131–139

Brandon AR, Crowley SK, Gordon JL, Girdler SS (2014) Nonpharmacologic treatments for depression related to reproductive events. Curr Psychiatry Rep 16(12):526. https://doi.org/10.1007/s11920-014-0526-0 (Review)

Thompson MJ, Kho KA (2016) Psychosocial Issues and Female Sexuality. In: Hoffman BL, Schorge JO, Bradshaw KD et al (eds) Williams gynecology, 3rd edn. McGraw Hill, New York, pp 297–317

Petrofsky J, Baxter J, Bomgaars J, Burgert C, Jacobs S, Lyden D, Everett B, Lohman S (2008) The influence of warm water hydrotherapy on cardiovascular system and muscle relaxation. Am J Obstet Gynecol 202(3):221–231

Daley A (2009) The role of exercise in the treatment of menstrual disorders: the evidence. Br J Gen Pract 59(561):241–242. https://doi.org/10.3399/bjgp09X420301

Dehghani MF, Emami M, Ghamkhar L (2008) The effects of 3 months of regular aerobic exercise on premenstrual syndrome symptoms. J Med Sci Rafsanjan 7:89–98

El-Lithy A, El-Mazny A, Sabbour A, El-Deeb A (2015) Effect of aerobic exercise on premenstrual symptoms, haematological and hormonal parameters in young women. J Obstet Gynaecol 35(4):389–392. https://doi.org/10.3109/01443615.2014.960823

ACOG Practice Bulletin (2000) Clinical management guidelines for obstetrician-gynecologists Premenstrual syndrome. Obstet Gynecol 95:1–9

Kathleen M, Gerrish G (2010) Premenstrual syndrome and premenstrual dysphoric disorder: issues of quality of life, stress and exercise. Handbook of disease burdens and quality of life measures. Springer, London, pp 1951–1975

Thomas I, Narayanan G (2006) Psycho-social correlates of perimenstrual distress. J Indian Acad Appl Psychol 32(1):71–80

Bertone-Johnson ER, Hankinson SE, Johnson SR, Manson JE (2007) A simple method of assessing premenstrual syndrome in large prospective studies. J Reprod Med 52(9):779–786

Yonkers KA, O'Brien PM, Eriksson E (2008) Premenstrual syndrome. Lancet 371(9619):1200–1210. https://doi.org/10.1016/S0140-6736(08)60527-9

Colcombe SJ, Kramer AF, Erickson KI, Scalf P, McAuley E, Cohen NJ, Webb A, Jerome GJ, Marquez DX, Elavsky S (2004) Cardiovascular fitness, cortical plasticity, and aging. Proc Natl Acad Sci USA 101(9):3316–3321

Darling M (1991) Exercise and migraine. A critical review. J Sports Med Phys Fitness 31:294–302

de la Cerda P, Cervelló E, Cocca A, Viciana J (2011) Effect of an aerobic training program as complementary therapy in patients with moderate depression. Percept Mot Skills 112(3):761–769

Vishnupriya R, Rajarajeswaram P (2011) Effects of aerobic exercise at different intensities in pre menstrual syndrome. J Obstet Gynaecol India 61(6):675–682. https://doi.org/10.1007/s13224-011-0117-5

Guszkowska M (2004) Effects of exercise on anxiety, depression and mood. Psychiatr Pol 38(4):611–620

de Kloet ER, Joëls M, Holsboer F (2005) Stress and the brain: from adaptation to disease. Nat Rev Neurosci 6(6):463–475 (Review)

Bodnar RJ, Klein GE (2005) Endogenous opiates and behavior: 2004. Peptides 26(12):2629–2711 (Epub 2005 Jul 21, Review)

Strohle A, Graetz B, Scheel M, Wittmann A, Feller C, Heinz A, Dimeo F (2009) The acute antipanic and anxiolytic activity of aerobic exercise in patients with panic disorder and healthy control subjects. J Psychiatr Res 43(12):1013–1017. https://doi.org/10.1016/j.jpsychires.2009.02.004

Köseoglu E, Akboyraz A, Soyuer A, Ersoy A (2003) Aerobic exercise and plasma beta endorphin levels in patients with migrainous headache without aura. Cephalalgia 23(10):972–976

Varkey E, Cider A, Carlsson J, Linde M (2011) Exercise as migraine prophylaxis: a randomized study using relaxation and topiramate as controls. Cephalalgia 31(14):1428–1438. https://doi.org/10.1177/0333102411419681

Rezvani S, Taghian F, Valiani M (2013) The effect of aquatic exercises on primary dysmenorrhoea in nonathlete girls. Iran J Nurs Midwifery Res 18(5):378–383

Khademi A, Tabatabaeefar L, Akbari E, Alleyassin A, Ziaee V, Asghari-roodsari (2008) A comparison of prevalence of premenstrual syndrome in swimmer and non-swimmer students: a historical cohort study. Acta Med Iran 46(4):307–313

Abbaspour Z, Rostami M, Najjar Sh (2006) The effect of exercise on primary dysmenorrhea. J Res Health Sci 6(1):26–31
Ethics declarations
Conflict of interest
All authors declare that they have no conflict of interest.
Ethical approval
All procedures performed in studies involving human participants were in accordance with the ethical standards of the institutional and/or national research committee and with the 1964 Helsinki declaration and its later amendments or comparable ethical standards.
Informed consent
Informed consent was obtained from all individual participants included in the study.
About this article
Cite this article
Maged, A.M., Abbassy, A.H., Sakr, H.R.S. et al. Effect of swimming exercise on premenstrual syndrome. Arch Gynecol Obstet 297, 951–959 (2018). https://doi.org/10.1007/s00404-018-4664-1
Received:

Accepted:

Published:

Issue Date:

DOI: https://doi.org/10.1007/s00404-018-4664-1
Keywords
Swimming

Aerobic exercise

Premenstrual syndrome