Abstract
Purpose
The aim of this study was to evaluate long-term effects of the fractional CO2 laser for the treatment of vulvovaginal atrophy (VVA) symptoms.
Methods
Women presenting with VVA symptoms and meeting inclusion criterion were enrolled to fractioned CO2 laser therapy. Patient's satisfaction was measured on five-point Likert scale at 4 weeks and 6, 12, 18, 24 months after treatment by interview and clinical examination for vaginal livability.
Results
184 patients constituted the final study group: 128 women were spontaneous menopause and 56 were oncological menopause. 117 women were nulliparous and 36 had previous hysterectomy. 95.4% (172/184) of the patients declared that they were satisfied or very satisfied with the procedure at 4 weeks after treatment. At 6 months 92% (170/184) patients were satisfied; at 12 months 72% (118/162) were satisfied; at 18 months 63% (60/94) were satisfied; at 24 months 25% (4/16) of patients answered they were still satisfied. We observed a decline in patient's satisfaction between 18 and 24 months after laser therapy. Data showed that the time interval from onset of menopause was a statistically significant factor (p < 0.05) for treatment satisfaction in oncological group.
Conclusion
Long-term data showed that the improvement of vaginal health may continue up to 24 months after fractional CO2 laser treatment although between 18 and 24 months benefits decline, and approximately 80% of women decide to start a new treatment cycle of laser applications.
This is a preview of subscription content, log in to check access.
Access options
Buy single article
Instant access to the full article PDF.
US$ 39.95
Price includes VAT for USA
Subscribe to journal
Immediate online access to all issues from 2019. Subscription will auto renew annually.
US$ 199
This is the net price. Taxes to be calculated in checkout.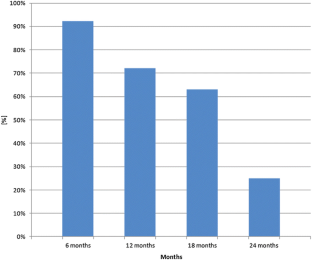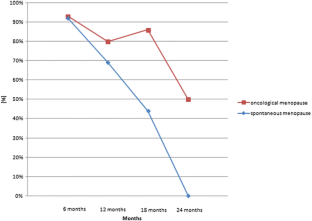 References
1.

Portman DJ, Gass ML (2014) Vulvovaginal atrophy terminology consensus conference panel. Genitourinary syndrome of menopause: new terminology for vulvovaginal atrophy from the International Society for the Study of Women's Sexual Health and the North American Menopause Society. Menopause 21:1063–1068

2.

North American Menopause Society (2013) Management of symptomatic vulvovaginal atrophy: 2013 position statement of the North American Menopause Society (2013). Menopause 20:888–902

3.

Sturdee DW, Panay N, On behalf of the International Menopause Society Writing Group (2010) Recommendations for the management of postmenopausal vaginal atrophy. Climacteric 13:509–522

4.

Hutchinson-Colas J, Segal S (2015) Genitourinary syndrome of menopause and the use of laser therapy. Maturitas 82:342–345

5.

Del Pup L (2016) Ospemifene: a safe treatment of vaginal atrophy. Eur Rev Med Pharmacol Sci 20:3934–3944

6.

Tadir Y, Gaspar A, Lev-Sagie A, Alexiades M, Alinsod R, Bader A et al (2017) Light and energy based therapeutics for genitourinary syndrome of menopause: consensus and controversies. Lasers Surg Med 49:137–159

7.

Pieralli A, Fallani MG, Becorpi A, Bianchi C, Corioni S, Longinotti M, Tredici Z, Guaschino S (2016) Fractional CO2 laser for vulvovaginal atrophy (VVA) dyspareunia relief in breast cancer survivors. Arch Gynecol Obstet 294:841–846

8.

Salvatore S, Nappi RE, Parma M, Chionna R, Lagona F, Zebinati N, Ferrero S, Origoni M, Candiani M, Leone Roberti Maggiore U (2015) Sexual function after fractional microablative CO2 laser in women with vulvovaginal atrophy. Climacteric 18:219–225

9.

Perino A, Calligaro A, Forlani F, Tiberio C, Cucinella G, Svelato A, Saitta S, Calagna G (2015) Vulvovaginal atrophy: a new treatment modality using thermos-ablative fractional CO2 laser. Maturitas 80:296–301

10.

Salvatore S, Nappi RE, Zerbinati N, Calligaro A, Ferrero S, Origoni M, Candiani M, Leone Roberti Maggiore U (2014) A 12-week treatment with fractional CO2 laser for vulvovaginal atrophy: a pilot study. Climacteric 17:363–369

11.

Committee on Gynecologic Practice, American College of Obstetricians and Gynecologists. ACOG Committee Opinion No. 378 (2007) Vaginal ''rejuvenation'' and cosmetic vaginal procedures. Obstet Gynecol 110:737–738

12.

Persu C, Chapple CR, Cauni V, Gutue S, Geavlete P (2011) Pelvic organ prolapse quantification system (POP-Q)—a new era in pelvic prolapsed staging. J Med Life 4:75–81

13.

Sokol ER, Karram MM (2017) Use of a novel fractional CO2 laser for the treatment of genitourinary syndrome of menopause: 1-year outcomes. Menopause. doi:10.1097/GME.0000000000000839

14.

Behnia-Willison F, Sarraf S, Miller J, Mohamadi B, Care AS, Lam A et al (2017) Safety and long-term efficacy of fractional CO2 laser treatment in women suffering from genitourinary syndrome of menopause. Eur J Obstet Gynecol Reprod Biol 213:39–44

15.

Ciccone MM, Aquilino A, Cortese F, Scicchitano P, Sassara M, Mola E et al (2010) Feasibility and effectiveness of a disease and care management model in the primary health care system for patients with heart failure and diabetes (Project Leonardo). Vasc Health Risk Manag 6:297–305
Acknowledgements
We thank DEKA M.E.L.A. S.r.l. for the technical support.
Ethics declarations
Conflict of interest
The authors declare that they have no conflict of interest.
Ethical approval
All procedures performed in studies involving human participants were in accordance with the ethical standards of the institutional and/or national research committee and with the 1964 Helsinki declaration and its later amendments or comparable ethical standards.
Informed consent
Informed consent was obtained from all individual participants included in the study. The ethical approval and the informed consent have been specified above in the manuscript text.
About this article
Cite this article
Pieralli, A., Bianchi, C., Longinotti, M. et al. Long-term reliability of fractioned CO2 laser as a treatment for vulvovaginal atrophy (VVA) symptoms. Arch Gynecol Obstet 296, 973–978 (2017). https://doi.org/10.1007/s00404-017-4504-8
Received:

Accepted:

Published:

Issue Date:
Keywords
Vulvovaginal atrophy

Laser

Oncological menopause

Spontaneous menopause

Follow-up