Abstract
Purpose
The aim of this study was to evaluate the perinatal and maternal outcomes at term at a single tertiary, university hospital in women with low-risk pregnancies.
Patients and methods
We performed a retrospective cohort study of women with low-risk pregnancies, who delivered at University Women's Hospital Magdeburg between January 2010 and December 2014. Data were compared with data published by Brocklehurst et al. 2011.
Results
Of the 6052 women investigated, 2014 were classified as low risk according to the NICE criteria and were eligible for analysis. In 94.8%, a spontaneous vertex birth was observed. There were only 2 (0.1%) perinatal complications and 52 (2.5%) maternal complications. Ventouse delivery, forceps delivery, and caesarean sections were performed in 2.5, 1, and 3.1% of the cases, respectively. Episiotomy was performed in 37.7% of women. The third and fourth degree perineal trauma were observed in 0.3% of births investigated. Complications during the third stage of labour and blood transfusions were observed in 0.25 and 0.2%, respectively. In comparison with the births at home, we had lower rate of fetal complications for nulliparous women, but not for multiparous women, lower rate for blood transfusions, third and fourth degree perineal trauma and forceps delivery, and higher rate of spontaneous vertex birth, epidural analgesia, and episiotomy. The rate of vacuum extractions and caesarean sections were similar between both the places of birth.
Conclusions
The tertiary-level obstetric unit is safe place of birth for women with low-risk pregnancies.
Access options
Buy single article
Instant access to the full article PDF.
USD 39.95
Price excludes VAT (USA)
Tax calculation will be finalised during checkout.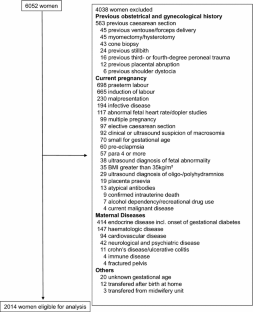 References
No authors listed (2014) NICE changes tack on home and midwifery-led unit births for low risk women. Pract Midwife 17:6

Ackermann-Liebrich U, Voegeli T, Gunter-Witt K, Kunz I, Zullig M, Schindler C, Maurer M (1996) Home versus hospital deliveries: follow up study of matched pairs for procedures and outcome, Zurich Study Team. BMJ 313:1313–1318

Birthplace in England Collaborative G, Brocklehurst P, Hardy P, Hollowell J, Linsell L, Macfarlane A, McCourt C, Marlow N, Miller A, Newburn M, Petrou S, Puddicombe D, Redshaw M, Rowe R, Sandall J, Silverton L, Stewart M (2011) Perinatal and maternal outcomes by planned place of birth for healthy women with low risk pregnancies: the Birthplace in England national prospective cohort study. BMJ 343:d7400. doi:10.1136/bmj.d7400

Boucher D, Bennett C, McFarlin B, Freeze R (2009) Staying home to give birth: why women in the United States choose home birth. J Midwifery Womens Health 54:119–126. doi:10.1016/j.jmwh.2008.09.006

de Jonge A, Geerts CC, van der Goes BY, Mol BW, Buitendijk SE, Nijhuis JG (2015) Perinatal mortality and morbidity up to 28 days after birth among 743,070 low-risk planned home and hospital births: a cohort study based on three merged national perinatal databases. BJOG 122:720–728. doi:10.1111/1471-0528.13084

de Jonge A, Mesman JA, Mannien J, Zwart JJ, Buitendijk SE, van Roosmalen J, van Dillen J (2015) Severe adverse maternal outcomes among women in midwife-led versus obstetrician-led care at the onset of labour in the Netherlands: a nationwide cohort study. PLoS One 10:e0126266. doi:10.1371/journal.pone.0126266

de Leeuw JW, Struijk PC, Vierhout ME, Wallenburg HC (2001) Risk factors for third degree perineal ruptures during delivery. BJOG 108:383–387

Devane D, Lalor JG, Daly S, McGuire W, Smith V (2012) Cardiotocography versus intermittent auscultation of fetal heart on admission to labour ward for assessment of fetal wellbeing. Cochrane Database Syst Rev 2:CD005122. doi:10.1002/14651858.CD005122.pub4

Evers AC, Brouwers HA, Hukkelhoven CW, Nikkels PG, Boon J, van Egmond-Linden A, Hillegersberg J, Snuif YS, Sterken-Hooisma S, Bruinse HW, Kwee A (2010) Perinatal mortality and severe morbidity in low and high risk term pregnancies in the Netherlands: prospective cohort study. BMJ 341:c5639. doi:10.1136/bmj.c5639

Groutz A, Hasson J, Wengier A, Gold R, Skornick-Rapaport A, Lessing JB, Gordon D (2011) Third- and fourth-degree perineal tears: prevalence and risk factors in the third millennium. Am J Obstet Gynecol 204(347):e341–e344. doi:10.1016/j.ajog.2010.11.019

Hildingsson I, Waldenstrom U, Radestad I (2003) Swedish women's interest in home birth and in-hospital birth center care. Birth 30:11–22

Janssen PA, Saxell L, Page LA, Klein MC, Liston RM, Lee SK (2009) Outcomes of planned home birth with registered midwife versus planned hospital birth with midwife or physician. CMAJ 181:377–383. doi:10.1503/cmaj.081869

Neuhaus W, Piroth C, Kiencke P, Gohring UJ, Mallman P (2002) A psychosocial analysis of women planning birth outside hospital. J Obstet Gynaecol 22:143–149. doi:10.1080/01443610120113274

Practice ACoO (2011) ACOG Committee Opinion No. 476: planned home birth. Obstet Gynecol 117:425–428. doi:10.1097/AOG.0b013e31820eee20

Sakala C (1993) Midwifery care and out-of-hospital birth settings: how do they reduce unnecessary cesarean section births? Soc Sci Med 37:1233–1250

Snowden JM, Tilden EL, Snyder J, Quigley B, Caughey AB, Cheng YW (2015) Planned out-of-hospital birth and birth outcomes. N Engl J Med 373:2642–2653. doi:10.1056/NEJMsa1501738

Vetter K, Goeckenjan M (2013) Prenatal care in Germany. Bundesgesundheitsblatt Gesundheitsforschung Gesundheitsschutz 56:1679–1685. doi:10.1007/s00103-013-1858-3

Visser GH (2012) Obstetric care in the Netherlands: relic or example? J Obstet Gynaecol Can 34:971–975

Wax JR, Lucas FL, Lamont M, Pinette MG, Cartin A, Blackstone J (2010) Maternal and newborn outcomes in planned home birth vs planned hospital births: a metaanalysis. Am J Obstet Gynecol 203(243):e241–e248. doi:10.1016/j.ajog.2010.05.028
Ethics declarations
Funding
This study was not funded.
Animal and human participant statement
This article does not contain any studies with animals performed by any of the authors.
Ethical standards
All procedures performed in studies involving human participants were in accordance with the ethical standards of the institutional and/or national research committee and with the 1964 Helsinki Declaration and its later amendments or comparable ethical standards.
Informed consent
Written informed consent was obtained from all patients before treatment. For this type of study, formal consent and ethical approval are not required.
Conflict of interest
All authors declare that they have no conflict of interest.
About this article
Cite this article
Ignatov, T., Eggemann, H., Costa, S.D. et al. Perinatal and maternal outcomes at term in low-risk pregnancies according to NICE criteria: comparison between a tertiary obstetrical hospital and midwife-attended units. Arch Gynecol Obstet 296, 223–229 (2017). https://doi.org/10.1007/s00404-017-4423-8
Received:

Accepted:

Published:

Issue Date:

DOI: https://doi.org/10.1007/s00404-017-4423-8
Keywords