Abstract
Background and objective
Primary dysmenorrhea starts simultaneously with menstruation or before it and usually continues for 48–72 h. As a prevalence disorder, it affects about 80–97% of women in the reproductive age. The conventional treatment modalities of primary dysmenorrhea are associated with complications and side effects. In addition, there is a lack of knowledge of the effect of honey on the treatment of primary dysmenorrhea. The objective of this study is to investigate the effect of honey on the severity of pain in women with dysmenorrhea.
Methods
A randomized crossover clinical trial was conducted on 56 female students. Subjects were randomly assigned to two groups. Groups I and II received honey and mefenamic acid in the 'first treatment period', respectively. In the 'second treatment period', the intervention methods were reversed between the groups. Samples recorded the severity of pain during the first 3 days of menstruation.
Results
There were no significant differences in the most severe level of pain in the first and second months of the first treatment period, and the first and second months of the second treatment period between the groups.
Conclusions
Honey and the mefenamic acid capsules led to the same amount of pain relief in women with primary dysmenorrhea. Honey is suggested to be used for pain relief due to its lower side effects and pharmacological complications.
This is a preview of subscription content, log in to check access.
Access options
Buy single article
Instant access to the full article PDF.
US$ 39.95
Price includes VAT for USA
Subscribe to journal
Immediate online access to all issues from 2019. Subscription will auto renew annually.
US$ 199
This is the net price. Taxes to be calculated in checkout.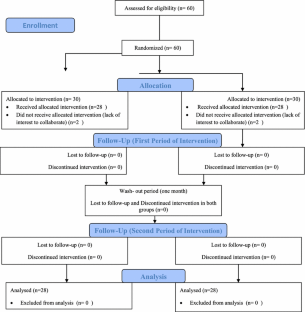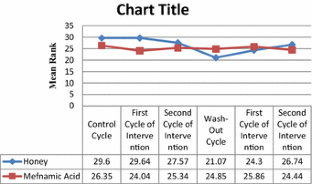 References
1.

Ju H, Jones M, Mishra G (2013) The prevalence and risk factors of dysmenorrhea. Epidemiol Rev 26:mxt009

2.

Nevatte T, O'Brien PM, Bäckström T, Brown C, Dennerstein L, Endicott J, Epperson CN, Eriksson E, Freeman EW, Halbreich U, Ismail K (2013) ISPMD consensus on the management of premenstrual disorders. Arch Women's Mental Health 16(4):279–291

3.

Berek JS (2011) Berek and Novak's gynecology, 15th edn. Lippincott, New York

4.

Ryan KJ (ed) (1999) Kistner's gynecology and women's health. Mosby Inc, St. Louis

5.

Durain D (2004) Primary dysmenorrhea: assessment and management update. J Midwifery Women's Health 49(6):520–528

6.

Polat A, Celik H, Gurates B, Kaya D, Nalbant M, Kavak E, Hanay F (2009) Prevalence of primary dysmenorrhea in young adult female university students. Arch Gynecol Obstet 279(4):527–532

7.

Fattahi Bafghi A, Yavari M, Hossein Zadeh J (2007) Usefullness of honey from the Islamic point of view and evaluation of its effects on cutaneous leishmaniasis wounds in Balb/C rats invitro. SSU_Journals 14(4):32–36

8.

Sobhanian S, Purahmad M, Modaber M, Pishe SG, Adineh B (2006) Effect of natural honey on diabetic leg sore. J Tehran Fac Med 4(64):108–110

9.

Al-Waili NS (2005) Effects of honey on the urinary total nitrite and prostaglandins concentration. Int Urol Nephrol 37(1):107–111

10.

Al-Waili NS, Boni NS (2003) Natural honey lowers plasma prostaglandin concentrations in normal individuals. J Med Food 6(2):129–133

11.

Mirbagher Ajorpaz N, Hafezi M, Salehi S, Tayebi A, Shenasa F, Zahtabchi S (2012) Comparing the effect of pure and impure honey on severity of pain, amount of bleeding, and duration and interval of menstrual cycles in female students with primary dysmenorrhea. Evid Based Care 2(1):23–33

12.

Direkvand-Moghadam A, Khosravi A (2012) Comparison of verbal multidimensional scoring system (VMS) with visual analogue score (VAS) for evaluating of Shirazi thymus vulgaris on menstrual pain. J Pharm Biomed Sci (JPBMS) 23(23):1–5

13.

Unsal A, Ayranci U, Tozun M, Arslan G, Calik E (2010) Prevalence of dysmenorrhea and its effect on quality of life among a group of female university students. Upsala J Med Sci 115(2):138–145

14.

Gift AG (1989) Visual analogue scales: measurement of subjective phenomena. Nurs Res 38(5):286–287

15.

Wewers ME, Lowe NK (1990) A critical review of visual analogue scales in the measurement of clinical phenomena. Res Nurs Health 13(4):227–236

16.

Shirvani MA, Motahari-Tabari N, Alipour A (2015) The effect of mefenamic acid and ginger on pain relief in primary dysmenorrhea: a randomized clinical trial. Arch Gynecol Obstet 291(6):1277–1281

17.

Nahid K, Fariborz M, Ataolah G, Solokian S (2009) The effect of an Iranian herbal drug on primary dysmenorrhea: a clinical controlled trial. J Midwifery Women's Health 54(5):401–404
Acknowledgements
The researchers would like to thank sincerely the participants who without their collaboration the production of this article would be impossible. In addition, our gratitude should be extended to the respectable chancellor, deputy of education and research of the Faculty of Nursing and Midwifery, Research Council and Medical Ethics Council affiliated with Arak University of Medical Sciences.
Ethics declarations
Sources of support in the form of grants
The study's research proposal was approved by the research council affiliated with Arak University of Medical Sciences that provided financial support. In addition, this study was registered at the Ethics Committee of Arak University of Medical Sciences that corroborated its ethical considerations (decree number 89-94-3).
Conflict of interest
The authors declare that they have no conflict of interest.
Funding
The authors received financial support for the research from Arak University of Medical Sciences and no financial support for publication of this article.
Ethical approval
All procedures performed in this study involving human participants were in accordance with the ethical standards of the institutional research committee and with the 1964 Helsinki declaration and its later amendments or comparable ethical standards.
Informed consent
Informed consent was obtained from all individual participants included in the study.
About this article
Cite this article
Amiri Farahani, Ë.L., Hasanpoor-Azghdy, S.B., Kasraei, H. et al. Comparison of the effect of honey and mefenamic acid on the severity of pain in women with primary dysmenorrhea. Arch Gynecol Obstet 296, 277–283 (2017). https://doi.org/10.1007/s00404-017-4409-6
Received:

Accepted:

Published:

Issue Date:
Keywords
Honey

Mefenamic acid

Primary dysmenorrhea

Women