Abstract
Purpose
The present study aims to analyze a cohort of advanced breast cancer patients in Germany to assess their interest in complementary and alternative medicine (CAM) and patient's use of most frequent CAM methods.
Patients and methods
Based on the PREGNANT real-time breast cancer registry which is a multicenter study in Germany, questionnaires of 580 patients with advanced breast cancer were evaluated. The implemented questionnaire for CAM asked for general interest in CAM and for patient's use of different CAM methods at present and in the past. The interest and application of CAM were analyzed for association with patients' characteristics such as tumor, patient, and therapy characteristics.
Results
In total, 436 out of 580 (75%) patients claimed to be interested in CAM. Further, interest in CAM is significantly correlated with younger age and absence of metastasis at the time of diagnosis. Multivariate analysis confirmed the patient's age and distant disease status at the time of diagnosis as related to interest in CAM. A total of 56.4% of patients applied any CAM method in the past. Moreover, with increasing lines of therapies, the more frequent use of CAM was observed. Hereby, praying, vitamin supplements, and other food supplements were most frequently applied.
Conclusion
Our data demonstrate high overall interest and frequent use of CAM in advanced breast cancer patients supporting a strong demand of breast cancer patients for complementary counseling and treatments additional to the established cancer therapies. It is indispensable to implement counseling and evidence-based complementary treatments into clinical routine of cancer centers and to adapt postgraduate medical education, respectively.
This is a preview of subscription content,
to check access.
Access this article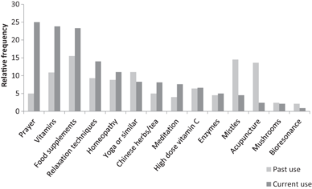 References
Molassiotis A, Fernadez-Ortega P, Pud D, Ozden G, Scott JA, Panteli V, Margulies A, Browall M, Magri M, Selvekerova S, Madsen E, Milovics L, Bruyns I, Gudmundsdottir G, Hummerston S, Ahmad AM-A, Platin N, Kearney N, Patiraki E (2005) Use of complementary and alternative medicine in cancer patients: a European survey. Ann Oncol 16:655–663

Horneber M, Bueschel G, Dennert G, Less D, Ritter E, Zwahlen M (2012) How many cancer patients use complementary and alternative medicine: a systematic review and metaanalysis. Integr Cancer Ther 11:187–203

Naing A, Stephen SK, Frenkel M, Chandhasin C, Hong DS, Lei X, Falchook G, Wheler JJ, Fu S, Kurzrock R (2011) Prevalence of complementary medicine use in a phase 1 clinical trials program: the MD Anderson Cancer Center Experience. Cancer 117:5142–5150

Nagel G, Hoyer H, Katenkamp D (2004) Use of complementary and alternative medicine by patients with breast cancer: observations from a health-care survey. Support Care Cancer 12:789–796

Schonekaes K, Micke O, Mucke R, Buntzel J, Glatzel M, Bruns F, Kisters K (2003) Use of complementary/alternative therapy methods by patients with breast cancer. Forsch Komplementarmed Klass Naturheilkd 10:304–308

Jacobson JS, Verret WJ (2001) Complementary and alternative therapy for breast cancer: the evidence so far. Cancer Pract 9:307–310

Hlubocky FJ, Ratain MJ, Wen M, Daugherty CK (2007) Complementary and alternative medicine among advanced cancer patients enrolled on phase I trials: a study of prognosis, quality of life, and preferences for decision making. J Clin Oncol 25:548–554

Gross AM, Liu Q, Bauer-Wu S (2007) Prevalence and predictors of complementary therapy use in advanced-stage breast cancer patients. J Oncol Pract 3:292–295

Blaes AH, Kreitzer MJ, Torkelson C, Haddad T (2011) Nonpharmacologic complementary therapies in symptom management for breast cancer survivors. Semin Oncol 38:394–402

Casla S, Hojman P, Marquez-Rodas I, Lopez-Tarruella S, Jerez Y, Barakat R, Martin M (2015) Running away from side effects: physical exercise as a complementary intervention for breast cancer patients. Clin Transl Oncol 17:180–196

Finnegan-John J, Molassiotis A, Richardson A, Ream E (2013) A systematic review of complementary and alternative medicine interventions for the management of cancer-related fatigue. Integr Cancer Ther 12:276–290

Fasching PA, Thiel F, Nicolaisen-Murmann K, Rauh C, Engel J, Lux MP, Beckmann MW, Bani MR (2007) Association of complementary methods with quality of life and life satisfaction in patients with gynecologic and breast malignancies. Support Care Cancer 15:1277–1284

Hack CC, Voiss P, Lange S, Paul AE, Conrad S, Dobos GJ, Beckmann MW, Kummel S (2015) Local and systemic therapies for breast cancer patients: reducing short-term symptoms with the methods of integrative medicine. Geburtshilfe Frauenheilkd 75:675–682

Kalder M, Muller T, Fischer D, Muller A, Bader W, Beckmann MW, Brucker C, Hack CC, Hanf V, Hasenburg A, Hein A, Jud S, Kiechle M, Klein E, Paepke D, Rotmann A, Schutz F, Dobos G, Voiss P, Kummel S (2016) A review of integrative medicine in gynaecological oncology. Geburtshilfe Frauenheilkd 76:150–155

Münstedt K, Vogt T, Rabanus M-E, Hübner J (2014) Wishes and beliefs of cancer patients regarding counseling on integrative medicine. Breast Care (Basel) 9:416–420

Hack CC, Beckmann MW, Hein A, Bayer CM, Rauh C, Almstedt K, Hüttner NBM, Janni W, Fehm T, Maass N, Rody A, Fersis N, Wallwiener D, Hübner J, Fasching PA (2014) Application of integrative medicine by postmenopausal breast cancer patients in the PreFace Phase IV study - a prospective, longitudinal trial. Oncol Res Treat 37(suppl 1):1–132

Hack CC, Huttner NB, Fasching PA, Beckmann MW (2015) Development and validation of a standardized questionnaire and standardized diary for use in integrative medicine consultations in gynecologic oncology. Geburtshilfe Frauenheilkd 75:377–383

Hack CC, Fasching PA, Fehm T, de Waal J, Rezai M, Baier B, Baake G, Kolberg H-C, Guggenberger M, Warm M, Harbeck N, Wuerstlein R, Deuker J-U, Dall P, Richter B, Wachsmann G, Brucker C, Siebers JW, Fersis N, Kuhn T, Wolf C, Vollert H-W, Breitbach G-P, Janni W, Landthaler R, Kohls A, Rezek D, Noesslet T, Fischer G, Henschen S, Praetz T, Heyl V, Kühn T, Krauss T, Thomssen C, Hohn A, Tesch H, Mundhenke C, Hein A, Rauh C, Bayer CM, Jacob A, Schmidt K, Belleville E, Hadji P, Brucker SY, Wallwiener D, Kümmel S, Beckmann MW, Paepke D (2016) Interest in integrative medicine among postmenopausal hormone receptor–positive breast cancer patients in the EvAluate-TM Study. Integr Cancer Ther. doi:10.1177/1534735416668575

Hein A, Gass P, Walter CB, Taran FA, Hartkopf A, Overkamp F, Kolberg HC, Hadji P, Tesch H, Ettl J, Wuerstlein R, Lounsbury D, Lux MP, Luftner D, Wallwiener M, Muller V, Belleville E, Janni W, Fehm TN, Wallwiener D, Ganslandt T, Ruebner M, Beckmann MW, Schneeweiss A, Fasching PA, Brucker SY (2016) Computerized patient identification for the EMBRACA clinical trial using real-time data from the PRAEGNANT network for metastatic breast cancer patients. Breast Cancer Res Treat 158:59–65

Fasching PA, Brucker SY, Fehm TN, Overkamp F, Janni W, Wallwiener M, Hadji P, Belleville E, Haberle L, Taran FA, Luftner D, Lux MP, Ettl J, Muller V, Tesch H, Wallwiener D, Schneeweiss A (2015) Biomarkers in patients with metastatic breast cancer and the PRAEGNANT study network. Geburtshilfe Frauenheilkd 75:41–50

Wanchai A, Armer JM, Stewart BR (2010) Complementary and alternative medicine use among women with breast cancer: a systematic review. Clin J Oncol Nurs 14:E45–E55

Paul M, Davey B, Senf B, Stoll C, Munstedt K, Mucke R, Micke O, Prott FJ, Buentzel J, Hubner J (2013) Patients with advanced cancer and their usage of complementary and alternative medicine. J Cancer Res Clin Oncol 139:1515–1522

Ernst E, Cassileth BR (1998) The prevalence of complementary/alternative medicine in cancer: a systematic review. Cancer 83:777–782

Nicolaisen-Murmann K, Thiel F, Mohrmann S, Grünewald E, Ackermann S, Bender HG, Beckmann MW, Fasching PA (2005) Complementary and alternative medicine in women with gynecological and breast malignancies—a multicenter study exploring prevalence and motivation. Geburtshilfe Frauenheilkd 65:178–185

Horneber M, Bueschel G, Dennert G, Less D, Ritter E, Zwahlen M (2012) How many cancer patients use complementary and alternative medicine: a systematic review and metaanalysis. Integr Cancer 11:187–203

Eschiti VS (2007) Lesson from comparison of CAM use by women with female-specific cancers to others: it's time to focus on interaction risks with CAM therapies. Integr Cancer Ther 6:313–344

Fouladbakhsh JM, Stommel M, Given BA, Given CW (2005) Predictors of use of complementary and alternative therapies among patients with cancer. Oncol Nurs Forum 32:1115–1122

Hann D, Baker F, Denniston M, Entrekin N (2005) Long-term breast cancer survivors' use of complementary therapies: perceived impact on recovery and prevention of recurrence. Integr Cancer Ther 4:14–20

Gerber B, Scholz C, Reimer T, Briese V, Janni W (2006) Complementary and alternative therapeutic approaches in patients with early breast cancer: a systematic review. Breast Cancer Res Treat 95:199–209

Swisher EM, Cohn DE, Goff BA, Parham J, Herzog TJ, Rader JS, Mutch DG (2002) Use of complementary and alternative medicine among women with gynecologic cancers. Gynecol Oncol 84:363–367

Trimborn A, Senf B, Muenstedt K, Buentzel J, Micke O, Muecke R, Prott FJ, Wicker S, Huebner J, Society WGPaIOotGC (2013) Attitude of employees of a university clinic to complementary and alternative medicine in oncology. Ann Oncol 24:2641–2645

Huebner J, Muenstedt K, Prott FJ, Stoll C, Micke O, Buentzel J, Muecke R, Senf B (2014) Online survey of patients with breast cancer on complementary and alternative medicine. Breast Care (Basel) 9:60–63
Acknowledgements
The PRAEGNANT network is supported by grants from Novartis and Pfizer.
Author's contributions
CF, CH, and MW designed the project and wrote the manuscript. PF contributed to concept, drafting, analysis, and interpretation of data. On behalf of the PREAGNANT Study Network, all authors collected data. GR conducted statistical analysis. All authors read and approved the final version.
Ethics declarations
Conflict of interest
Author Peter Fasching received research grants from Amgen, Celgene, and Novartis and honoraria from Novartis, Pfizer, Celgene, and Roche. Author Diana Lüftner received honoraria from Amgen, Celgene, and Novartis. All other authors declare they have no conflict of interest to disclose.
Ethical approval
The study has been approved by the ethical review board of all participating sites, and all investigations were conducted according to the declaration of Helsinki. In line with this notion, all patients provided their written informed consent.
Additional information
C. Fremd and C. C. Hack contributed equally.
About this article
Cite this article
Fremd, C., Hack, C.C., Schneeweiss, A. et al. Use of complementary and integrative medicine among German breast cancer patients: predictors and implications for patient care within the PRAEGNANT study network. Arch Gynecol Obstet 295, 1239–1245 (2017). https://doi.org/10.1007/s00404-017-4348-2
Received:

Accepted:

Published:

Issue Date:

DOI: https://doi.org/10.1007/s00404-017-4348-2
Keywords