Abstract
Purpose
To analyze cumulative pregnancy rates of subfertile couples after fertility awareness training.
Methods
A prospective observational cohort study followed 187 subfertile women, who had received training in self-observation of the fertile phase of the menstrual cycle with the Sensiplan method, for 8 months. The women, aged 21–47 years, had attempted to become pregnant for 3.5 years on average (range 1–8 years) before study entry. Amenorrhea, known tubal occlusion and severe male factor had been excluded. An additional seven women, who had initially been recruited, became pregnant during the cycle immediately prior to Sensiplan training: this is taken to be the spontaneous pregnancy rate per cycle in the cohort in the absence of fertility awareness training.
Results
The cumulative pregnancy rate of subfertile couples after fertility awareness training was 38% (95% CI 27–49%; 58 pregnancies) after eight observation months, which is significantly higher than the estimated basic pregnancy rate of 21.6% in untrained couples in the same cohort. For couples who had been seeking to become pregnant for 1–2 years, the pregnancy rate increased to 56% after 8 months. A female age above 35 (cumulative pregnancy rate 25%, p = 0.06), couples who had attempted to become pregnant for more than 2 years (cumulative pregnancy rate 17%, p < 0.01), all significantly reduce the chances of conceiving naturally at some point.
Conclusions
Training women to identify their fertile window in the menstrual cycle seems to be a reasonable first-line therapy in the management of subfertility.
Access options
Buy single article
Instant access to the full article PDF.
US$ 39.95
Tax calculation will be finalised during checkout.
Subscribe to journal
Immediate online access to all issues from 2019. Subscription will auto renew annually.
US$ 119
Tax calculation will be finalised during checkout.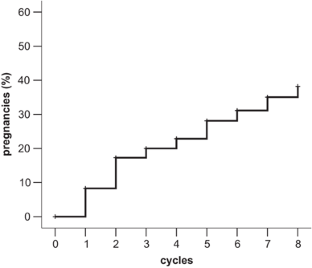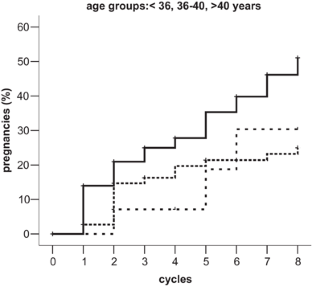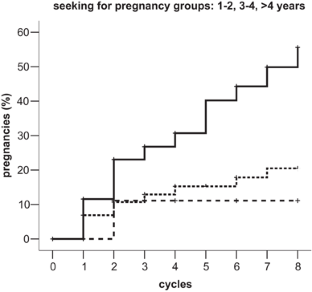 References
1.

Raith-Paula E, Frank-Herrmann P, Freundl G, Strowitzki T (2013) Natürliche Familienplanung heute. Springer, Heidelberg ISBN 783642297830

2.

Fehring RJ (2002) Accuracy of the peak day of cervical mucus as a biological marker of fertility. Contraception 66:231–235

3.

Fehring RJ, Schneider M, Raviele K (2006) Variability in the phases of the menstrual cycle. J Obstet Gynecol Neonatal Nurs 35:376–384

4.

Wilcox AJ, Dunson D (2000) The timing of the "fertile window" in the menstrual cycle: day specific estimates from a prospective study. BMJ 321:1259–1262

5.

Practice Committee of American Society for Reproductive Medicine in collaboration with Society for Reproductive Endocrinology and Infertility (2008) Optimizing natural fertility. Fertil Steril 90:S1–S5

6.

Gnoth C, Frank-Herrmann P, Freundl G, Kunert J, Godehardt E (1995) Sexual behavior of natural family planning users in Germany and its changes over time. Adv Contracept 11:173–185

7.

Klann N, Frank-Herrmann P, Sottong U (1993) Auswirkungen einer natürlichen Familienplanung: Wie verändern sich Sexualverhalten und Partnerschaft? Sexualmedizin 22:384–386

8.

Frank-Herrmann P, Gnoth C, Baur S, Strowitzki T, Freundl G (2005) Determination of the fertile window: reproductive competence of women—European cycle databases. Gynecol Endocrinol 20:305–312

9.

Ecochard R, Boehringer H, Rabilloud M, Marret H (2001) Chronological aspects of ultrasonic, hormonal, and other indirect indices of ovulation. BJOG 108:822–829

10.

Gnoth C, Frank-Herrmann P, Bremme M. et al (1996) Wie korrelieren selbstbeobachtete Zyklussymptome mit der Ovulation? [How do self-observed cycle symptoms correlate with ovulation?]. Zentralbl Gynaekol 118:650–654

11.

Colombo B, Mion A, Passarin K, Scarpa B (2006) Cervical mucus symptom and daily fecundability: first results from a new database. Stat Methods Med Res 15:161–180

12.

Stanford JB, Mikolajczyk RT, Lynch CD, Simonsen SE (2010) Cumulative pregnancy probabilities among couples with subfertility: effects of varying treatments. Fertil Steril 93:2175–2181

13.

Frank-Herrmann P, Heil J, Gnoth C et al (2007) The effectiveness of a fertility awareness based method to avoid pregnancy in relation to a couple's sexual behaviour during the fertile time: a prospective longitudinal study. Hum Reprod 22:1310–1319

14.

European Natural Family Planning Study Groups (1999) European multicenter study of natural family planning: efficacy and drop-out. Adv Contracept 15:69–83

15.

Alliende ME, Cabezon C, Figueroa H, Kottmann C (2005) Cervicovaginal fluid changes to detect ovulation accurately. Am J Obstet Gynecol 193:71–75

16.

Guida M, Tommaselli GA, Palomba S, Pellicano M, Moccia G, Di Carlo C (1999) Efficacy of methods for determining ovulation in a natural family planning program. Fertil Steril 72:900–904

17.

Bigelow JL, Dunson DB, Stanford JB, Ecochard R, Gnoth C, Colombo B (2004) Mucus observations in the fertile window: a better predictor of conception than timing of intercourse. Hum Reprod 19:889–892

18.

Stanford JB, White GL, Hatasaka H (2002) Timing intercourse to achieve pregnancy: current evidence. Obstet Gynecol 100:1333–1341

19.

Dunson DB, Colombo B, Baird DD (2002) Changes with age in the level and duration of fertility in the menstrual cycle. Hum Reprod 17:1399–1403

20.

Wilcox AJ, Weinberg CR, Baird DD (1995) Timing of sexual intercourse in relation to ovulation. Effects on the probability of conception, survival of the pregnancy, and sex of the baby. N Engl J Med 333:1517–1521

21.

Scarpa B, Dunson DB, Giacchi E (2007) Bayesian selection of optimal rules for timing intercourse to conceive by using calendar and mucus. Fertil Steril 88:915–924

22.

Gnoth C, Godehardt D, Godehardt E, Frank-Herrmann P, Freundl G (2003) Time to pregnancy: results of the German prospective study and impact on the management of infertility. Hum Reprod 18:1959–1966

23.

Practice Committee of American Society for Reproductive Medicine in collaboration with Society for Reproductive Endocrinology and Infertility (2013) Optimizing natural fertility: a committee opinion. Fertil Steril 100:631–637

24.

Boivin J, Bunting L, Collins JA, Nygren KG (2009) Reply: International estimates on infertility prevalence and treatment-seeking: potential need and demand for medical care. Hum Reprod 24:2380–2383

25.

Herbert DL, Lucke JC, Dobson AJ (2009) Infertility, medical advice and treatment with fertility hormones and/or in vitro fertilization: a population perspective from the Australian Longitudinal Study on Women's Health. Aust N Z J Public Health 33:358–364

26.

Thijssen A, Meier A, Panis K, Ombelet W (2014) Fertility Awareness-Based Methods and subfertility: a systematic review. Facts Views Vis Obgyn 6:113–123

27.

Gnoth C, Godehardt E, Frank-Herrmann P, Friol K, Tigges J, Freundl G (2005) Definition and prevalence of subfertility and infertility. Hum Reprod 20:1144–1147

28.

Ziller V, Heilmaier C, Kostev K (2015) Time to pregnancy in subfertile women in German gynecological practices: analysis of a representative cohort of more than 60,000 patients. Arch Gynecol Obstet 291:657–662

29.

Arbeitsgruppe NFP (2011) Natürlich und sicher—das Praxisbuch. Trias, Stuttgart, ISBN9783830423645

30.

Colombo B, Masarotto G (2000) Daily fecundability: First results from a new data base. Demogr Res 3:39

31.

Evers JL (2002) Female subfertility. Lancet 360:151–159

32.

Snick HK, Snick TS, Evers JL, Collins JA (1997) The spontaneous pregnancy prognosis in untreated subfertile couples: the Walcheren primary care study. Hum Reprod 12:1582–1588

33.

Sozou PD, Hartshorne GM (2012) Time to Pregnancy: A Computational Method for Using the Duration of Non-Conception for Predicting Conception. PLoS One 7:e46544

34.

Robinson JE, Wakelin M, Ellis JE (2007) Increased pregnancy rate with use of the Clearblue Easy Fertility Monitor. Fertil Steril 87:329–334

35.

Pyper C, Bromhall L, Dummett S, Altman DG, Brownbill P, Murphy M (2006) The Oxford Conception Study design and recruitment experience. Paediatr Perinat Epidemiol 20(Suppl 1):51–59

36.

Stanford JB, Smith KR, Varner MW (2014) Impact of instruction in the Creighton model fertility care system on time to pregnancy in couples of proven fecundity: results of a randomised trial. Paediatr Perinat Epidemiol 28:391–399

37.

Manders M, McLindon L, Schulze B, Beckmann MM, Kremer JA, Farquhar C (2015) Timed intercourse for couples trying to conceive. Cochrane Database Syst Rev. doi:10.1002/14651858.CD011345.pub2

38.

Scarpa B, Dunson DB, Colombo B (2006) Cervical mucus secretions on the day of intercourse: an accurate marker of highly fertile days. Eur J Obstet Gynecol Reprod Biol 125:72–78

39.

Dunson DB, Baird DD, Wilcox AJ, Weinberg CR (1999) Day-specific probabilities of clinical pregnancy based on two studies with imperfect measures of ovulation. Hum Reprod 14:1835–1839

40.

Evans-Hoeker E, Pritchard DA, Long DL, Herring AH, Stanford JB, Steiner AZ (2013) Cervical mucus monitoring prevalence and associated fecundability in women trying to conceive. Fertil Steril 100:1033–1038

41.

Grimes DA, Gallo MF, Grigorieva V, Nanda K, Schulz KF (2004) Fertility awareness-based methods for contraception. Cochrane Database Syst Rev. doi:10.1002/14651858.CD004860.pub2

42.

NICE (2004) Fertility assessment and treatment for people with fertility problems. National Institute for Health and Clinical Excellence, London

43.

Hampton K, Mazza D (2009) Should spontaneous or timed intercourse guide couples trying to conceive? Hum Reprod 24:3236–3237

44.

Hampton KD, Mazza D, Newton JM (2013) Fertility-awareness knowledge, attitudes, and practices of women seeking fertility assistance. J Adv Nurs 69:1076–1084

45.

Blake D, Smith D, Bargiacchi A, France M, Gudex G (1997) Fertility awareness in women attending a fertility clinic. Aust N Z J Obstet Gynaecol 37:350–352

46.

Hammarberg K, Zosel R, Comoy C, Robertson S, Holden C, Deeks M, Johnson L (2016) Fertility-related knowledge and information-seeking behaviour among people of reproductive age: a qualitative study. Hum Fertil (Camb) 25:1–11

47.

Brosens I, Gordts S, Valkenburg M, Puttemans P, Campo R, Gordts S (2004) Investigation of the infertile couple: when is the appropriate time to explore female infertility? Hum Reprod 19:1689–1692

48.

Sievert LL, Dubois CA (2005) Validating signals of ovulation: do women who think they know, really know? Am J Hum Biol 17:310–320

49.

Mu Q, Fehring RJ (2014) Efficacy of achieving pregnancy with fertility-focused intercourse. MCN. Am J Matern Child Nurs 39:35–40

50.

Dunson DB, Sinai I, Colombo B (2001) The relationship between cervical secretions and the daily probabilities of pregnancy: effectiveness of the two day algorithm. Hum Reprod 16:2278–2282

51.

Keulers MJ, Hamilton CJ, Franx A, Evers JL, Bots RS (2007) The length of the fertile window is associated with the chance of spontaneously conceiving an ongoing pregnancy in subfertile couples. Hum Reprod 22:1652–1656

52.

Stanford JB, Smith KR, Dunson DB (2003) Vulvar mucus observations and the probability of pregnancy. Obstet Gynecol 101:1285–1293

53.

Gnoth C, Frank-Herrmann P, Freundl G (2002) Opinion: natural family planning and the management of infertility. Arch Gynecol Obstet 267:67–71

54.

Brosens I, Brosens J (2006) Managing infertility with fertility-awareness methods. Sex Reprod Menopause 4:13–16

55.

De Cicco S, Tagliaferri V, Selvaggi L et al (2016) Expectant management may reduce overtreatment in women affected by unexplained infertility confirmed by diagnostic laparoscopy. Arch Gynecol Obstet. doi:10.1007/s00404-016-4246-z
Acknowledgements
The authors cordially thank Sylvia Heil-Schlehuber for her dedicated assistance and her valuable comments. The study was funded by the Jung-Stiftung für Wissenschaft und Forschung.
Ethics declarations
Conflict of interest
The authors declare that they have no conflict of interest. They do not have any financial relationship with the organization that sponsored the research. They have had full control of all primary data and they agree to allow the Journal to review the data if requested.
Ethical approval
Ethical approval was given by the Section of Natural Fertility of the German Society of Gynecological Endocrinology and Fertility Medicine at the University of Heidelberg. The study was conducted in accordance with the ethical principles of the Declaration of Helsinki of 1964 and its later amendments.
Informed consent
Informed consent was obtained from all individual participants included in the study. They were free to withdraw at any time.
About this article
Cite this article
Frank-Herrmann, P., Jacobs, C., Jenetzky, E. et al. Natural conception rates in subfertile couples following fertility awareness training. Arch Gynecol Obstet 295, 1015–1024 (2017). https://doi.org/10.1007/s00404-017-4294-z
Received:

Accepted:

Published:

Issue Date:
Keywords
Subfertility

Pregnancy rate

Natural family planning

Fertility awareness method

Sensiplan