Abstract
Purpose
The aim of this study was to evaluate in the vagina of 60 pre-menopausal women the detection of orally administered multispecies probiotic formulations showing anti-microbial properties in test in vitro.
Methods
A randomized, double-blind, three-arm parallel pilot study was carried out on 60 pre-menopausal women. Subjects were randomly divided in three groups (F_1, F_2, F_3). Each group received a daily oral administration of probiotic mixtures (for 14 days and at the day 21, 7 days after the wash-out) containing: Lactobacillus acidophilus and Lactobacillus reuteri (F_1), or Lactobacillus plantarum, Lactobacillus rhamnosus and Bifidobacterium animalis subsp. lactis (F_2), or placebo (F_3), respectively. Vaginal swabs were collected at four experimental times, at t0 and at t7, t14 and t21 days, and analyzed by qPCR. At the same time, the anti-microbial activity of the probiotic formulations was verified by assays in vitro against microorganisms as Escherichia coli and Candida albicans.
Results
L. acidophilus and L. reuteri as well as L. plantarum, L. rhamnosus and B. lactis were significantly increased on 7 days in the groups administered with F_1 and F_2, respectively, compared to group F_3. A similar significant trend was observed on 21 days, 7 days after the wash-out. F_1 and F_2 showed coherent anti-microbial properties.
Conclusion
Both probiotic formulations F_1 and F_2, chosen because of their anti-microbial activity against pathogens responsible for vaginal dysbiosis and infections, led to vaginal detection and enhancement of the amount of species of formulates when orally administered. This work provides the basis for further clinical investigations of the F_1 and F_2 capacity to prevent or treat uro-genital infections.
Access options
Buy single article
Instant access to the full article PDF.
USD 39.95
Price excludes VAT (USA)
Tax calculation will be finalised during checkout.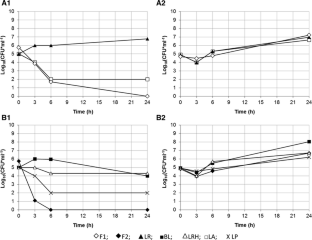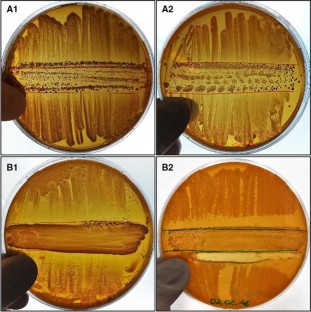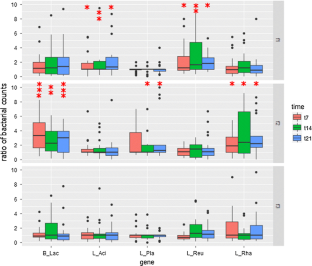 References
Joint FAO/WHO (2001) Expert consultation on evaluation of health and nutritional properties of probiotics in food including powder milk with live lactic acid bacteria

Saavedra JM, Bauman NA, Oung I, Perman JA, Yolken RH (1994) Feeding of Bifidobacterium bifidum and Streptococcus thermophilus to infants in hospital for prevention of diarrhea and shedding of rotavirus. Lancet 344(8929):1046–1049

Meijer BJ, Dieleman LA (2011) Probiotics in the treatment of human inflammatory bowel diseases: update 2011. J Clin Gastroenterol 45(Suppl):S139–S144

Kuitunen M (2013) Probiotics and prebiotics in preventing food allergy and eczema. Curr Opin Allergy Clin Immunol 13(3):280–286

Levkovich T, Poutahidis T, Smillie C, Varian BJ, Ibrahim YM, Lakritz JR et al (2013) Probiotic bacteria induce a 'Glow of Health'. PLoS One 8(1):e53867

Haukioja A (2010) Probiotics and oral health. Eur J Dent 4(3):348–355

Borchert D, Sheridan L, Papatsoris A, Faruquz Z, Barua JM, Junaid I et al (2008) Prevention and treatment of urinary tract infection with probiotics: review and research perspective. Indian J Urol 24(2):139–144

Coman MM, Verdenelli MC, Cecchini C, Silvi S, Orpianesi C, Caspani M et al (2015) In vitro evaluation on HeLa cells of protective mechanisms of probiotic lactobacilli against Candida clinical isolates. J Appl Microbiol 119(5):1383–1390 (Epub 2015/10/05)

Abad CL, Safdar N (2009) The role of lactobacillus probiotics in the treatment or prevention of urogenital infections–a systematic review. J Chemother 21(3):243–252

Martinez RC, Franceschini SA, Patta MC, Quintana SM, Candido RC, Ferreira JC (2009) Improved treatment of vulvovaginal candidiasis with fluconazole plus probiotic Lactobacillus rhamnosus GR-1 and Lactobacillus reuteri RC-14R. Lett Appl Microbiol 48(3):269–274 (Epub 2009/02/02)

Martius J, Krohn MA, Hillier SL, Stamm WE, Holmes KK, Eschenbach DA (1988) Relationship of vaginal Lactobacillus species, cervical Chlamydia trachomatis, and bacterial vaginosis to preterm birth. Obstet Gynecol 71(1):89–95

Aldunate M, Srbinovski D, Hearps AC, Latham CF, Ramsland PA, Gugasyan R et al (2015) Antimicrobial and immune modulatory effects of lactic acid and short chain fatty acids produced by vaginal microbiota associated with eubiosis and bacterial vaginosis. Front Physiol 6:164

Stapleton AE, Au-Yeung M, Hooton TM, Fredricks DN, Roberts PL, Czaja CA et al (2011) Randomized, placebo-controlled phase 2 trial of a Lactobacillus crispatus probiotic given intravaginally for prevention of recurrent urinary tract infection. Clin Infect Dis 52(10):1212–1217 (Epub 2011/04/14)

Falagas M, Betsi GI, Athanasiou S (2007) Probiotics for the treatment of women with bacterial vaginosis. Clin Microbiol Infect 13(7):657–664

Palmeira-de-Oliveira R, Palmeira-de-Oliveira A, Martinez-de-Oliveira J (2015) New strategies for local treatment of vaginal infections. Adv Drug Deliv Rev 92:105–122 (Epub 2015/07/02)

Strus M, Chmielarczyk A, Kochan P, Adamski P, Chełmicki Z, Chełmicki A et al (2012) Studies on the effects of probiotic Lactobacillus mixture given orally on vaginal and rectal colonization and on parameters of vaginal health in women with intermediate vaginal flora. Eur J Obstet Gynecol Reprod Biol 163(2):210–215 (Epub 2012/06/19)

Reid G, Charbonneau D, Erb J, Kochanowski B, Beuerman D, Poehner R et al (2003) Oral use of Lactobacillus rhamnosus GR-1 and L. fermentum RC-14 significantly alters vaginal flora: randomized, placebo-controlled trial in 64 healthy women. FEMS Immunol Med Microbiol 35(2):131–134

Presti I, D'Orazio G, Labra M, La Ferla B, Mezzasalma V, Bizzaro G et al (2015) Evaluation of the probiotic properties of new Lactobacillus and Bifidobacterium strains and their in vitro effect. Appl Microbiol Biotechnol 99(13):5613–5626 (Epub 2015/03/07)

Ward LJ, Timmins MJ (1999) Differentiation of Lactobacillus casei, Lactobacillus paracasei and Lactobacillus rhamnosus by polymerase chain reaction. Lett Appl Microbiol 29(2):90–92

Sul SY, Kim HJ, Kim TW (2007) Kim HY (2007) Rapid identification of Lactobacillus and Bifidobacterium in probiotic products using multiplex PCR. J Microbiol Biotechnol 17(3):490–495

Sievers F, Wilm A, Dineen D, Gibson TJ, Karplus K, Li W et al (2011) Fast, scalable generation of high-quality protein multiple sequence alignments using Clustal Omega. Mol Syst Biol 7:539

Bates D (2005) Fitting linear mixed models in R. R News 5(1):27–30

Kuznetsova A, Brockhoff PB, Christensen RHB (2013) lmerTest: Tests for random and fixed effects for linear mixed effect models (lmer objects of lme4 package). R package version 1.2

Wickham H (2011) ggplot2. Wiley Interdiscip Rev Comput Stat 3(2):180–185

Zhang T, Fang HH (2006) Applications of real-time polymerase chain reaction for quantification of microorganisms in environmental samples. Appl Microbiol Biotechnol 70(3):281–289 (Epub 2006/02/10)

Borges S, Silva J, Teixeira P (2014) The role of lactobacilli and probiotics in maintaining vaginal health. Arch Gynecol Obstet 289(3):479–489 (Epub 2013/11/30)

Hickey RJ, Zhou X, Pierson JD, Ravel J, Forney LJ (2012) Understanding vaginal microbiome complexity from an ecological perspective. Transl Res 160(4):267–282 (Epub 2012/03/06)

Cribby S, Taylor M, Reid G (2008) Vaginal microbiota and the use of probiotics. Interdiscip Perspect Infect Dis 2008:256490

Wagner RD, Johnson SJ (2012) Probiotic lactobacillus and estrogen effect on vaginal epithelial gene expression responses to Candida albicans. J Biomed Sci 19:58–65

Jespers V, Menten J, Smet H, Poradosú S, Abdellati S, Verhelst R et al (2012) Quantification of bacterial species of the vaginal microbiome in different groups of women, using nucleic acid amplification tests. BMC Microbiol 12:83

De Alberti D, Russo R, Terruzzi F, Nobile V, Ouwehand AC (2015) Lactobacilli vaginal colonisation after oral consumption of Respecta® complex: a randomised controlled pilot study. Arch Gynecol Obstet 292(4):861–867 (Epub 2015/04/09)

Vujic G, Jajac Knez A, Despot Stefanovic V, Kuzmic Vrbanovic V (2013) Efficacy of orally applied probiotic capsules for bacterial vaginosis and other vaginal infections: a double-blind, randomized, placebo-controlled study. Eur J Obstet Gynecol Reprod Biol 168(1):75–79 (Epub 2013/02/07)
Acknowledgements
The research was conducted through the Probioplus4Food Project, funded by MIUR and Lombardy Region, Italy. We thank Principium Europe Srl for supplying the bacterial strains and oral probiotic capsules. We thank Dr. Anna Sandionigi for supporting the statistical analyses.
Ethics declarations
Conflict of interest
The authors declare that there is no conflict of interest regarding the publication of this paper.
Ethical approval
All procedures performed in studies involving human participants were in accordance with the ethical standards of the institutional and/or national research committee and with the 1964 Helsinki declaration and its later amendments or comparable ethical standards.
Informed consent
Informed consent was obtained from all individual participants included in the study.
About this article
Cite this article
Mezzasalma, V., Manfrini, E., Ferri, E. et al. Orally administered multispecies probiotic formulations to prevent uro-genital infections: a randomized placebo-controlled pilot study. Arch Gynecol Obstet 295, 163–172 (2017). https://doi.org/10.1007/s00404-016-4235-2
Received:

Accepted:

Published:

Issue Date:

DOI: https://doi.org/10.1007/s00404-016-4235-2
Keywords