Abstract
Purpose
Abdominal muscle strength decreases and fat ratio in the waist region increases following cesarean section. Kinesio taping (KT) is an easily applicable method and stimulates muscle activation. The aim of this pilot randomized controlled trial (RCT) was to investigate the effects of KT combined with exercise in women with cesarean section on abdominal recovery compared to the exercise alone.
Methods
Twenty-four women in between the fourth and sixth postnatal months who had cesarean section were randomly assigned to KT + exercise (n = 12) group or exercise group (n = 12). KT was applied twice a week for 4 weeks on rectus abdominis, oblique abdominal muscles and cesarean incision. All women were instructed to carry out posterior pelvic tilt, core stabilization and abdominal correction exercises. Outcome measures were evaluated with the manual muscle test, sit-up test, abdominal endurance test, Visual Analog Scale (VAS), circumference measurements and Roland Morris Disability Questionnaire (RMDQ). Mann–Whitney U and Wilcoxon tests were used to analyze data. p < 0.05 was considered as statistically significant.
Results
The improvement observed in the KT + exercise group was significantly greater compared to the exercise group in terms of the strength of the rectus abdominis muscle, sit-up test, VAS, measurements of the waist circumference and RMDQ (p < 0.05).
Conclusions
It appears that the addition of KT to abdominal exercises in the postnatal physiotherapy program provides greater benefit for the abdominal recovery in women with cesarean section. Further studies with larger sample sizes and long-term follow-up are needed to verify these results.
Access options
Buy single article
Instant access to the full article PDF.
USD 39.95
Price excludes VAT (USA)
Tax calculation will be finalised during checkout.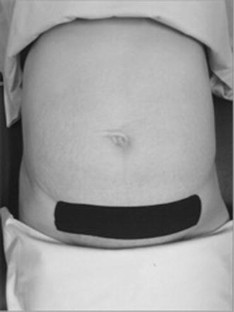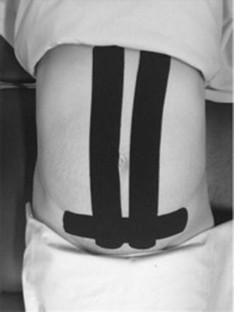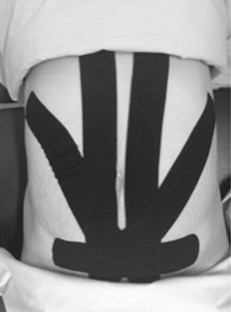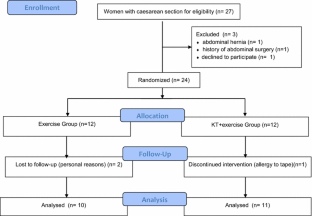 References
Calguneri M, Bird HA, Wright V (1982) Changes in joint laxity occurring during pregnancy. Ann Rheum Dis 41:126–128

Gutke A, Lundberg M, Östgaard HC et al (2011) Impact of postpartum lumbopelvic pain on disability, pain intensity, health-related quality of life, activity level, kinesiophobia, and depressive symptoms. Eur Spine J 20:440–448. doi:10.1007/s00586-010-1487-6

Norman E, Sherburn M, Osborne RH et al (2010) An exercise and education program improves well-being of new mothers: a randomized controlled trial. Phys Ther 90:348–355. doi:10.2522/ptj.20090139

Adeniyi AF, Ogwumike OO, Bamifeka TR (2013) Postpartum exercise among Nigerian women: issues relating to exercise performance and self-efficacy. ISRN Obstet Gynecol 15:294518. doi:10.1155/2013/294518

Mottola MF (2002) Exercise in the postpartum period: practical applications. Curr Sports Med Rep 1:362–368

Mathai M, Hofmeyr GJ (2007) Abdominal surgical incisions for caesarean section. Cochrane Database Syst Rev 24:CD004453

Kayman-Kose S, Arioz DT, Toktas H et al (2014) Transcutaneous electrical nerve stimulation (TENS) for pain control after vaginal delivery and cesarean section. J Matern Fetal Neonatal Med 27:1572–1575. doi:10.3109/14767058.2013.870549

Çıtak Karakaya I, Yuksel I, Akbayrak T et al (2012) Effect of physiotherapy on pain and functional activities after cesarean delivery. Arch Gynecol Obstet 285:621–627

Smith CM, Guralnic MS, Gelfond NM et al (1986) The effects of transcutaneous electrical nerve stimulation on post-cesarean pain. Pain 27:181–193

Turan V, Colluoglu C, Turkyilmaz E et al (2011) Prevalence of diastasis recti abdominis in the population of young multiparous adults in Turkey. Ginekol Pol 82:817–821

Coldron Y, Stokes MJ, Newham DJ et al (2008) Postpartum characteristics of rectus abdominis on ultrasound imaging. Man Ther 13(2):112–121

Evenson KR, Aytur SA, Borodulin K (2009) Physical activity beliefs, barriers, and enablers among postpartum women. J Womens Health (Larchmt) 18:1925–1934. doi:10.1089/jwh.2008.1309

Kase K, Tatsuyuki H, Tomoki O (1996) Kinesiotaping perfect manual. Kinesio Taping Association

Kase K, Wallis J, Kase T (2003) Clinical therapeutic applications of Kinesio taping method. Ken Ikai Co Ltd, Tokyo

Castro-Sánchez AM, Lara-Palomo IC, Matarán-Peñarrocha GA et al (2012) Kinesio taping reduces disability and pain slightly in chronic non-specific low back pain: a randomised trial. J Physother 58:89–95

Bicici S, Karatas N, Baltaci G (2012) Effect of athletic taping and kinesiotaping® on measurements of functional performance in basketball players with chronic inversion ankle sprains. Int J Sports Phys Ther 7:154–166

Ptak A, Konieczny G, Stefanska M (2013) The influence of short-term kinesiology taping on force–velocity parameters of rectus abdominis muscle. J Back Musculoskelet Rehabil 26:291–297. doi:10.3233/BMR-130382

Vithoulka I, Beneka A, Malliou P et al (2010) The effects of Kinesio taping on quadriceps strength during isokinetic exercises in healthy non athlete women. Isokinet Exerc Sci 18:1–6

Vercelli S, Sartorio F, Foti C et al (2012) Immediate effects of Kinesio taping on quadriceps muscle strength: a single-blind, placebo-controlled crossover trial. Clin J Sport Med 22:319–326

Lins CA, Neto FL, Amorim AB, Macedo Lde B, Brasileiro JS (2013) Kinesio Taping® does not alter neuromuscular performance of femoral quadriceps or lower limb function in healthy subjects: randomized, blind, controlled, clinical trial. Man Ther 18:41–45. doi:10.1016/j.math.2012.06.009

Romano M, Cacciatore A, Giordano R et al (2010) Postpartum period: three distinct but continuous phases. J Prenat Med 4:22–25

Cuthbert SC, Goodheart GJ Jr (2007) On the reliability and validity of manual muscle testing: a literature review. Chiropract Osteopat 15:4. doi:10.1186/1746-1340-15-4

Larson LA (1974) Fitness, health, and work capacity. International standards for assessment, Macmillan

Moreland J, Finch E, Stratford P et al (1997) Interrater reliability of six test of trunk muscle function and endurance. J Orthop Sports Phys Ther 26:200–208

Boissonnault JS, Blaschak MJ (1988) Incidence of diastasis recti abdominis during the childbearing year. Phys Ther 68:1082–1086

Hawker GA, Mian S, Kendzerska T et al (2011) Measures of adult pain: visual analog scale for pain (VAS Pain), numeric rating scale for pain (NRS Pain), McGill pain questionnaire (MPQ), short-form McGill pain questionnaire (SF-MPQ), chronic pain grade scale (CPGS), short form-36 bodily pain scale (SF-36 BPS), and measure of intermittent and constant osteoarthritis pain (ICOAP). Arthritis Care Res (Hoboken) 63:S240–S252. doi:10.1002/acr.20543

Waist Circumference and Waist-Hip Ratio: report of a WHO Expert Consultation, Geneva, 8-11 December 2008 (2011) World Health Organization. http://whqlibdoc.who.int/publications/2011/9789241501491_eng.pdf. Accessed 17 Mar 2015

Roland M, Fairbank J (2000) The Roland-Morris disability questionnaire and the Oswestry disability questionnaire. Spine (Phila Pa 1976) 25:3115–1124

Küçükdeveci AA, Tennant A, Elhan AH et al (2001) Validation of the Turkish version of the Roland-Morris disability questionnaire for use in low back pain. Spine (Phila Pa 1976) 26:2738–2743

Gotschall JS, Mills J, Hastings B (2013) Integration core exercises elicit great muscle activation than the isolation exercises. J Strength Cond Res 27:590–596. doi:10.1519/JSC.0b013e31825c2cc7

Shaw E, Kaczorowski J (2007) Postpartum care-what' s new? Curr Opin Obstet Gynecol 19:561–567

Benjamin DR, van de Water AT, Peiris CL (2014) Effects of exercise on diastasis of the rectus abdominis muscle in the antenatal and postnatal periods: a systematic review. Physiotherapy 100:1–8. doi:10.1016/j.physio.2013.08.005

Fast A, Weiss L, Ducommun EJ et al (1990) Low-back pain in pregnancy. Abdominal muscles, sit-up performance, and back pain. Spine (Phila Pa 1976) 15:28–30

Katch FI, Clarkson PM, Kroll W et al (1984) Effects of sit-up exercise training on adipose cell size and adiposity. Res Q 55:242–247. doi:10.1080/02701367.1984.10609359

Vispute SS, Smith JD, LeCheminant JD et al (2011) The effect of exercise on abdominal fat. J Strength Con Res 25:2559–2564. doi:10.1519/JSC.0b013e3181fb4a46

Szczegielniak J, Krajczy M, Bogacz K et al (2007) Kinesio taping® in physiotherapy after abdominal surgery. Fizjoterapia Polska 3(4):299–307

Morris D, Jones D, Ryan H et al (2013) The clinical effects of Kinesio® Tex taping: a systematic review. Physiother Theory Pract 29:259–270. doi:10.3109/09593985.2012.731675

Mikkelsson LO, Nupponen H, Kaprio J et al (2006) Adolescent flexibility, endurance strength, and physical activity as predictors of adult tension neck, low back pain, and knee injury. Br J Sports Med 40:107–113

McIntosh G, Wilson L, Affleck M et al (1998) Trunk and extremity muscle endurance: normative data for adults. J Rehabil Outcomes Measurement 2:20–39
Ethics declarations
Conflict of interest
The authors declare that they have no conflict of interest.
About this article
Cite this article
Gürşen, C., İnanoğlu, D., Kaya, S. et al. Effects of exercise and Kinesio taping on abdominal recovery in women with cesarean section: a pilot randomized controlled trial. Arch Gynecol Obstet 293, 557–565 (2016). https://doi.org/10.1007/s00404-015-3862-3
Received:

Accepted:

Published:

Issue Date:

DOI: https://doi.org/10.1007/s00404-015-3862-3
Keywords
Cesarean section

Women's health

Exercise

Taping

Abdominal muscles

Pregnancy