Abstract
Background
Adenomyosis is a specific subtype of endometriosis and recent evidences have indicated that Tanshinone IIA (TSIIA) might be a potential therapeutic option for endometriosis. Meanwhile, endometrial stromal cells (ESCs) of adenomyosis might play crucial roles in the progression of this disease, emphasizing the importance of targeting ESCs in the treatment of adenomyosis. Furthermore, previous evidences also implicated that deregulated 14-3-3ζ expression might be associated with therapeutic effects of certain drugs.
Aim of the study
The aim of this study is to evaluate the potential involvement of 14-3-3ζ in the process of TSIIA-treated adenomyosis.
Materials and methods
Ectopic endometrial stromal cells (EESCs) were isolated from a total of 3 patients with adenomyosis. Cells were treated with TSIIA and infected with 14-3-3ζ-overexpressing adenovirus, the expression level of 14-3-3ζ was determined by western blotting (WB), cell viability was detected by Cell Counting Kit-8 (CCK8), cell invasion and migration was evaluated by transwell assay, and cell apoptosis was detected by flow cytometry.
Results
TSIIA could decrease cell viability, induce cell apoptosis, and inhibit cell migration and invasion in EESCs. Mechanistically, TSIIA markedly reduced the expression of 14-3-3ζ in EESCs, and overexpression of 14-3-3ζ could restore the ability of cell viability, migration and invasion, but has no effect on cell apoptosis.
Conclusions
TSIIA could be a promising novel therapeutic agent for adenomyosis, via inducing cell apoptosis, inhibiting cell viability, migration and invasion in EESCs. Furthermore, the effects of cell viability, migration and invasion were mediated in 14-3-3ζ-dependent manner while that of cell apoptosis was mediated in 14-3-3ζ-independent manner.
This is a preview of subscription content, log in to check access.
Access options
Buy single article
Instant access to the full article PDF.
US$ 39.95
Price includes VAT for USA
Subscribe to journal
Immediate online access to all issues from 2019. Subscription will auto renew annually.
US$ 199
This is the net price. Taxes to be calculated in checkout.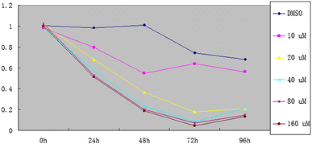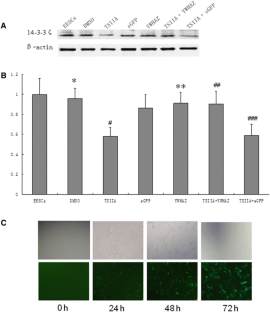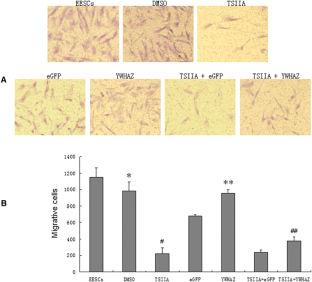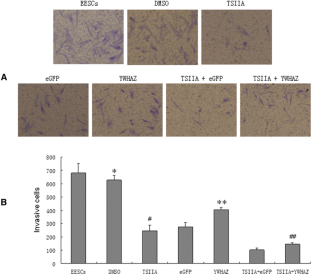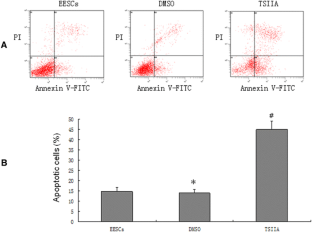 References
1.

Benagiano G, Habiba M, Brosens I (2012) The pathophysiology of uterine adenomyosis: an update. Fertil Steril 98(3):572–579

2.

Maheshwari A, Gurunath S, Fatima F et al (2012) Adenomyosis and subfertility: a systematic review of prevalence, diagnosis, treatment and fertility outcomes. Hum Reprod Update 18(4):374–392

3.

Hudelist G, Keckstein J, Wright JT (2009) The migrating adenomyoma: past views on the etiology of adenomyosis and endometriosis. Fertil Steril 92(5):1536–1543

4.

Genc M, Genc B, Cengiz H (2015) Adenomyosis and accompanying gynecological pathologies. Arch Gynecol Obstet 291(4):877–881

5.

Leyendecker G, Bilgicyildirim A, Inacker M et al (2015) Adenomyosis and endometriosis. Re-visiting their association and further insights into the mechanisms of auto-traumatisation. An MRI study. Arch Gynecol Obstet 291(4):917–932

6.

Bergeron C, Amant F, Ferenczy A (2006) Pathology and physiopathology of adenomyosis. Best Pract Res Clin Obstet Gynaecol 20(4):511–521

7.

Liu X, Nie J, Guo SW (2011) Elevated immunoreactivity to tissue factor and its association with dysmenorrhea severity and the amount of menses in adenomyosis. Hum Reprod 26(2):337–345

8.

Parente Barbosa C, Bentes De Souza AM, Bianco B et al (2011) The effect of hormones on endometriosis development. Minerva Ginecol 63(4):375–386

9.

Xiong X, Yang X, Liu Y et al (2013) Chinese herbal formulas for treating hypertension in traditional Chinese medicine: perspective of modern science. Hypertens Res 36(7):570–579

10.

Zhang HW, Lin ZX, Tung YS et al (2014) Cordyceps sinensis (a traditional Chinese medicine) for treating chronic kidney disease. Cochrane Database Syst Rev 12. doi:10.1002/14651858.CD14008353

11.

Flower A, Liu JP, Lewith G et al (2012) Chinese herbal medicine for endometriosis. Cochrane Database Syst Rev 5. doi:10.1002/14651858.CD14006568

12.

Yi KW, Kim SH, Ihm HJ et al (2015) Increased expression of p21-activated kinase 4 in adenomyosis and its regulation of matrix metalloproteinase-2 and -9 in endometrial cells. Fertil Steril. doi:10.1016/j.fertnstert.2014.1012.1124

13.

Xue J, Zhang H, Liu W et al (2013) Metformin inhibits growth of eutopic stromal cells from adenomyotic endometrium via AMPK activation and subsequent inhibition of AKT phosphorylation: a possible role in the treatment of adenomyosis. Reproduction 146(4):397–406

14.

Wang Q, Wang L, Shao J et al (2014) L-22 enhances the invasiveness of endometrial stromal cells of adenomyosis in an autocrine manner. Int J Clin Exp Pathol 7(9):5762–5771

15.

Xu S, Liu P (2013) Tanshinone II-A: new perspectives for old remedies. Expert Opin Ther Pat 23(2):149–153

16.

Wang J, Lu W, Wang W et al (2013) Promising therapeutic effects of sodium tanshinone IIA sulfonate towards pulmonary arterial hypertension in patients. J Thorac Dis 5(2):169–172

17.

Shang Q, Xu H, Huang L (2012) Tanshinone IIA: a Promising Natural Cardioprotective Agent. Evid Based Complement Altern Med 2012:716459

18.

Wei B, Li WW, Ji J et al (2014) The cardioprotective effect of sodium tanshinone IIA sulfonate and the optimizing of therapeutic time window in myocardial ischemia/reperfusion injury in rats. Atherosclerosis 235(2):318–327

19.

Munagala R, Aqil F, Jeyabalan J et al (2015) Tanshinone IIA inhibits viral oncogene expression leading to apoptosis and inhibition of cervical cancer. Cancer Lett 356(2 Pt B):536–546

20.

Lin LL, Hsia CR, Hsu CL et al (2015) Integrating transcriptomics and proteomics to show that tanshinone IIA suppresses cell growth by blocking glucose metabolism in gastric cancer cells. BMC Genom 16(1):41

21.

Shen W, Zhang Y, Li W et al (2013) Effects of tanshinone on hyperandrogenism and the quality of life in women with polycystic ovary syndrome: protocol of a double-blind, placebo-controlled, randomised trial. BMJ Open 3(10):e003646

22.

Zhou ZH, Weng Q, Zhou JH et al (2012) Extracts of Salvia miltiorrhiza Bunge on the cytokines of rat endometriosis models. Afr J Tradit Complement Altern Med 9(3):303–314

23.

Zhao J, Meyerkord CL, Du Y et al (2011) 14-3-3 proteins as potential therapeutic targets. Semin Cell Dev Biol 22(7):705–712

24.

Freeman AK, Morrison DK (2011) 14-3-3 Proteins: diverse functions in cell proliferation and cancer progression. Semin Cell Dev Biol 22(7):681–687

25.

Matta A, Siu KW, Ralhan R (2012) 14-3-3 zeta as novel molecular target for cancer therapy. Expert Opin Ther Targets 16(5):515–523

26.

Zannis-Hadjopoulos M, Yahyaoui W, Callejo M (2008) 14-3-3 cruciform-binding proteins as regulators of eukaryotic DNA replication. Trends Biochem Sci 33(1):44–50

27.

Chen M, Liu T, Xu L et al (2014) Direct interaction of 14-3-3zeta with ezrin promotes cell migration by regulating the formation of membrane ruffle. J Mol Biol 426(18):3118–3133

28.

Li Y, Zou L, Li Q et al (2010) Amplification of LAPTM4B and YWHAZ contributes to chemotherapy resistance and recurrence of breast cancer. Nat Med 16(2):214–218

29.

Bergamaschi A, Christensen BL, Katzenellenbogen BS (2011) Reversal of endocrine resistance in breast cancer: interrelationships among 14-3-3zeta, FOXM1, and a gene signature associated with mitosis. Breast Cancer Res 13(3):R70

30.

Schwab KE, Hutchinson P, Gargett CE (2008) Identification of surface markers for prospective isolation of human endometrial stromal colony-forming cells. Hum Reprod 23(4):934–943

31.

Chan RW, Schwab KE, Gargett CE (2004) Clonogenicity of human endometrial epithelial and stromal cells. Biol Reprod 70(6):1738–1750

32.

Tseng PY, Lu WC, Hsieh MJ et al (2014) Tanshinone IIA induces apoptosis in human oral cancer KB cells through a mitochondria-dependent pathway. Biomed Res Int 2014:540516

33.

Wang JF, Feng JG, Han J et al (2014) The molecular mechanisms of Tanshinone IIA on the apoptosis and arrest of human esophageal carcinoma cells. Biomed Res Int 2014:582730

34.

Chiu SC, Huang SY, Chang SF et al (2015) Potential therapeutic roles of tanshinone IIA in human bladder cancer cells. Int J Mol Sci 15(9):15622–15637

35.

Lu Q, Zhang P, Zhang X et al (2009) Experimental study of the anti-cancer mechanism of tanshinone IIA against human breast cancer. Int J Mol Med 24(6):773–780

36.

Lin C, Wang L, Wang H et al (2013) Tanshinone IIA inhibits breast cancer stem cells growth in vitro and in vivo through attenuation of IL-6/STAT3/NF-kB signaling pathways. J Cell Biochem 114(9):2061–2070

37.

Gong Y, Li Y, Abdolmaleky HM et al (2012) Tanshinones inhibit the growth of breast cancer cells through epigenetic modification of Aurora A expression and function. PLoS ONE 7(4):e33656

38.

Pan Y, Zhong LJ, Zhou H et al (2012) Roles of vimentin and 14-3-3 zeta/delta in the inhibitory effects of heparin on PC-3M cell proliferation and B16-F10-luc-G5 cells metastasis. Acta Pharmacol Sin 33(6):798–808

39.

Zhao L, Zhou S, Zou L et al (2013) The expression and functionality of stromal caveolin 1 in human adenomyosis. Hum Reprod 28(5):1324–1338

40.

Weimar CH, Macklon NS, Post Uiterweer ED et al (2013) The motile and invasive capacity of human endometrial stromal cells: implications for normal and impaired reproductive function. Hum Reprod Update 19(5):542–557

41.

Shan YF, Shen X, Xie YK et al (2009) Inhibitory effects of tanshinone II-A on invasion and metastasis of human colon carcinoma cells. Acta Pharmacol Sin 30(11):1537–1542

42.

Yamazaki S, Miyoshi N, Kawabata K et al (2014) Quercetin-3-O-glucuronide inhibits noradrenaline-promoted invasion of MDA-MB-231 human breast cancer cells by blocking beta(2)-adrenergic signaling. Arch Biochem Biophys 557:18–27

43.

Tsai MY, Yang RC, Wu HT et al (2011) Anti-angiogenic effect of Tanshinone IIA involves inhibition of matrix invasion and modification of MMP-2/TIMP-2 secretion in vascular endothelial cells. Cancer Lett 310(2):198–206

44.

He Y, Wu X, Liu X et al (2010) LC-MS/MS analysis of ovarian cancer metastasis-related proteins using a nude mouse model: 14-3-3 zeta as a candidate biomarker. J Proteome Res 9(12):6180–6190

45.

Wei X, Zhou L, Hu L et al (2012) Tanshinone IIA arrests cell cycle and induces apoptosis in 786-O human renal cell carcinoma cells. Oncol Lett 3(5):1144–1148

46.

Liu C, Li J, Wang L et al (2012) Analysis of tanshinone IIA induced cellular apoptosis in leukemia cells by genome-wide expression profiling. BMC Complement Altern Med 12:5
Acknowledgments
This work was supported by the Natural Science Foundations of China (Nos. 81260097 and 81160079).
Conflict of interest
The authors declare that there is no conflict of interest.
About this article
Cite this article
Wan, L., Zou, Y., Wan, L. et al. Tanshinone IIA inhibits the proliferation, migration and invasion of ectopic endometrial stromal cells of adenomyosis via 14-3-3ζ downregulation. Arch Gynecol Obstet 292, 1301–1309 (2015). https://doi.org/10.1007/s00404-015-3766-2
Received:

Accepted:

Published:

Issue Date:
Keywords
Tanshinone IIA

Adenomyosis

Endometrial stromal cell

14-3-3ζ