Abstract
Purpose
The aim of the study was to compare the effect of mefenamic acid and ginger on pain management in primary dysmenorrhea.
Methods
One hundred and twenty-two female students with moderate to severe primary dysmenorrhea were randomly allocated to the ginger and mefenamic groups in a randomized clinical trial. The mefenamic group received 250 mg capsules every 8 h, and the ginger group received 250 mg capsules (zintoma) every 6 h from the onset of menstruation until pain relief lasted 2 cycles. The intensity of pain was assessed by the visual analog scale. Data were analyzed by descriptive statistics, t test, Chi-square, Fisher exact test and repeated measurement.
Results
The pain intensity in the mefenamic and ginger group was 39.01 ± 17.77 and 43.49 ± 19.99, respectively, in the first month, and 33.75 ± 17.71 and 38.19 ± 20.47, respectively, in the second month (p > 0.05). The severity of dysmenorrhea, pain duration, cycle duration and bleeding volume was not significantly different between groups during the study. The menstrual days were more in the ginger group in the first (p = 0.01) and second cycle (p = 0.04). Repeated measurement showed a significant difference in pain intensity within the groups by time, but not between groups.
Conclusion
Ginger is as effective as mefenamic acid on pain relief in primary dysmenorrhea. Ginger does not have adverse effects and is an alternative treatment for primary dysmenorrhea.
Access options
Buy single article
Instant access to the full article PDF.
US$ 39.95
Tax calculation will be finalised during checkout.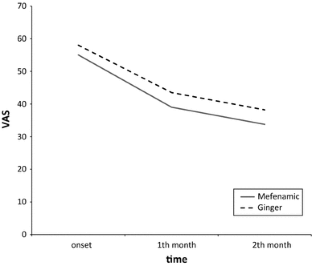 References
1.

Abbaspour Z, Rostami M, Najjar S (2006) The effect of exercise on primary dysmenorrhea. J Res Health Sci 6(1):26–31

2.

Brown J, Brown S (2010) Exercise for dysmenorrhoea. Cochrane Database Syst Rev 2. doi:10.1002/14651858.CD004142

3.

Cakir M, Mungan I, Karakas T, Girisken I, Okten A (2007) Menstrual pattern and common menstrual disorders among university students in Turkey. Pediatr Int 49(6):938–942

4.

Lefebvre G, Pinsonneault O, Antao V, Black A, Burnett M, Feldman K et al (2005) Primary dysmenorrhea consensus guideline. J Obstet Gynaecol Can 27(12):1117–1146

5.

Dawood MY (2006) Primary dysmenorrhea: advances in pathogenesis and management. Obstet Gynecol 108(2):428–441

6.

French L (2005) Dysmenorrhea. Am Fam physician 71(2):285–291

7.

Pistofidis G, Koukoura DG, Bardis NS, Filippidis M (2010) Laparoscopic treatment of a case of cystic adenomyosis of the lower uterine wall. J Minim Invasive Gynecol 17(6):S97

8.

Anaf V, Simon P, Nakadi EI, Fayt I, Buxant F, Simonart T et al (2000) Relationship between endometriotic foci and nerves in rectovaginal endometriotic nodules. Hum Reprod 15(8):1744–1750

9.

Abdul-Razzak KK, Ayoub NM, Abu-Taleb AA, Obeidat BA (2010) Influence of dietary intake of dairy products on dysmenorrhea. J Obstet Gynaecol Res 36(2):377–383

10.

Reddish S (2006) Dysmenorrhoea. Aust Fam Physician 35(11):842–844, 846–849

11.

Cheng HF, Lin YH (2011) Selection and efficacy of self-management strategies for dysmenorrhea in young Taiwanese women. J Clin Nurs 20(7–8):1018–1025

12.

Marjoribanks J, Proctor ML, Farquhar C, Derks RS (2010) Nonsteroidal anti-inflammatory drugs for dysmenorrhoea. Cochrane Database Syst Rev 20(1):CD001751. doi: 10.1002/14651858

13.

Bolton PJ, Del Mar C, O'Connor V, Dean LM, Jarrett MS (2012) Exercise for primary dysmenorrhoea. Cochrane Libr. doi:10.1002/14651858

14.

Proctor M, Farquhar C (2006) Diagnosis and management of dysmenorrhea. BMJ 332(7550):1134–1138

15.

Campbell MA, McGrath PG (1997) Use of medication by adolescents for the management of menstrual discomfort. Arch Pediatr Adolesc Med 151(9):905–913

16.

Higuchi K, Umegaki E, Watanabe T, Yoda Y, Morita E, Murano M et al (2009) Present status and strategy of NSAIDs-induced small bowel injury. J Gastroenterol 44(9):879–888

17.

Traversa G, Walker AM, Ippolito FM, Caffari B, Capurso L, Dezi A et al (1995) Gastroduodenal toxicity of different nonsteroidal antiinflammatory drugs. Epidemiology 6(1):49–54

18.

Zhu, X, Proctor M, Bensoussan A, Wu E, Smith CA (2008) Chinese herbal medicine for primary dysmenorrhoea. Cochrane Database Syst Rev 16(2):CD005288. doi:10.1002/14651858

19.

Proctor M, Murphy PA (2001) Herbal and dietary therapies for primary and secondary dysmenorrhoea. Cochrane Database Syst Rev 2:CD002124. doi: 10.1002/14651858

20.

Rahnama P, Montazeri A, Huseini HF, Kianbakht S, Naseri M (2012) Effect of Zingiber officinale R. rhizomes (ginger) on pain relief in primary dysmenorrhea: a placebo randomized trial. BMC Complement Altern Med 12(1):92. doi:10.1186/1472-6882-12-92

21.

Terry R, Posadzki P, Watson LK, Ernst E (2011) The use of ginger (Zingiber officinale) for the treatment of pain: a systematic review of clinical trials. Pain Med 12(12):1808–1818

22.

Jenabi E (2013) The effect of ginger for relieving of primary dysmenorrhoea. J Pak Med Assoc 63(1):8–10

23.

Ozgoli G, Goli M, Moattar F (2009) Comparison of effects of ginger, mefenamic acid, and ibuprofen on pain in women with primary dysmenorrhea. J Altern Complement Med 15(2):129–132

24.

Shahr-jerdy S, Hosseini RS, Gh ME (2012) Effects of stretching exercises on primary dysmenorrhea in adolescent girls. Biomed Human Kinet 4:127–132

25.

Altman R, Marcussen K (2001) Effects of a ginger extract on knee pain in patients with osteoarthritis. Arthritis Rheum 44(11):2531–2538

26.

Mills S, Bone K (2000) Principles and practice of phytotherapy: modern herbal medicine. Churchill Livingstone, Edinburgh

27.

Kashefi F, Khajehei M, Cher MT, Alavian M, Asili J (2014) Comparison of the effect of ginger and zinc sulfate on primary dysmenorrhea: a placebo-controlled randomized trial. Pain Manag Nurs. doi:10.1016/j.pmn.2013.09.001

28.

Halder A (2011) Effect of progressive muscle relaxation versus intake of ginger powder on dysmenorrhoea amongst the nursing students in Pune. Nurs J India 103(4):152–156

29.

Chen CK, Huang YP, Fang HL, Huang YY (2013) Dysmenorrhea: a study of affected factors and approaches to relief among female students at a college in southern Taiwan. Hu li Za Zhi 60(3):40–50

30.

Backon J (1991) Mechanism of analgesic effect of clonidine in the treatment of dysmenorrhea. Med Hypotheses 36(3):223–224

31.

Kim JK, Kim Y, Na KM, Surh YJ, Kim TY (2007) Gingerol prevents UVB-induced ROS production and COX-2 expression in vitro and in vivo. Free Radic Res 41(5):603–614

32.

Bieglmayer C, Hofer G, Kainz C, Reinthaller A, Kopp B, Janisch H (1995) Concentrations of various arachidonic acid metabolites in menstrual fluid are associated with menstrual pain and are influenced by hormonal contraceptives. Gynecol Endocrinol 9(4):307–312

33.

Grzanna R, Lindmark L, Frondoza CG (2005) Ginger-an herbal medicinal product with broad anti-inflammatory actions. J Med Food 8(2):125–132

34.

Ife J, Magowan B (2004) Clinical obstetrics and gynecology. WB Saunders, Edinburgh

35.

Kikuzaki H, Nakatani N (1996) Cyclic diarylheptanoids from rhizomes of Zingiber officinale. Phytochemistry 43(1):273–277

36.

Schulick P (1996) Ginger: common spice and wonder drug. Herb Free Press, Brattleboro

37.

Ali BH, Blunden G, Tanira MO, Nemmar A (2008) Some phytochemical, pharmacological and toxicological properties of ginger (Zingiber officinale Roscoe): a review of recent research. Food Chem Toxicol 46(2):409–420

38.

Kim SO, Kundu JK, Shin YK, Park JH, Cho MH, Kim TY et al (2005) Gingerol inhibits COX-2 expression by blocking the activation of p38 MAP kinase and NF-κB in phorbol ester-stimulated mouse skin. Oncogene 24(15):2558–2567

39.

Kiuchi F, Iwakami S, Shibuya M, Hanaoka F, Sandawa U (1992) Inhibition of prostaglandin and leukotriene biosynthesis by gingerols and diarylheptanoids. Chem Pharm Bull 40:187–191

40.

Yang JJ, Sun LH, She YF, Ge JJ, Li XH, Zhang RJ (2008) Influence of ginger-partitioned moxibustion on serum no and plasma endothelin-1 contents in patients with primary dysmenorrhea of cold-damp stagnation type. Zhen Ci Yan Jiu 33(6):409–412

41.

Nievergelt A, Marazzi J, Schoop R, Altman KH, Gertsch J (2011) Ginger phenylpropanoids inhibit IL-1β and prostanoid secretion and disrupt arachidonate-phospholipid remodeling by targeting phospholipases A2. J Immunol 187(8):4140–4150

42.

Blumenthal M, Busse WR, Goldberg A (1998) The complete german commission e monographs: therapeutic guide to herbal medicines. Integrative Medicine, Boston
Acknowledgments
We thank the vice-chancellor for research of Mazandaran University of Medical Sciences for support this study. Our special thanks to students who participated in this study.
Conflict of interest
The authors have no conflicts of interest to disclose.
Ethical standard
This research has been approved by Ethics Committee of this deputy, conformity with Declaration of Helsinki.
Informed consent
All persons gave their informed consent prior to their inclusion in the study.
About this article
Cite this article
Shirvani, M.A., Motahari-Tabari, N. & Alipour, A. The effect of mefenamic acid and ginger on pain relief in primary dysmenorrhea: a randomized clinical trial. Arch Gynecol Obstet 291, 1277–1281 (2015). https://doi.org/10.1007/s00404-014-3548-2
Received:

Accepted:

Published:

Issue Date:
Keywords
Ginger

Mefenamic acid

Pain relief

Primary dysmenorrhea