Abstract
Purpose
Retrospective studies of preconception health have demonstrated that parents' health conditions and behaviors can impact a newborn's birth outcomes and, subsequently, future health status. This study sought to examine the impact of preconception health, measured prospectively, among both mothers and fathers, on two important birth outcomes: birthweight and gestational age.
Methods
Data came from Add Health (the National Longitudinal Study of Adolescent Health), which included interviews with original participants and a subsample of their partners in 2001–02. In 2008, the original respondents again completed an interview for Add Health. For 372 eligible infants born to these couples, birth outcomes (measured in 2008) were regressed on preconception health conditions and behaviors among non-pregnant heterosexual partners (measured in 2001–02).
Results
Mean birthweight was 3,399 g, and mean gestational age was 39 weeks. Birthweight was higher for infants born to mothers with diabetes or high blood pressure, and for mothers who drank alcohol at least once per month, and lower for infants born to fathers with diabetes (p < 0.05). Infant gestational age was marginally lower for infants born to mothers with higher levels of depression (p < 0.10), and lower for infants born to fathers with diabetes and with higher levels of fast food consumption (p < 0.05).
Conclusions
Both maternal and paternal preconception health conditions and behaviors influenced infant birth outcomes. Interventions to promote preconception health should focus on prevention of diabetes and high blood pressure, as well as minimizing consumption of alcohol and fast food.
Access options
Buy single article
Instant access to the full article PDF.
USD 39.95
Price excludes VAT (USA)
Tax calculation will be finalised during checkout.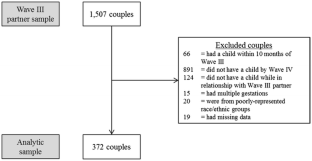 References
Centers for Disease Control and Prevention (CDC) (2012) Preconception care and health care. In: http://www.cdc.gov/preconception/overview.html. Accessed April 20 2013

Misra DP, Guyer B, Allston A (2003) Integrated perinatal health framework. A multiple determinants model with a life span approach. Am J Prev Med 25(1):65–75 (S0749379703000904)

Ashton DM, Lawrence HC, Adams NL, Fleischman AR (2009) Surgeon general's conference on the prevention of preterm birth. Obstet Gynecol. doi:10.1097/AOG.0b013e31819bdba3

Seshadri S, Oakeshott P, Nelson-Piercy C, Chappell LC (2012) Prepregnancy care. BMJ. doi:10.1136/bmj.e3467

Barker DJ, Osmond C, Simmonds SJ, Wield GA (1993) The relation of small head circumference and thinness at birth to death from cardiovascular disease in adult life. BMJ 306(6875):422–426

Dahly DL, Adair LS, Bollen KA (2009) A structural equation model of the developmental origins of blood pressure. Int J Epidemiol. doi:10.1093/ije/dyn242

Wilson J (1999) The Barker hypothesis. An analysis. Aust N Z J Obstet Gynaecol 39(1):1–7

de Boo HA, Harding JE (2006) The developmental origins of adult disease (Barker) hypothesis. Aust NZ J Obstet Gynaecol. doi:10.1111/j.1479-828X.2006.00506.x

Morley R (2006) Fetal origins of adult disease. Semin Fetal Neonatal Med. doi:10.1016/j.siny.2005.11.001

Agius R, Savona-Ventura C, Vassallo J (2013) Transgenerational metabolic determinants of fetal birth weight. Exp Clin Endocrinol Diabetes. doi:10.1055/s-0033-1345121

Oken E (2009) Maternal and child obesity: the causal link. Obstet Gynecol Clin North Am. doi:10.1016/j.ogc.2009.03.007

Strutz KL, Richardson LJ, Hussey JM (2012) Preconception health trajectories and birth weight in a national prospective cohort. J Adolesc Health. doi:10.1016/j.jadohealth.2012.03.013

Yu Z, Han S, Zhu J, Sun X, Ji C, Guo X (2013) Pre-pregnancy body mass index in relation to infant birth weight and offspring overweight/obesity: a systematic review and meta-analysis. PLoS One. doi:10.1371/journal.pone.0061627

Kiely M, El-Mohandes AA, Gantz MG, Chowdhury D, Thornberry JS, El-Khorazaty MN (2011) Understanding the association of biomedical, psychosocial and behavioral risks with adverse pregnancy outcomes among African-Americans in Washington. Matern Child Health J, DC. doi:10.1007/s10995-011-0856-z

Tang L, Zhu P, Hao JH, Huang K, Xu SJ, Wang H, Wang L, Tao FB (2013) Pre-pregnancy body mass index moderates the effect of maternal depressive symptoms on small-for-gestational-age infants. Arch Gynecol Obstet. doi:10.1007/s00404-013-2720-4

Goetzinger KR, Cahill AG, Macones GA, Odibo AO (2012) The relationship between maternal body mass index and tobacco use on small-for-gestational-age infants. Am J Perinatol. doi:10.1055/s-0031-1284224

Glinianaia SV, Tennant PW, Bilous RW, Rankin J, Bell R (2012) HbA(1c) and birthweight in women with pre-conception type 1 and type 2 diabetes: a population-based cohort study. Diabetologia. doi:10.1007/s00125-012-2721-z

Bonzini M, Coggon D, Palmer KT (2007) Risk of prematurity, low birthweight and pre-eclampsia in relation to working hours and physical activities: a systematic review. Occup Environ Med 64(4):228–243. doi:10.1136/oem.2006.026872

de Jongh BE, Paul DA, Hoffman M, Locke R (2013) Effects of pre-pregnancy obesity, race/ethnicity and prematurity. Matern Child Health J. doi:10.1007/s10995-013-1296-8

Dekker GA, Lee SY, North RA, McCowan LM, Simpson NA, Roberts CT (2012) Risk factors for preterm birth in an international prospective cohort of nulliparous women. PLoS One. doi:10.1371/journal.pone.0039154

Ogunyemi D, Hullett S, Leeper J, Risk A (1998) Prepregnancy body mass index, weight gain during pregnancy, and perinatal outcome in a rural black population. J Matern Fetal Med 7(4):190–193 (2-D)

Orr ST, Reiter JP, James SA, Orr CA (2012) Maternal health prior to pregnancy and preterm birth among urban, low income black women in Baltimore: the Baltimore Preterm Birth Study. Ethn Dis 22(1):85–89

Mullally A, Cleary BJ, Barry J, Fahey TP, Murphy DJ (2011) Prevalence, predictors and perinatal outcomes of peri-conceptional alcohol exposure–retrospective cohort study in an urban obstetric population in Ireland. BMC Pregnancy Childbirth. doi:10.1186/1471-2393-11-27

Barker DJ, Bull AR, Osmond C, Simmonds SJ (1990) Fetal and placental size and risk of hypertension in adult life. BMJ 301(6746):259–262

Byrne CD, Phillips DI (2000) Fetal origins of adult disease: epidemiology and mechanisms. J Clin Pathol 53(11):822–828

Calkins K, Devaskar SU (2011) Fetal origins of adult disease. Curr Probl Pediatr Adolesc Health Care. doi:10.1016/j.cppeds.2011.01.001

Davey Smith G, Hypponen E, Power C, Lawlor DA (2007) Offspring birth weight and parental mortality: prospective observational study and meta-analysis. Am J Epidemiol. doi:10.1093/aje/kwm054

McCowan LM, North RA, Kho EM, Black MA, Chan EH, Dekker GA, Poston L, Taylor RS, Roberts CT (2011) Paternal contribution to small for gestational age babies: a multicenter prospective study. Obesity (Silver Spring). doi:10.1038/oby.2010.279

Zaina S, Lund G (2012) Paternal transmission, cardiovascular risk factors and epigenetics. Curr Opin Lipidol. doi:10.1097/MOL.0b013e32835918cd

Hillman S, Peebles DM, Williams DJ (2013) Paternal metabolic and cardiovascular risk factors for fetal growth restriction: a case-control study. Diabetes Care. doi:10.2337/dc12-1280

Drake AJ, Liu L, Kerrigan D, Meehan RR, Seckl JR (2011) Multigenerational programming in the glucocorticoid programmed rat is associated with generation-specific and parent of origin effects. Epigenetics. doi:10.4161/epi.6.11.17942

Filiberto AC, Maccani MA, Koestler D, Wilhelm-Benartzi C, Avissar-Whiting M, Banister CE, Gagne LA, Marsit CJ (2011) Birthweight is associated with DNA promoter methylation of the glucocorticoid receptor in human placenta. Epigenetics 6(5):566–572

Lee H, Jaffe AE, Feinberg JI, Tryggvadottir R, Brown S, Montano C, Aryee MJ, Irizarry RA, Herbstman J, Witter FR, Goldman LR, Feinberg AP, Fallin MD (2012) DNA methylation shows genome-wide association of NFIX, RAPGEF2 and MSRB3 with gestational age at birth. Int J Epidemiol. doi:10.1093/ije/dyr237

Soubry A, Schildkraut JM, Murtha A, Wang F, Huang Z, Bernal A, Kurtzberg J, Jirtle RL, Murphy SK, Hoyo C (2013) Paternal obesity is associated with IGF2 hypomethylation in newborns: results from a Newborn Epigenetics Study (NEST) cohort. BMC Med. doi:10.1186/1741-7015-11-29

Steegers-Theunissen RP, Twigt J, Pestinger V, Sinclair KD (2013) The periconceptional period, reproduction and long-term health of offspring: the importance of one-carbon metabolism. Hum Reprod Update. doi:10.1093/humupd/dmt041

Lecomte V, Youngson NA, Maloney CA, Morris MJ (2013) Parental programming: how can we improve study design to discern the molecular mechanisms? BioEssays. doi:10.1002/bies.201300051

Wilcox AJ (2010) Fertility and pregnancy: an epidemiologic perspective. Oxford University Press, USA

Harris KM (2011) Design features of Add Health. In: http://www.cpc.unc.edu/projects/addhealth/data/guides/DesignPaperWIIV.pdf. Accessed December 12 2013

Harris KM (2010) An integrative approach to health. Demography 47(1):1–22

Radloff LS (1977) The CES-D scale: a self-report depression scale for research in the general population. Appl Psychol Meas 1:385–401

Nguyen HT, Kitner-Triolo M, Evans MK, Zonderman AB (2004) Factorial invariance of the CES-D in low socioeconomic status African Americans compared with a nationally representative sample. Psychiatry Res. doi:10.1016/j.psychres.2004.02.004

Orme JG, Reis J, Herz EJ (1986) Factorial and discriminant validity of the Center for Epidemiological Studies Depression (CES-D) scale. J Clin Psychol 42(1):28–33

Weissman MM, Sholomskas D, Pottenger M, Prusoff BA, Locke BZ (1977) Assessing depressive symptoms in five psychiatric populations: a validation study. Am J Epidemiol 106(3):203–214

Perreira KM, Deeb-Sossa N, Harris KM, Bollen KA (2005) What are we measuring? An evaluation of the CES-D across race/ethnicity and immigrant generation. Soc Forces 83:1567–1601

Clinical Guidelines on the Identification, Evaluation, and Treatment of Overweight and Obesity in Adults–The Evidence Report. National Institutes of Health(1998). Obes Res

Chen P, Tabor J, Chantala K (2012) Guidelines for analyzing Add Health data. In: http://www.cpc.unc.edu/projects/addhealth/data/guides/wt-guidelines.pdf. Accessed December 12 2013

Song SH (2012) Emerging type 2 diabetes in young adults. Adv Exp Med Biol 71:51–61

Harville EW, Viikari JS, Raitakari OT (2011) Preconception cardiovascular risk factors and pregnancy outcome. Epidemiology. doi:10.1097/EDE.0b013e318225c960

Steer PJ, Little MP, Kold-Jensen T, Chapple J, Elliott P (2004) Maternal blood pressure in pregnancy, birth weight, and perinatal mortality in first births: prospective study. BMJ. doi:10.1136/bmj.38258.566262.7C

Waugh J, Perry IJ, Halligan AW, De Swiet M, Lambert PC, Penny JA, Taylor DJ, Jones DR, Shennan A (2000) Birth weight and 24-hour ambulatory blood pressure in nonproteinuric hypertensive pregnancy. Am J Obstet Gynecol. doi:10.1067/mob.2000.106448
Acknowledgments
This research uses data from Add Health, a program project directed by Kathleen Mullan Harris and designed by J. Richard Udry, Peter S. Bearman, and Kathleen Mullan Harris at the University of North Carolina at Chapel Hill, and funded by grant P01-HD31921 from the Eunice Kennedy Shriver National Institute of Child Health and Human Development, with cooperative funding from 23 other federal agencies and foundations. Special acknowledgment is due Ronald R. Rindfuss and Barbara Entwisle for assistance in the original design. Information on how to obtain the Add Health data files is available on the Add Health website (http://www.cpc.unc.edu/addhealth). No direct support was received from grant P01-HD31921 for this analysis.
Conflict of interest
The authors declare that they have no conflict of interest. Access to the data used in the present analysis is restricted to protect against deductive disclosure.
Ethical standard
All participants provided informed consent before completing questionnaires at each wave of study collection. The University of North Carolina Non-Biomedical Institutional Review Board approved the study procedures and analysis.
About this article
Cite this article
Moss, J.L., Harris, K.M. Impact of maternal and paternal preconception health on birth outcomes using prospective couples' data in Add Health. Arch Gynecol Obstet 291, 287–298 (2015). https://doi.org/10.1007/s00404-014-3521-0
Received:

Accepted:

Published:

Issue Date:

DOI: https://doi.org/10.1007/s00404-014-3521-0
Keywords
Preconception health

Maternal health

Birth outcomes

Gestational age

Birthweight